---
How do I purchase a pattern?
Here is a video that will walk you through using the Love Notions website to place a pattern order.
---
Trouble Checking Out
Be sure you are signed into your account (or create an account first). If you can't remember your password click on the 'forgot password' link to reset it. I require all purchasers have an account. This makes pattern updates so much easier for you since your account will automtically be updated with the new pattern version. This is also a security measure. It is in your best interest to have an account. If you have trouble remembering your login info I have enabled social logins from Facebook and Amazon if you wish to use those instead.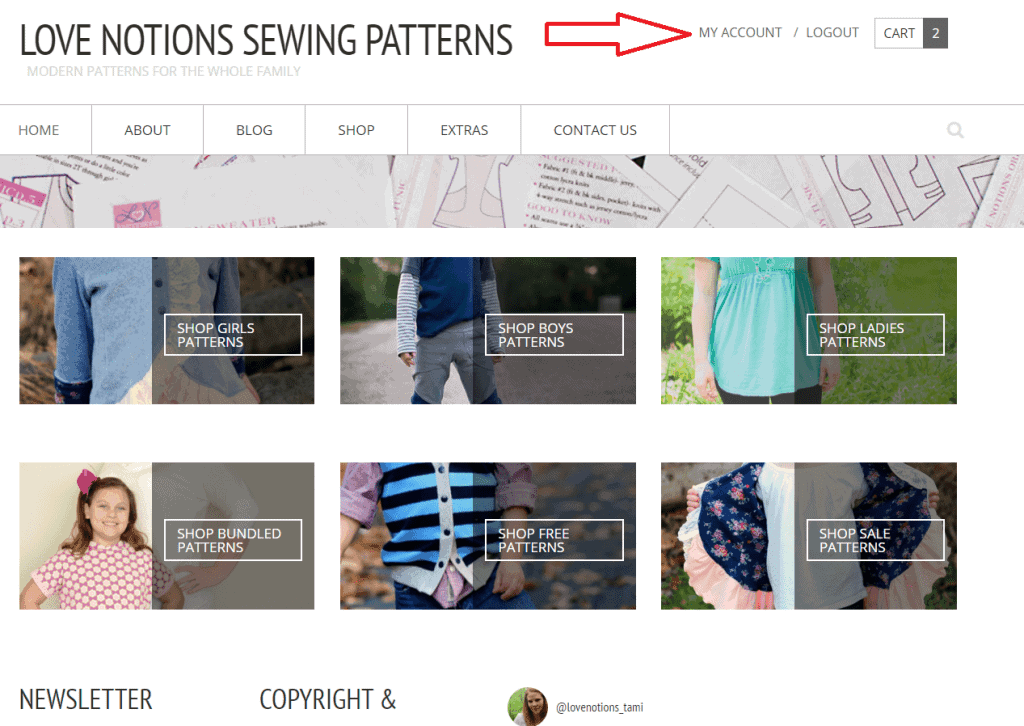 ---
Where Do I Enter My Coupon Code?
At the cart page you'll see a box with 'apply coupon' next to it. Enter your coupon code in that box. Be sure you are spelling it correctly.
---
Where Is My Pattern?
Immediately after purchase you will come to the 'Order Received' screen. You will find your download link in the product description. See the red underlined portion below. Clicking on the 'Download: Pattern Name' will automatically start downloading the pattern to your computer. Usually, you'll have a 'Downloads' folder on your computer where downloaded files end up. You can also access your download files in your 'My Account' immediately after purchase.
An email confirming your order will also be sent to you but it may take some time to get to you and even may end up in your spam or trash folder depending on how your email provider handles these types of emails. Once open, the email will look like this- You'll notice the same download link as shown at the order received page. Clicking on that link will automatically start downloading that file.
---
 Do the download links expire?
No, the pattern download links do not expire and you can download them as many times as needed. They can be found in your 'My Account'.
---
How do I print this pattern?
---
How do I use the layers / the layers aren't showing up
You must open your pattern directly from Adobe Reader. Do not try to print from the web preview or another PDF viewer. If you are opening directly from Adobe and the layers still aren't showing up, first be sure you are using the latest Adobe version. If they still aren't appearing your file may have become corrupt. Delete the pattern from your computer and download it again from your account. 99% of the time that fixes the issue. Please contact me if that does not fix your issue. The video will walk you though downloading and using the layers function.
---
Can I sell clothing made from Love Notions patterns?
Yes, absolutely! No credit needed but appreciated.
---
---
How do I contact you for further help?
If you're not able to find your answer here, email Tami with questions or support: tami@lovenotions.com. Or, contact my assistant Kelly: help@lovenotions.com