Most Love Notions patterns come with a large format pattern file. This is a file you can take or send to a print shop to print out on large sheets of paper. Which means no printing tapes regular sized papers together- score!
If you're working with an adult-sized pattern that can mean a significant savings in time. Assembling Love Notions patterns is not difficult with the trim-less assembly style format, however, some of the larger patterns can be 30+ pages and that can be a daunting task.
If you've never worked with a large format pattern file, I'm going to walk you through ordering through my preferred vendor, PDFplotting.com.
Most Love Notions patterns come in A0 paper size, as well as the A4/US paper size. A0 is what international customers use for their large format printouts and is about 33″ x 46″. US copy shops generally print on 36″ x 48″ sheets. Depending on printer, you may even be able to get 36″ wide by however long since they print on a large roll that just cuts wherever needed. For example, the Sabrina Slims prints out on 36″ by 100″.
You can find exactly what your pattern's large format size and quantity of sheets by reading the product listing.
I create the large format pattern files to work on both A0 and 36″ x 48″ wide format so both US and international customers can use the same file.
I know what your first question is– how much does this cost?
In my experience, pdfplotting.com is the most reasonable. Color sheets are just $2.50 each, black and white sheets are $1.20 each. Most of the Love Notions ladies large format files are 2-4 sheets each. So you're looking at $7.50-$3.60, plus shipping. This shop ships same day if you order before 2PM EST by USPS Priority. The most economical way to do this is to order several patterns at once.
Another online option is www.blueprintsprinting.com. They offer black & white prints at $1.32 per page, and color at $6.60 per page. They do charge a print setup fee of $7.00 per order. Shipping is also fast and reasonable.
If you're on a time crunch and need your pattern same-day, some office supply chains offer large format printing. Staples calls them 'engineering prints' and cost $7.29 per sheet. Some Fedex & Office Max locations also offer large format files. Before visiting the store, call ahead and make sure they have that capability. My local Office Max location does not have a large format printer.
Choosing your options on www.PDFPlotting.com
This video will walk you through exactly how to order your large format files. If the video doesn't work for you I've also uploaded it to Youtube.
Once you have your large format file printed you will want to preserve it. Do this by tracing your size onto a tracing medium. I love Swedish Tracing Paper. It's similar to what interfacing feels like so it folds up easy and you can draw or even sew 6on it. Pellon also has a similar product called Easy Pattern that you can find at Hobby Lobby and Joann's. (Amazon affiliate links)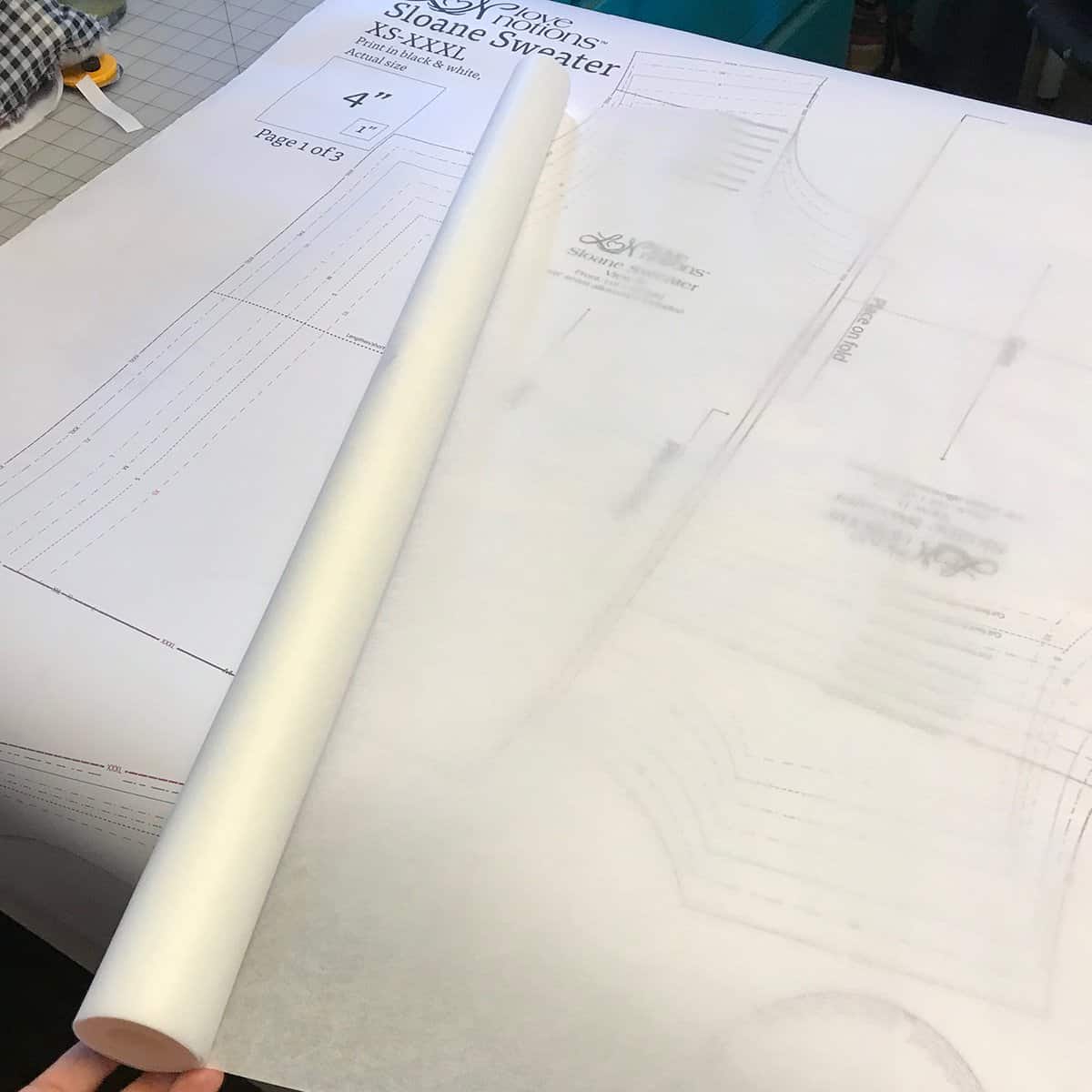 ---
We're continuing on with the fun! Join us in the Pattern Support Group