Love Notions Sewing Patterns, LLC Company Values
Community
We believe in the power of the sewing community to bring us together. Everyone has a voice that we can learn from and build each other up with.
Quality
In the pattern design, drafting, grading and instructions.
Collaboration
We value the collective passion, skill, feedback and contributions of all our team members and the input of the sewing community, including other brands.
Respect
For our customers and team members. We respect your resources and will treat each other and you with care.
Diversity
It's important to us that our team reflects the different faces, voices and walks of life present in the sewing community. We are working to build a sewing community where diversity is appreciated.
These are the Love Notions core values and we expect the brands and people we work with to adhere to them as well.
Meet The Love Notions Team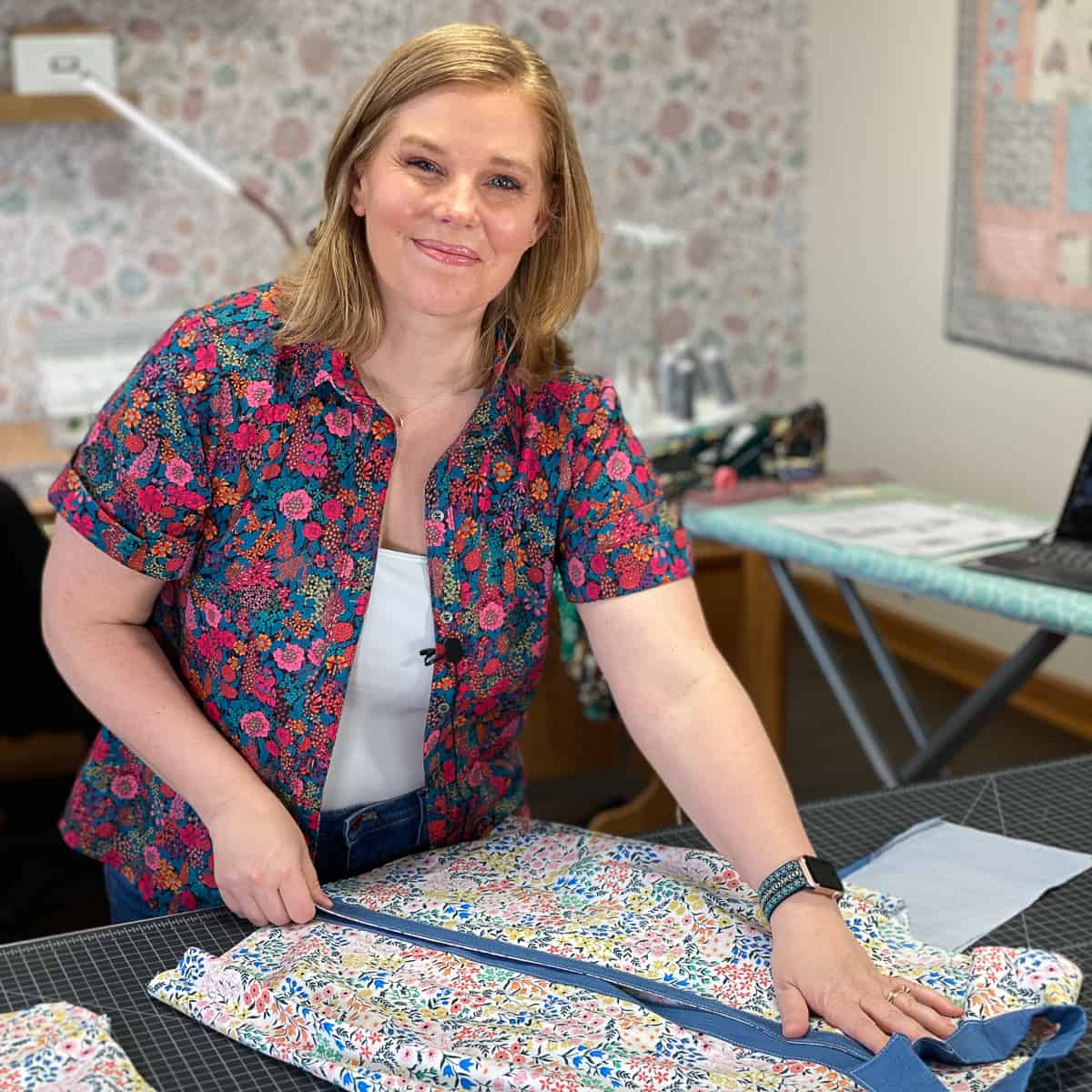 Tami Meyer
Owner, Head Designer
After 10 years of running a successful custom children's clothing boutique, I made the leap in offering my original designs in pdf pattern format for the home sewist. My passion is to design user-friendly, digital sewing patterns that help you create the modern, comfortable clothes that will become your wardrobe staples. Whether you are a master sewist or a complete novice, my goal is for you to enjoy the entire sewing process from the time you click "download" until the wearer is twirling around in the final fitting. Above all I created the Love Notions brand to be about quality and community.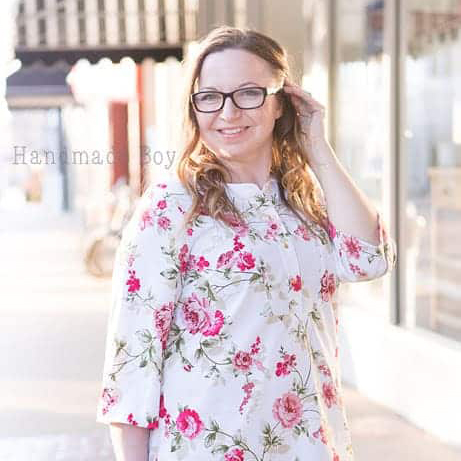 Kelly Simonsen
Customer Service, Assistant Designer
I adore helping people create clothes they love and feel great in. Witnessing people achieve their goal in crafting clothes for themselves and others is an amazing privilege. Nothing beats that feeling of pride when somebody finishes a piece and shows it off, and I love that I can share in that with them whether it's helping learn a new technique, or admiring a picture that was shared. Boy sewing is a challenge I can't get enough of! I am so honored to be able to design sewing patterns for boys under the Love Notions brand. My goal is to provide you with unique designs boys of all ages will love to wear and that you will love to sew!
Tessa Heiser
Marketing Director
I love sewing because it allows me to have special hobby all my own, and to create something that actually stays DONE. As a mom with small kids, sewing has been an extraordinary gift. I have been a fervent supporter of Love Notions from the beginning and have helped organize and plan the Sew-cations and community events with Tami for the past few years. I love the sewing community and I am thrilled to be a part of the team. You can connect with me on the Love Notions Pattern Support group or on my Instagram account, @tessadoes.
Katie G.
Ambassador, Group Admin
Katie has loved sewing since she was a little girl. She competed in sewing competitions in high school, sewed wedding dresses in college, and has a degree in Home Economics education with a minor in Clothing and Textiles. She taught high school sewing and now loves making clothes for herself and her 5 awesome kids.
Anjori H.
Ambassador, Group Admin
I'm Anjori, owner and thread artist at Bee Threadly, and self-taught sewist since 2010. My love for sewing grew once I started sewing more and more as I sewed for my daughter. It still amazes me everytime that I can create a garment from flat sheets of fabric! I like to bend the rules and hack patterns to make them my own; upcycling garments into new creations, and add small details like trim, piping, and my own embroidery designs to elevate my makes. If I were to define my style it would be comfortable and fancy. When I'm not making garments, I love creating artistically embroidered fabric and iron-ons through a unique style of embroidery. Connect with me @bee.threadly.
Nicole K.
Ambassador & Group Admin
I have enjoyed crafting all my life, but became an avid sewist about 8 years ago. I love being part of the sewing community and the connections I've formed with others. I have a profound hearing loss and am very grateful that Love Notions makes all their content accessible. My day job is in Learning and Development at a major pharmaceutical company. I live in the Indianapolis area with my husband and daughter, Elise. Elise enjoys all sorts of crafting and is a huge Love Notions fan. She envisions many pattern mashes and fabric combinations that never would have occurred to me.
Ilse L.
Ambassador & Group Admin
Hello, I'm Ilse from Belgium. I always have been creative and took a lot of courses where ceramics was my biggest hobby. In my job as a teacher, I was also always able to express my creativity. And then I started sewing again. After all, when I was 18, I took evening classes in sewing and it started itching again. My mom gave me the love of sewing, she made my wedding dress by the way. Testing patterns brought me further in my sewing process and then I came to Love Notions. And today I am still a big fan and always look forward to new designs from Tami. You too?
Noreen M.
Ambassador & Group Admin
A few years ago after yet another discouraging shopping trip, I came home and for the first time in years thought, maybe it's not my body but the clothes that are the issue. It was one of those "ah ha!" moments when I realized that I had the ability to do something about it! Even though I had sewn professionally it had been years since I had made my own clothes, I determined right then that that was all about to change. I soon discovered the world of PDF patterns, Facebook groups and Love Notions. That very day I made my first Laundry Day Tee and I've never looked back! The way Love Notions designs flatter a variety of shapes, sizes and ages has done so much to build my own self confidence and I hope that through my sewing and sharing I can inspire others the same way!
Koe T.
Ambassador
I have been sewing since I was 8 yrs old. I took a little break in my 20's but I and thoroughly obsessed in my 40's. I love using different substrates to create beautiful things to wear. I sew for my whole family now, (doggos included) but mostly myself.
Tami H.
Ambassador
Hello! I started sewing 10 years ago doing little projects like pillows, book covers, and placemats. Simple easy home DIYs like that. I started sewing clothing with patterns during the pandemic and haven't looked back.
Kelly G.
Ambassador
I grew up planning out Halloween dresses with my mom, who would then sew them up – I was always amazed at what she could accomplish with her sewing machine. When I had my own daughter, I decided to teach myself to sew so I could make her some dresses as well. Now I sew for everyone in my family! As a curvy sewist, I love to share my makes to show others that it doesn't matter what your shape is, you can feel amazing in anything that you create.
Hi! I'm Alex, a mom of two boys and a Disney lover. I have been sewing for over 11 years now, started with baby bibs and never stopped. I mainly sew for myself now as my boys have outgrown the custom/mom-made clothes. I have been a LN Ambassador since day 1 and I am just as happy and excited to be here as then. 💜
Hi, everyone! My name is Cynthia and I live in beautiful middle Tennessee…in a small town outside of Nashville. I have never lived anyway else! I am in my 18th year as a Special Education teacher, with 17 of those in the small high school in our community. I grew up watching my mother sew clothes for my sister, myself, and our many Barbies! Years later, my mom encouraged me to begin sewing my own maternity clothes and I was hooked. That was almost 30 years ago! I have sewn everything from clothes for my family to curtains, pillows, quilts, placemats, Christmas stockings, pouches and bags! But my heart belongs to sewing clothes. Several years ago I discovered PDF patterns and a whole new world opened up for me! The Allegros by Love Notions was the very first PDF pattern I downloaded and made…I still have them! So, it is a tremendous honor to now be a Love Notions Ambassador. I enjoy the entire creative process from choosing patterns and fabric, then sewing, to taking photos and sharing the finished product with the sewing community. I've made so many friends through sewing and look forward to meeting many more!
Hi, Sewing has always been my passion! I am a retired FACS (Home Ec) teacher~ I spent 32 years teaching middle and high schoolers all about foods, sewing and child development. I was always happiest when I was sharing my love for sewing with my students. Prior to teaching, I spent a few years in NYC at a Big 4 pattern company problem solving and writing educational materials.. As a retiree, I love sewing up a casual and comfortable wardrobe. I love nothing more than taking one of my favorite LN patterns and finding new ways to enjoy it (I'm looking at you Sloane Sweater!) As a 60 year old 5 foot tall "full busted pear" finding/sewing clothing that fits can be challenging at times! I am always able to get a great fit with my LN patterns and I always share my fitting alterations over on my blog~ Sewmarymac. 
Hi everyone, I'm Katie and I live in Southern California with my husband and our three boys. Sewing my own clothes has become such a terrific creative outlet for me over the past several years; I make time for projects a self-care priority these days. I love how there is always a new technique to learn or some amazing trick I haven't yet seen which keeps this pastime fresh (and sometimes challenging). This sewing community means a lot to me, and I'm always happy to share my experience to lend a hand because other sewists have taught me so much, and it's a delight to share my knowledge or cheer someone on. My favorite aspect of sewing my own wardrobe is getting to tell someone who compliments my outfit that I made it!
Debbie G.
Ambassador
Sewing for me is all about creativity. I love how I can take a piece of fabric and convert it into something that is unique . This sewing journey began a few years ago when a friend of mine invited me to a wedding, my bridesmaids dress had to be made and I was in awe that the seamstress took a few measurements and I had a beautiful dress!! Of course I just had to try what she did !! After much self teaching, here I am today proud that I took the journey. I cannot imagine where I would be without this beautiful art.
Karina T.
Ambassador
I've been sewing since I was a child and this craft has accompanied me for the last 30 years. I taught myself for the first couple of years and then had valuable input from my great aunt in my late teens. She was a couture sewing instructor and her influence is with me until this day: neat seams, hand basting, patience and striving for a great fit, along with consuming less resources. I sew because it makes me happy. I can dress the way that I feel great in and that flatters my body, by combining the style and the fabric that I love. I have been a midwife for 20 years and have also been living in different countries since my childhood: Chile, Australia, USA, New Zealand, Bolivia and currently in Brazil. My current passion is teaching sewing on my YouTube Channel.
Katie Kimmell
Ambassador
Katie started sewing apparel when she wanted to make pants that would fit over cloth diapers for her babies. Eight years later and she's sewing almost daily, wearing almost exclusive handmade apparel. She loves how sewing is a great creative outlet for herself.
Erin E. B.
Ambassador
I learned to sew as a tween, but didn't take to it until I was an adult in my 30s. I wanted to make clothing for myself that I wasn't seeing in stores. Ready to wear clothing in the styles I liked didn't fit, and the clothing I found that was in my size didn't suit my personality. When I was able to make myself clothes that fit me well and allowed me to feel good, there was no turning back!
Megan L.
Ambassador
Hi, my name is Megan and I have been sewing for over 25 years since being taught as a little girl by my mum. I hail from Melbourne, Australia and I love sharing sewing inspiration and advice with fellow creatives. Being able to inspire others to look and more importantly feel good in the clothes they make is so important to me, which is a big reason why I am a huge fan of Love Notions Patterns. Their pre-done FBA pieces are such a welcome feature as it saves me a LOT of time and I get beautiful makes at the end. I make for myself, my Daughter and Son, and occasionally my Husband if I feel like letting him have some of my coveted fabric stash 😉
Kayla S.
Ambassador
Hello!! I am beyond excited to be a Love Notions ambassador! My love of this pattern company began with the release of the Laundry Day Tee in early 2015 (who else started with this pattern?). I found sewing when my youngest kids started kindergarten. I have always been into clothes shopping and this was a fun way to shop plus everything fits!! I have made so many friends though the community and learned so many skills over the years. My style is simple patterns with gorgeous- often colorful-fabric.  
Chloe H.
Ambassador
I started sewing in my 20s with a vintage machine in a tiny studio in New York, mainly to make clothes to fit my petite height. My machine and my growing fabric stash then moved with me to Tokyo, London and now Virginia, US. These days I sew for myself as well as my two girls. Love Notions patterns are our go-to source for versatile wardrobe staples. When I'm not sewing I also enjoy knitting, spinning and gardening.
Livia J.-Y.
Ambassador
Being creative has always been my passion. I grew up drawing, crocheting and cross-stitching. Even though I've always been fascinated by the idea of making my own clothes, I didn't have anyone around who could teach me. When my twins were born the hobbies stopped. No time for it anymore lol Fast forward a few years. The kids were bigger, social media advanced, YouTube tutorials became a thing… and I found a cheap second-hand sewing machine at a local marketplace. That was it! The stars aligned and I was going to learn how to sew! Soon after I found the FB sewing community, and the rest is history. The LDT was one of the very first pieces I made for myself and it feels full circle to now be a proud Love Notions Ambassador. <3 I can safely say that 99% of my wardrobe is me made. Nothing beats having pefectly fitting clothes!
Whitney L.
Ambassador
I'm Whitney from the Indianapolis, IN area. I was bitten by the sewing bug in 2006 when I taught myself to sew gender neutral bedding for my boy/girl twins' nursery. It was love (or obsession) at first stitch. When we moved from the Kansas City, MO area to the Indianapolis area in 2011, I was fortunate to meet my sewing mentor, a professional dressmaker. I was lucky to be her apprentice until her retirement, when I then went to work in a bridal workroom. In 2018, on a whim, I decided to start a YouTube channel where I explore sewing capsule wardrobes and recreating ready-to-wear as well as teaching sewing and fitting techniques. My passion for sewing grew into a passion for teaching and inspiring others in the craft. It was through the YouTube channel that I was introduced to Love Notions by a viewer and have been a huge fan ever since!
Kris T. H.
Ambassador
I am a completely self taught sewist who fell down the rabbit hole of sewing in 2018. I'm an island girl who is obsessed with fitting, and all of my makes are infused with the spice, colours and flavor of the Caribbean!
Nateida L.
Ambassador
I truly enjoy encouraging others in their sewing journey and sharing the things I have learned along the way. While I have been sewing off and on through the years since I was a teenager, I did not begin sewing on a consistent basis until February 2017 after the passing of my beloved Great Dane, Regal. I have learned so much over these past few years and look forward to continuing to expand my knowledge and help others as best I can along the way. Look forward to seeing new creations such as garment sewing (hacking, tutorials, etc), as well as handbag making and other fun DIY crafts.
Jess Wilcox
Ambassador
When Jess's husband bought her a serger many years ago to help with embroidered towels she started making, she had no idea it would lead to such a passion for sewing! As a plus size woman, finding cute, affordable clothing that fit well was always a challenge. Once she started sewing her own, her confidence skyrocketed and she finally had clothing that felt great and looked fab! She has been sewing clothes for herself, husband and 8 kiddos regularly ever since! (And has the fabric stash to back up the passion, ha!) She is always ready to encourage other sewists, especially those who so desperately want to feel comfortable in the skin they're in—everyone deserves to feel FABULOUS!
Kim Koluch
Ambassador
Kim has been sewing for more than 50 years. She runs the YouTube channel, Dorothy's Daughter. She enjoys garment construction and trying new fabrics!
Annick C.
Ambassador
Hello, I 'm Annick (An Ca) and I live in Belgium. I learned the basics of sewing (and knitting, and crochet, and embroidery and …) from my mom. 9 years ago, I started making my own clothes and in the meantime I have spent quite a few hours on the sewing machine. I love to share everything about my sewing hobby with you ❤️.
Agnes L.
Ambassador
When I was 14 my mom took me to a community center where they taught all sorts of crafts like pottery, sewing, painting etc. I learned the basics there. A few years later I had textile classes in college where I learned even more and then my mom gave me my first (secondhand) sewing machine. It was a heavy duty metal one and only had a straight stitch and zigzag! I didn't sew much after college but started again in my 30's when I made a lot of clothes for my kids. The last 3 years I started sewing for myself and am really enjoying it. I did upgrade the machine a few times over the years but I'm 50 now and I still have my very first machine!
I was a middle school home ec disaster even with extra help, and didn't touch a sewing machine again until my first kiddo was a toddler and I wanted to sew simple dresses for her. My mom taught me the basics and then sent me on my way – blogs, books, and a hefty dose of trial and error and hours of practice got me here. I started pattern testing when my kids were young and the deadlines were good but the camaraderie was even better. I'm lucky to have been with Love Notions since the early days (2014!) and love being part of this warm, supportive community! I'm always ready to help hack a pattern or shop for fabric, reach out anytime!