It's that time of year when many are thinking about the annual family photo! The biggest question is usually "But what are we all gonna wear?" Kim from Dorothy's Daughter on Youtube is here with tons of tricks and tips for coordinating attire in family photos. And bonus! She also has a super cute tulip sleeve hack for the picture perfect Prisma Dress.
---

How to Coordinate Clothes for Family Photos
What should we wear for family photos? 
This is Kim, otherwise known on my YouTube Channel as Dorothy's Daughter. Over my 19-year photography career, this was one of the most frequent questions asked by my clients.  I was always happy to answer this question, because too often, my clients would either not put any thought into it at all, or show up with everyone dressed exactly the same.  
Sewing gives a unique opportunity to coordinate clothes
As sewists, we have a unique opportunity to create clothes for our families that will compliment each other and bring out everyone's best features.  As an example, I created three dresses for my granddaughters using the very versatile Prisma  dress pattern (aff link).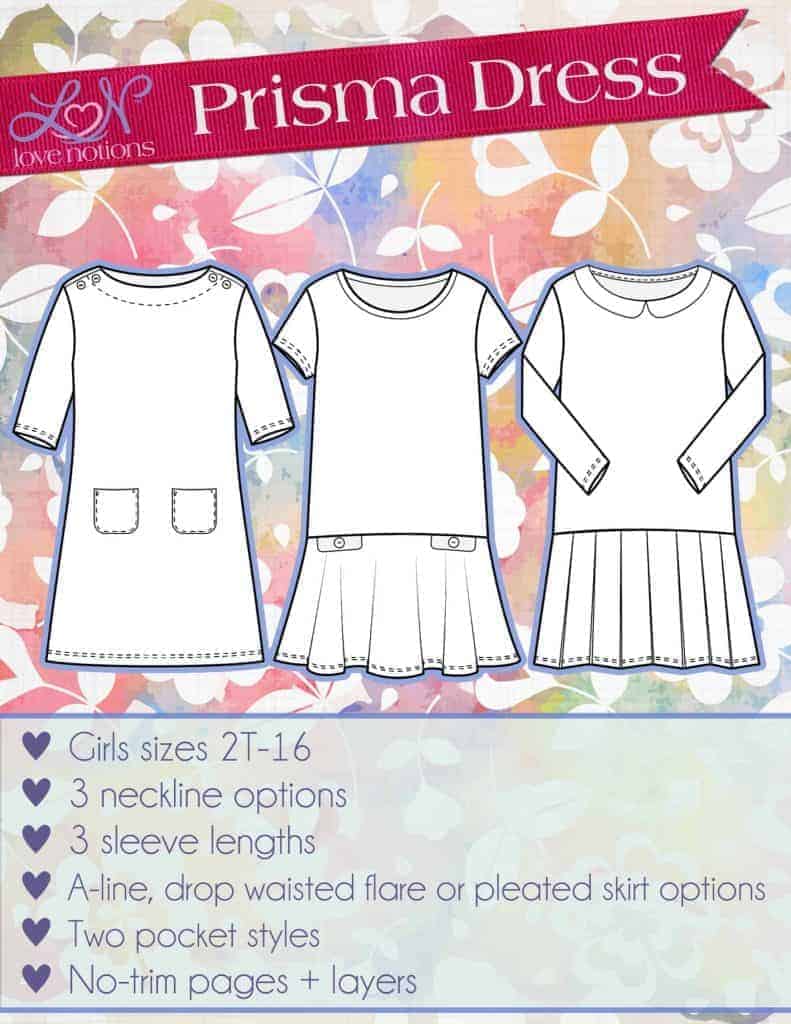 A pattern with lots of options helps coordinate clothes
The pattern is for sizes 2T-16 with many options— three neckline options, flared, pleated or straight silhouettes and several sleeve options.  A tried and true pattern in my collection, I knew there were endless possibilities.  One of my granddaughters asked for tulip sleeves, so a little pattern hacking was necessary.  More on the tulip sleeve hack below, but first, here are a few tips to help you coordinate your family for that awesome autumn photo session— colorful leaves, crisp clear skies and golden sun makes for a beautiful canvas for your memories!
1. Consider your background or surroundings
If you will be posing outside, consider what will be behind you in the photographs.  While you want to compliment your surroundings, you will want to separate yourselves a bit from the background.  As an example, wearing all green with pine trees behind you could make it look as though your heads are floating in the pine trees.  
2. Avoid over-matching. Let everyone dress in their own unique style.
Everyone is more comfortable and relaxed when they are wearing clothes that express who they are.  It is possible to compliment each other, but still maintain individuality.  With my three granddaughters, each Prisma dress matches their personality.  For a sweet, graceful, soft-spoken 12-year old, I chose the straight silhouette version of Prisma. 
For my artsy, spirited and creative 11 year-old, I chose to give her Prisma Dress with the tulip sleeves she asked for as well as a double skirt.  To coordinate, I used the fabric from the other dress for her under skirt.
For a silly, fun, "happy all the time" 8 year-old, I chose polka dots for Prisma Dress with the Peter Pan collar and flared skirt. 
3. Pick a fabric print to get a general color palette
In my case, the floral French Terry  from Girl Charlee determined the color scheme.  Within that print, there are whites, corals, greens and soft pinks.  While I pulled out the gray and white with these Prisma dresses, mom could pop in this photo with a solid coral Rhapsody Dress or Top.  Dad could wear a solid white waffle-knit Dockside Henley.  Their 6 year-old brother could wear a Dashing Vest made in the dark gray fabric.
Alternatively, you could choose complementary colors from the color wheel for your palette.  Complementary colors are those that are across from each other on the color wheel— purple and mustard yellow, orange and teal, etc.
4. Mixing prints is ok!
When you work with a coordinated color palette, mixing prints can work well.  Arrange people with solids in between the prints for balance.
5. Even though it's technically blue, denim is a great neutral for photos
Denim looks very natural outside, and has the added benefit of making people feel very comfortable!
---
Now for that Tulip Sleeve Prisma Dress hack:
(Pardon the raindrops on the sleeve!)
We will begin with the short sleeve piece on the Prisma Dress pattern.
To give the sleeve a little puff, we will slash and spread through the sleeve cap at 1/4" intervals.  Use a piece of paper or cardstock for backing.
With a curved ruler, draw curves in both directions as desired.  I found a soft curve about 2" from the shoulder point in each direction to work well.
Mark a notch at the shoulder point.
Trace both pattern pieces, being sure to mark them as front and back.  Also be sure to mark the shoulder point on both pieces so that you will know how much to overlap them.
Baste pieces together, matching notches with the front lapped over the back.
Stitch gathering stitches across the sleeve cap and gather to fit armscye.
Stitch sleeve to armscye and finish garment according to pattern directions… Voila! A tulip sleeve for Prisma Dress!
Want more help with this? You can head to my youtube channel, Dorothy's Daughter and here is the link to the full sleeve tutorial!
---
What are your tips and tricks for coordinating attire for family photos and capturing memories?

Leave a comment with your favorite Love Notions patterns for family pictures!
Pin these for later!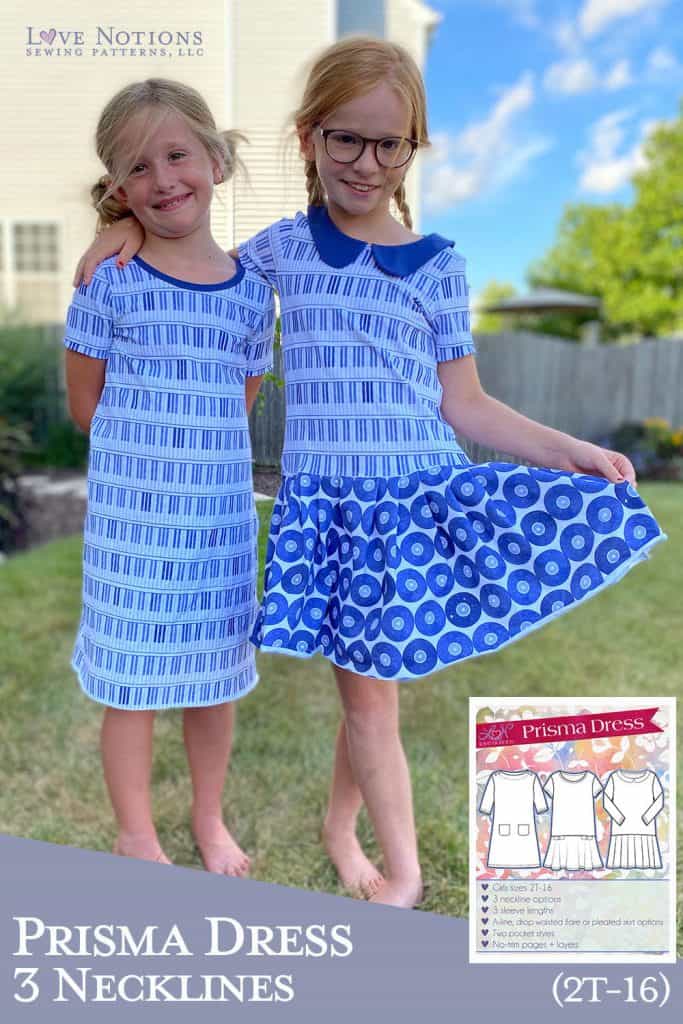 ---
Shop for more patterns for Family Photos
[carousel_slide id='303884′]