Hey Love Notions Lovelies!
I am Eleri from Sew and Tell Project and I am so excited to share a fun little pattern hack on the Tabitha top with you today! The Tabitha top is a casual, relaxed tee with two neckline options (bateau or scooped), five sleeve lengths, and three hem options! Today I am introducing another simple hem option that you can use to get even more out of the Tabitha pattern. Make sure you grab your copy today here!
Before I dive into my tutorial I wanted to share a full view of the Tabitha I made for this tour.
I used two knit prints from the Art Gallery Fabrics Skopelos Collection by Katarina Roccella. They are both high-quality cotton lycra which is important since you want to use a stable knit for the Tabitha to get the correct fit.
I love that Love Notions Patterns include shorten/lengthen lines on all the pieces including at the bust and at the waist line.
I usually add an inch to each since I am 5'10". The pattern tutorials also include comprehensive size charts and notes on intended fit to help you choose the correct size for the fit you want.
Before I go into my tutorial for the modified hem line, I wanted to draw attention to my neckline. I have made a few Tabitha's but sometimes struggle to get nice stitching for my invisible finish. This time I used my trusty Wonder Under Fusible Web Tape that I always use for hemming knits. After I attached my neckband, I ironed on the hem tape, peeled the paper off, flipped the neckband down, ironed it in place and then coverstitched. I was very happy with the result and will be using this method from now on for necklines with an invisible finish.
Are you ready to make a tulip-hem Tabitha now?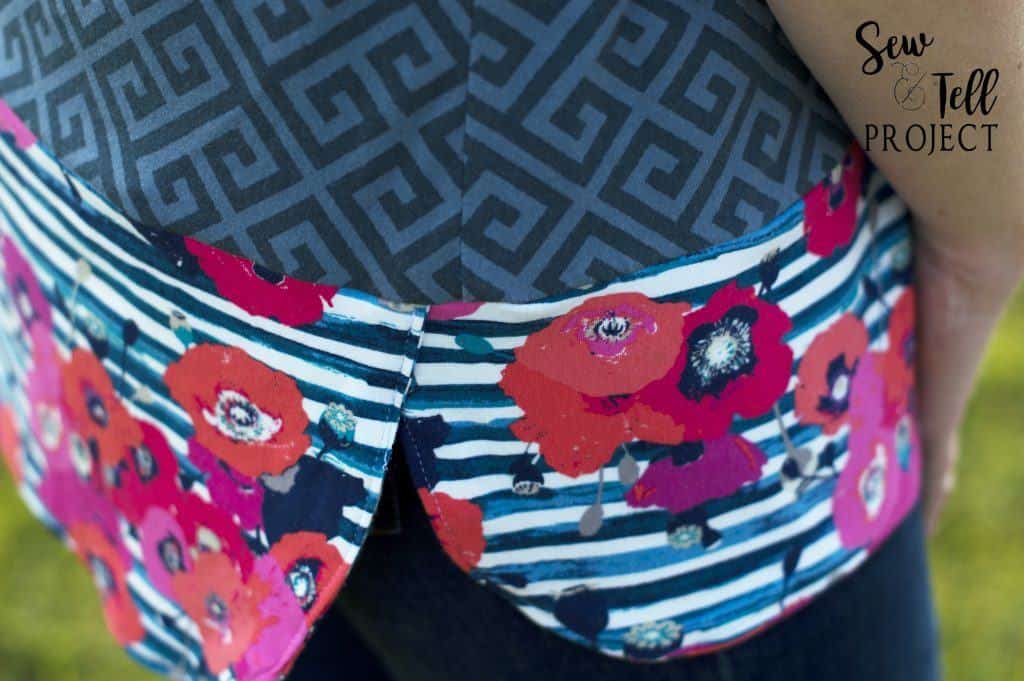 I followed the pattern instructions in the tutorial for constructing the upper portion of my shirt except for my hem pieces. Here is where I made my adjustment.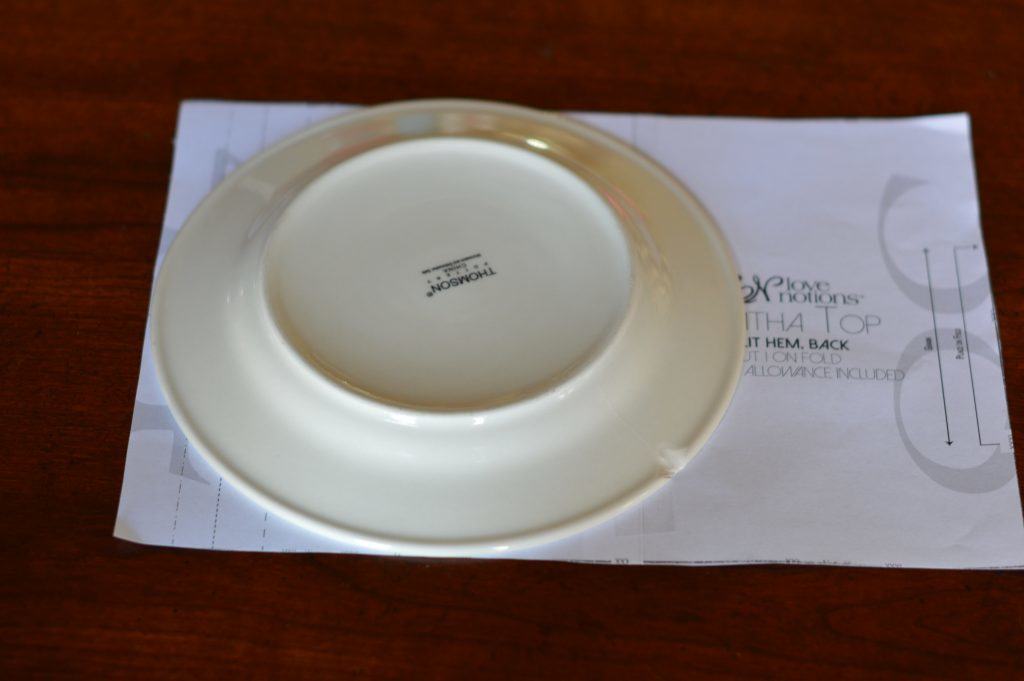 I took the pieces for the split hem in my size and used a small plate and butted it along side the side and bottom edges to trace a gentle curve. I then cut my pattern pieces out along the curve.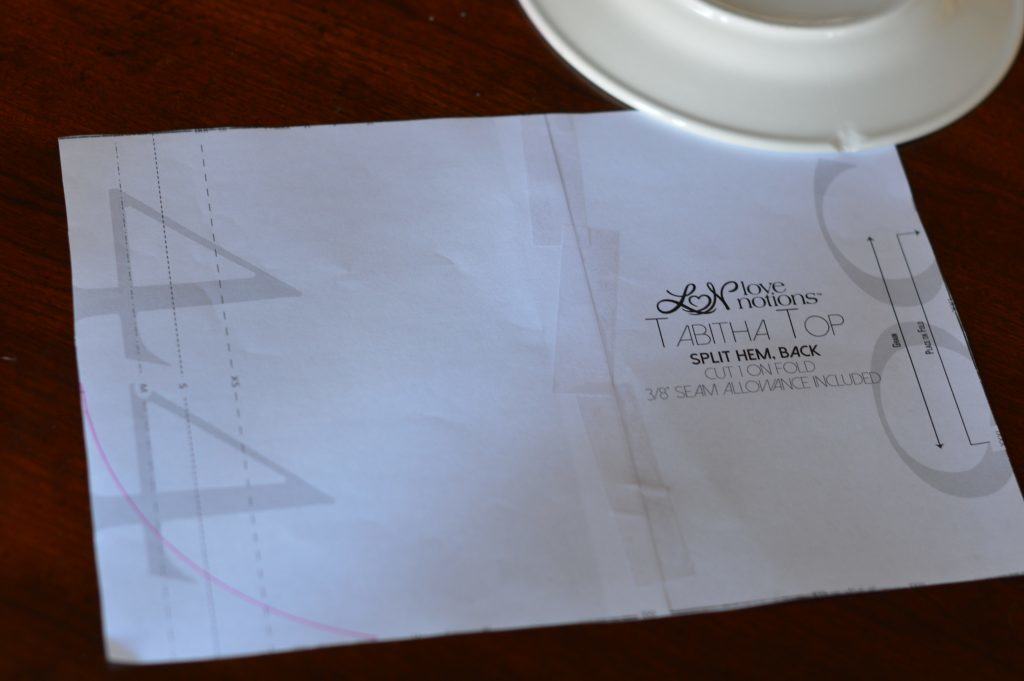 Before you do the next step you need to decide whether you want the front hem piece or the back hem piece to overlap. You also need to decide how much you want them to overlap.
I wanted my overlap seam to be fairly centered by the shirt side seam and overlapped from the back, so I kept my back piece the same width and cut it right along the fold. To create the tulip, you need to make sure one of the hem pieces is wider than the pattern piece calls for. You can either add a 1-3″ strip of paper along the fold line and cut on the fold, or you can do what I did (see picture) and use your cutting mat to offset the piece from the fold a bit. I cut mine about 1″ away from the fold which made my front hem piece 2″ wider to overlap with the back. When I remake this top, I want my tulip to overlap just a bit more so next time I will offset it by 2″ for an additional 4″ to allow more overlap.  You need 2 front pieces and 2 back pieces.
Follow the pattern instructions for assembling the split hem. Before you turn your pieces right sides out, you need to clip your curves so it will lay nicely.
I love my razor-edge Fiskars to snip into the curves. Turn your piece out and steam/iron carefully and topstitch along the finished edges.
I thought I grabbed a photo of this step but I did not – so read carefully 🙂
Mark the middle of the front and back of your shirt with a fabric pen. Mark the middle of both hem pieces. Match the front and back hems with the corresponding marks and pin. Double check that you are overlapping your hems the way you desire the finished product to be overlapped.
Before I serged, I basted my hem pieces on to make sure they were positioned the way I wanted. When I was happy that they were overlapped neatly, I serged the hem pieces to the shirt.
Here is an example of the tulip hem of my muslin to show you what it looks like if you add length to both pieces.
Optional step: If your tulip hem only overlaps a little like the one featured in this tutorial, you can topstitch the overlap down so it stays nice and closed.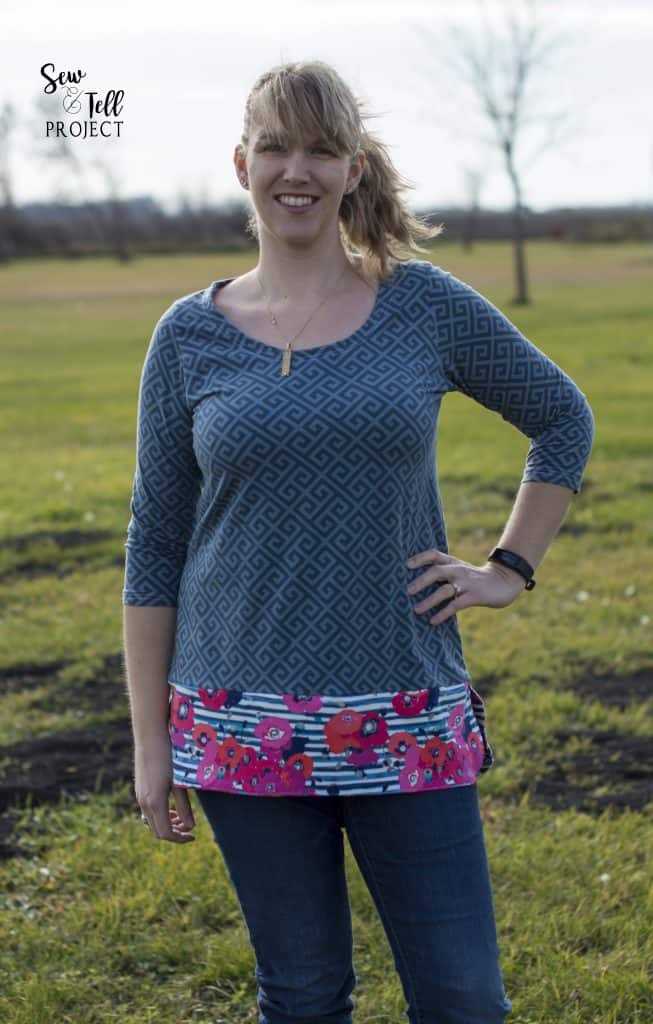 I hope you enjoy sewing the Tabitha just as much as I did! For more sewing inspiration, I hope you will find me on Instagram as @elerihandmade!
Save