Hi all, are you, like me, over the moon about the newest Arlington pattern? I'm so glad Tami designed a turtleneck pattern that's so welcome here in this mild maritime climate where I live.
When I am strolling along the shopping streets, which I don't do very often anymore, or browsing through the advertising magazines, I see Arlington so often, but in a sleeveless version. So, it's time to recreate this sleeveless sweater vest look! How wonderful it is when you can stuff your closet with your own creations and hacks!
In the meantime, I made quite a few beautiful Love Notions garments so I went to see what garment I could combine with a sleeveless Arlington.
Pinterest is full of ideas so let me show you my favourite one.
Sleeveless Arlington Look One:
Arlington + Sabrina Slims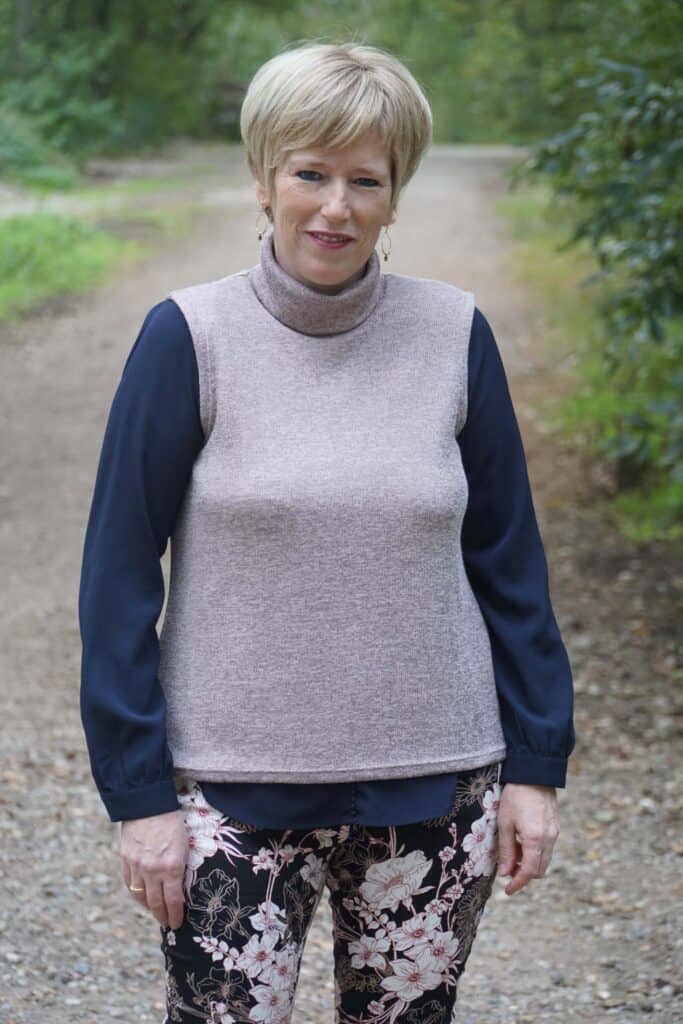 One of my latest creations is this Sabrina Slims with black background and pink flowers. Until now, I wore these with a black Laundry Day Tee or a pink Tidal top. Urgent time to change tops. So it became a sleeveless Arlington in pink! I used a knitted poly/cotton blend for my creation. Perfect to style it with my Sabrina Slims.
So, how did I make a sleeveless Arlington?
Quite easily, actually. I sewed the hip length top all the way through as instructed, but didn't put in any sleeves. To finish the arm opening, I cut bias.
So, how did I make knit bias to finish the arm opening?
I measured the arm opening of the front and back piece. These I counted up. For size Large, this is 19". I cut two strips of 19" cm long and 1,2" cm wide in a biased direction. I sewed them together, right sides to right sides. Then I divided the band into 4 equal parts and marked them with a needle. I also divided my arm opening into 4 equal parts. Then I sewed the band's right sides together with a seam allowance of 1 cm or ⅛". Then you iron the seam value towards the band. After this you turn the whole band inwards so that you don't see it anymore on the outside. I secured it with a twin seam and pressed it again carefully. Here you see some in progress photos and look how neat it now looks on the inside.
I was unsure if it was best to let my shirt which I wear underneath show up under it. Maybe a crop top version would be nice too?
Of course you can combine Arlington on so many other Love Notions designs.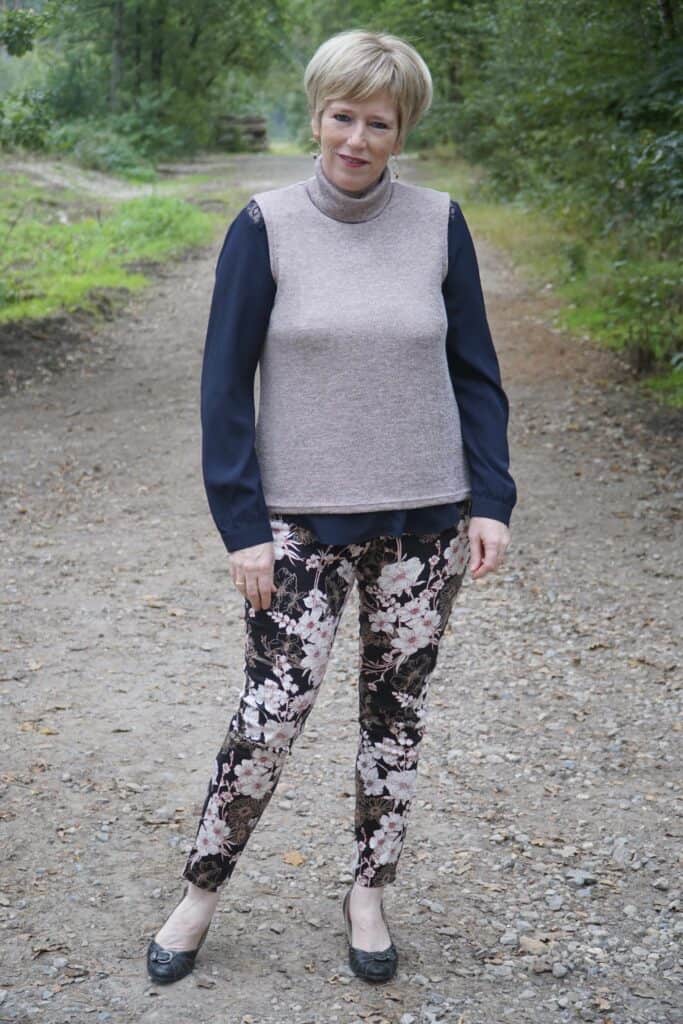 Sleeveless Arlington Look Two:
Arlington + Tempo Sundress
When it gets colder, I very quickly tend to put on pants again. So what if I made a nice warm sweater over my Tempo Sundress? Would that be the perfect excuse to wear it longer until including fall? Yeah right!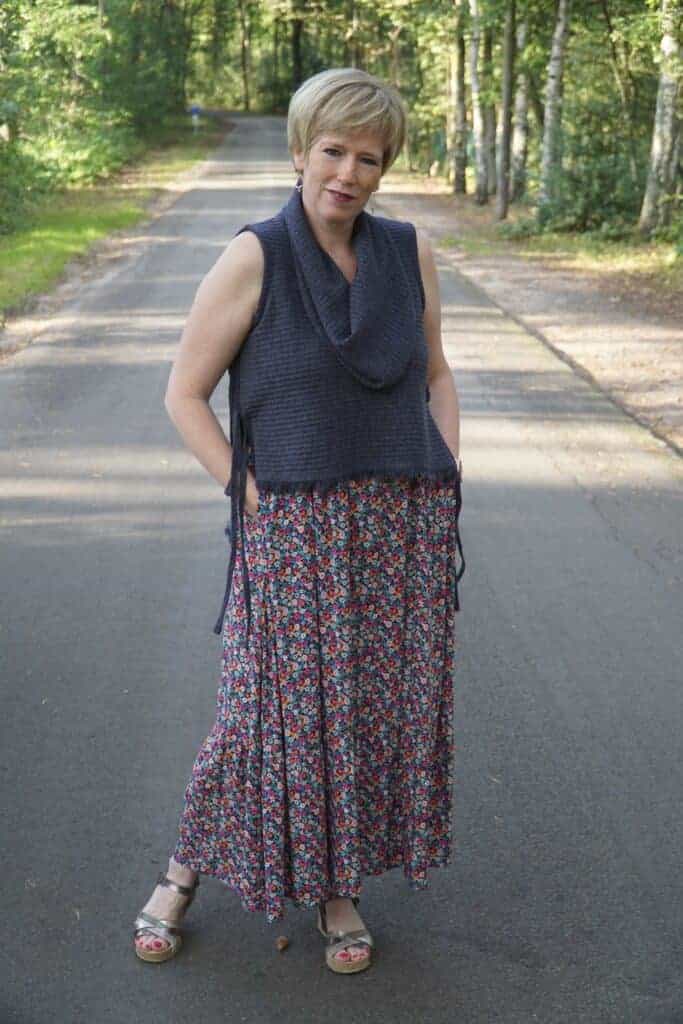 My idea was to make a wonderfully warm Arlington with cowl and to make the back panel slightly longer than the front panel, to finish the side seams separately and tie them with ribbons. Good idea?
How did I make the sleeveless cowl with open side seams?
So I needed the front and back piece, the cowl piece and my long bias strips for the armhole with ties, that's it! I know you can buy ready-made bias in all sorts of qualities, but I personally think the same fabric fits best, so I made this one myself.
Because the selvedge of the fabric has such a beautiful fringe, I decided to use it as the bottom. This way I didn't have to hem the sweater and I had an original hem.
For the front I used the banded hem line. The back is like 8 cm or 3.1″ longer.
I sewed the shoulder seams together and instead of closing the side seams, I hemmed them (4) separately.
I sewed the cowl, but you can certainly do this last. I cut two strips in a bias thread direction of 120 cm or 47.2″ long and 3 cm or 1.2″ wide. And another two for ties at waist level.
Mark half of the ribbon and begin pinning it from the shoulder to the bottom of the armpit. Sew in place at 1 cm or ⅜" seam value. After this, turn the entire strip to the back so it is no longer visible. Secure with a zigzag stitch and do the same with the ties. At the height of your waist, make another ribbon on both sides.
This stretch waffle fabric was so easy to work with and at the same time it is nice and soft. I chose this color with forethought of course because I so badly wanted an extra layer for my Tempo Sundress. What do you think of this combination?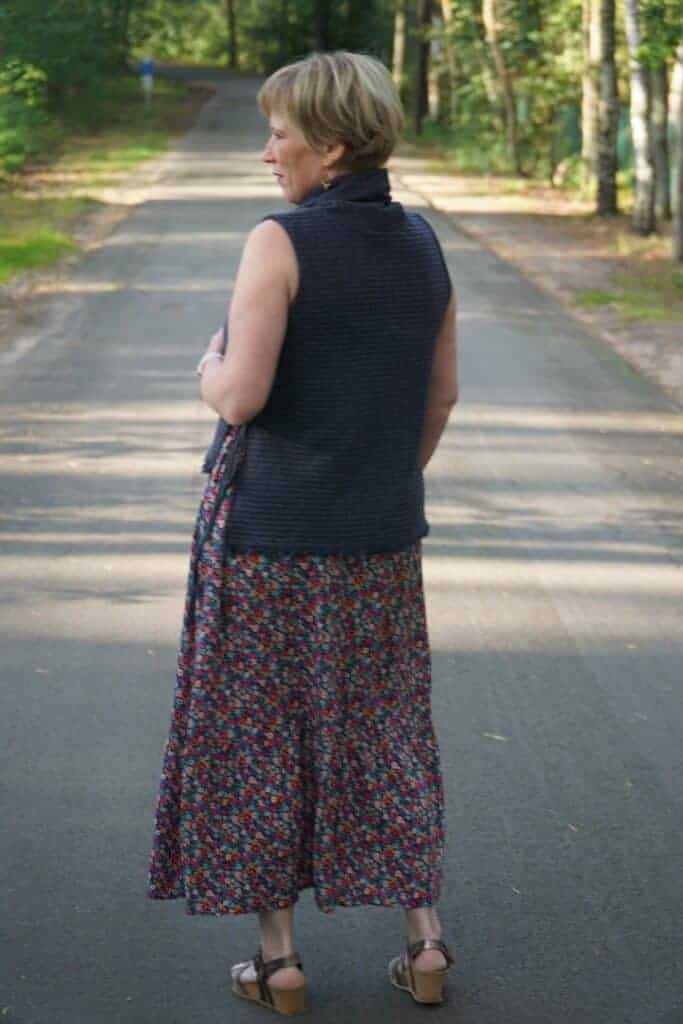 Sleeveless Arlington Look Three:
Arlington + Ravinia Skirt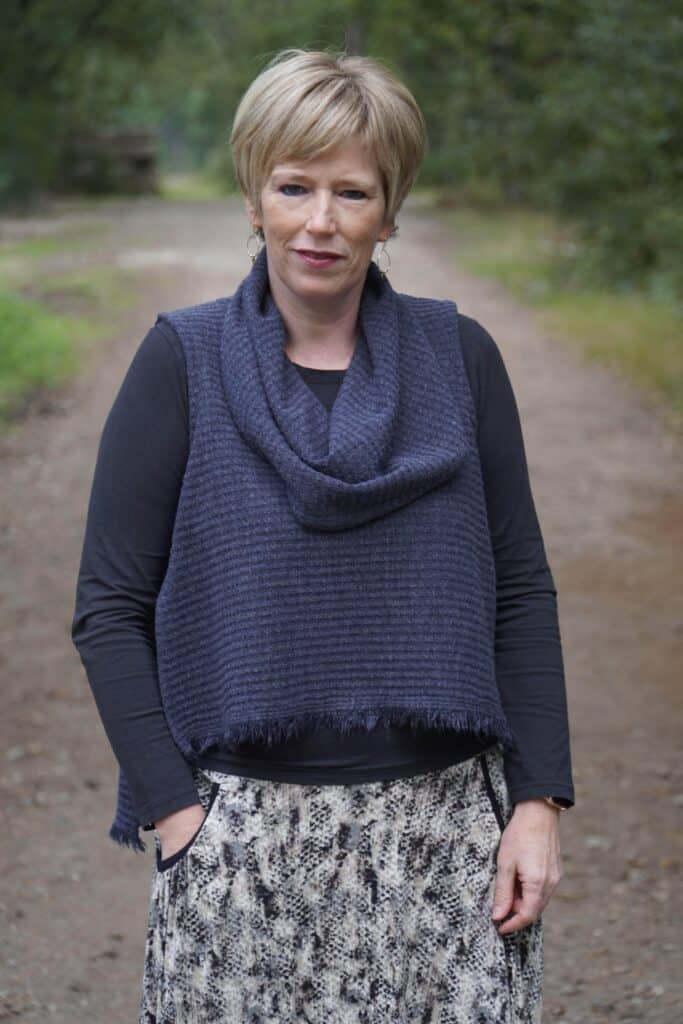 I really love this look so much!
Shopping in your own closet is pretty fun. Closet? Uh, closets. I have already sewn many cute Love Notions designs and the Ravinia skirt is also great to combine with my new Arlington. Now that we are gradually heading into autumn, this maxi Ravinia is an ideal match. What do you think?
I love the contrast of the crop Arlington with the maxi skirt. Actually, you get just the same effect with the maxi Tempo Sundress. Love these layers!
Sleeveless Arlington Look Four:
Arlington + Laundry Day Tee + Duet Trousers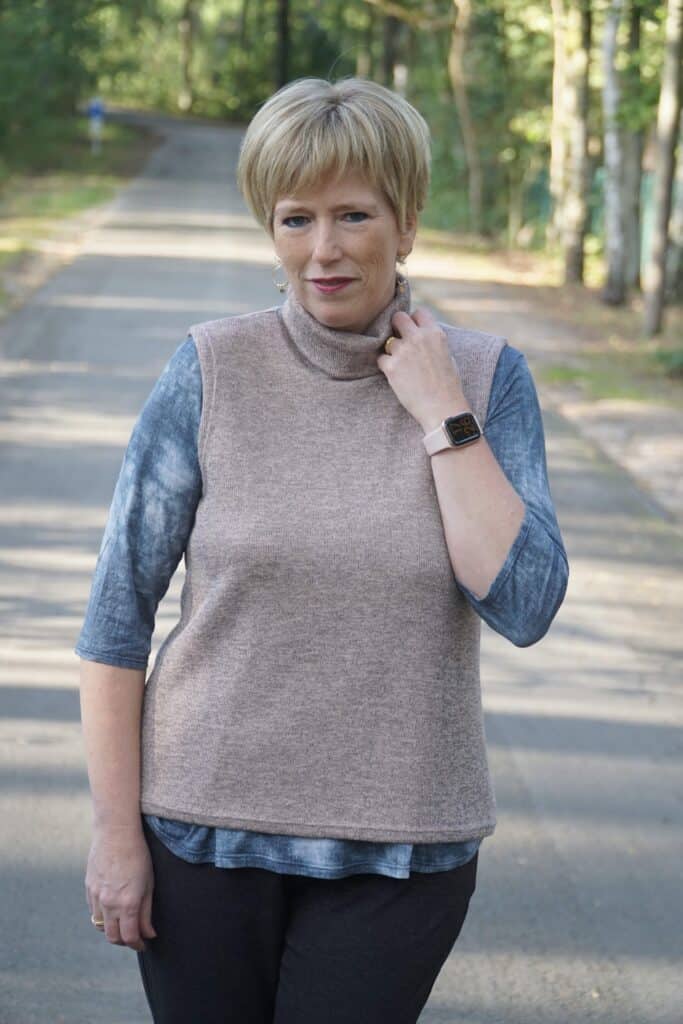 The Arlington, sleeveless or sleeved, can be combined infinitely and you can see that here with a full Love Notions combination. I am wearing my sleeveless Arlington on my Duet Trousers and my 3/4th sleeve Laundry Day Tee.
A delightful combination!
I'm ready for fall! Are you as well?
I hope with this post I've given you more ideas on how to combine your Arlington Sweater. Be sure to purchase it while it's still on sale!
You can find me on Instagram at Sewsewilse.
Thanks for stopping by, love Ilse.
---
Save this article to your sewing Pinterest Board: