Hello there Love Notions friends! I'm Caroline, one of the Love Notions Ambassadors. You may have seen me around the Facebook group, on instagram, or right here on the blog. I'm back again today with a holiday hack. Well, it's a hack and I'm sharing it with you on a holiday. Haha! 🙂
Tidal Hoodie Hack + Cuffed Long Sleeves + Extension
I've altered the Love Notions Tidal, which is the Feature Friday pattern today – grab it for only $5! A little bit of hacking and a little bit of mashing with the Love Notions Sloane (a personal favorite), and I've got myself a sassy hoodie for cooler weather. This hack has so many possibilities. I hope you enjoy it and I can't wait to see how you make it your own!
Pattern Hacking Projects like this have been my Sewing Motivation this Year
2020 has been a heck of a year that has taken a toll on all of us. I've struggled to maintain my motivation to sew (to do a lot of things), and projects like this are part of what has gotten me through. I see inspiration all the time – maybe you find this as sewists, too. I see clothes I like on mannequins or a colleague wearing a cute sweater and my mind immediately starts calculating what patterns I could use to create that look. I saw this hoodie/cloak a long time ago and 90's teenage me was immediately taken with it.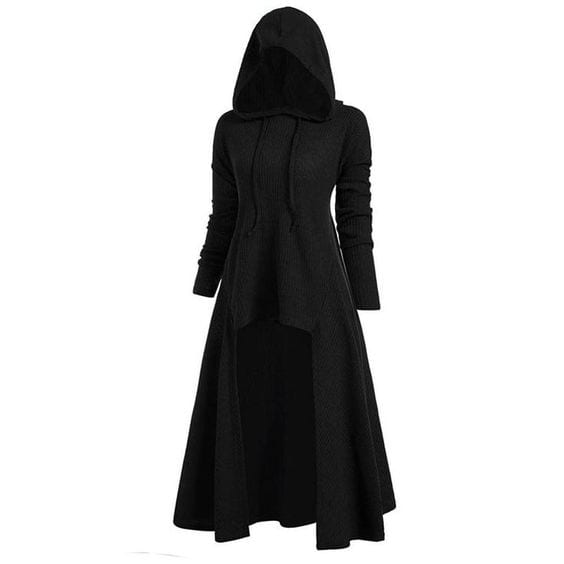 But as much as I love this, and as much as I toyed with how I could recreate it, I could never motivate myself to make it. I think because this look – as cool as it is – isn't reflective of how I see myself right now.
"It's not practical," my brain would say.
"Where would you wear this," my brain would ask.
I decided to sew something just because I wanted to, for the simple reason that it would make me happy.
And with COVID-19, those voices just got louder. Either it's all lounge wear all the time, or the most practical, washable items I have in my closet and/or scrubs. So, for the end of 2020, I decided to tell that part of my brain to hush for a minute. I decided to sew something just because I wanted to, for the simple reason that it would make me happy. Maybe it's not practical. Oh well. It's fun and I like it! Take that, 2020. 😉
To create this Tidal Hoodie look, I did the following things:
Mashed the Tidal and Sloane sleeves (and added the Sloane cuffs)
Added the Sloane neckline to the Tidal top
Added the Sloane hood to the Tidal top
Shortened the front bodice piece of the Tidal by 1" (this was strictly personal preference)
Extended the back/side piece of the Tidal top by 8"
Added lace trim as an accent (purely decorational and totally optional)
I compromised with my "that's not practical" brain a little bit with the length added to the back/side piece. I went for knee length rather than the calf length of the inspiration pic. I did that because I have and work with young children and I am also very clumsy. Long things get grabbed, snagged, stuck on my show, dipped in paint, etc. and I just didn't need that kind of stress. Haha! I do want to do a longer one eventually.
To do this Tidal Hoodie hack, you will need:
Tidal pattern
Sloane pattern
Paper and pencil (or maybe you can do this with your fancy projector. Hope I get one for Christmas!)
Ruler
2-3 yards of fabric
Note about the Tidal Long Sleeves: The Tidal Top Sewalong Series on the Love Notions blog does include a ready-made long sleeve add-on for the Tidal which you can access on this blog post. However, Caroline's instructions show how to add different sleeves to different patterns which we think is a really helpful concept! Also her version includes the cuffed version of the Sloane Sleeves and cuffs are not included with the Tidal Long Sleeves.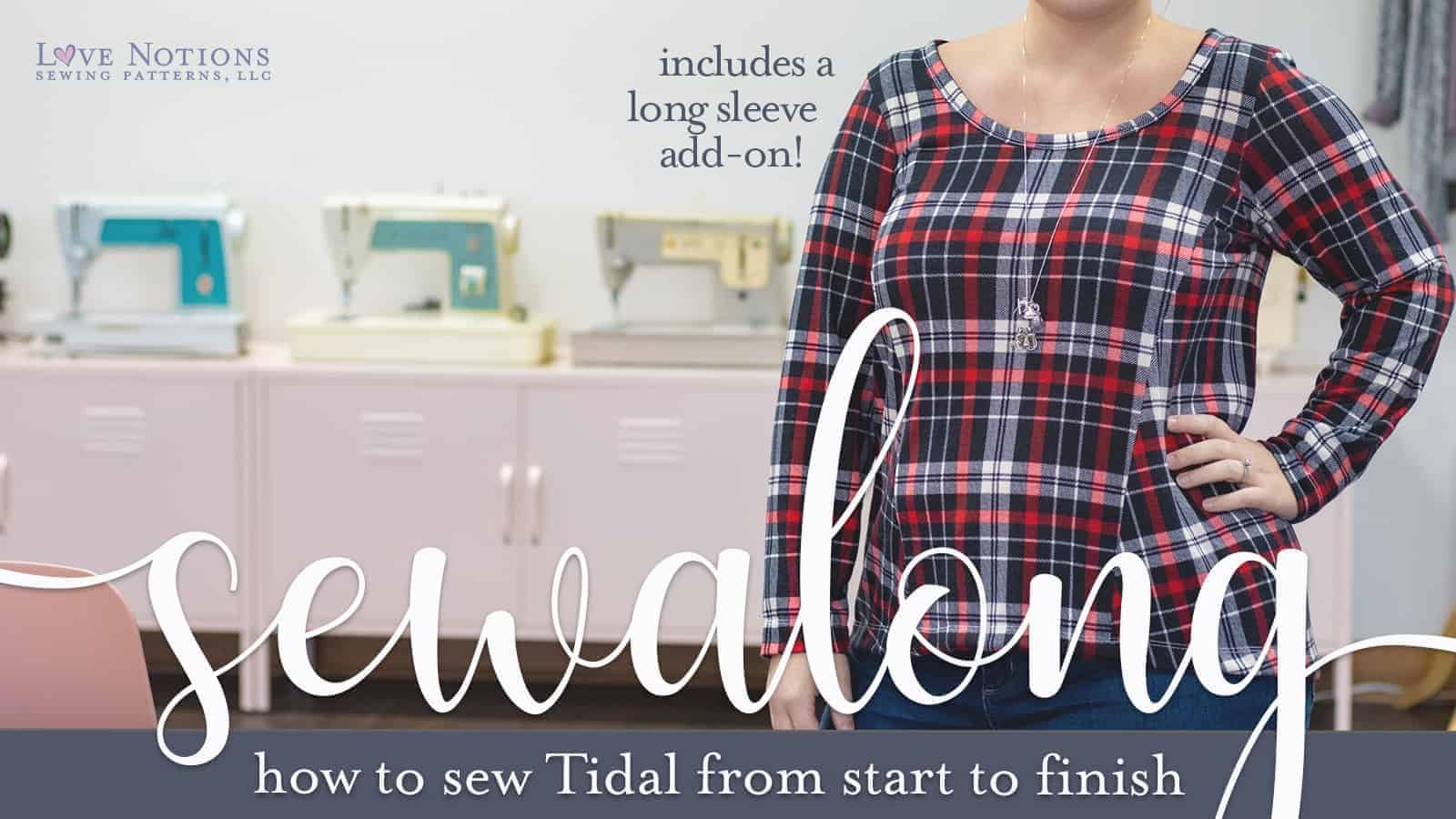 Tidal Hoodie Hack Directions
Line up the shoulder seam/neckline point of the Sloane and Tidal. Trace the Sloane neckline onto some extra paper. I like Swedish tracing paper. Tape the traced Sloane neckline to your Tidal pattern. Do this for the front and back necklines. Voila! Sloane neckline added to the Tidal.
Line up the Tidal and Sloane sleeve pieces, aligning the shoulder seam mark and the front sleeve. Following the Sloane pattern, extend the line of the Tidal sleeve from short sleeve to long sleeve. You will need to extend the back sleeve head by about ¼" to meet the Sloane sleeve line. It's knit. It can be eased in. 😉 When you are done, you will have the sleeve head of the Tidal and the sleeve length and shape of the Sloane.
Extend the hem of the Tidal top 8" (or whatever length you desire). If you wanted to make an ankle or calf length hoodie, you could use the Tidal dress as your guide. I wanted the back shaping and flare of the top, so I extended the top pattern piece.
Add a ¾ – 1" tab to the front seam of your back/side piece. This is the technique you'll see on Tami's split hem options such as the Terra Tunic and the Summer Caye patterns. This allows you to finish/hem the side of longer dress pieces. Line up your front bodice back/side paper pattern pieces at the triangular side seam mark. Mark where your front bodice ends. Line up the top of the tab piece you are adding with that mark.
Cut your fabric. You will cut: front bodice piece (short/top length), 2 back/side pieces (elongated), 2 sleeves, 2 cuffs, hood pieces. If you opt to line your hood as I did, you will cut 2 outer and 2 liner, mirror image. If you opt to hem the hood, you will just cut 2 outer mirror image pieces. BE SURE TO TRANSFER ALL PATTERN MARKINGS. (I cheat on this a lot – you will need them this time, I promise.) Optional: cut trim or piping.
OPTIONAL: Baste your trim/piping to the front bodice piece.
Hem the front bodice using a stretch stitch or coverstitch.
Stitch together the two back pieces per the Tidal pattern instructions.
Press the tab/vents of your back/side dress in (wrong sides together) so that you end up with one straight line from armscye to bottom hem.
Hem/stitch the tab/vent using straight stitch or coverstitch.
Hem the back/side dress portion. TIP: Stitch a basting line 1" up from the raw edge. Use that to press the hem up. This has really helped me with curved hems!
Sew together the front and back pieces at the shoulder seams per Tidal pattern instructions.
Sew the sleeve seam, per Tidal pattern instructions. Repeat for both sleeves.
Stich/serge your cuffs to your sleeves per Sloane pattern instructions. So much easier to sew the cuffs on the sleeves without having to wrangle the whole garment! What a delightful discovery.
Clip pin together your front bodice to your back/side dress, aligning at the side seam mark. Sew (don't serge) from the armscye down to the hem of your front bodice. Repeat for the other princess seam.
OPTIONAL: Topstitch at princess seam line.
Insert and sew your sleeve into the armscye per the Tidal pattern instructions.
Sew your hood per the Sloane pattern instructions. If you're doing the liner, repeat for the liner and then sew liner to the outer at the front of the hood.
Press the hood seams so they're nice and flat and pretty (it makes it a little easier to attach).
Attach the hood to the neckline following the Sloane pattern instructions. I overlapped my front hood pieces by about 2.5", which worked well.
Admire your work.
That's it.
Now you have a new, awesome Tidal/Sloane hoodie: A Slidal. 😉
My super soft, cozy Slidal is made from oversized waffle in Olive from Amelia Lane Designs. And guess what? I hear they're going to have a big old blowout sale starting tomorrow, December 26. So you might want to keep an eye out for that. And if you don't have the Tidal Top & Dress, make sure you grab it today while it's the Feature Friday pattern. All the money saving for the sewing projects!
Other Tidal Hack Ideas
I love how this came out so much, I am already planning a front zipper hack, pockets, and other variations. I will definitely be making a not-so-practical full-length version and a hoodie dress version. So many more possibilities! For me, that's one of the wonderful things about sewing. Sewing offers me a sense of order and routine, and also opportunities for creative improvisation. I can follow the rules or I can break them. Heck, I can even make my own rules sometimes! And sewing gives me hope. It reminds me that inspiration is everywhere and that I can follow my creative inspiration if and when I want or am able to.
I hope [2020] is full of opportunities to access your creative inspirations.
I hope you've enjoyed this little tutorial, but more, I hope that if you are celebrating this holiday season that you are able to gather safely or virtually with family and friends and share some time and joy together. As you read this, my family and I will be enjoying a small Christmas together (hopefully). It will be different than other years, as with most things in 2020. But being with my family is my favorite place to be, and I hope that we still feel the joy of being together and celebrating, even if it is not what we can usually do. 2020 has been hard, so hard, on all of us. I hope 2021 is kind to you. I hope it is full of opportunities to access your creative inspirations. I wish you happiness and health and love and laughter and lots and lots of sewing time. And a whole closet full of new Slidals! 😉
---
Pin this for later!