Sewing with Sequins featuring Serenity Sweater for Holiday Season

Hi there, I am Chloe and @no.idle.hands on Instagram. As one of the new Love Notions Ambassadors, I'm excited to be here today sharing my LN make for this upcoming holiday season – a Sequin color-blocked Serenity Sweater! We will walk through my sequin journey together and go over some tips that helped me along the way. In case you don't have the Serenity Sweater pattern yet – it's today's $5 Feature Friday Pattern! It's a gorgeous and versatile pattern for cooler weather, and one of my personal LN favorites.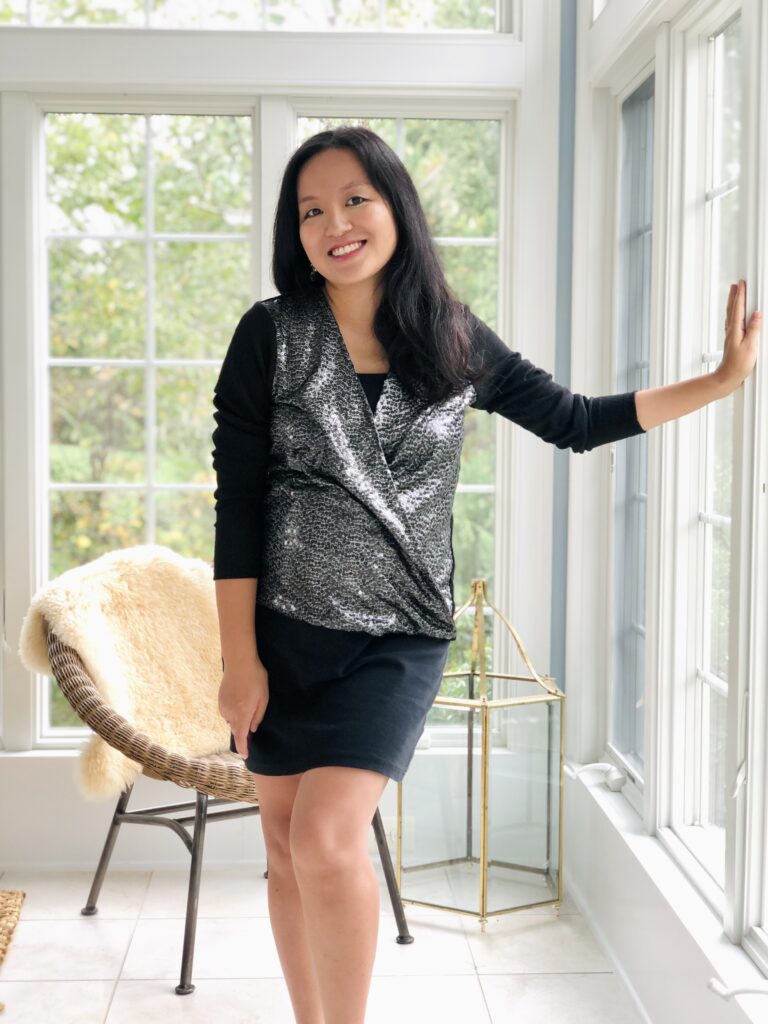 Now truth be told, I only recently ventured into sequins after sewing for almost 2 decades. It's one of those seemingly fancy and challenging fabrics that's easy to stay away from unless you have a special occasion that calls for it. But part of the fun of sewing is the never-ending learning process – am I right? Sometimes all it takes is some inspiration (and shiny new fabrics), for us sewists to dive into a challenge. So without further ado, here we go:
Tip 1: Let There be Sequins! (and a vacuum)
So the good news is – we have literal shiny new fabrics to play with when it comes to sequins! In recent years, the variety of sequined fabrics available to home sewists have vastly improved and now includes a wide range of bases, colors and designs. In addition to the more traditional sequined mesh and satin usually associated with special occasions (think bridal and prom), you can now find some casual varieties which are not only more wearable, but often also easier to handle and sew.
Want some examples of what's available out there? Here's just a few from my own stash. From left to right:
Sequin Velvet stretch knit: Yes that's sequin on velvet and double the fun! A truly festive and luxurious fabric that's actually really comfortable to wear thanks to the stretch knit base. You can go full glam with a maxi gown like the Olympia Dress, or casual elegance with the Boyfriend Cardigan.
Reversible Flip Sequin Mesh: If you have little girls in your life, you probably have plenty of these too. The sequins flip and change colors at a stroke of your hand, and sometimes even reveal a different pattern on each side. Turn it into an Oakley vest View A and watch your little girl's eyes light up! Also great for non-garment gifts like bags and throw pillows.
Sequin viscose jersey knit: Drapes and flows just like viscose jersey, and soft enough to wear against your skin. I love the unexpected black sequins on a metallic silver base, which gives it a more subdued shimmer rather than full on glitter. This is the fabric I've chosen for my Serenity Sweater, color-blocked with a solid black viscose rib knit.
With all these fun sequined fabric substrates, it's crucial to follow the specific handling instructions that comes with each, as they can be quite different from each other. A good rule of thumb is to first consider the nature of the base fabric. Is it dry-clean only like silk? Or can it be thrown in the wash along with your cotton tees? (My viscose jersey one did just fine there!) Does the base fabric stretch? If so, you should sew with a stretch stitch accordingly. Does the base fabric have a nap (like the velvet)? If so, pay attention to cut all your pattern pieces in the same direction.
On top of that, these general "DO-NOT" rules apply to most sequin fabrics.
Do NOT:
Do not iron directly on the sequins – you shouldn't need to iron in most cases. When absolutely necessary, iron with low heat from the back of the fabric with a good press cloth.
Do not tumble dry. Take your time to hang dry instead and admire the beauty.
Do not use your best cutting tools if you don't want the sequins to dull the blades. I used regular craft scissors on mine – not the fastest cut but my beloved fabric shears are spared.
Do not use a serger or overlocker. Unless you've removed the sequins from the seams (more on that later). For regular sized sequins, use a universal needle in the size appropriate to the fabric base in your regular sewing machine. In most cases you can sew right through the sequins just fine. Go slow.
Do not fret the loose sequins – they will be everywhere. Make sure your pets and little ones are not near your work area, and just vacuum up when you are all done!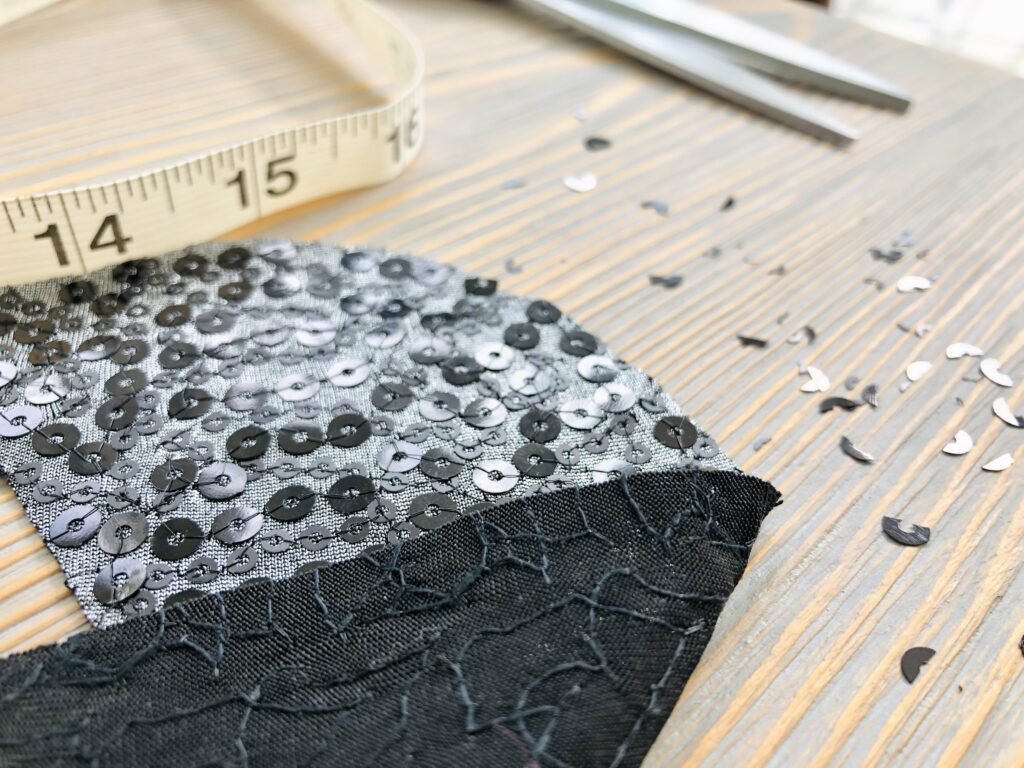 Tip 2. Pick the Right Pattern (and pattern pieces).
I would say this one is the key to your sequin success – pick the right pattern for your specific sequin fabric! Once again, first consider the fabric base (woven vs. stretch, weight, drape, etc.) and choose the pattern accordingly. On top of that, I'd recommend going with these simple principles unless you are looking for a much more involved challenge:
The fewer pattern pieces the better. Let the fabric be the star and not the seams / style lines. Avoid designs that rely on curved and decorative seams like princess bodice lines and gored panels. Leave those to more obedient fabrics. For example, for the Oakley vest, I would choose View A and B over View C, which has princess seams.
Avoid or simplify design details. Such as pleats, gathers, pockets and elastics. You can still pick patterns with certain details but try to think of alternative ways to simplify/eliminate them. More often than not, they are not going to show well through the shimmer and shine anyway, thus not worth your while to contend with. For example – The Metra Blazer would be fab with the sequined velvet I have shown you but I would skip the inseam pockets, as lovely as they usually are!
Think sequin-blocking! That is, color blocking with sequin and non-sequined fabric. In addition to making your garment interesting and unique, there are also practical considerations and benefits to sequin-blocking. For example, any time there are neckbands, cowls, lapels, cuffs and waistbands that touch your skin, using coordinating non-sequin fabric for these pattern pieces would make your garment much more comfortable to wear.
In addition to the patterns I've already mentioned, some other great Love Notions patterns for sequins are:
For knits: La Bella Donna Top / Terra Tunic / Tessa Sheath Dress (As few patterns as can be!)
For Wovens: Harmony Blouse / Cadence Top&Dress (Try to work around or eliminate those darts…)
For Bottom Weight: Ravina skirt / Sybil skirt / Summer Caye Pants (Use non-sequin fabric for the waistbands!)
For Layering: Rockford Raglan / Sloane Sweater / Origami Cardi (Use non-sequin fabric for neckbands and cuffs)
The Serenity Sweater is perfect in every way for sequins. It only has 3 pattern pieces: front, back and sleeve and no added design details. Made in knit fabric with just the right amount of ease, its draped wrap front not only moves beautifully to let the sequins dance, but also allows plenty of room for holiday season feasting ;-). It will be fabulous in all-over sequin for maximum effect. Or you can sequin-block it as you wish!
Need some ready-to-wear inspirations?
All these above can be achieved with the Serenity pattern! You can:
Add a wait hem band and/or side ties;
Go sleeveless or borrow a flounce sleeve from the Rhapsody blouse pattern;
Have fun playing with asymmetry but having sequins only on one side/sleeve;
Only use sequin appliques to accentuate one area, like a shoulder.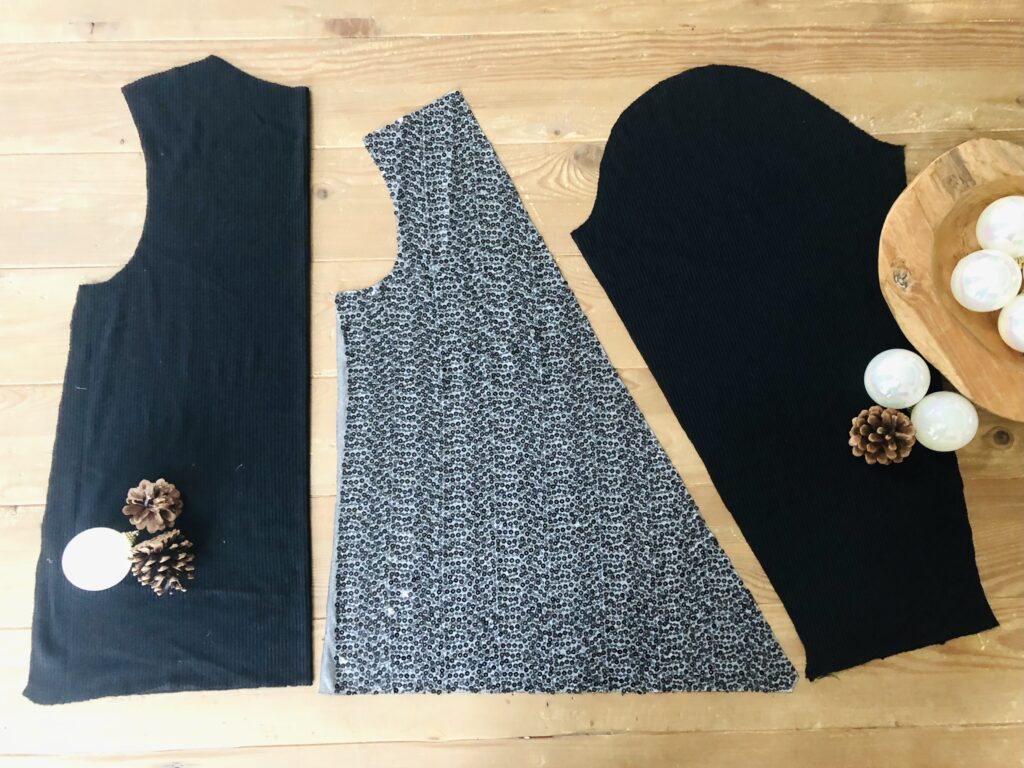 As for my Serenity Sweater, I decided to sequin-block with a coordinating black rib-knit that's similar in weight and drape to my sequin jersey. Since my holiday season these days is more hosting at home than cocktail parties out, I wanted something that I can wear comfortably around the kitchen while still looking festive. I opted to only have sequins on the wrap front panels, and used the rib-knit for back and sleeves. I love that I can roll up my sleeves comfortably when needed, allowing me to wear my sweater all day long even as I prep for the festivities! And here's a little secret: I skipped the elastic at the front bottom edge to allow some extra feasting room ????. The weight of the sequins actually help the wrap front drape beautifully for a relaxed look!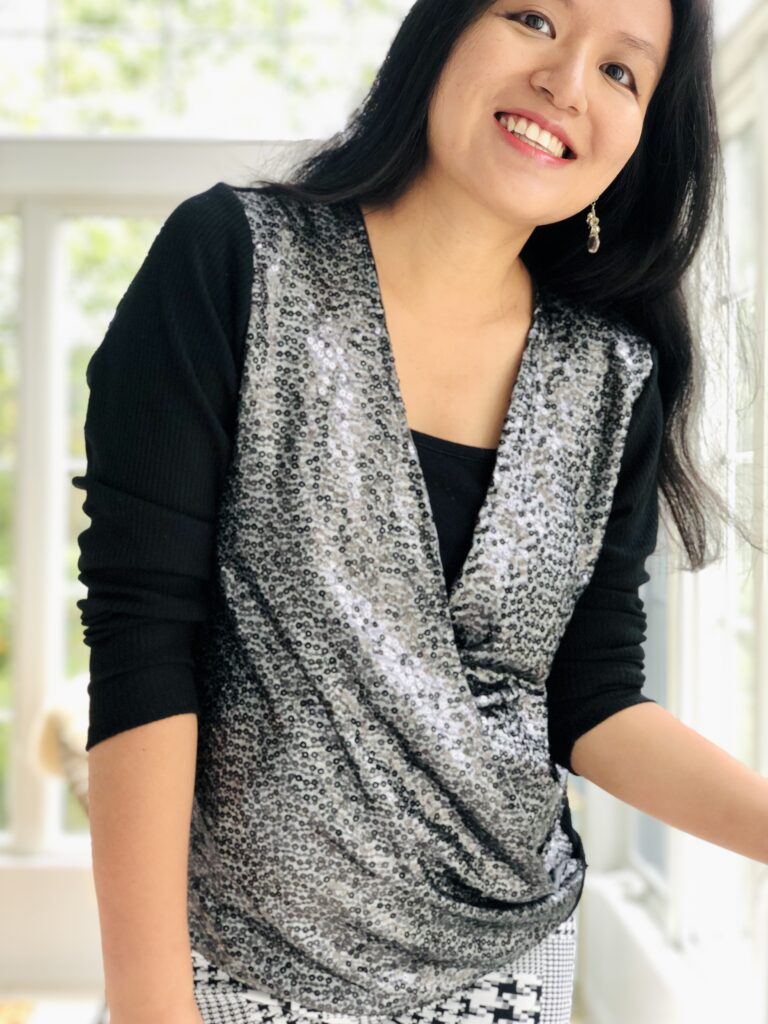 Tip 3: Plan Ahead for the Construction (from inside out)
The truth is, no matter how gorgeous a sequined garment is, we will never wear it if it's scratchy inside. For this reason, it's very important to plan the whole construction ahead thoroughly to make sure there are no exposed sequins on the inside of your garment. Very few sewing patterns are specially designed for sequined fabrics and include detailed instructions on how to achieve that. So it's up to us to put on the problem solving hat before even cutting into the fabric.
One of the tried-and-true method of sequin-proofing a garment is to add a full lining. This not only takes care of all the sequins in the seams, but also covers up the wrong side of the sequined fabric, which could be coarse and scratchy depending on the base fabric and the type of thread used to secure the sequins. In general, if the base is a poly mesh or the sequins are large sized thus requiring poly-nylon threads to secure, the wrong side of the fabric will be tough on your skin. Furthermore, the mesh base might be somewhat transparent and require a lining for modesty reasons as well. In these cases, a full lining would be your best bet. If your pattern doesn't provide a lining pattern piece, you can usually draft your own based on the outer pattern pieces.
A good way to test the "scratchiness" is to touch the wrong side of the fabric to your neck and the inside of your elbow. If it feels good around these areas, you may be able to skip the full lining if you wish. My sequined jersey fabric is viscose based and quite soft even on the wrong side with the sequin threads. I decided to skip the lining so the fluid knit fabric can drape to its best ability. Also I will most likely wear a cami under the loose wrap top so there's another buffer layer.
This opens up other creative ways to sequin-proof the seams/edges only and not worry about the wrong side of the sequined fabric!
First, edges. My Serenity Sweater has two sequined edges along the wrap front to contend with. The original pattern uses a fold-over and stitched-down edge, reinforced with fusible tape, which obviously won't be ideal for sequins. Instead, I used an easy knit binding method. You can use any pre-made knit tape or woven bias tape, but I like to make my own by simply cutting 3/4" strips of knit fabric in a close weight to my sequin fabric. My sequined jersey fabric has a wide selvage that has no sequins on, and I simply cut strips out of that area for the binding. It is metallic silver on the right side and black on the wrong side in the photos below.
Here's how to apply the knit binding:
Pin/clip binding strip right sides together along the front bodice edge. Make sure not to stretch either the strip or the bodice.
Sew with a ¼" seam allowance, using a very narrow zigzag stitch or straight stitch.
Flip the tape away from the bodice.
Fold the tape over to the wrong side of the bodice and pin/clip along the edge.
Stitch down the tape from the wrong side with 3/8" seam allowance.
And done! As the knit tape doesn't fray, you have a clean finish on both sides now.
Sequin-Proofing the Seams
When it comes to sequin-proofing the seams, these are the two common options:
Use bias-binding or Hong-Kong finish on all the seams involving sequins.
Pros: Can be fairly quick especially if you use pre-made bias tapes. Cons: Can add some bulk to your seams and may not be suitable for lighter garments
Remove the sequins from the seam allowances prior to sewing up the seams. To do this, you will need to mark the width of the SA on your cut pattern pieces, and remove each sequin manually by cutting through the sequin itself and pulling it off the stitching thread. In most cases you don't want to cut the stitching threads because that might start a chain reaction, causing neighboring sequins to fall off on the other side of the seamline. If you wish, try it out on a scrap piece of your sequin fabric and see how it behaves. Certain sequin fabrics might be constructed in such a way that each sequin is stitched on independently so you can cut the thread instead – but this is rare in my experience.
Pros: Beautiful couture finish and streamlined seams. Also it might be your only choice if the sequins are large sized or can't be sewn through. Cons: Time consuming (or shall we call it therapeutic?)
If you'd like to try your hand at the sequin-removing method, I recommend using a seam ripper and a tweezer. Insert the seam ripper into the eye of the sequin and slice through. Then use the tweezer to grab it and pull it off the stitching thread through the sliced slit. Now repeat this however many times it takes to achieve a sequin free seam allowance! Sew up these beautiful seams and admire the result. If that doesn't satisfy your couture itch, take the extra mile to find any potential gap along the seam from the right side and hand-sew a spare sequin on to fill the hole. You can harvest some sequins ahead of time from a scrap piece for this purpose.
As for my Serenity Sweater, I got creative coming up with my own method of sequin-proofing the seams, taking advantage of the fact that most of my seams involve only one layer of sequined fabric. The only seam that has both layers with sequins is the bottom front seam, which luckily is sandwiched between the two wrap fronts and not exposed.
For the rest of the seams involving sequins (namely the shoulder seams and side seams), here's my quick and dirty method utilizing the coordinating rib-knit:
First, I increased the seam allowances to 5/8". (If you non-sequin fabric frays, you can serge its edge at this point.) After sewing the seam, I trimmed the SA of the sequined side ONLY to a narrow 2/8". Then I wrapped the rib-knit SA over the trimmed sequined SA and stitched it down just outside the seamline. Ta-Da! All the sequins on the SA are now securely tucked away. Super quick and easy! Another benefit of sequin-blocking your garment ????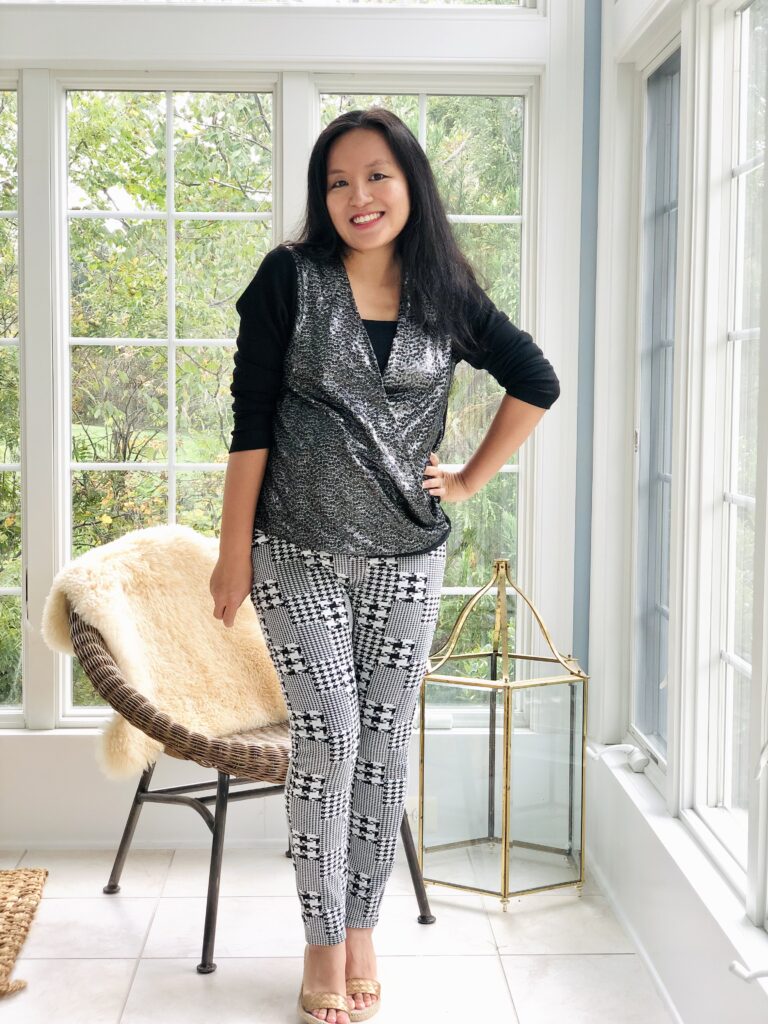 Final Tip: Wear Your Sequined Garment often (and have fun)!
I love the versatility of my finished Serenity. With just the right amount of shimmer and shine, toned down with the plain black rib knit, I can wear it throughout the holiday season and beyond. Here I paired it with the Sabrina Slims for day and a mini-length Sybil Skirt for evening. But with the monochrome color scheme, it can easily go with other pieces in my wardrobe year around.
Thank you for coming along with me for the sequin journey. Hopefully you find these tips helpful! If you venture into sequins with Love Notion patterns, we'd love to see your new beauties shared on social media. You can find more of my personal sewing, knitting and all things crafty at my Instagram account @no.idle.hands. If you decide to purchase any of the patterns I have mentioned above, I'd appreciate very much if you use my Love Notions affiliate link!
Until next time,
Chloe @no.idle.hands
---
Save this handy article to your sewing Pinterest board!