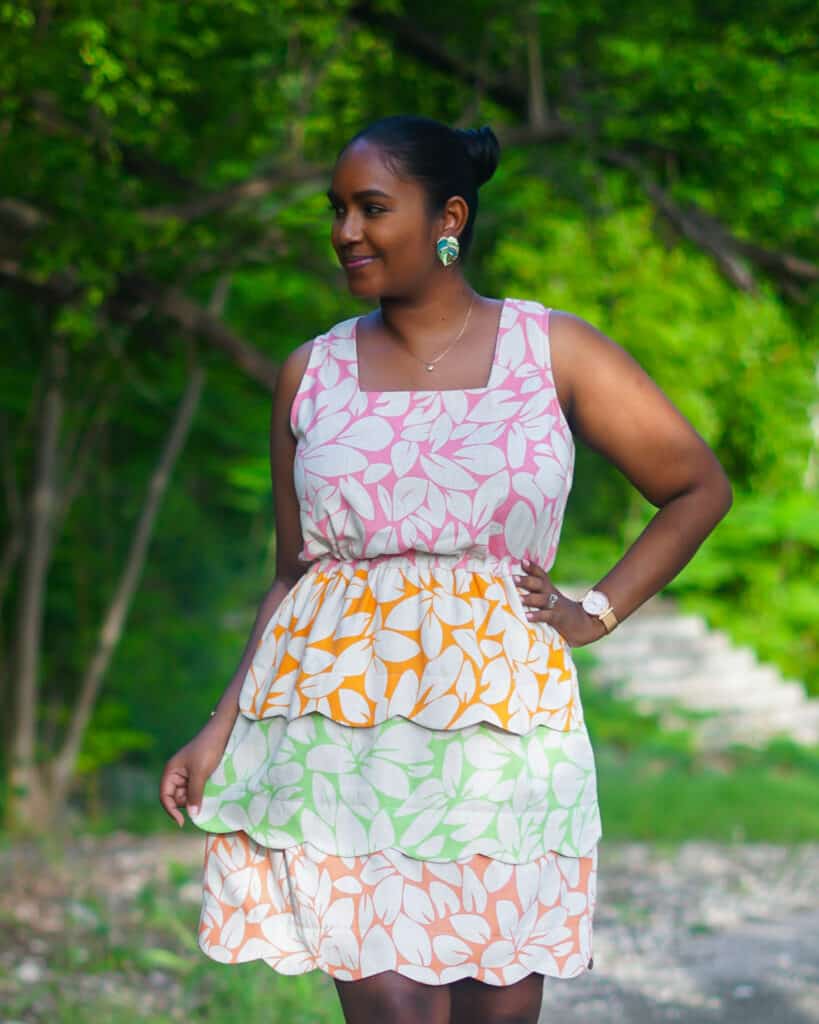 Hi sewing friends!
Keira here, and I have the most exciting news ever! We are welcoming a brand spanking new pattern to the Love Notions portfolio – the Saltwhistle Top & Dress Pattern. I have the wonderful opportunity to introduce this pattern to you because.. well.. I designed it! As you can imagine, it still sounds crazy reading that out loud. Saltwhistle is a combination of my island style and creative ideas along with Tami's fabulous drafting and pattern-making expertise. This project has been in the making for over a year, believe it or not, and I can't wait to tell you all about it; the inspiration, the name, the process and of course all the details of the final pattern that you'd get to sew up! So.. let's get right into it.
The Saltwhistle Top & Dress Pattern is a pullover style top and dress pattern meant for light to medium weight woven fabrics. Overall it is a pretty simple silhouette with an elasticized waist, but there are few distinctive features. Saltwhistle features a fun square neck detail and the most beautiful soft scallops at the hemline, both finished with facings. There are three views: a peplum top, a simple knee length dress, and a striking layered dress which contributes to this pattern's uniqueness. Three sleeved views are included: short puff, ¾ bishop and ruffle (my fave!), as well as a sleeveless view. Saltwhistle is offered in sizes XS-5X with the full bust option, and is available in Print at Home, Projector and Large Format files.
You can grab your copy here (it's on sale now!)
FIT
The bodice has a skimming effect. It is not fitted but it's also not loose. It has enough ease to pull over the head without the need for closures; about 2 to 3.5 inches of positive ease at the bust. The waist elastic is meant to hit at the natural waist which should result in slight blousing. The skirt has a straight fit with 6 to 8 inches of positive ease at the hips. It is gathered minimally at the waist before attaching to the bodice and adding the elastic to give it some shaping. The peplum top is meant to hit mid hip and the dress views, just above the knee.
THE EVOLUTION OF SALTWHISTLE
Over a year ago, when Tami invited me to design a pattern for Love Notions, I had a totally different idea in mind. I am not going to spill the beans on that design just yet because, should Tami grant me the opportunity to design another pattern, it will 100% be that first idea (*wink wink*). Okay I'll spill one bean… think exposed zipper! I had already come up with a name and everything. I thought long and hard about pattern names and I decided to use names that represent where I'm from. I was born and raised in the Caribbean, on a tiny island called St. Vincent. It's the mainland that belongs to a chain of 32 islands and cays. Coincidentally, while I was refreshing my mind on names of our islands, landmarks and tour sites, one of our Grenadine Islands showed up on the news. Mayreau has been battling erosion for some time now, and their most famous prized beach, Saltwhistle Bay, is close to becoming non-existent. There is just a tiny sliver of land separating the beautiful calm turquoise Saltwhistle Bay beach from the perilous Atlantic Ocean. Soon the Atlantic Ocean will completely erode the land that's left and will invade Saltwhistle Bay changing its coastal properties and dynamics completely. Seeing the photos of Saltwhistle Bay flood the news and social media, the shape of the bay caught my eye. Since my mind was already on designing a pattern, I saw scallops immediately! It's amazing how prior to the pattern design conversation, scallops would not have even crossed one of my brain cells when looking at those images!
SHIFT DRESS?
I quickly sketched a design with scallops and shot it off to Tami. The previous design would have been out of season anyway so I wanted to switch gears and work on Saltwhistle instead. Had we known it would take over a year, seasons would not have mattered at all, but everything happens for a reason and clearly Saltwhistle was meant to make its debut ahead of the first design. Would you believe Saltwhistle started off as a shift dress? It was originally going to be a shift dress with scalloped tiers. We decided that we didn't want to add another shift dress to the portfolio since Cadence is literally the perfect shift dress pattern!
FIT AND FLARE?
Saltwhistle then became a fit and flare top and dress with darts, and an invisible zipper down the back. Something was missing from this design. It just didn't scream Keira and grading the scallops was proving to be complicated with a flared skirt. Remember, I had no knowledge of pattern drafting or anything pattern making. I didn't even know what programs were used to create patterns and tutorials. And Tami and I were only communicating virtually which of course doesn't help. I sewed up a gazillion mock ups and sent over photos to Tami for us to try to work out what needed to change and how to improve the fit and design. At one point I got super emotional and felt like I was wasting a great opportunity by not coming up with a good enough design. This is the point at which I was ready to throw in the towel and I decided to tell Tami how I felt. Thank goodness she didn't give up on me, and we decided to start from scratch with a new design.
Pinterest was my best friend during this phase. Here are some of the photos that pulled me in this new direction. 
And so, with a lot more back and forth between Tami and me, a gazillion more mockups, procrastination from fear of failure and a crazy amount of trial and error, Saltwhistle 3.0 was born! It is literally the perfect combo of Keira and Love Notions. My absolute favourite view that I think will become a wardrobe staple for me is the peplum top with ruffle sleeves. I am just in love with my mustard version! Oh did I mention that I had to learn new software from scratch? That is a whole other story! It's been over a year of hard work, learning new things like how to do illustrations, so much excitement and even tears in between but alas, Saltwhistle is here and ready to be sewn up by all of you lovely makers!
Now that the learning portion is pretty much out of the way, it shouldn't take more than a few weeks to a few months for me to do this again. So keep your eyes peeled for that first design to come to life. I promise it won't take over a year, Tami! 
I hope you enjoyed reading this very thorough background of the Saltwhistle pattern and maybe it will make you want to sew it up even more. I cannot wait to see all your fabulous versions being shared in the sewing community. Thanks so much for all of your support and massive thanks to Tami and Tessa for seeing in me what I definitely didn't see in myself. Love Notions is the best ever!
Happy Sewing
Keira
*Don't forget to follow me on sewing journey as Island Sewcialist from my Youtube Channel, my Blog or my colorful Instagram profile where I share all of my makes.
---
Share and save this article to your sewing Pinterest Board!
---
More Sewing Patterns
[carousel_slide id='408209′]