Learn how to add a basic long-sleeve hack to the La Bella Donna. Today's guest blogger Rachel Ring is showing off the recently updated La Bella Donna Dolman pattern and has a little hack she's been doing for years! If you're not into the LBD's original long sleeve option — try her more streamlined long sleeve hack! Learn how she uses the original short sleeve cut line to attach some more traditional long sleeves and omits the cuff. Enjoy!

La Bella Donna's Basic Long-Sleeve Hack
Hi friends, Rachel here again with a tutorial that I've been itching to share with you for yearrrrrs. It's probably my most-hacked hack of all the hacks, ha!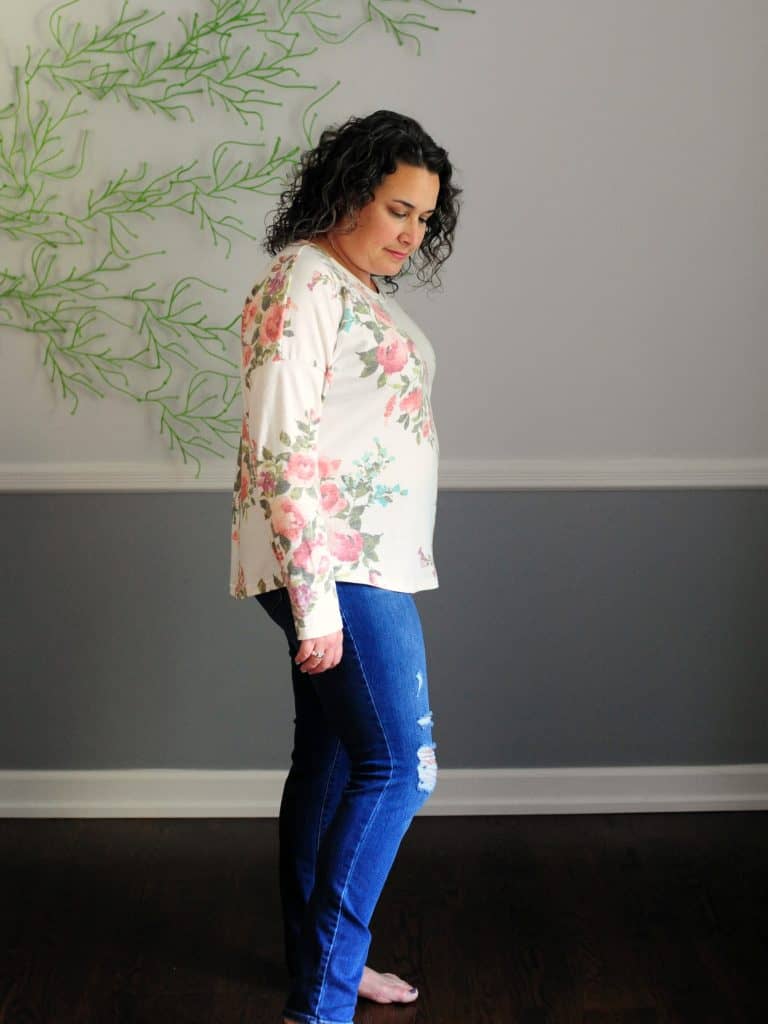 La Bella Donna Dolman Update and Fit
The La Bella Donna pattern has been updated and re-released today with the expanded size range and trademark amazing fit.
By the way, if you want to see more about the update and a full pattern review as well as a curved hem tutorial, click on the video above!
It's been a family favorite of ours and the comfy and flattering shaped-but-relaxed fit means it's my go-to for gifts for my mom, sister, and mother-in-law, too. I find the fit around my waist and hips to be similar to that of the Classic Tee but because the LBD is a dolman, the fit through the shoulders and underarms is dropped and looser-fitting through the underarm curve. 
My Easy Hack: A Basic Long Sleeve
The pattern is drafted with cuffed (banded?) short sleeves, and a built-in longer sleeve extension that gets a shaped cuff for the ¾ and long sleeve lengths. In the picture below, you can see how the pattern is intended to look without my long sleeve hack– essentially the long sleeve version has long cuffs attached.
An Easy Pattern for Hacking
Because the dolman style is straight across at the end of the short sleeve, it's a great beginner option for a set-in sleeve. Technically there isn't much to set in! For this tutorial I've used the long sleeve from the Classic Tee to help me make a basic long sleeve option that attaches to the short sleeve cut line and can be hemmed at the wrist.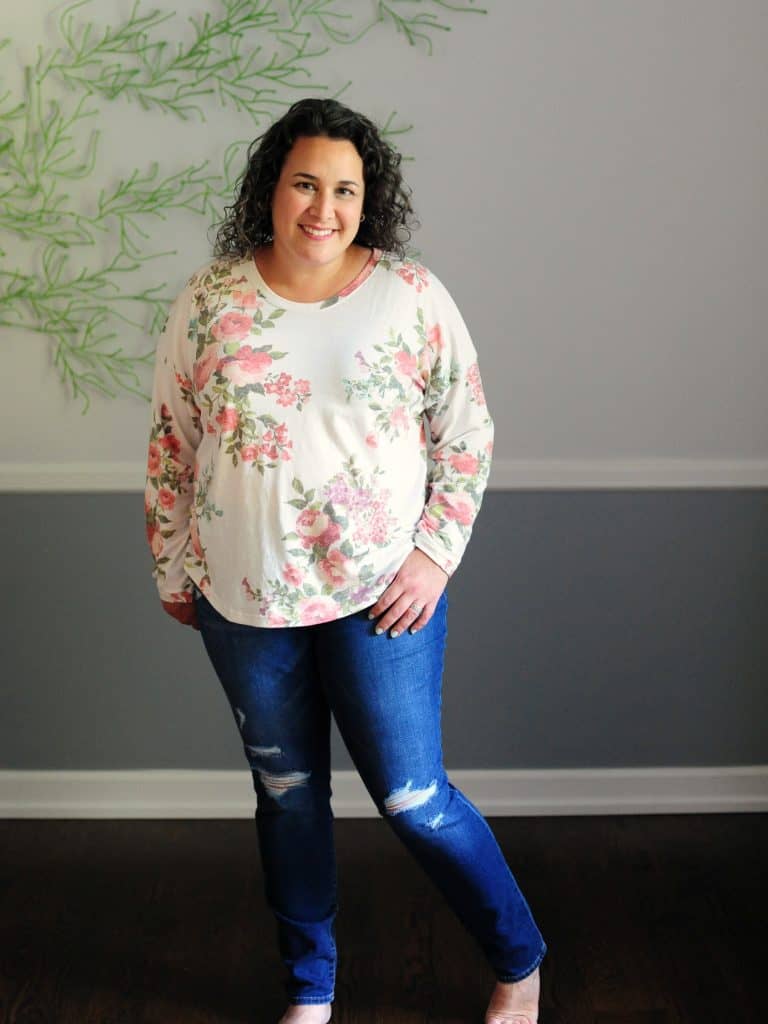 Basic Long-Sleeve Pattern Adjustments
To make the basic long-sleeve pattern piece, I printed the Classic tee front upper bodice and the long sleeve. My pattern pieces are a blend of L and XL sizes based on my measurements – I'm a short apple and my bust, waist, and hips are fairly similar in size. I traced the Classic tee bodice right onto my pattern piece for the La Bella Donna, so that I could figure out where the shoulder point and underarm are. I measured from the underarm to the short sleeve cut line, and found that for my pattern piece it is 2".(pic1)
Next, I measured 2" down from the underarm point on the Classic Tee sleeve and drew a line straight across the piece to mark where my new sleeve will begin.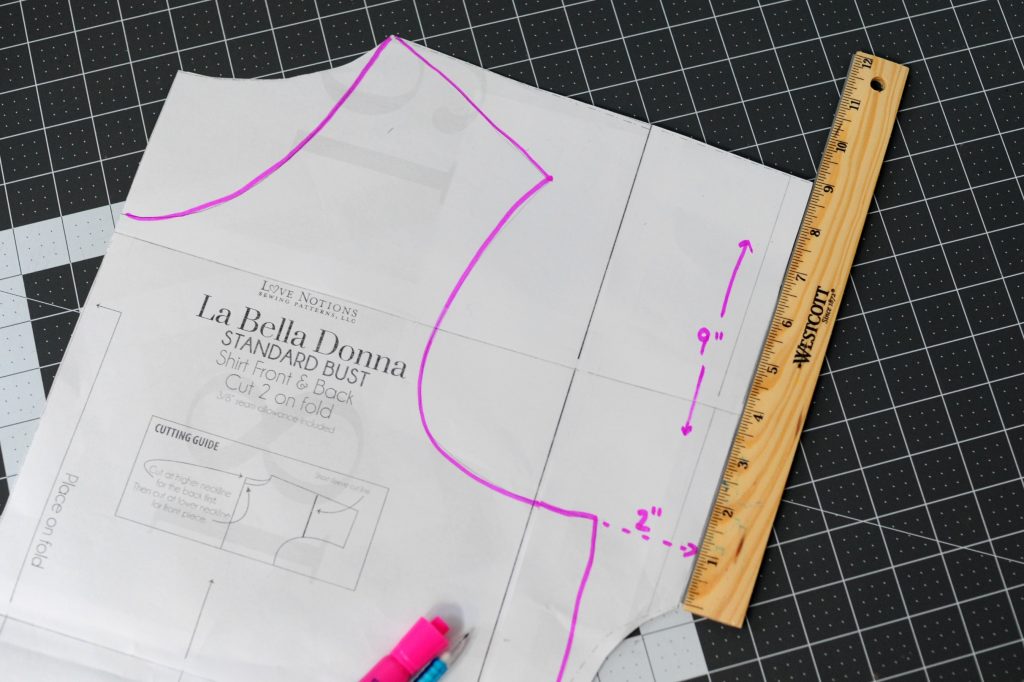 We don't need the sleeve cap at all since the LBD is a dolman with a dropped shoulder.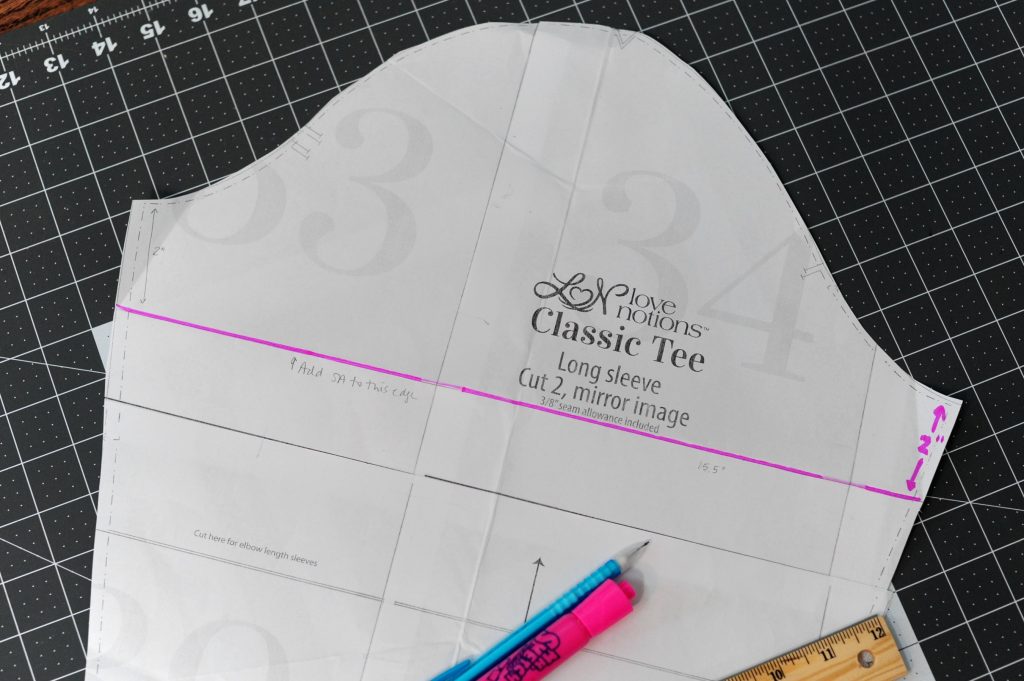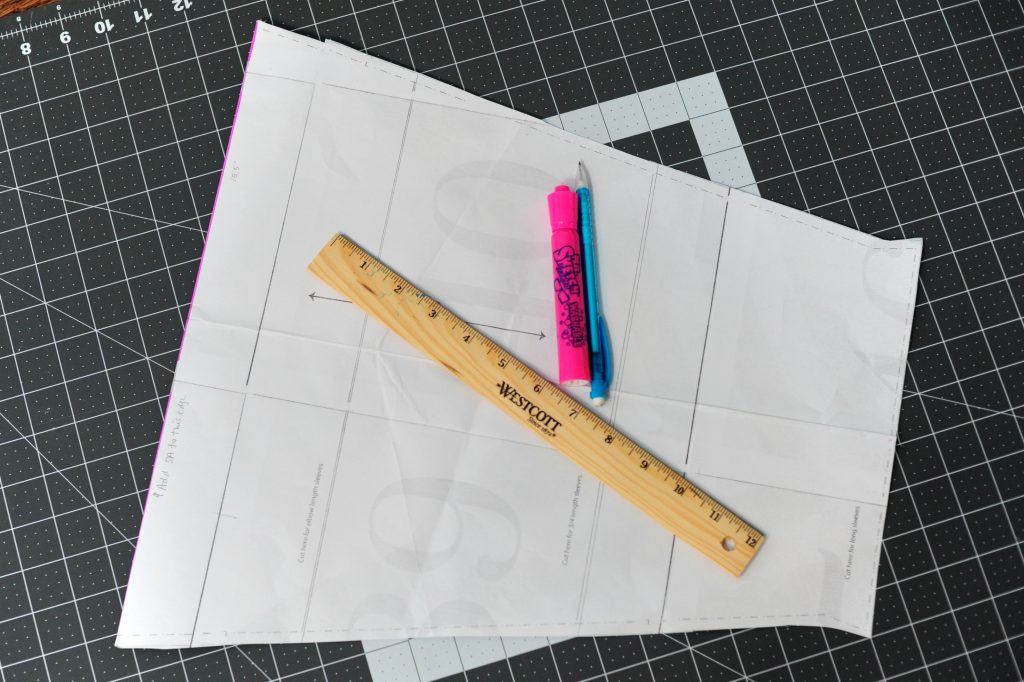 I also measured the new pattern piece straight across (in this case it is 15.5") and compared to the edge it will be sewn to on the LBD – that edge is 9" which means it is 17.25" (18" minus the seam allowance) when the shoulder is sewn.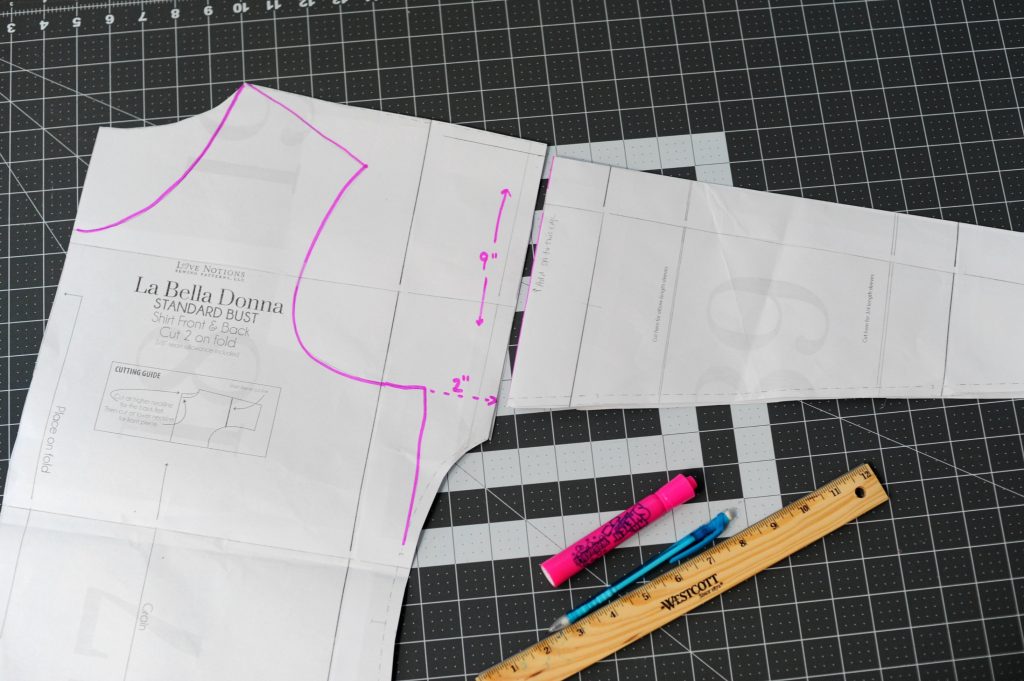 If you want to widen the sleeve so it doesn't need to be stretched when you attach it, make sure to add equally to both sides of your pattern piece (you can also cut this piece on the fold, since we've eliminated the shaped sleeve cap) – it's also ok to stretch the sleeve a little bit to fit, though. You can see that I added my seam allowance at the top of my new pattern piece, a tiny bit of width on each side, and a touch more length for my hem at the wrist.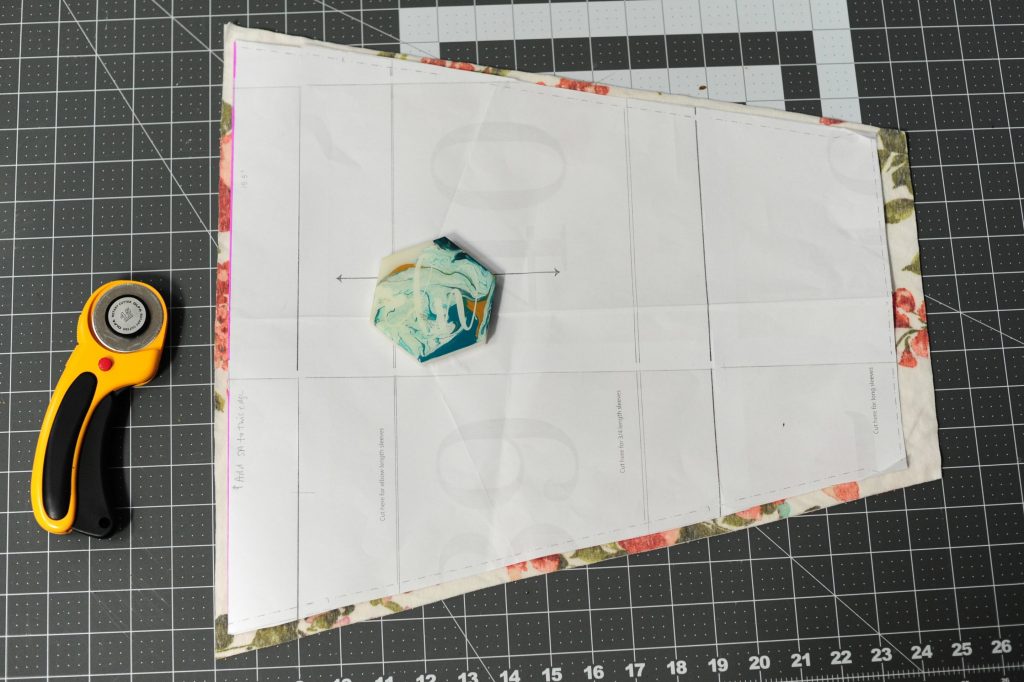 Sewing the Basic Long-Sleeve Hack
When you're ready to sew, you should have a front and back bodice, two long sleeves, a neckband, and a hem band if you're sewing the banded option.
Begin by sewing the shoulder seams as instructed by the pattern. Next, open the shirt so the bodices are laying flat, and with RST sew to attach the sleeve along the short sleeve edge.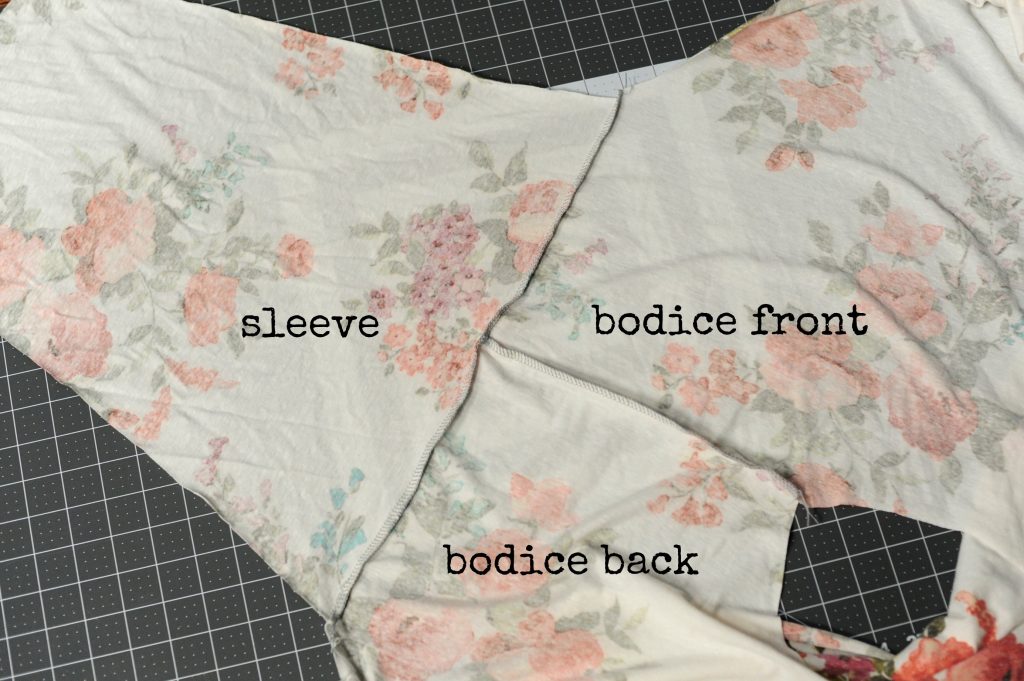 With RST, sew/serge from wrist to hem in one pass to close the sleeve and bodice.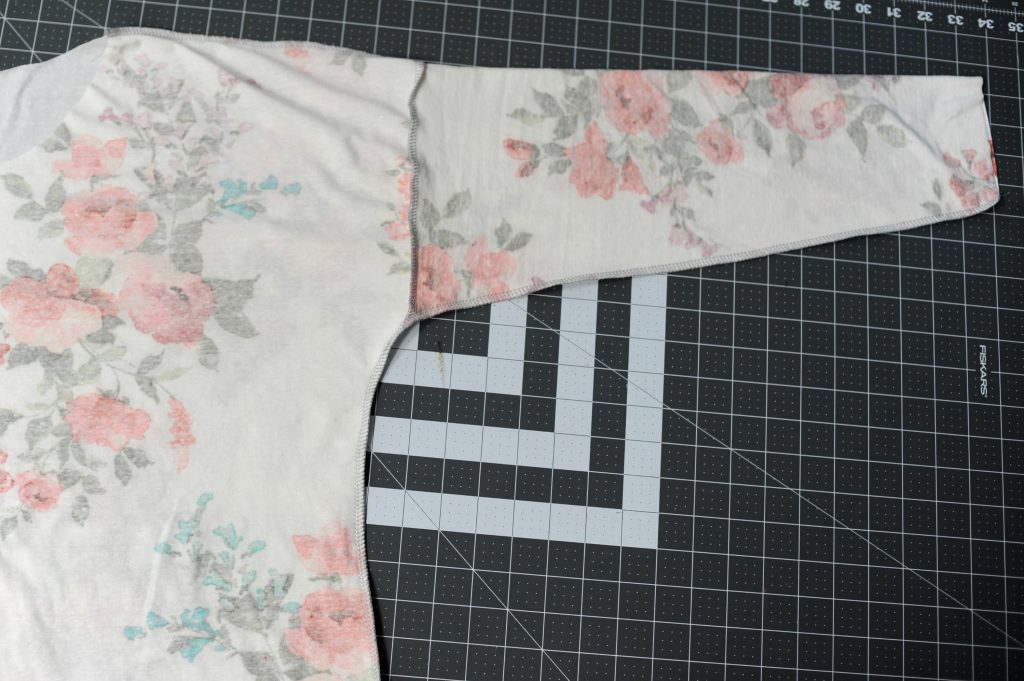 Repeat with the other sleeve/side. That's all there is to it – I attach my neckband and finish the sleeve and shirt hems, give it a good press, and we're done! It's a quick, satisfying sew with tons of great options.
La Bella Donna Fabric Details
I love making my LBDs from tri-blend knits – this one is from Sly Fox Fabrics – but I've used everything from jersey to hacci sweater knits, too.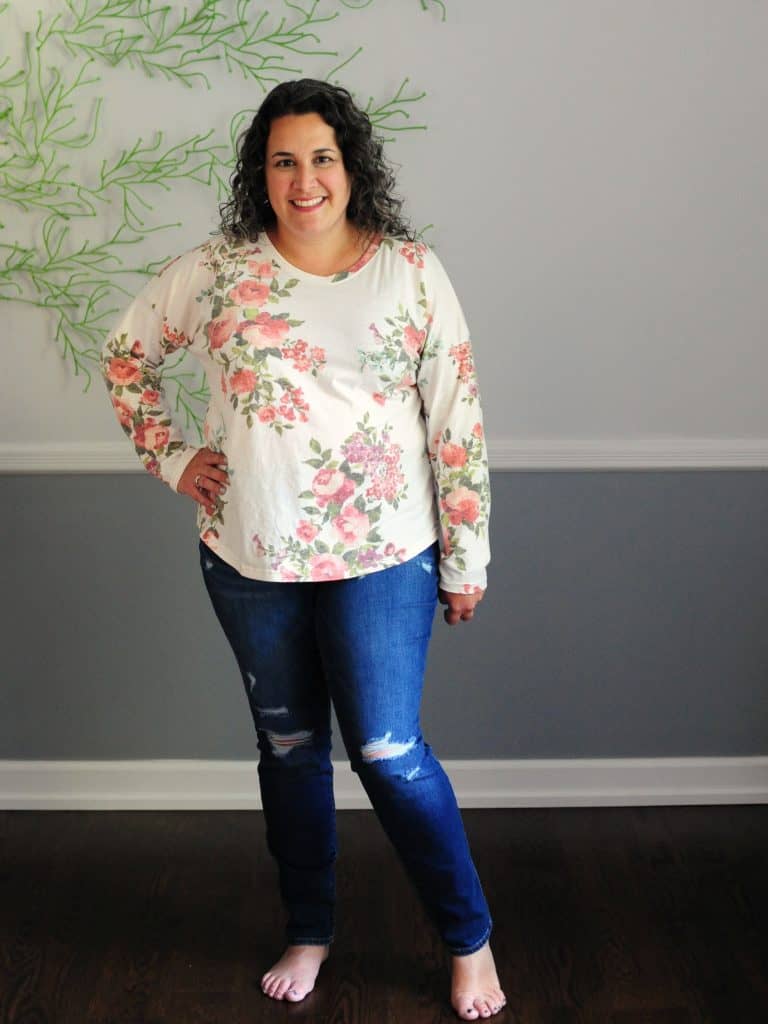 Join us on Facebook and share your favorite LBD, too! I hope you loved this basic long-sleeve hack as much as I do and see how versatile and "hack-ready" the La Bella Donna is. 
Save this pin for later!
Start Pattern Shopping
[carousel_slide id='408209′]