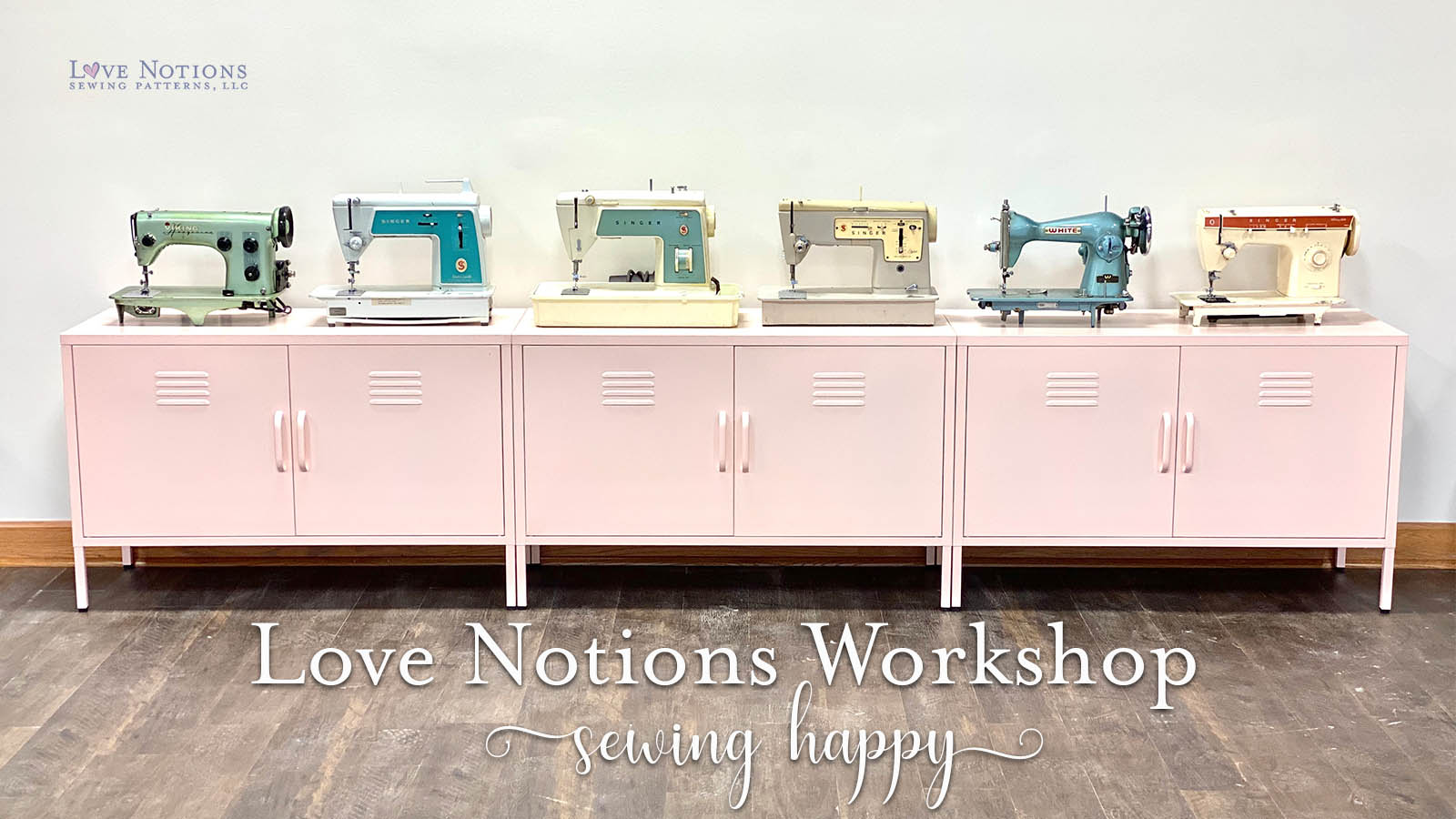 Love Notions Workshop and Blog Tour
We are celebrating our move to the new Love Notions Workshop! Soon, we hope to invite all of you here for classes, workshops, and open sewing space. These giant cutting tables are just waiting for you! For now, we are celebrating with a flash 50% off site-wide sale — we rarely have site-wide sales and we never use a 50% off discount so this is a big deal.
Join us at the Workshop
For right now the Workshop is our space to work to keep those beautiful patterns and support coming, but we'd love to keep you in the loop about our progress and the time when you can come and take a class here or drop in to have some focused sewing time. For those who are interested, our space is about 45 minutes south of Chicago, Illinois.
If you'd like to stay in-the-know, just click here and sign up for the Love Notions Workshop newsletter.
Button Text
Sewing Happy Blog Tour
Looking for some pattern shopping inspiration or support? Join in the fun and get inspired by our ambassador team who have put together a blog tour. They have also created a lovely video showcasing how much happiness sewing can bring to us all.
Blog Tour
Here are all the stops on the Blog Tour and we hope that you click through these fabulous and inspiring posts and use the ambassador's affiliate links if you decide to make a purchase. It costs you nothing more and helps to support these talented people.
Visit all the stops on the tour for pattern shopping inspo
Koe is on the Love Notions Blog with a way to help your kids embrace mask-wearing, using a little creativity and the Cartwheel Collection. read more
Josie gives a detailed review of her favorites! I love Josie's style and her simple but elegant take on the patterns. read more
Ilse is showing off her latest Sloane with Sly Fox Fabric and has a giveaway! read more
Anjori has such a sweet style and her mommy and me twinning with her daughter is my favorite! read more
Katie is a hacking genius and active mom who sews for herself and her two boys. She has a pattern round up AND lots of fabric to show off! read more
Tami Peterson's photography makes me drool but her style is what I love to copy! She has a round up of pattern perfect for summer into fall! read more
Chris has a full review of the Rhapsody Blouse, info on the new studio, and a full round up of the patterns you'll love. watch now
Katie G. is showing off a lovely Allegro Skirt hack that you will want to make ASAP — plus she's rounding up her absolute favorite patterns. read more
Crystal is showing off the Cartwheel Collection for her kiddo and discussing "Back to School — at home!" read more
Koe is also on her blog showing off her top 4 most used Love Notions patterns — if you don't have these yet, you are missing out! read more
Karina from Lifting Pins and Needles is one of the most helpful and inspiring sewists. She is showing how to simplify a few faves: Vivace and Lyric! read more
Keira from Island Sewcialist is ready for twirling! See why she's ready for anything in her Sybil Skirt. read more
Sequoia of SequoiaLynn Sews is showing off her favorite Love Notions makes PLUS giving away a free Love Notions pattern. You do not want to miss out! read more
Kim K from Dorothy's Daughter is showing off the Cartwheel Collection and has a playlist of her LN favorites. You'll love her sewing tips! watch now
And remember if you are in the area, stay in touch on the Love Notions Workshop email list! sign up here