Join Koe on the first stop of the Love Notions Blog Tour to celebrate "Sewing Happy" and the opening of our new Workshop location. Koe is showing how to make mask-wearing fun for kids by using their imaginations! Check out this Cartwheel Collection twist on a spy warrior costume!

Kickin' it in the Cartwheel Collection:
plus how to make mask-wearing fun for kids 
Kickin' it with the Cartwheel Collection
Hey there, it's Koe back on the Love Notions Blog talking about one of my favorite collections: The Cartwheel Collection (aff link). I love this super versatile collection! I purchased this pattern set over a year ago on a $5 Feature Friday sale and have used it not just for girls, but boys as well. Even though I'm a mother of ALL boys, I couldn't pass this deal up once I saw all the options included. Besides, I feel like it's all interchangeable with a few simple tweaks and a little imagination. I'm going to show you how I use this pattern to make an amazing little spy or warrior outfit that's sure to keep your kiddo busy on adventures! Plus, using sewing patterns like this for imaginative play or dress up can encourage your small ones to keep their mask on for even more super hero skills. 
To make this pattern kid-approved I did these simple things:
The Pants/Capris:
Size up 2 sizes
Make a dropped crotch for easy comfort during jumping and kicking
Add a pouch pocket for storing spy/warrior gear or Cheezits
Widen and shorten the waistband to add elastic and make more secure
Put a hem band at the ankles for ultimate awesomeness
The shirt:
Add length and a hem band to the sleeve for superior comfort
Take away back opening for maximum coverage
Straightened out the torso to suit his muscular spy/warrior frame
That may sound like a lot of adjustments, but trust me it's not! 
You will also need about 2 yards of fabric, give or take depending on the size you make. To be maneuverable, this outfit should be made out of comfy knit fabric. Good thing I just happen to have the two perfect fabrics in my stash: camo knit and black cotton jersey knit. Both light weight, super comfy and perfect for sneaking up on bad guys.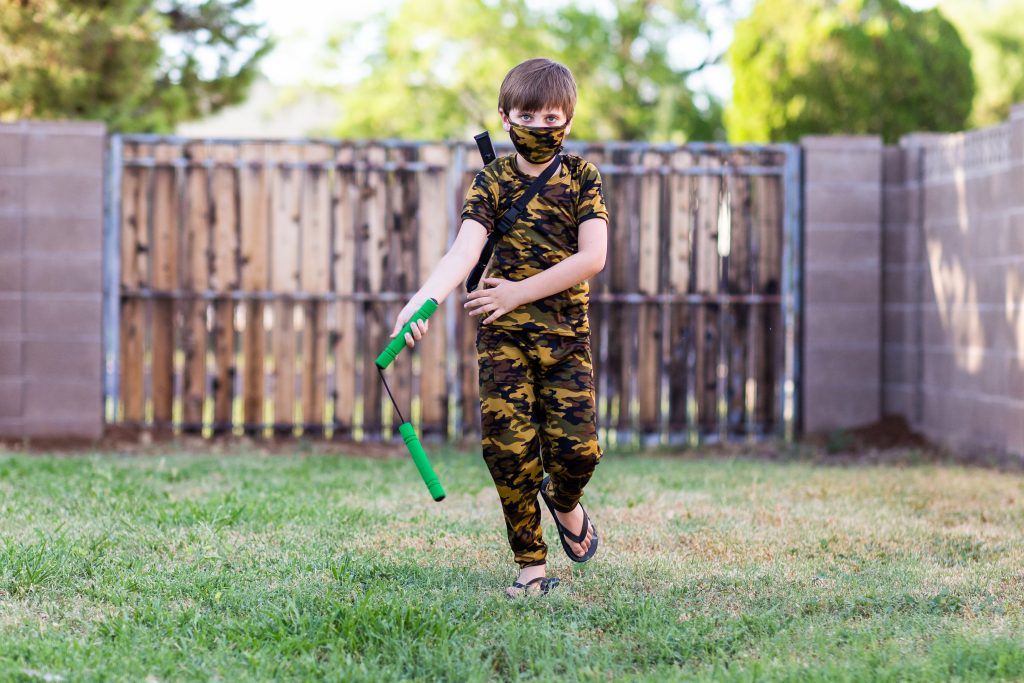 It's time to get creative with mask-wearing
If your kids are anything like mine, they've been completely bored over the last few months of social distancing. We've had to get creative with everything, including the things I sew for my family. Now with mask-wearing at school…… it got me thinking of how to make it more fun.  Whether inside or outside, my 8 year old son spends all day fighting invisible bad guys with his EXTREME skills.  I figured he needed a couple awesome outfits to match his intense skill level.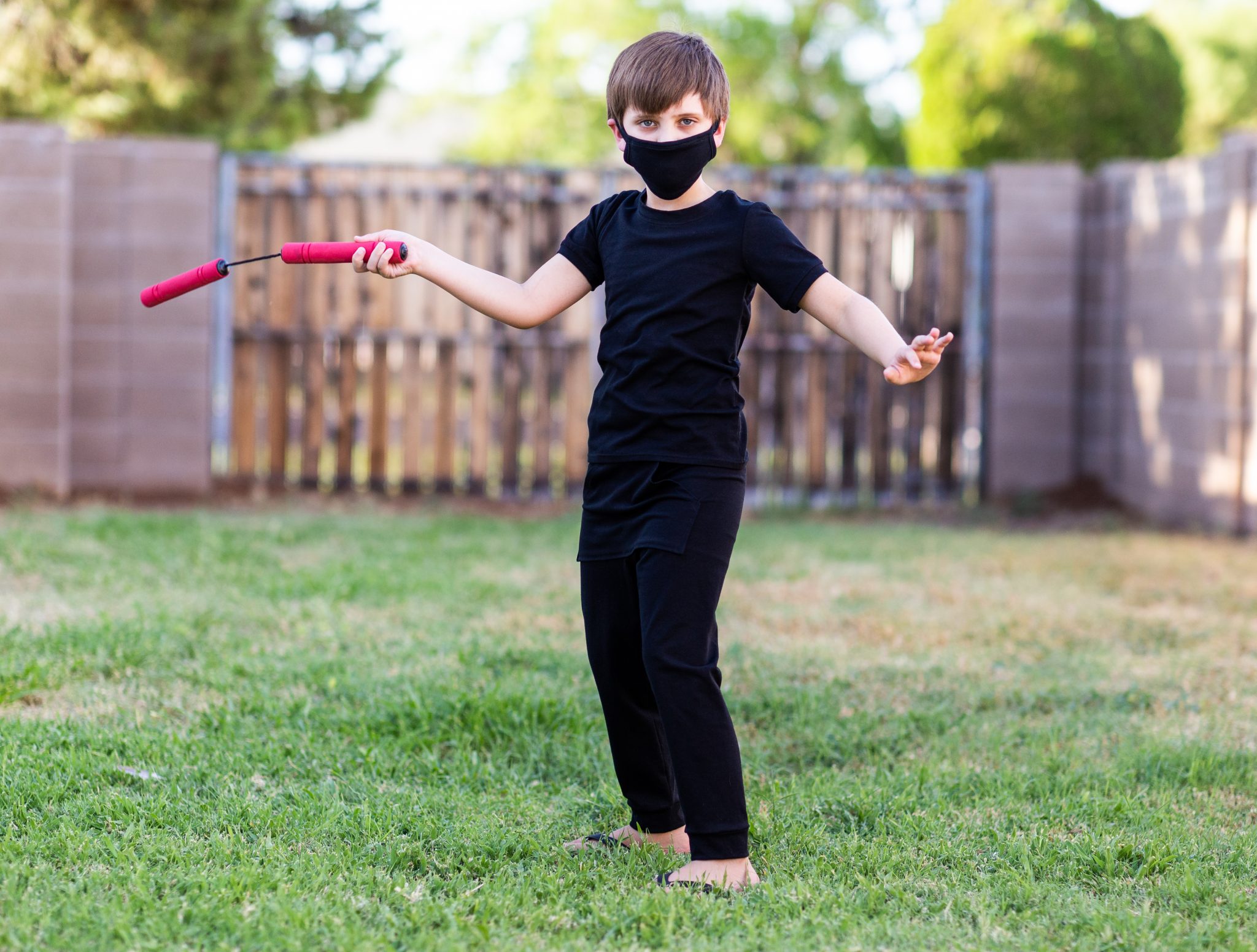 Why Cartwheel Collection?
Why the cartwheel Collection instead of the super on trend Moto Max set? Well, I already have the Cartwheel collection printed in my son's size and I'm big on using what I have available. Plus, I love the easy construction of the Cartwheel Capris! The front and back pattern pieces are put together in ONE pattern piece.  You just have to attach a waistband and hem them. I think I can make a pair of Cartwheel Capris, without the mods I talk about here, in 30min. They are super fast! When my little guy needs pants I need to make them fast before he changes his mind.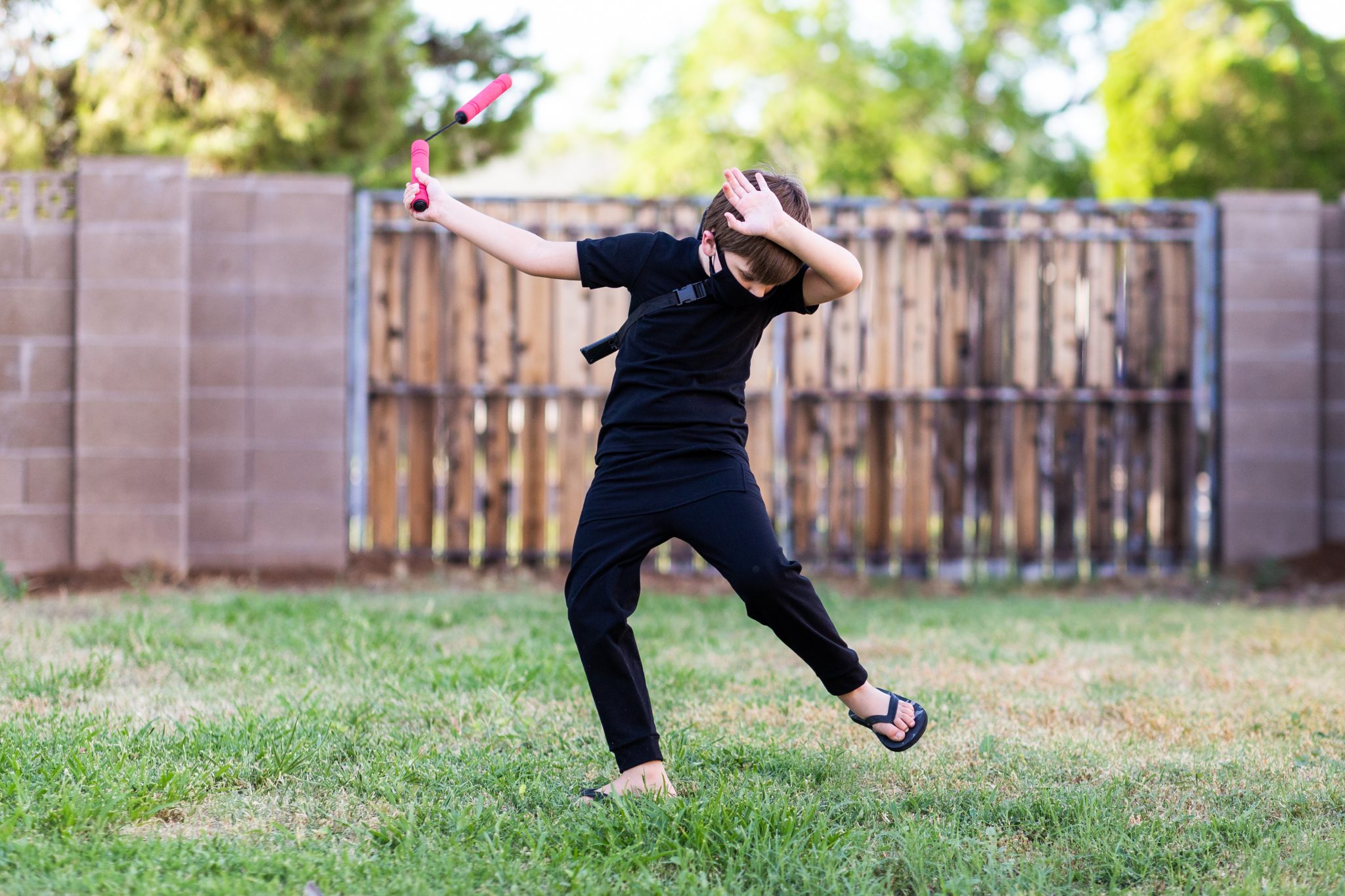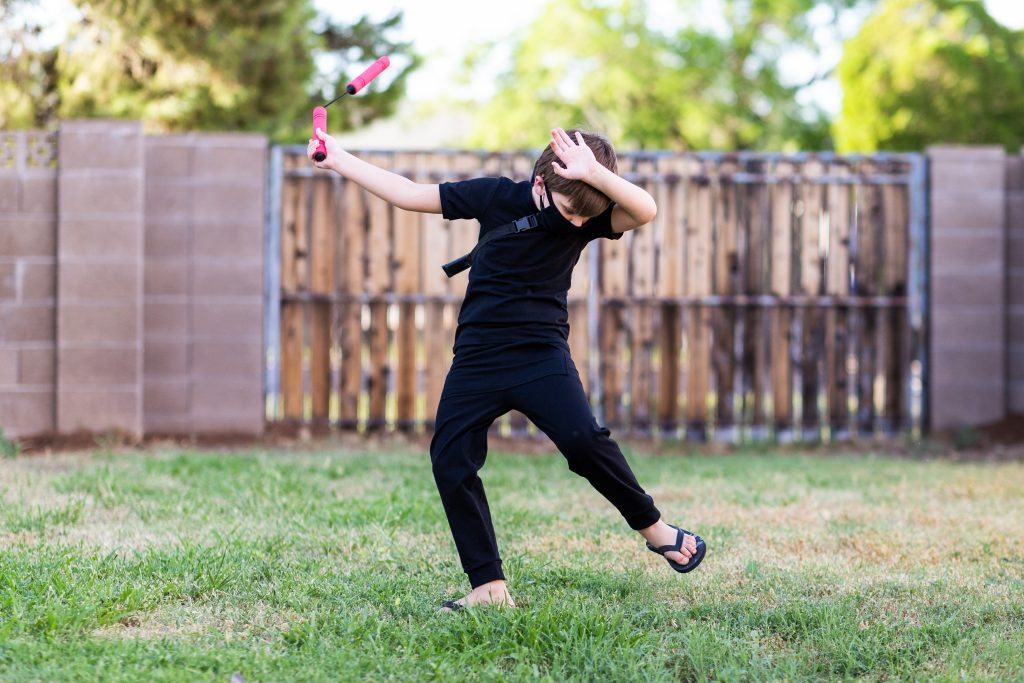 Raising a Warrior/Spy in the Arizona desert can be tricky. I think I can count on one hand the days my youngest son wears long pants during the year. He's super picky and much like his mom thinks "Pants=leg prisons." The simple construction of the Cartwheel Capris means maximum comfort! There are less seams to bother busy, active kiddos who don't want to wear clothes much less pants.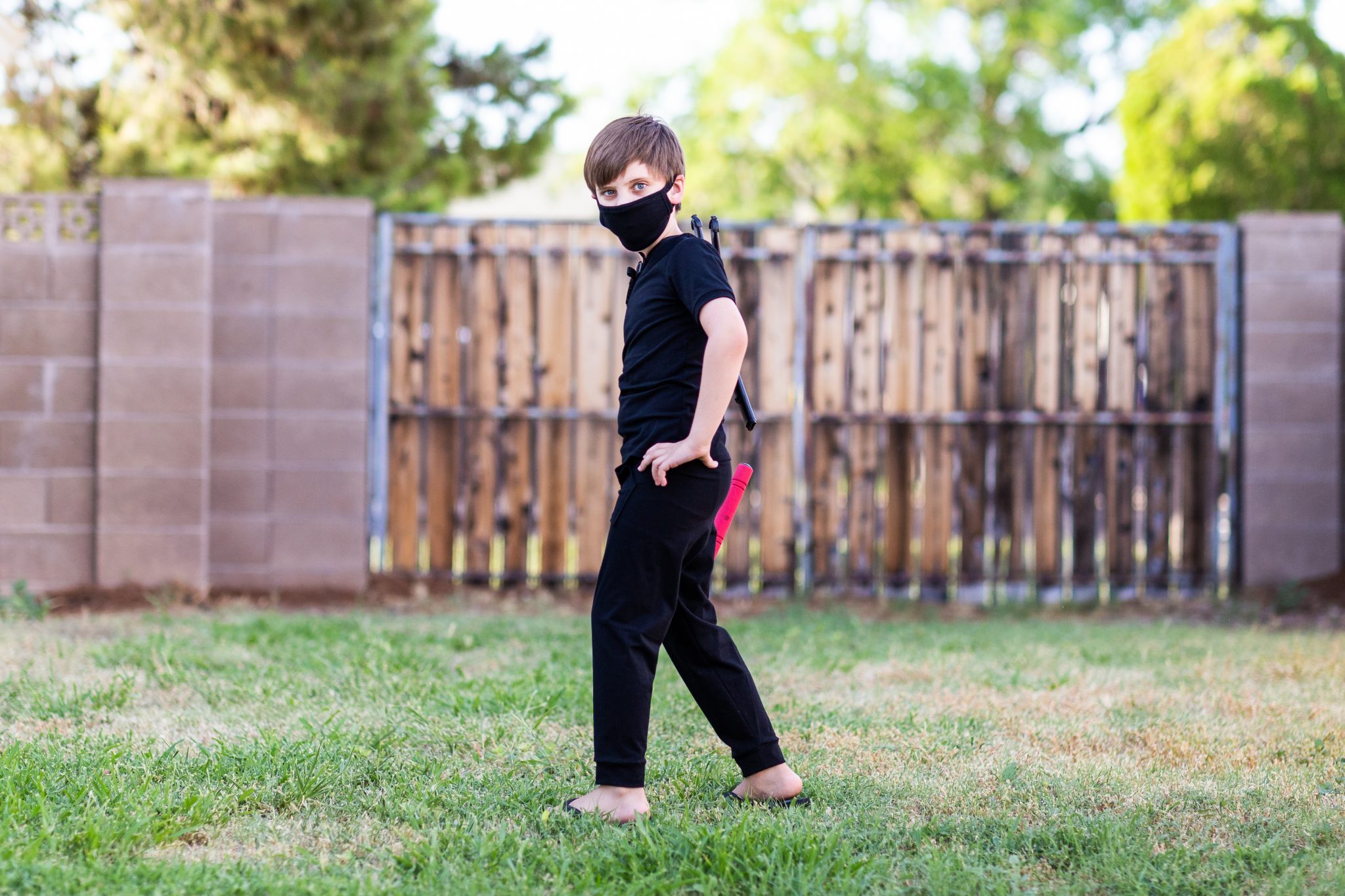 My son's measurements put him in a size 8. However these pants are meant for doing ALL the things, so I sized up two sizes to a size 12. That way they would be bigger on him and be more of the active style he wanted.
To make them more maneuverable they needed to have a slight dropped crotch.  To do this I made a horizontal cut across the top of the pattern, just under the waistline and added in 3 inches to the pattern piece.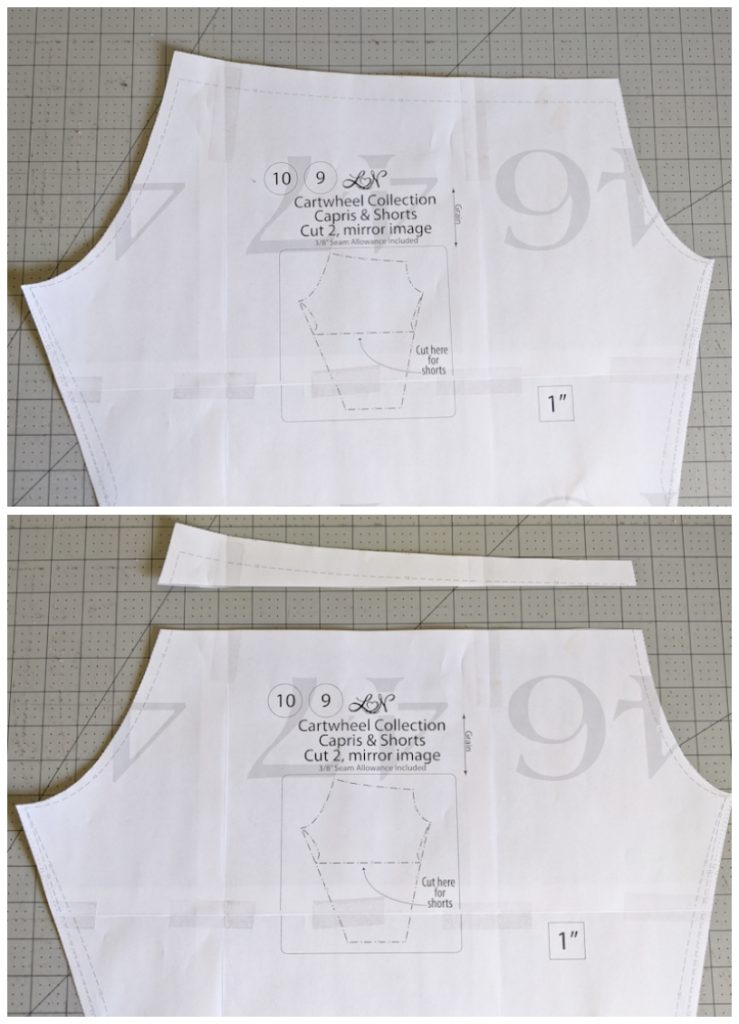 I fixed the back crotch curve with my French curve ruler. Adding the 3 inches gave him a lot of room to not only move but to add a pouch pocket.
There is really no science to how I made the pouch pocket on these pants. All I did was measure his hand so that it would fit inside plus a little room for snacks and "gear."  I made the pattern piece to be cut on the fold.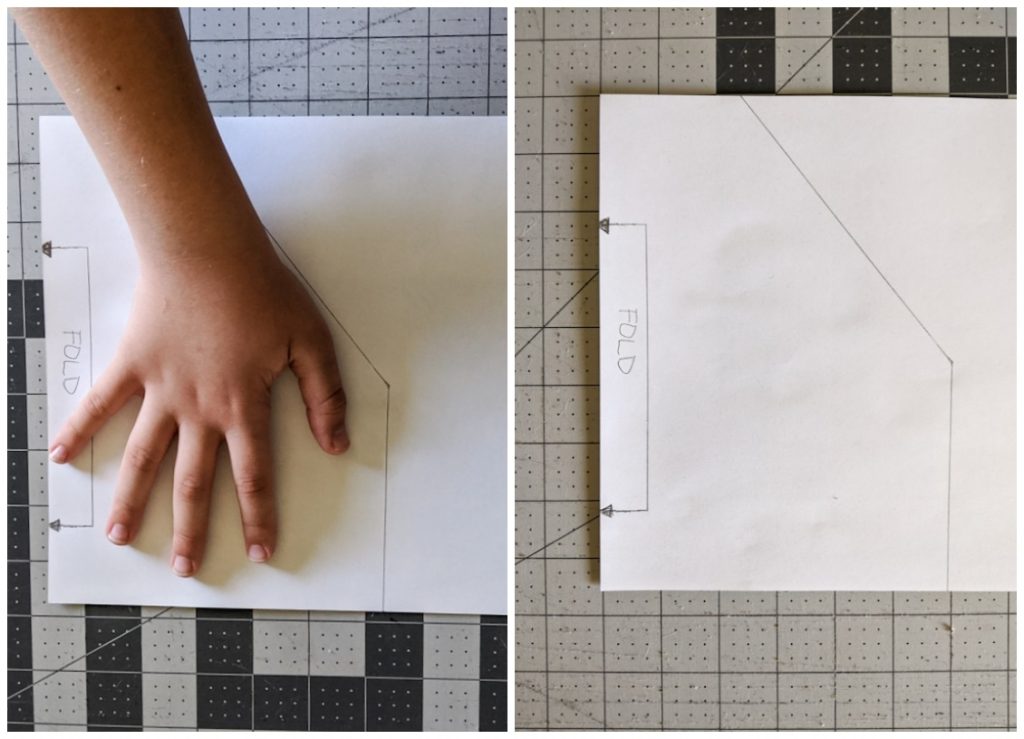 Then I turned all the edges (except for the top edge) in ½" and sewed the slash part in place before I attached it to the front of the pants.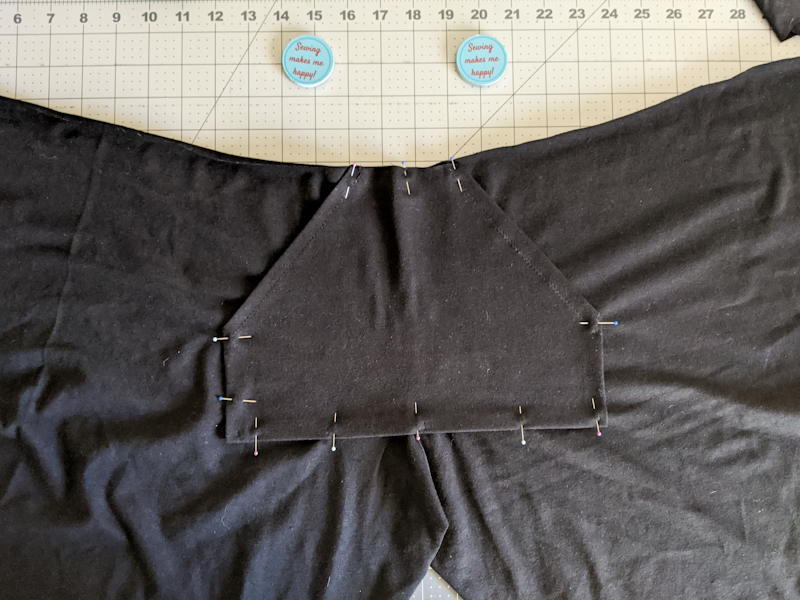 For the waistband circumference I measured the waist opening on the pattern so that it wouldn't have any negative ease. I also made it half as wide because we didn't want a wide yoga style waistband. For the size 12 it ended up being 28"x4". This meant we needed to use elastic, which is definitely more suitable for the active lifestyle of a spy/warrior. With elastic in his waistband he'll be less likely to have any wardrobe malfunctions.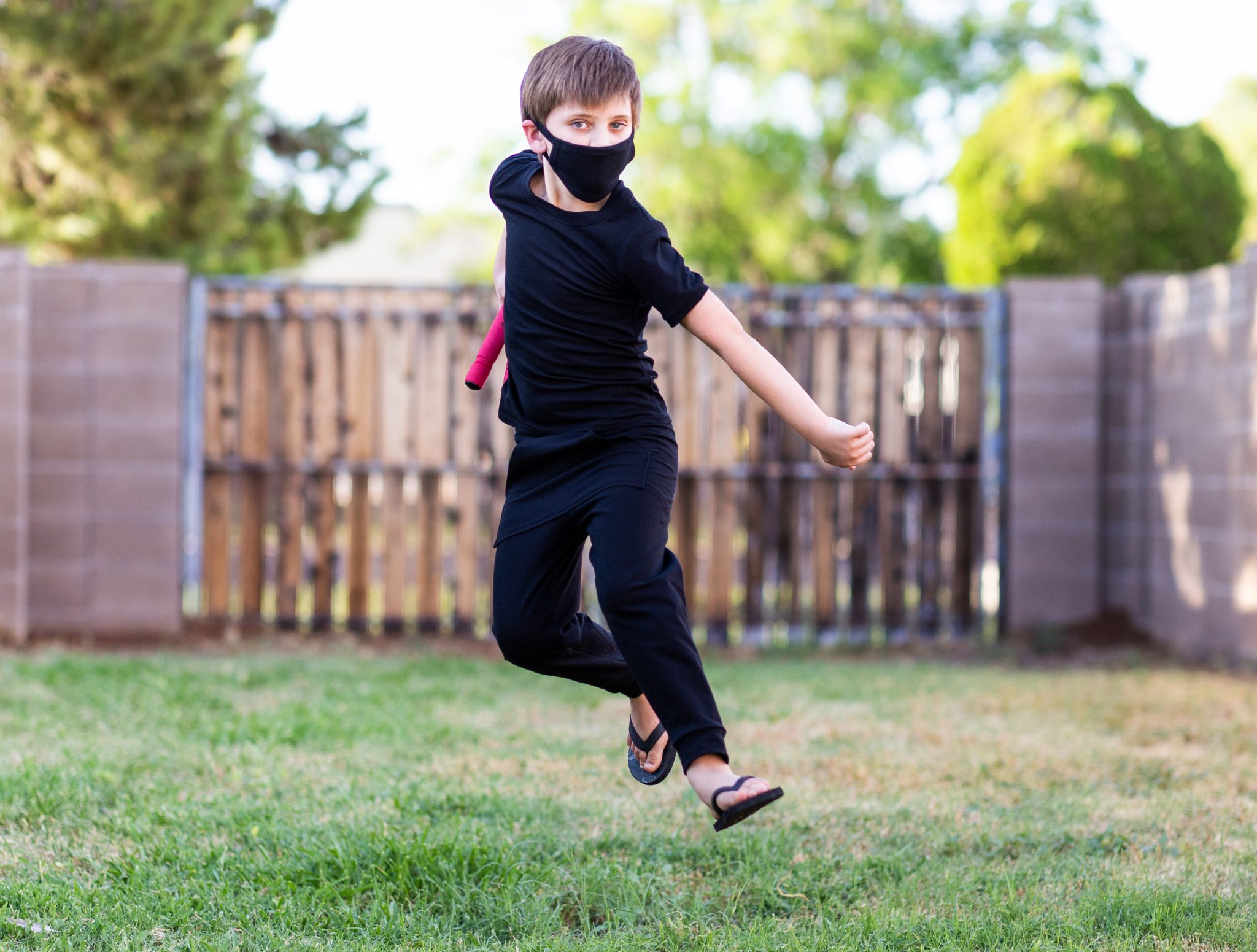 For Ultimate Awesomeness I wanted to add hem bands at the ankle. To find out how big around I needed to make the hem bands I measured the ankle opening on the pattern and subtracted one inch. The measurements for these hem bands on the size 12 capris were 10"x3".
And if you make a warrior spy some pants………….He's going to want a matching shirt to go with it. The Cartwheel tee is perfect for this too.
 My son's measurements put him in a size 8 so that's what I went with. I just needed to make it a little more to his liking. To do that, I need to make the sleeve longer and add a hem band. First I made a horizontal cut across the bottom of the sleeve pattern. Then I added in 1 inch to the pattern piece.
 To make the sleeve hem band, I measured the bottom of the sleeve pattern, multiplied it by two and subtracted 1 inch. That gave me the length of the band. Then I just decided how wide I wanted it. For the sleeve bands on the size 8 shirt I did 10×2 inches.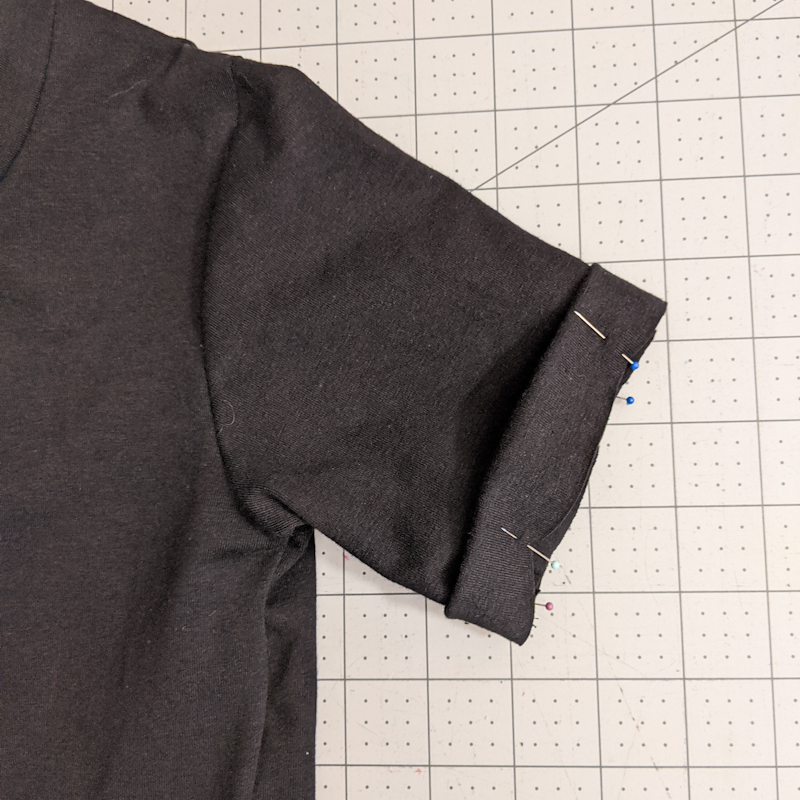 My son definitely didn't want the darling peek-a-boo back that my nieces adore. To get rid of that, I simply matched up the two back pieces at the armhole and shoulder and taped them together. You can ignore the little hole that was left there since it gets cut on the fold.
To straighten out the torso of the shirt pattern I put my clear ruler on the side and lined it up from the armpit down to the hem and cut it out. I did this on both the front and back pattern pieces. Kah-bam! Boy Spy/Warrior approved!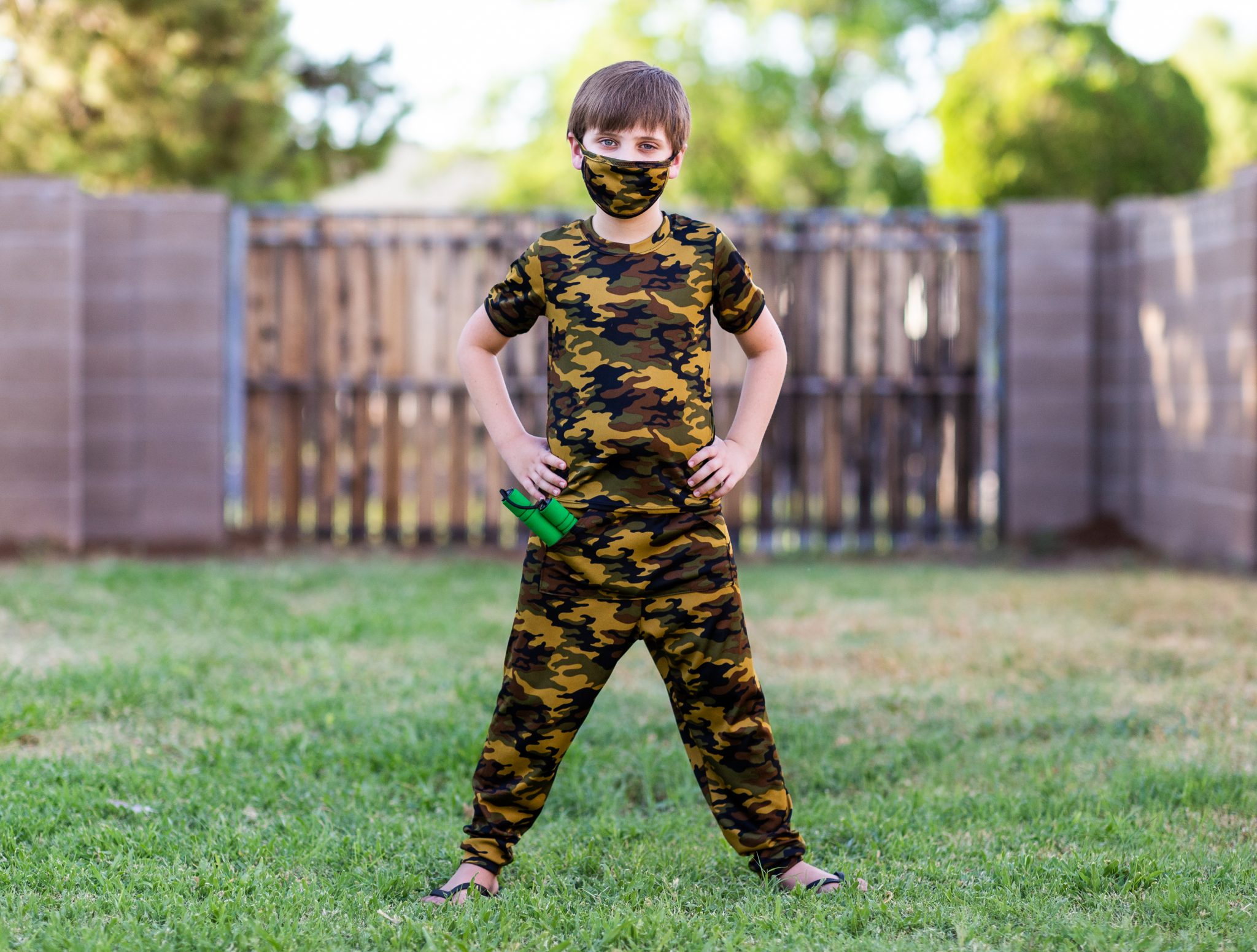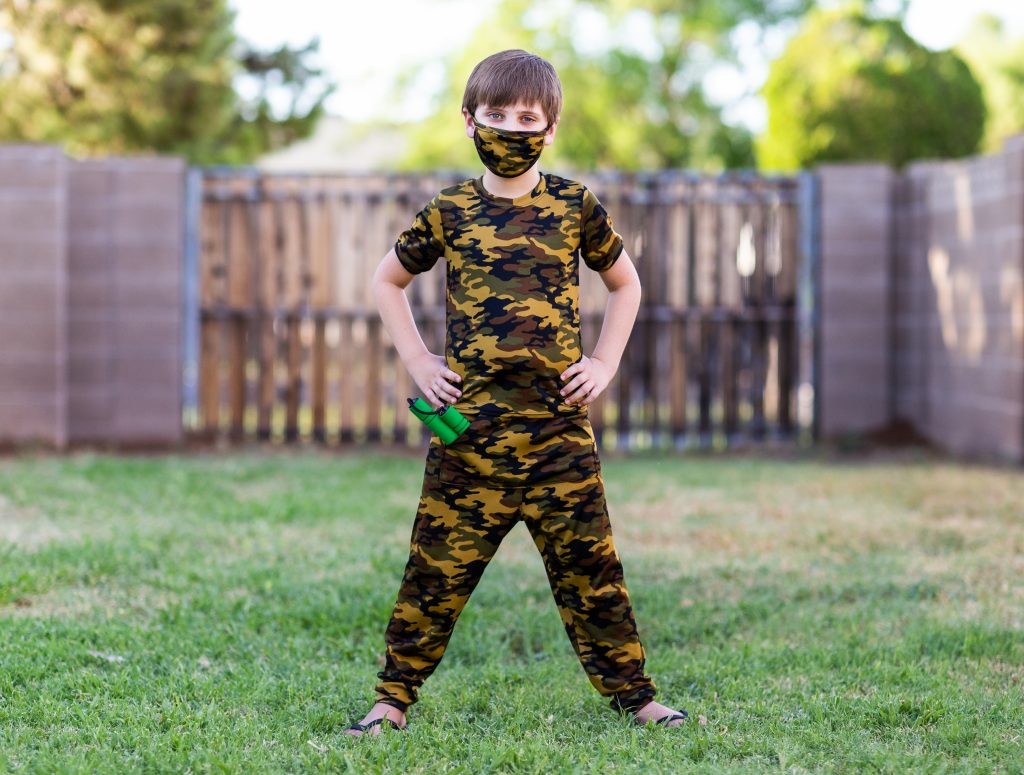 Of course you can make this same outfit for your little girl Warriors/Spies too! Please do! I just happen to only have boys at my home to sew for.
I sewed both these outfits in one day and made a self drafted matching masks to go with them per his request. He loves them and has no intention of letting any bad guys get away. The world is a safer place now thanks to the Cartwheel Collection and a little imagination. To see more of my Love Notion makes you can follow me on Instagram  @koetiquemade and my blog www.koetiquemade.com
Thanks for reading.  I look forward to seeing all your fun makes with the Cartwheel Collection!
Affiliate links
https://www.lovenotions.com/product/the-cartwheel-collection-2t-14?affiliates=452
https://www.lovenotions.com/product/moto-maxx-set-2t-14?affiliates=452

Visit all the stops on the tour for pattern shopping inspo
Koe is on the Love Notions Blog with a way to help your kids embrace mask-wearing, using a little creativity and the Cartwheel Collection. read more
Josie gives a detailed review of her favorites! I love Josie's style and her simple but elegant take on the patterns. read more
Anjori has such a sweet style and her mommy and me twinning with her daughter is my favorite! read more
Katie is a hacking genius and active mom who sews for herself and her two boys. She has a pattern round up AND lots of fabric to show off! read more
Ilse is showing off her latest Sloane with Sly Fox Fabric and has a giveaway! read more
Tami Peterson's photography makes me drool but her style is what I love to copy! She has a round up of pattern perfect for summer into fall! read more
Chris has a full review of the Rhapsody Blouse, info on the new studio, and a full round up of the patterns you'll love. watch now
Katie G. is showing off a lovely Allegro Skirt hack that you will want to make ASAP — plus she's rounding up her absolute favorite patterns. read more
Crystal is showing off the Cartwheel Collection for her kiddo and discussing "Back to School — at home!" read more
Koe is also on her blog showing off her top 4 most used Love Notions patterns — if you don't have these yet, you are missing out! read more
Karina from Lifting Pins and Needles is one of the most helpful and inspiring sewists. She is showing how to simplify a few faves: Vivace and Lyric! read more
Keira from Island Sewcialist is ready for twirling! See why she's ready for anything in her Sybil Skirt. read more
Sequoia of SequoiaLynn Sews is showing off her favorite Love Notions makes PLUS giving away a free Love Notions pattern. You do not want to miss out! read more
Kim K from Dorothy's Daughter is showing off the Cartwheel Collection and has a playlist of her LN favorites. You'll love her sewing tips! watch now
And remember if you are in the area, stay in touch on the Love Notions Workshop email list! sign up here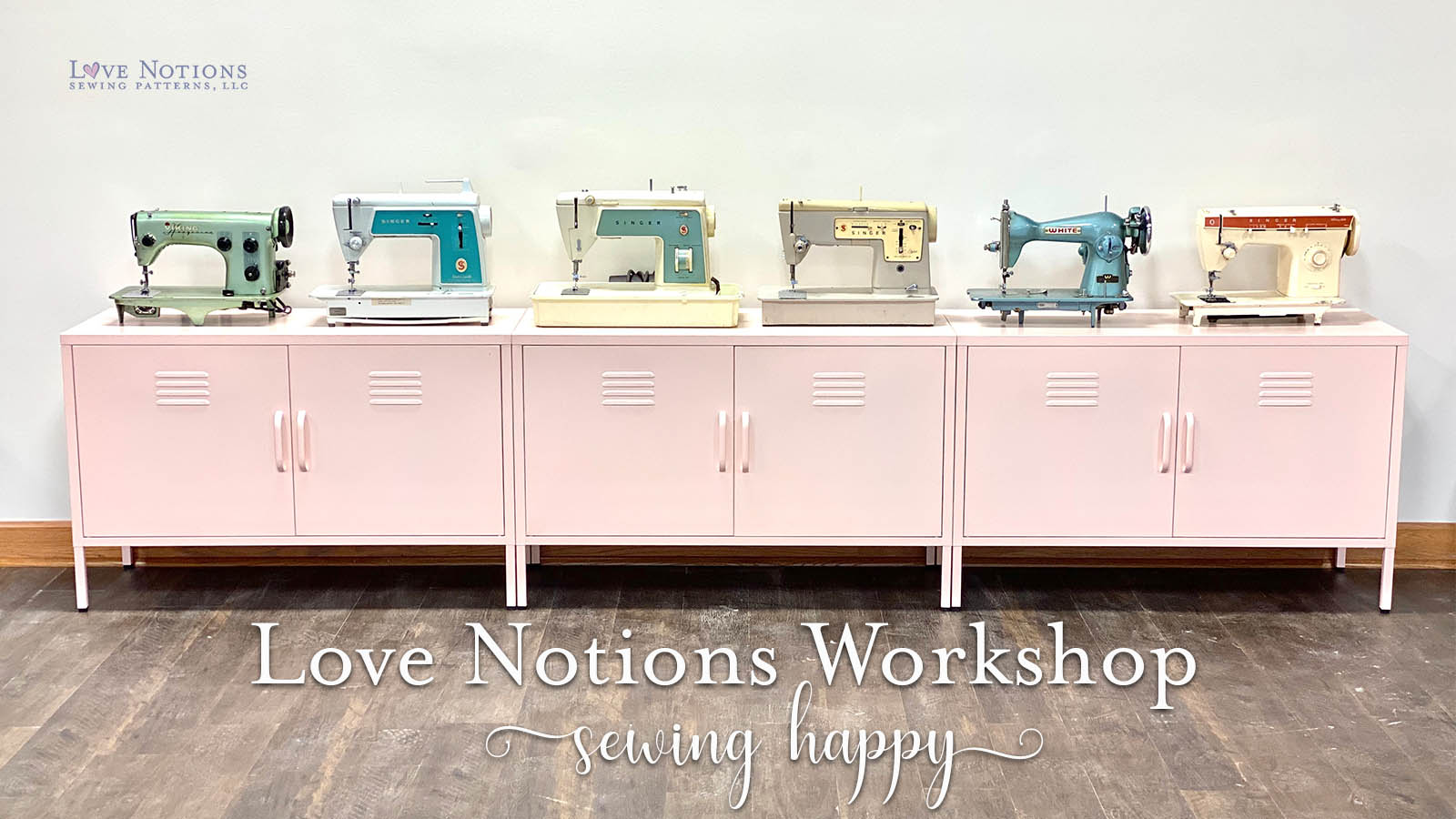 Pin this for later!