Who else needs night to day pajamas right now? I consider PJs essential items during this time …and it's a huge bonus when they look as good as they feel. This is why Namaste Nightwear Collection is just irresistible to me. As Tami P. shows on the blog today, this nightwear collection is sleek enough to wear all day AND all night long!
---
Night to Day Pajamas
Hi all! I'm Tami from SewSophieLynn and I'm excited to be bringing you the Feature Friday guest post this week. I love all of the thoughtful insights and inspiration my fellow ambassadors bring each week and I'm always honored to be in such amazing company.
Pajama Set for Feature Friday
Today's Feature Friday patterns are the Women's and Girl's Namaste Nightwear sets. 
Versatile nightwear goes from night to day
Now you may be thinking to yourself, "How many pajama sets does a girl need?" and "Aren't my old tees and sweatpants doing the job each night anyways?". I'm here today to show just how versatile these patterns are and to get you thinking outside the box. Now, I've made multiple Namaste sets in the past and they are some of our favorite things for lounging around the house.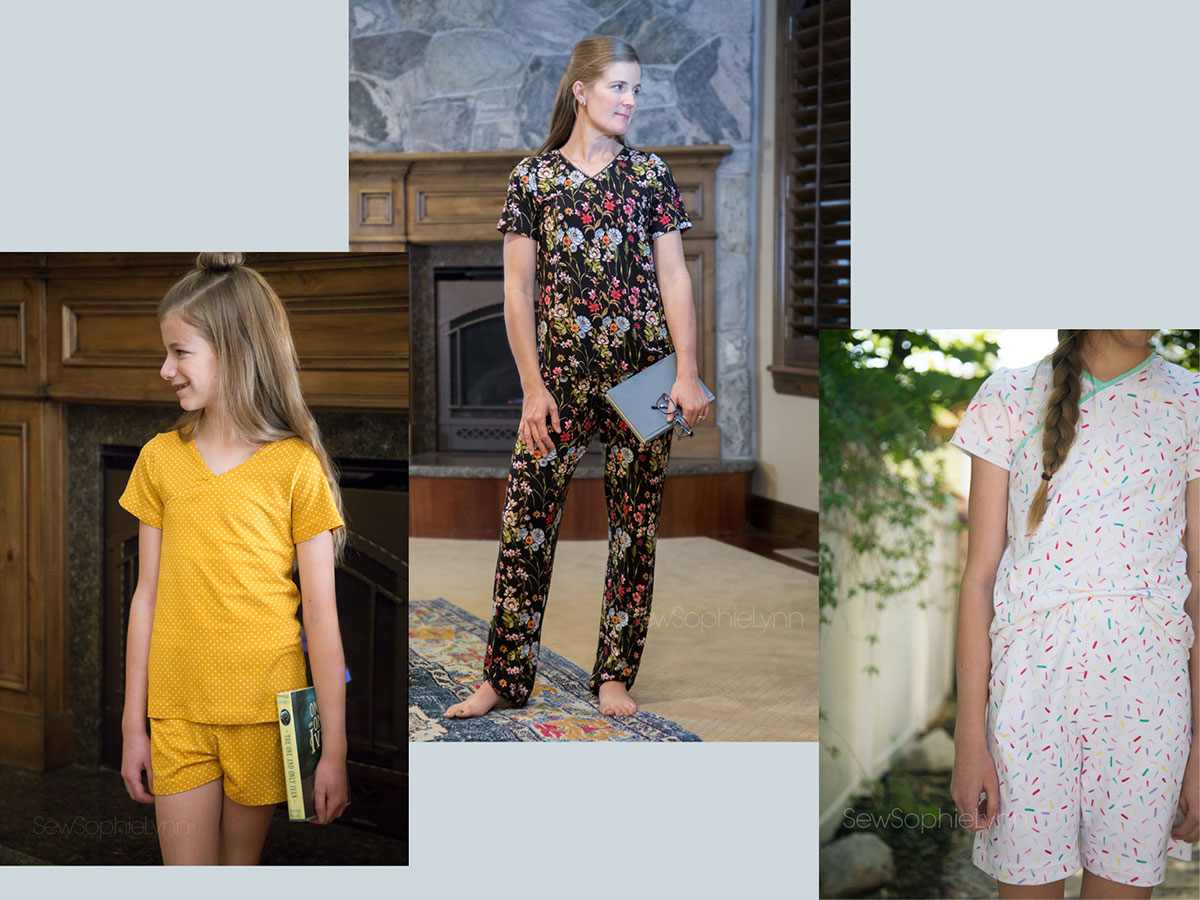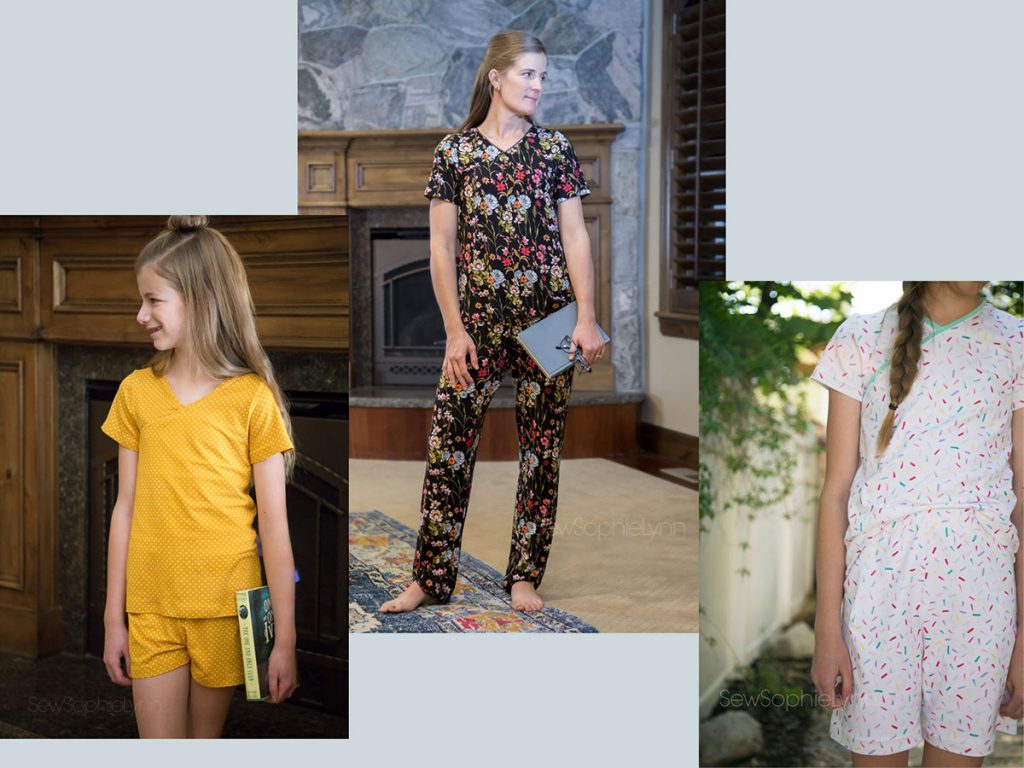 Pandemic Life requires good PJs!
Living through a global pandemic means that we have done LOTS of lounging these past six months. Comfort has become paramount and our laundry each week has revealed that we have changed the way we dress. Elastic waists, soft plush or silky fabrics, and easy wear pieces are getting worn over and over again. As we've started school again and are resuming our new normal, these things still remain important as we get dressed each morning.
Nightwear that is practical, but good enough for everyday wear
The Namaste Nightwear sets are practical for those days when you're stuck at home but you can also use these pieces together and separately to integrate into your everyday wardrobe. I used an amazingly soft modal spandex from Raspberry Creek Fabrics for this set. Modal, Rayon Spandex, and Double Brushed Polyester are my favorites for this pattern. The drape is incredible with all three and you can't beat the silky smooth feel of any of them. This set is heavenly to wear and since I want to wear it 24/7 I came up with a plan! I'm sharing a few ways to wear these pieces no matter what your day looks like.
A few mods
To make these separates look a little more wearable for day, I eliminated the hem detail by drawing a straight line all the way down the inside seam and lengthening the bottom hem to accommodate a 1 inch hem. The same method could be used to eliminate the sleeve detail as well if you wanted to use the long sleeve version. I also added a faux drawstring by taking a strip of fabric 1.5″ x 36″, sewing it right sides together and flipping it right side out. I tacked it to the center front of my pants for a little detail that elevates them a bit as well.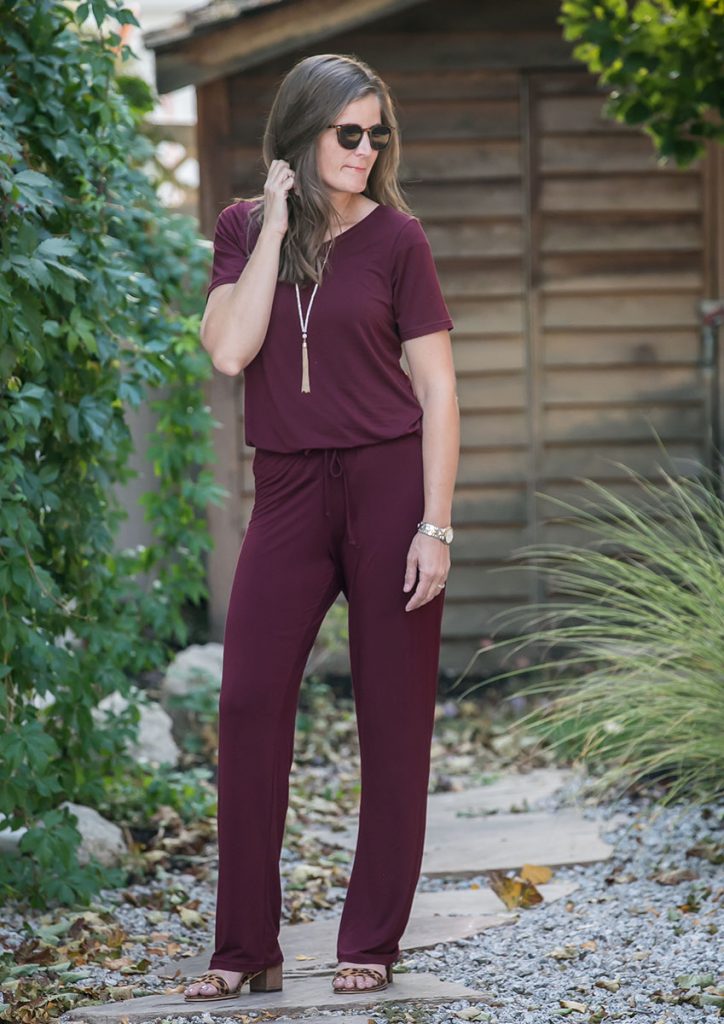 1. Not-so-secret Pajamas
The first look is easy peasy! Simply tuck in that top, throw on some jewelry and you've got a fabulous jumpsuit outfit that is ready to hit the town. This is the perfect not so secret pajama look!
2. Lounge pants plus other tops
The pants are such a dream to wear and are great paired with other tops in your closet too. I've paired it with a cozy flannel top and sneakers. This outfit will be my kid-friendly, soccer game watching look.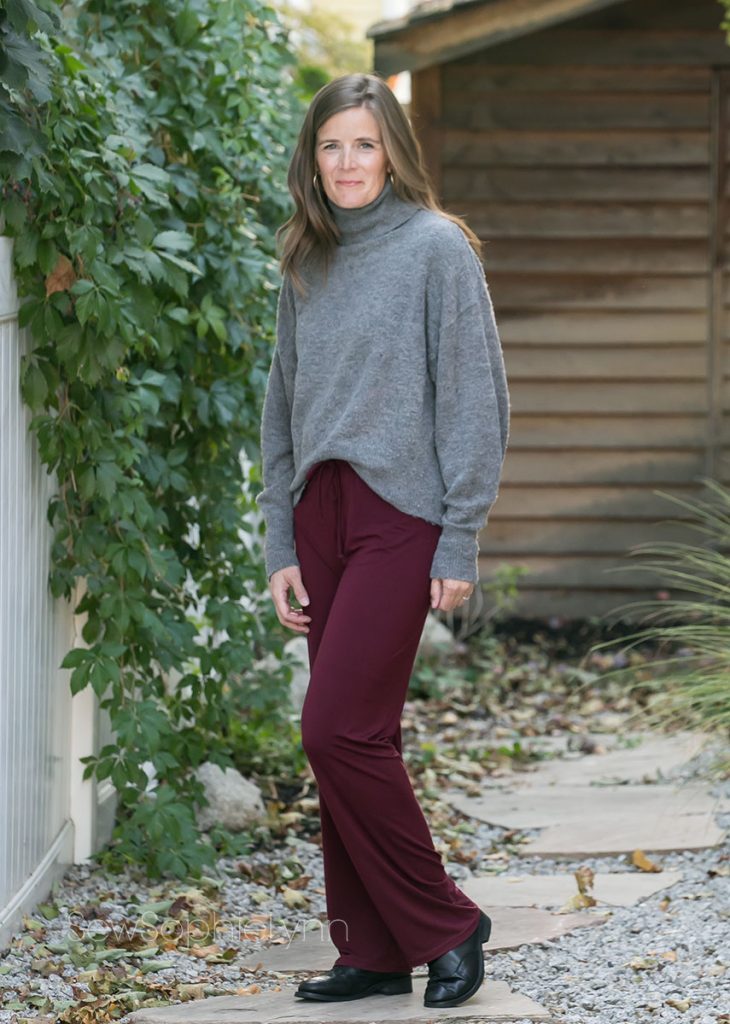 Throw on an oversized sweater and you're ready for a fun socially-distanced date night or ladies night out.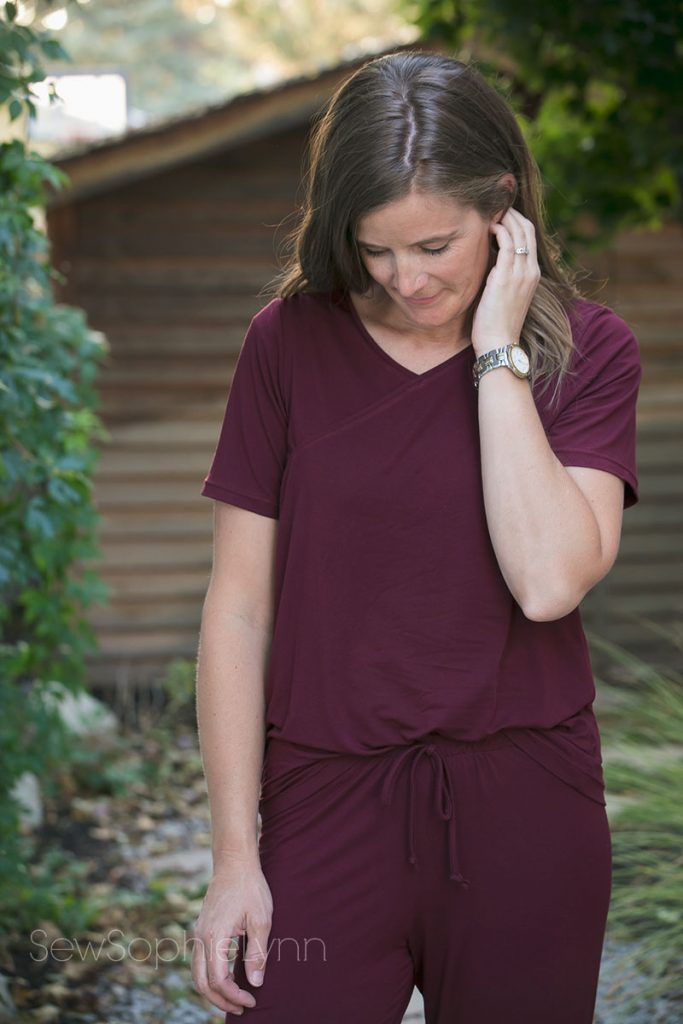 3. Nightwear Top plus other bottoms
The top of the Namaste Nightwear pattern is like your favorite tee upgraded. The neckline detail adds just the right touch of fancy without being too over the top.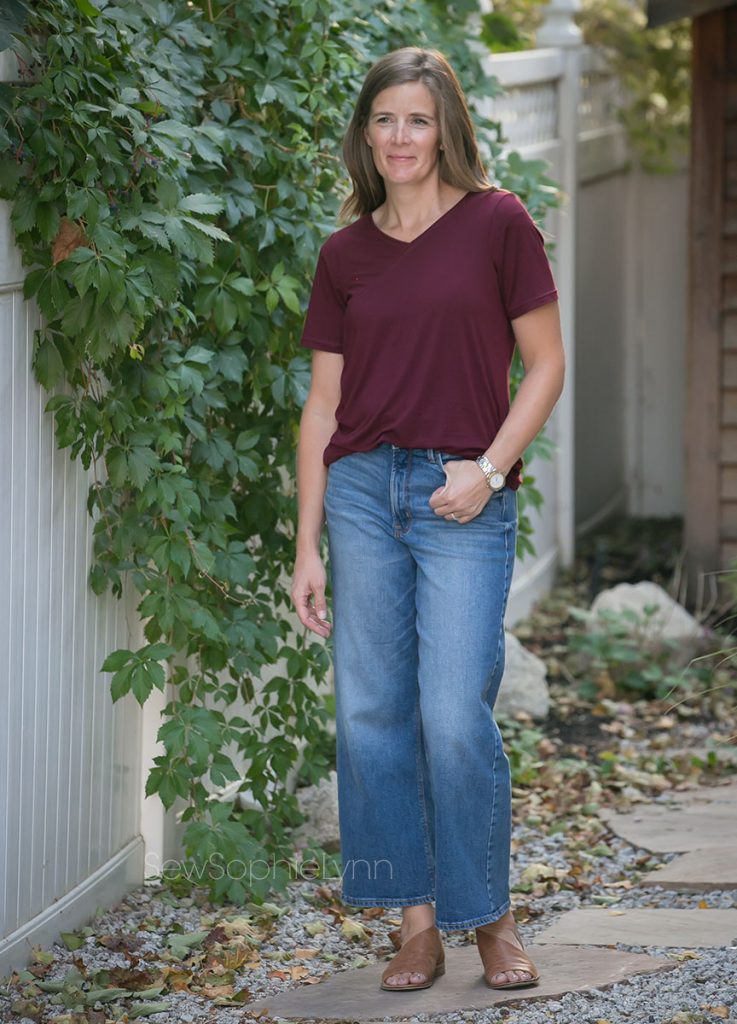 The top pairs so well with your favorite jeans. This wide leg pair reminds me of the Glissandos and has me itching to sew another pair!  You can't go wrong with the classic jeans and tee combo.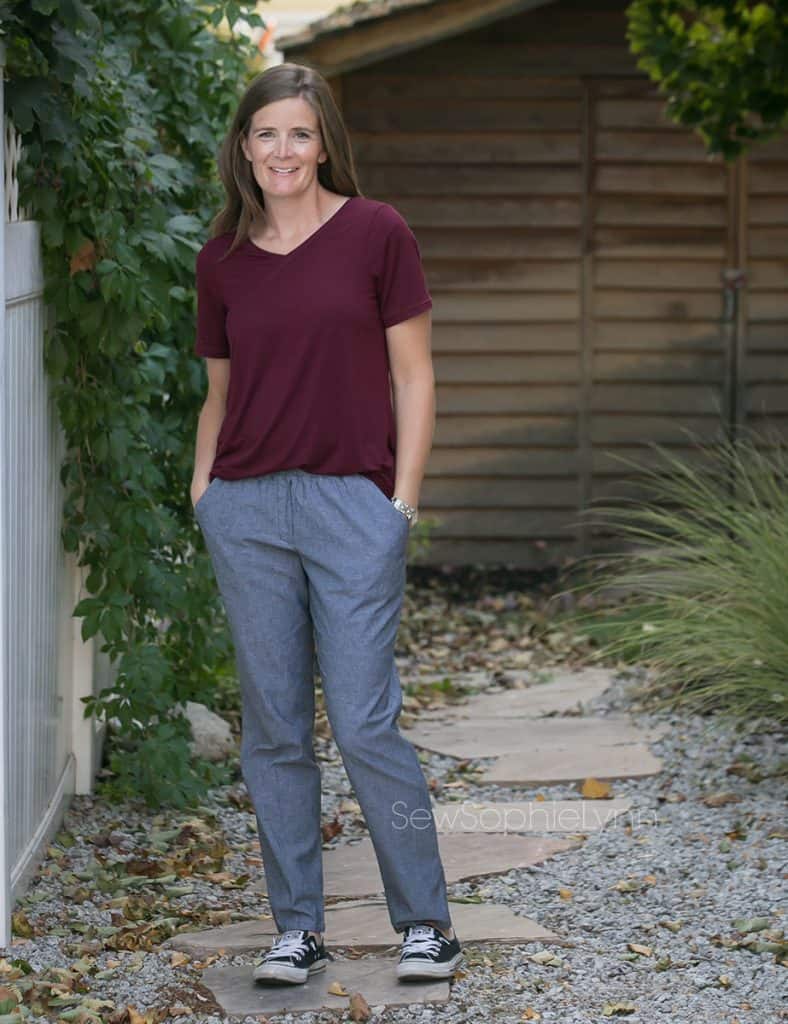 Of course, I had to pair the tee with my trusty Allegros too! My Allegros have been working overtime the past few months.  In my opinion, Allegros go with EVERYTHING!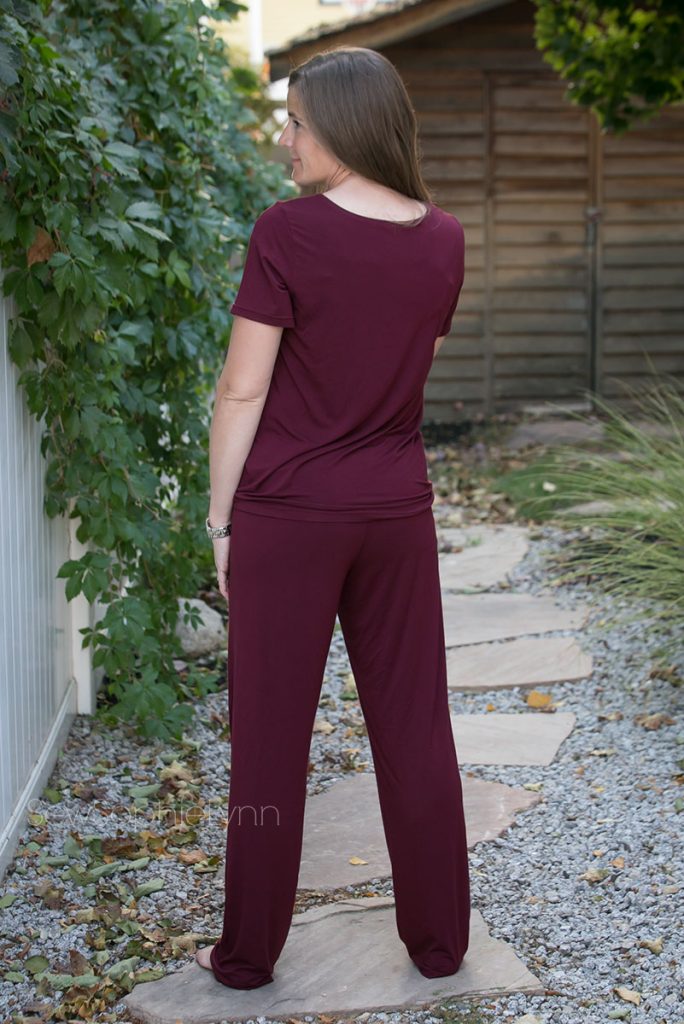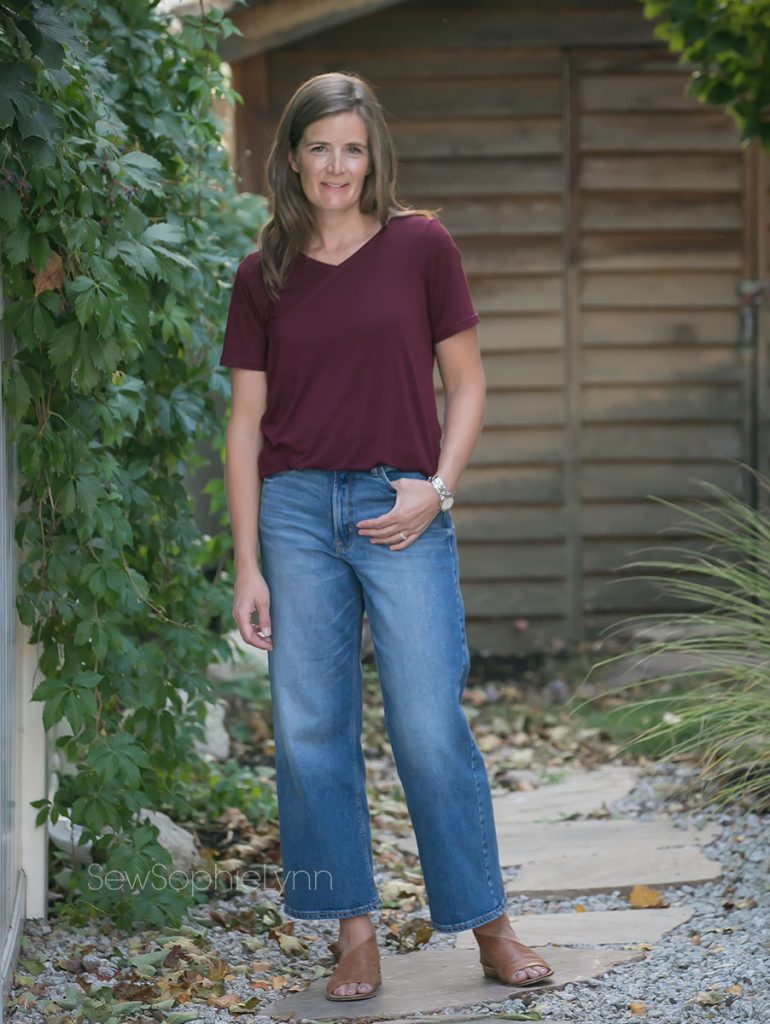 ---
Namaste Nightwear Dress Hack
Our days may look a little different lately but that doesn't mean we all can't look as cute and comfy as can be!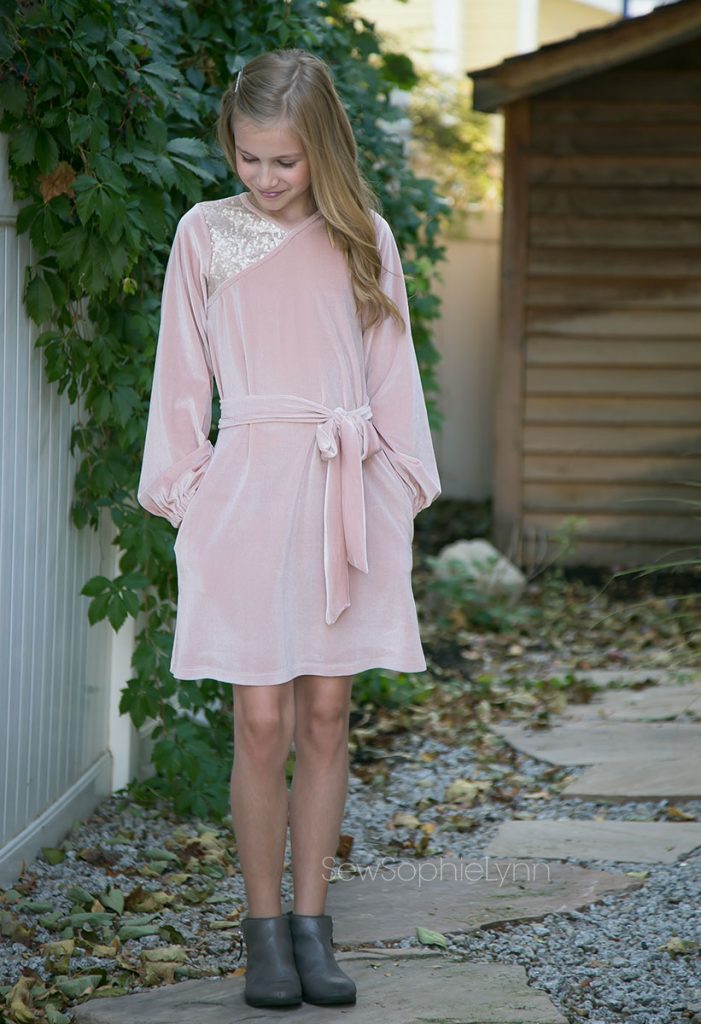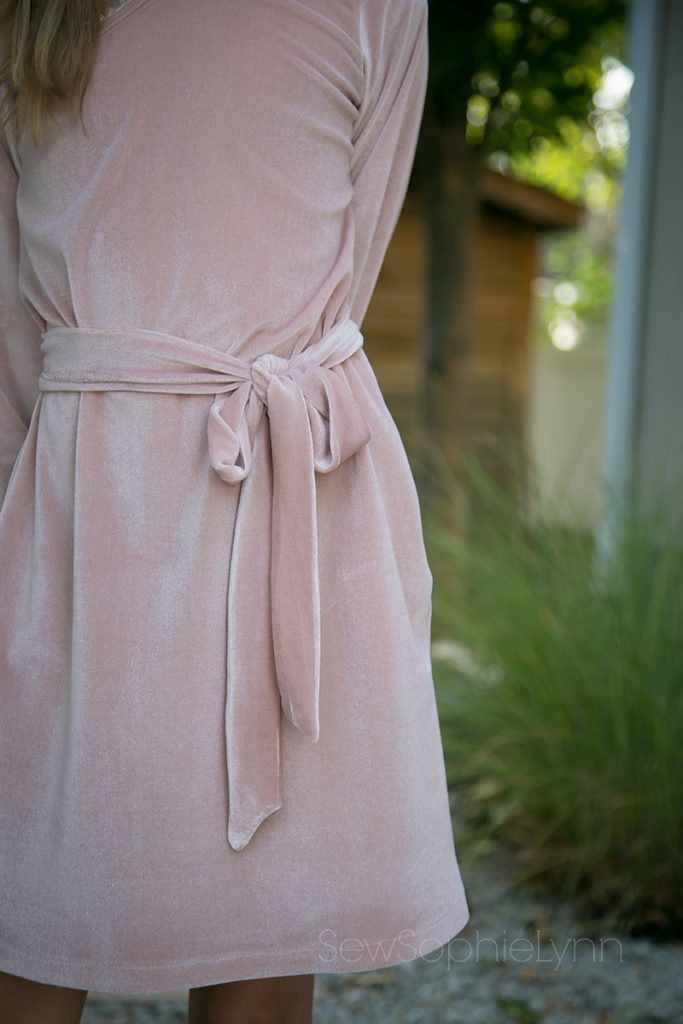 I couldn't leave my girls out of the Namaste fun. I combined two Love Notions patterns for one striking dress. I used the Namaste Nightgown front and back and added sleeves and pockets from the Li'l LDT. A darling sash completes the look.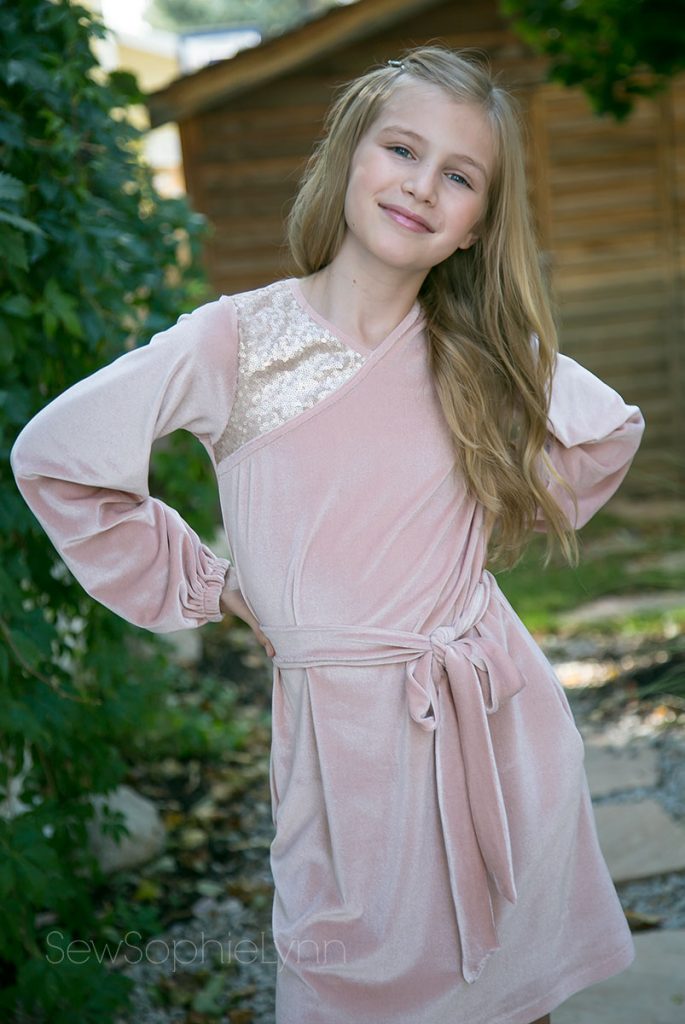 To switch out sleeves, you'll need to print out the armscye of the bodice that you are using. Trace the armscye onto your main dress pattern piece and use that as your new armscye. For these full bishop sleeves, I took the bishop sleeve pattern piece and lengthened the side seams as long as the long sleeve pattern piece. I sewed them up according to the Li'l LDT instructions but used a shorter elastic in the wrist cuff (7″ for this size 8 dress).
To add the pockets, I measured from the shoulder to where my daughter likes to stick her hands (so technical, I know) and put the top of the pocket an inch above where her wrist would sit. I added the pockets from the Li'l LDT per that pattern as well.
To really up the wow factor, I added sequins to the bodice detail piece. I lined my sequin piece in soft double brushed poly to keep this dress as comfortable as possible. 
As we look ahead at the holidays this year, who knows what they will bring. I love that she'll be set and comfortable no matter if we're celebrating at home with just our immediate family or if we get to party with a few friends and family.  This dress is luxurious and elegant but also silky and plush. She didn't want to take it off after photos and begged for an actual nightgown just like it! I know just what pattern to use (wink, wink)!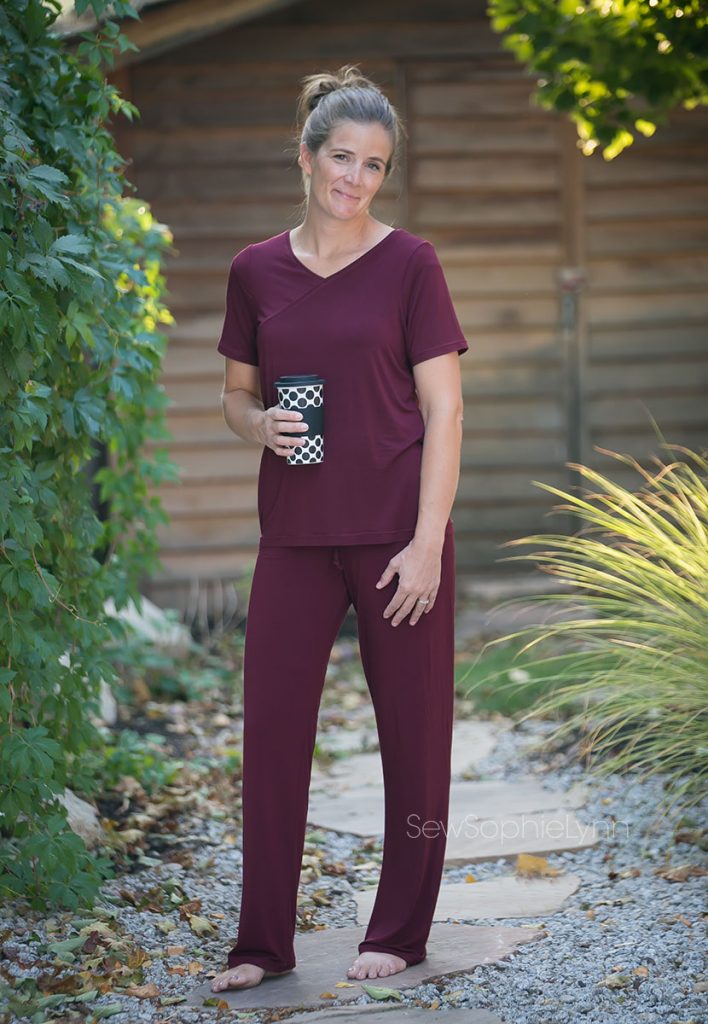 Make sure to grab both the Women's Namaste Set and Girls set on sale today only for just $5! It's the perfect pattern for lounge wear and a great base to really up your wardrobe too!
---
Pin this to save for later!