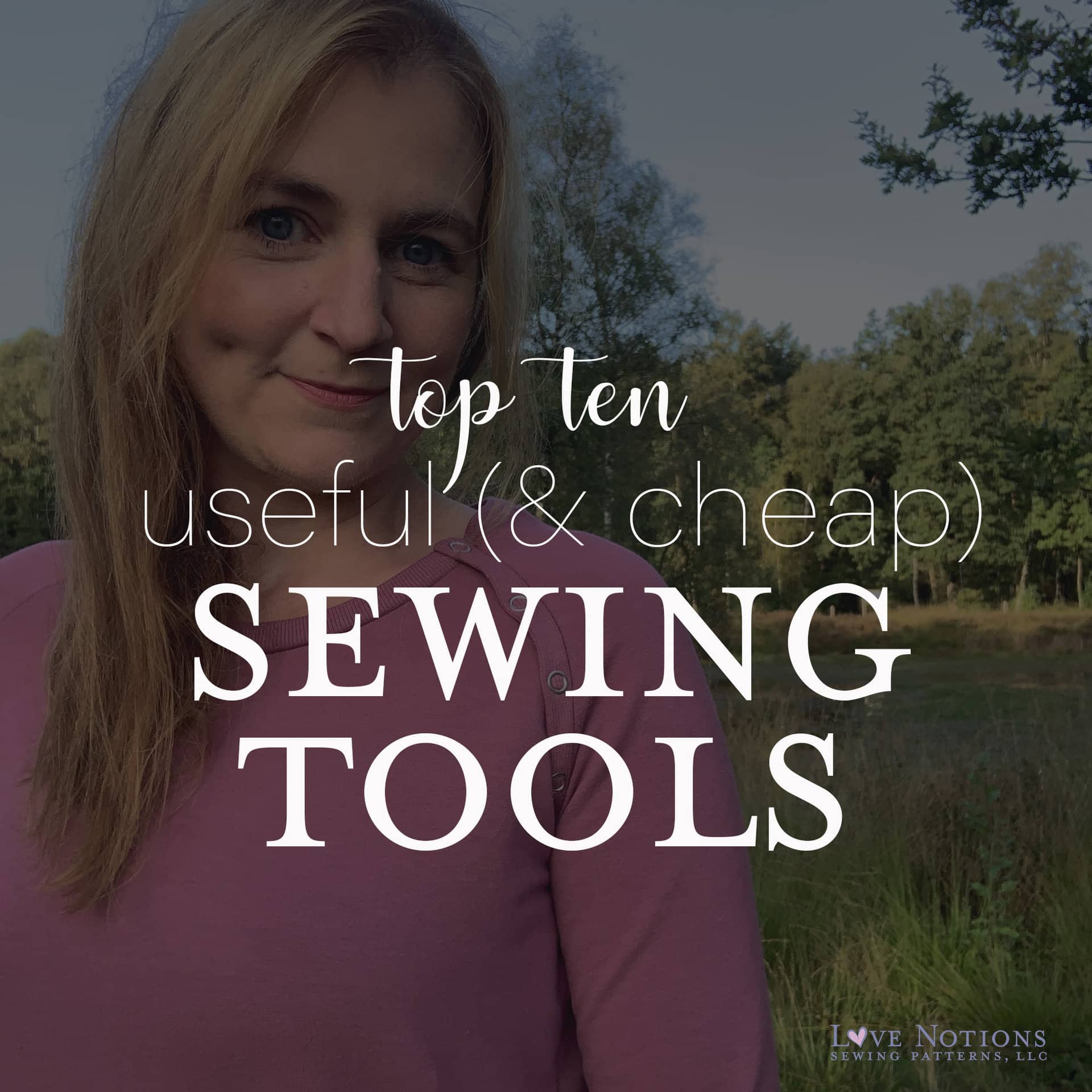 Sewing Tools + a Pattern to Love
Hi everyone! I'm Annick, An Ca, from Flaxfield Sewing and today I want to share 10 of my all-time favorite sewing tools!  The right sewing tools make sewing so much easier, and they don't have to cost a lot of money.
I made this week's Featured Friday pattern: the Rockford Raglan and I use a lot of them.  By the way, the Rockford Raglan is by the way one of my most worn Love Notions patterns, so don't forget to grab it because now it's on sale!
Top Ten Useful (and Cheap!) Sewing Tools
Here we go …
1. Seam ripper
Not always my favorite tool, because it usually means that I did something that wasn't quite right: the seam ripper.  This sharp tool helps you to remove a long seam of stitching or to open a button hole in a quick way.
2. Wonder clips
Wonder clips have replaced pins for me in a lot of my sewing work.  They are as quick and easy as pins, but they damage your fabric much less, for example when sewing with lace or leather.  They also tackle thick layers a lot easier than pins and you can't accidentally forget a pin when overlocking.
And when I do use pins, I really love my magnetic pincushion.  The magnet is so strong that you can toss a pin or needle toward the bowl surface and your pincushion will catch it. And when you sweep over loos and dropped pins, it will snap them up instantly.
These scissors were originally intended for use while quilting, but actually I use them almost all the time. They are designed to push away the bottom layer of your fabric while cutting and so you can trim the seams in a very easy way, without damaging the underlayer.
These are extra small magnets that can be placed on your scissors. They show were to cut when you want to add extra seam allowance or when you want to cut strips, for example to make a drawstring or to make your own bias tape.  Each magnet is 0,5 cm high, so you need 2 to get 1cm or 5 to get 2,5 cm.  These magnets are light but very strong. You should put them on the upper blade of the scissors. The magnets can even be used on a roller knife.
Everyone probably has Chinese chopsticks lying around the house somewhere. But have you also thought that you can use them perfectly to get nice sharp corners?  You can perfectly push out your corners without damaging the fabric. Easy, efficient and cheap!
7. Frixion pen
These are great pens for school.  They allow you to write, erase, and rewrite repeatedly without damaging your documents.  But it's also my favorite fabric marking tool because the Frixion Pen uses heat-sensitive ink which means a quick blast with steam or an iron and it disappears!  Moreover, the pen is available in a wide range of colors, so there will always be a color clearly visible on your fabric.  How easy is that!
8. Loop turner
This sewing tool makes life so much easier when you want to turn tunnels, straps and belts. You just pull the fabric tunnel over the steel needle until the fastener hook is visible. Now the top of the hook fastener is pressed and closed just before the edge of the fabric. Pull until the fabric comes out at the top end of the fabric tunnel. So simple!
The aqua glue marker is a glue stick for securing pieces of fabric, braids, lace and zippers before you sew them.  The glue has a yellow color when applied so that you can easily spot it, but after drying this color disappears. The glue is completely washable and leaves no traces whatsoever.
The bulky seam jumper is a leveling plate for sewing over thick seams.  A sewing machine does not work well if the foot is tilted on a thick seam. You can eliminate that slope with a leveling plate.  Each bulky seam jumper has two sides with different thickness, so you can choose the side that suits the thickness of your sewing.
I have put these tools in an order that has nothing to do with which tool I prefer. This really depends on the project. I'm sure you will enjoy them all.
How to make a button placket on a raglan
By the way, did you see the little hack I did on the sleeve of the Rockford raglan?  I added a fun button placket!
You can sew this hack with a few easy steps:
Sew the front and the back to the sleeves (see instructions) but leave one front/sleeve open.
Fold your neckband, wrong sides together, and sew it on the neckline.
Determine the size of your placket:
For the length: measure the curve from the front arm/sleeve + the neckband.  Add 2 cm seam allowance.  For me, the curve is 22 cm + 2 cm so my placket will be 24 cm long.
For the width: multiply the desired width by 2 and add 2 cm seam allowance.  I wanted a placket from 1,5 cm so my rectangle is 5 cm width (1,5 cm x 2 + 2 cm seam allowance)
Then, cut a rectangle with the dimensions you just calculated.  I used the seam allowance magnets to get the right width. And now, with right sides together, sew one of the short ends.
Trim the seam allowance, turn the placket right side oud and make a sharp corner with your Chinese chopsticks.
Pin the placket to the bodice and sandwich it between the bodice and the sleeve.  Sew.
Now all you have to do is attach buttons of your choice.
Lastly, finish your Rockford Raglan as described in the instructions.
I hope you learned something new from reading this blog post, or at least enjoyed it!
I hope to see you soon at Flaxfield Sewing!
Xxx
Annick