Welcome back to the Thomas Track Pants Sew Along. Today is day two and I am going to show you how to sew a basic pair of pants. If you are new to sewing pants, today is for you! I will cover assembly, sewing in the elastic waistband, and hemming. We will be skipping the pockets for now. Today is focusing on the basics. Today's post is great for sewing a pair of lounge pants, or a muslin for future pants using the color blocking, or for adding zipper hems.
Yesterday, I talked about fabrics and where you can find elastic and zippers for your Thomas Track Pants. I also discussed how to blend sizes to achieve a great fit! Today, we sew!
The Thomas Track Pants instructions covers how to sew a basic pair of pants. You want to cut view A for basic pants. For sewing instructions, start on page 9 and sew through page 11. This will take you through all the construction, sewing the elastic waistband and hemming. If you prefer video instructions, you are in for a treat! The video below covers sewing view A of the Thomas Track Pants from start to finish!
Sewing view B, color blocked Thomas Track Pants
When you are sewing the color block view, you want to make sure that you don't skip any steps! Staystitching and clipping the seam allowance of the curve, as the directions state, really makes things go together more easily. Sewing curves can be tricky!!! So, to help with that, there is also a video at the bottom of page 6 if you need a bit more help in seeing how that curve lines up. Take your time and you can sew it!!
If you find your seams are a bit wavy the the piece on the left, make sure you give it a good press!! See how nicely it lays on the right after a quick touch with the iron!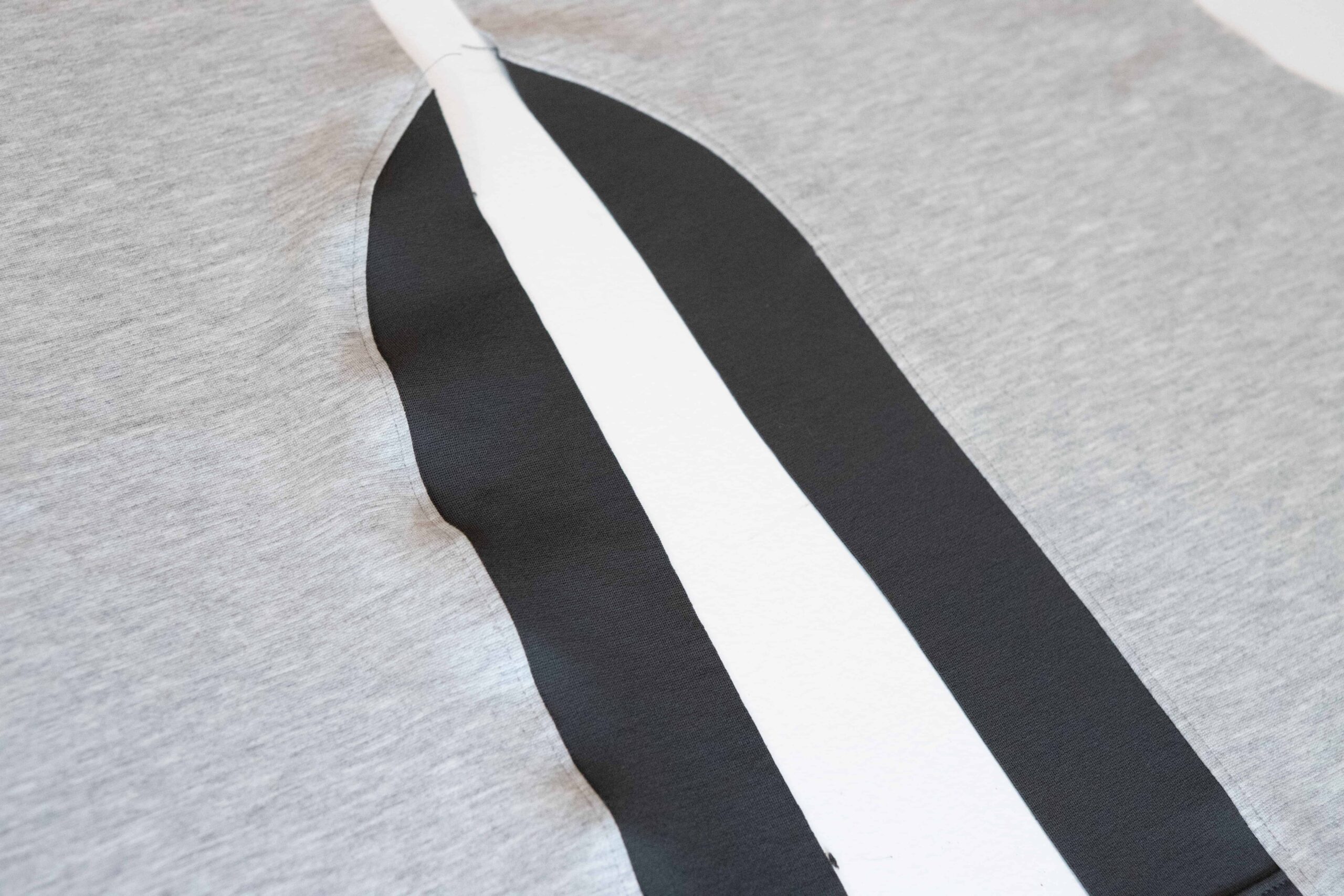 For today, sew the accent piece to both front pieces and sew the yokes to each back pieces. Make sure you line up the correct sides when sewing the yoke!! The triangle marking indicates the side seam!
After you have the front and back pieces assembled, you are done for today!
Eliminating the side seam
The Thomas Track Pants view A is a pretty quick sew. But, we can make it even quicker! If you don't want to add pockets, and don't want to break up your fabric's pattern with a side seam, or you want a really REALLY quick sew, you can eliminate the side seam all together! To do this, draw in the seam allowance down the side of both the front and back pieces. (This only works with view A.) When you draw in the seam allowance, you are making a line 3/8″ from the edge of the paper.
Now, lining up the pattern pieces along that seam line you drew, tape the pieces together so you have one single piece for the leg.
Cut out two legs, mirror image. To do this, I like to fold my fabric with the salvage edges together and the right sides of the fabric facing, then I cut two pieces at once.
To assemble, you start on page 9, step 10 of the Thomas Track Pants instructions, assembling the front and back rise. Then continue on with the instructions! The photo below also has a sneak peak for how to use 1″ elastic instead of the 2″ elastic the Thomas Track Pants is designed to use. We will go over how to do that minor change tomorrow.
Day three of the Thomas Track Pants sew along will feature pocket assembly.
The Thomas Track Pants has a side seam pocket, but the construction is a bit different than traditional side seam pockets. Join me tomorrow for details and a video on sewing the pockets of the Thomas Track Pants. Tomorrow we will also sew the pants together, constructing the side seams, rise, and inseam.
We love sewing with friends!!
Join us over in our Facebook Support Group to sew right along with me! Share photos of your progress, and check out what others are sewing also. You can even ask questions and watch live videos as I sew each day's step of the Thomas Track Pants!! We will also have a give away at the end of the sew along where one winner will receive a $50 gift certificate to Love Notions Pattern AND a $50 gift certificate to Surge Fabric Shop!! All of this only happens in our Facebook group, so join us today and don't miss out!
Day Two: How to sew basic pants, How to eliminate the side seam
Day Three: How to sew the Thomas Track Pants pockets, Using 1″ elastic
Day Four: How to sew pants with a lining, Color blocking the leg
Day Five: How to sew the zipper hem