The Hip Hop Tank is a Love Notions classic. Today on the blog Michele features this summer wardrobe essential and shows how the Hip Hop Tank can work from day to night and from weekday to weekend. Read on for tons of fabric and styling inspiration for a terrifically versatile summer tank.
A tank that does it all
Everyone needs a tank for layering, a go-to casual tank, a tank for dressy events, a tank for hot summer days, and a tank for workouts. What if there was one pattern that could do all of that?
Hey! It's Michele from WinMichele on Instagram.  I'm back for another guest blog post for Love Notions. I'm making this blog post because I think there is a pattern that can optimize your wardrobe.  One simple pattern, endless possibilities. I recently made the Ladies Hip-Hop Tank from Love Notions and I cannot believe I didn't make this pattern sooner. This MUST be in your pattern stash for its simplicity and versatility. The best part is that it is on SALE for the Feature Friday Sale. That means all day Friday on May 17th this pattern is only $5! Get yours now: Ladies Hip-Hop Tank (affiliate link).
Now, let me show you how to extend your wardrobe with just one pattern.
A tank with no limits
I feel like this knit tank top pattern has no limits. You have the ability to add a sleeve, a back button placket, choose a tulip shaped back, or  make it out of woven in combination with a knit fabric. Let's do a quick overview of the fabrics recommended, you can see the list of fabrics recommended in the pattern directions on page 4.
View A and ALL the front bodice pieces for the other views are

medium weight knits.

View A (the basic tank) can also be sewn with

lightweight woven

.

View C and D (back bodice piece only) can be made from

lightweight woven

as well.
Fabric requirements
The pattern suggests medium weight knits, what does that mean? Let's stay within a stretch factor of 25%-50%. Anything beyond this is going into the thin slinky knits. We need something that has a little bit of body to it when you drape it. We don't want to select a fabric that will shift around on the table or curl up around the cut edges.
The tanks I made
At the end of the week I made four tanks, in four different fabrics. All serving different purposes and can be interchangeable. What I want you take away from this blog post is that you can take a simple pattern and make it with almost any fabric, for any occasion.
The workout tank
What I needed in my wardrobe were a few tanks for workouts. My workouts consist of light running/walking and some yoga. When looking for fiber content I remembered that natural fibers like cotton and bamboo are great at absorbing moisture, but you don't want to make them for close fitting garments This tank top pattern is loose fitting so it wouldn't be a problem to make it out of natural fibers.
You can also look for a fiber content of a polyester blend.  The polyester will actually move the moisture away from your body, keeping you cool and dry. If you ever look at any ready to wear garments that are designed for sweaty workouts, you can see they are a type of polyester blend.
Here I made a workout tank from Liverpool scraps I had leftover from a previous project. Liverpool fabric is a medium weight knit that has a 4-way stretch of around 50%. Its fiber content is a blend of polyester and spandex.
I liked how it drapes and yet still comfortable to wear for workouts. What I also like about this tank pattern is how long it is off the start. The pattern hits around the hips and is wonderful to wear with leggings. Sometimes with wearing leggings I like to keep that hip area covered. I think a lot of us like to keep that area covered when wearing leggings.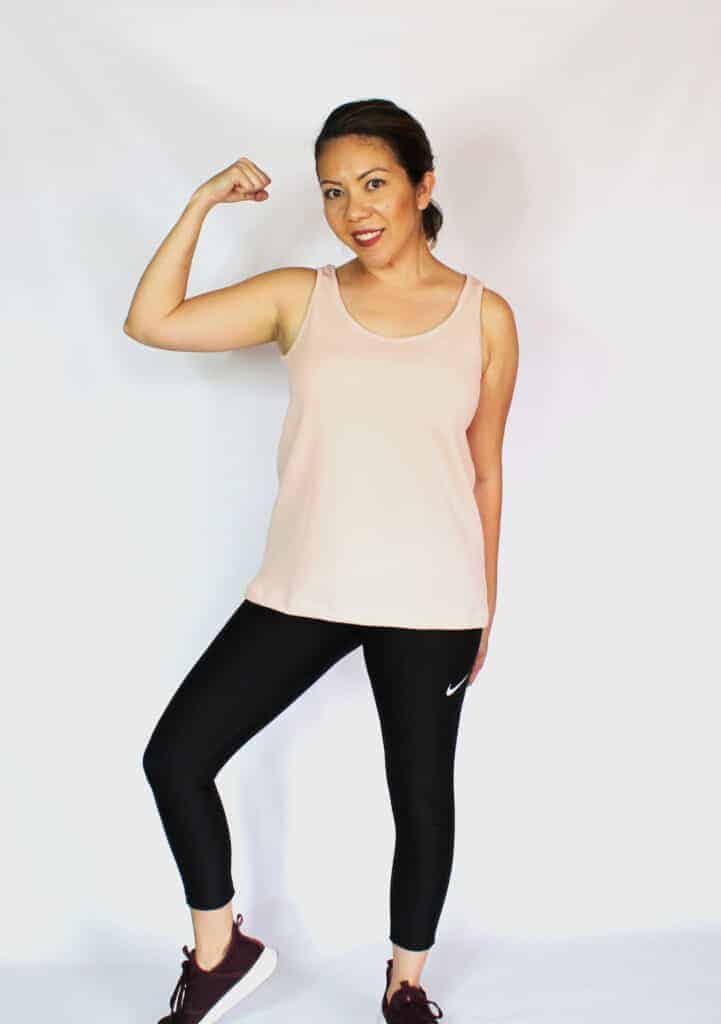 The dressy layering to weekday casual tank
As I continue my schooling for pattern-making, my schedule is changing next semester and that means I will be taking classes during the day and then hustle back home to pick up the kids after. So I needed some layering tanks I can dress up during the day and afterwards I want to quickly change and dress it down into something casual that will fit home life — all while using the same tank.
This tank is made of a grey stretch crepe. This is one of my favorite types of fabric. It's technically a medium weight but it's lighter than a Liverpool or Ponte. It has a beautiful drape and so easy to sew with. The crepe like texture makes it feel like you would only make fancy garments out of it. So versatile.
Here I styled it will a skirt and a second look with a blazer. A good dressy look to wear to school.
When school is finished I can just have it paired with some casual jeans to be more comfortable while I run around with the kiddos.
The casual weekend tank
I don't know about you but when the weekend comes that's the time when not only do we go to church and spend time with family, but it's also the "let's run errands" time. This means as a family we get all the things we need to get done that we were not able to get done during the week. I need something casual where I don't have to think about what I'm wearing.
Here I chose a Ponte fabric to make another more casual tank. This was borderline maybe a little too heavy but it did work. I think a Summer Ponte would work beautifully with this pattern since it's a tad lighter than a Ponte Roma.
I paired it with jeans in this look making it easy to style and throw on.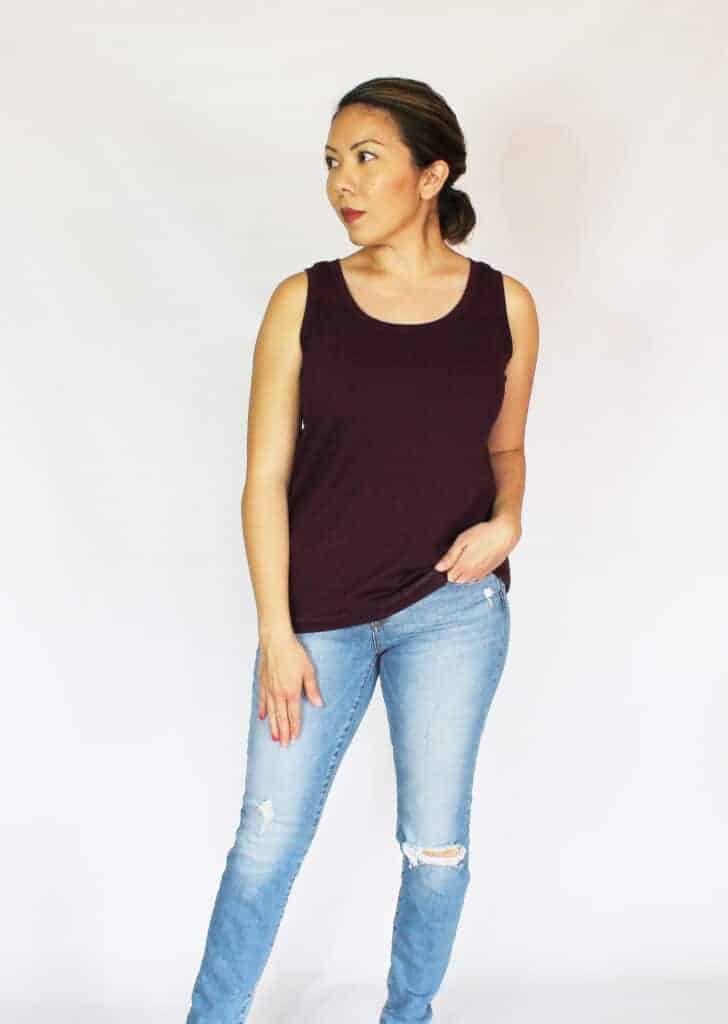 The summer time tank
As we are approaching summer, you can count that we are going to want to wear clothing that is summer appropriate. Shorts is a staple for the summer. Especially here in Arizona where the highs can get into the 118°F. I still want to look cute and stylish in my tanks yet wear something easy and breathable.
I made a tank out of a Navy Double Knit. This is also a polyester, spandex blend. The double knits are easy to spot since they have a different look on each side.
I styled this tank with some white shorts, sandals, and a contrasting color belt to add some dimension.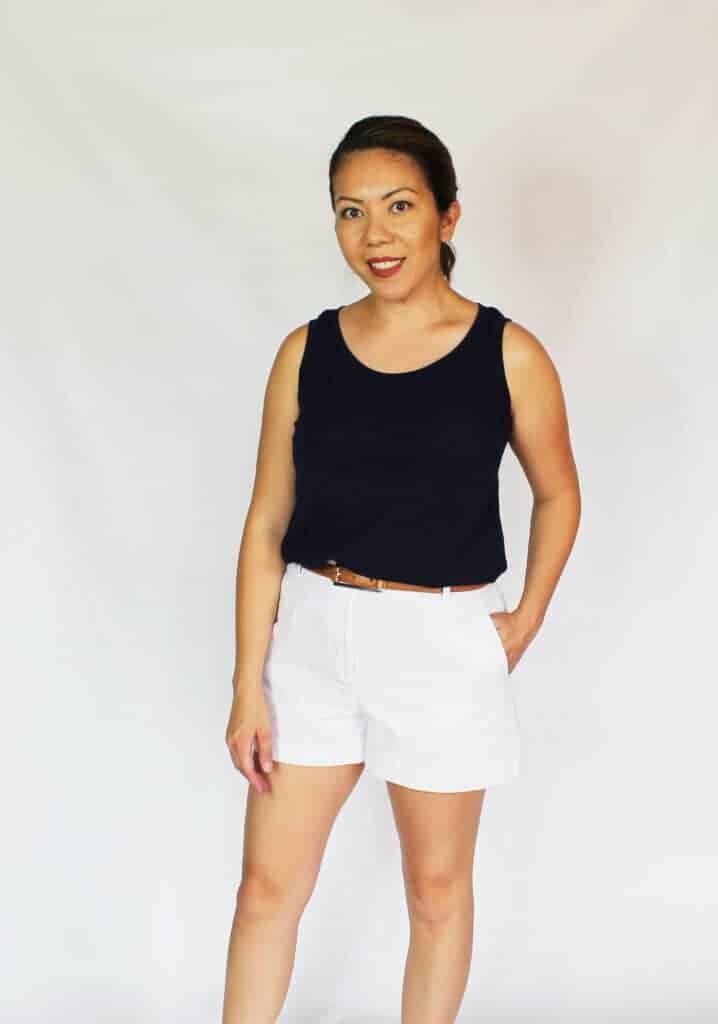 So there you have it! A tank for every need: layering, dressy to casual, weekend, summertime and workout. Thank you for reading and I hope this blog post helps you think of other ways of styling this wonderful pattern like I have. Be sure to check out all the other features included in the pattern, including the tulip back and the back button placket.
To get your Hip Hop Tank pattern click HERE (affiliate link).  
Want some help sewing up your Hip-Hop tank?
If you check out Love Notions Pattern Support Group on Facebook, you will be able to see Kelly's upcoming Sew Along on this pattern. Respond to the event by clicking here and you will be able to watch and join in the fun while Kelly creates some of the additional looks on this pattern with all the other views.