Ilse always delivers, and her Bluezette Feature Friday blog post today serves up some serious summer dress style. The pattern is loaded with options and Ilse's makes demonstrate the versatility and easy elegance of this pattern.
Hi, it's Ilse from @sewsewilse again. I'm guest blogging for Love Notions and am excited to share two of my Bluezette Dresses that I've made for my son's graduation festivities.
Bluezette Feature Friday
Sewing for a Feature Friday is always such a joy. And since I always wanted to try the Bluezette dress, this was the perfect opportunity to sew it up! Now for Feature Friday, the Bluezette is on sale for $5! You better try the Bluezette pattern too!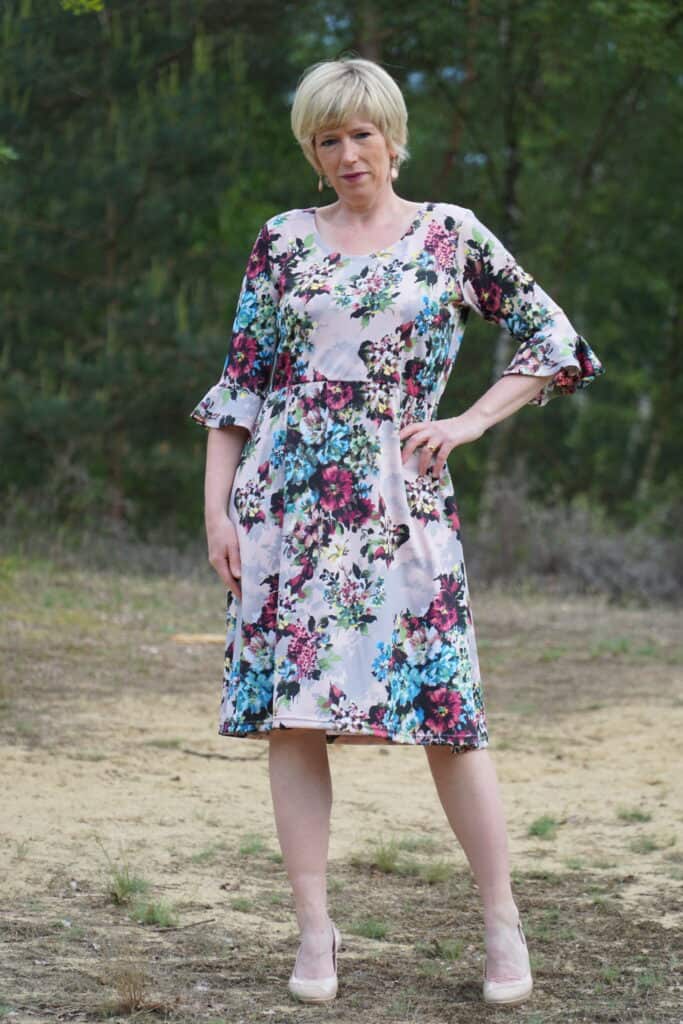 Pattern Options for the Bluezette
Did you know you can vary the five skirt styles, three sleeve lengths and two bodice styles? Wow, all together you have 30 different ways to make this gorgeous Bluezette! Before beginning I looked over all the possibilities and I chose the regular bodice with slim fit. I did it for my two outfits.
Since my oldest is graduating this month, I wanted to make a festive outfit and guess what? The Bluezette, of course!
For my first make, I went for tulip crossover version with an unlined slim fit bodice. Unlined so I can also wear it when it's getting warmer. I finished the neckline with a facing strip that's clearly explained in the instructions.
Fabric for the Bluezette
For the bodice I chose a stretch poly crepe that's a dream to sew with. As the pattern describes, you can make your skirt part with woven, so I matched my bodice with a olive green crepe. To highlight my waist I'm wearing it with an obi belt.
Choose light to medium weight knits for your bodice and sleeves. If you want to make the blousey style bodice, it does best with drapey knits with some content of rayon. Use lightweight knits for your bodice lining, under skirt and over-skirt.
For your over-skirt you can also use chiffon, lace, silk, peachskin,…
Modifications on the Bluezette
I blended my bodice twice to a smaller waist. Instructions for that and even more modifications to get a perfect fit are all in the tutorial!
My second Bluezette is a romantic one!
I used a pink poly stretch and as if the Bluezette pattern hasn't got enough sleeve options (lol!), I added a flounce on them!
So what did I do to make the flounce? I kept the elbow sleeve from the Bluezette and borrowed the flounce from the Forte Top! I really love it so much!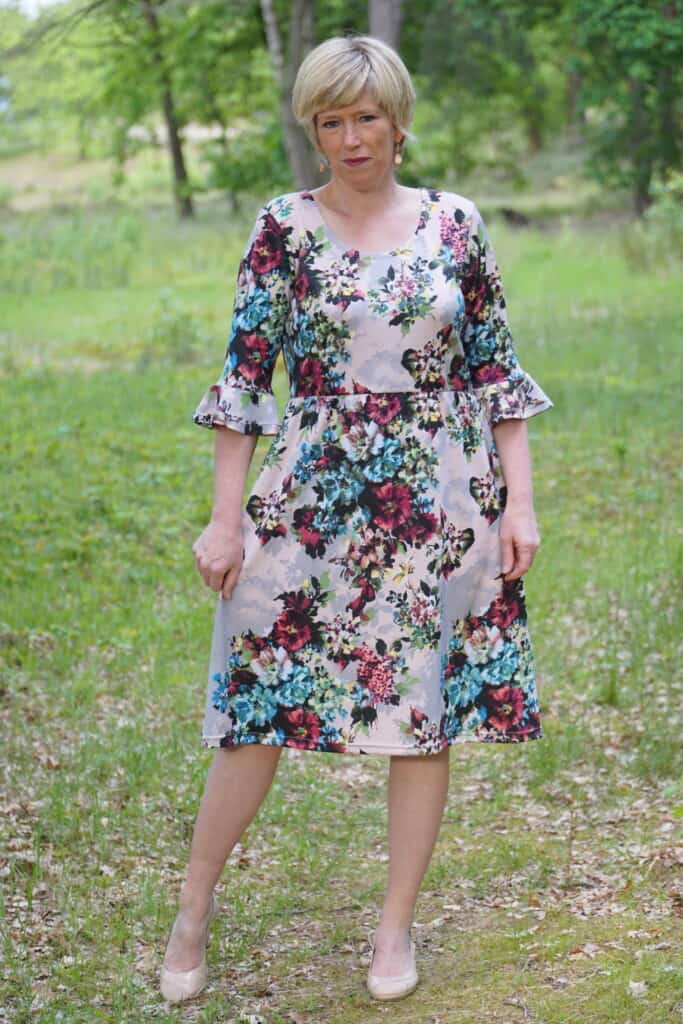 This is view C, the straight knee length with regular slim fit bodice.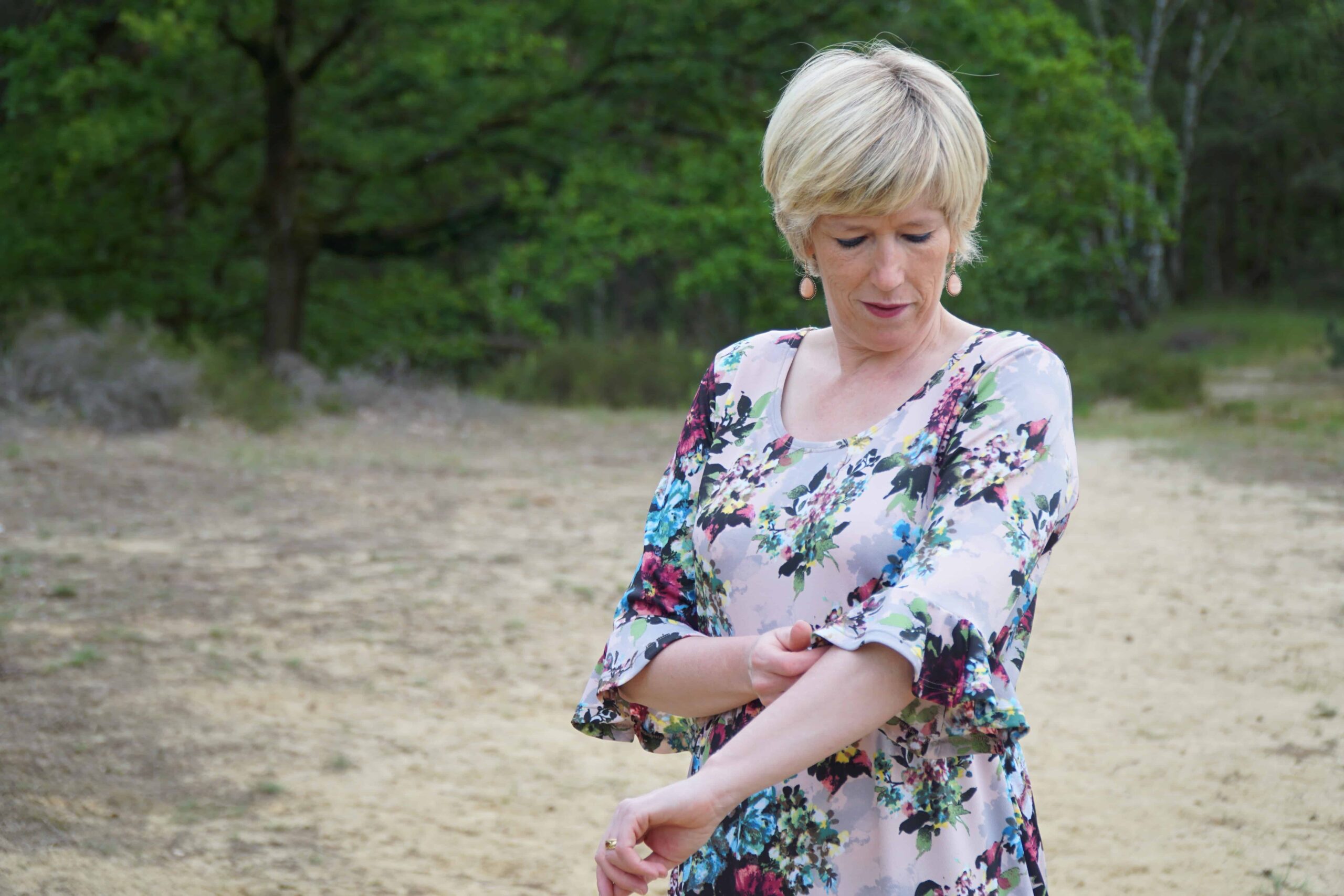 I am convinced! With the Bluezette I will definitely enjoy the upcoming proclamation. Now to choose which I will wear…
Be sure to claim your Bluezette now it's on sale – today only – for $5.
If you use one of the highlighted links I will get a bit of commision, so I can buy more fabric – yeah!
See you soon,  Ilse