Make a Pinafore from Dolce Dress
Hello! This is Kim from the Dorothy's Daughter Youtube Channel. I love sewing for my grandchildren, and today I want to share a simple pinafore hack to the Dolce Pattern (aff link) that is featured today as the $5 Feature Friday pattern.
There are few things cuter than little girls in denim dresses.
I think it may be that the rugged fabric just makes them look even softer and sweeter than they already are.
Pinafores inspired by the past
I picked Dolce for my feature today because I was inspired by the little denim pinafore-type dresses my daughter wore when she was little. That "Osh Kosh" look was everywhere then, and I loved dressing her in them. Even though many of her garments were "mommy-made", I plunked down the cash for those dresses because they were just so darn cute!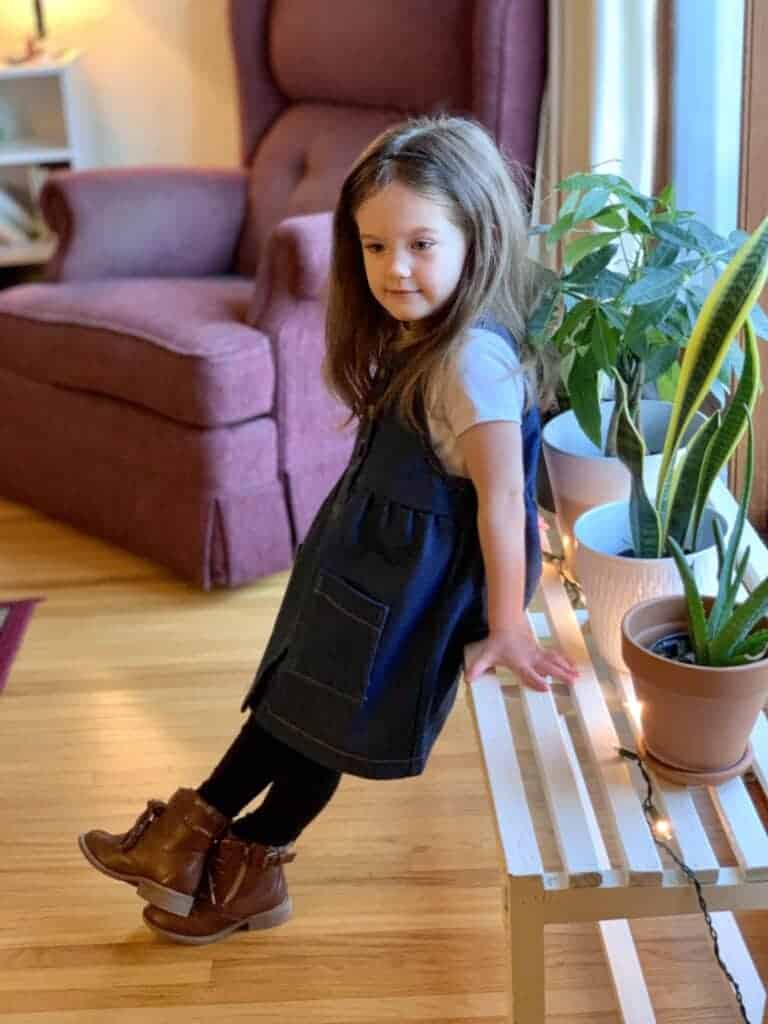 Bodice Adjustments for Dolce Pinafore
I decided to make an adapted Dolce dress for my littlest granddaughter, adjusting the bodice just a bit to get more of a pinafore feel. As I always do, I started with a fashion sketch.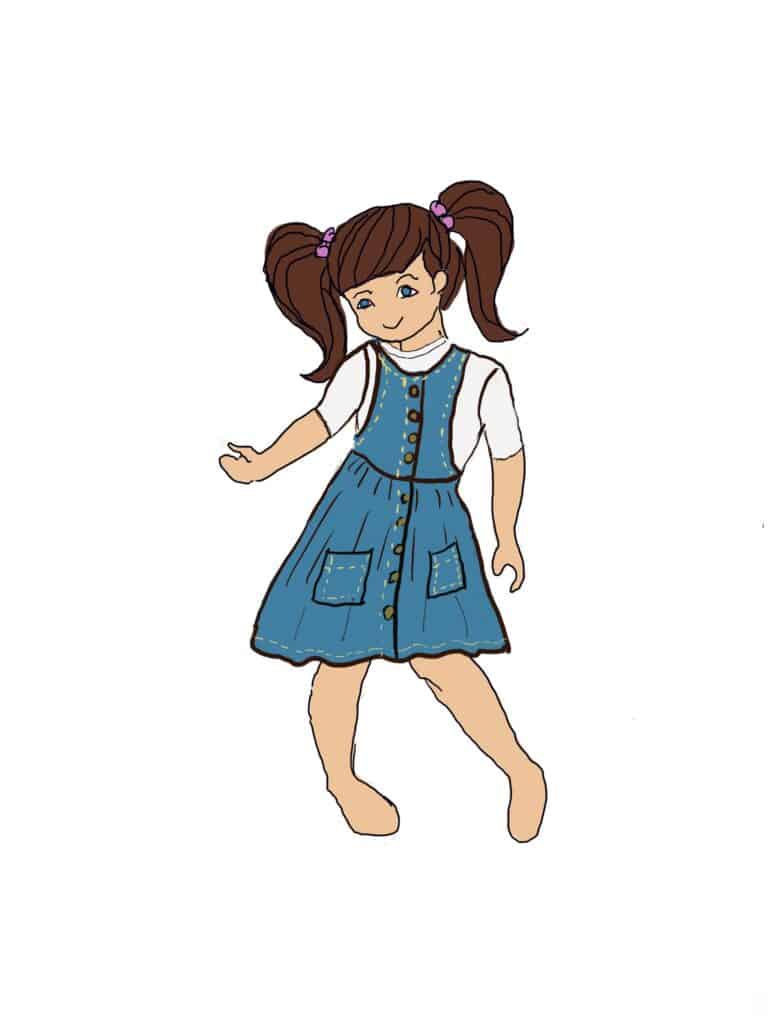 There are free croquis all over the web, but I found this free toddler girl one at Fashion University (link: https://www.universityoffashion.com/fashion-croquis/). The site requires you to join, but there are all kinds of free goodies without buying a subscription plan. The croquis I used was one of those options. For me, sketching helps me define my idea— how it will look, how it will be styled, etc. On a side note, when I sketch for myself, I use a croquis customized to my body shape via measurements from MyBodyModel.com (link: http://mybodymodel.com.). Use the coupon code "DOROTHY" for 10% off.
All I really needed to change on the Dolce pattern was the bodice shape.
I basically needed to scoop the armscye area to make it more of a pinafore. I drew curves with my curved ruler as in these illustrations.
Be sure to account for the seam allowances of the back pieces that will be joined. It may be helpful to fold the seam allowances on the pattern pieces so that you end up with a smooth curve. For size reference, the pattern pieces I am showing are 4T.
Construction of a Dolce Dress Pinafore
Construction of the pattern was easy. The only difference in construction is that you will need a larger amount of bias tape to bind the larger scoop where the arm scye would be. For a size 4T, I used approximately 2 yards for the entire garment. Add some cute jeans buttons like these I found on Amazon, and it will be adorable for your little rugged princess.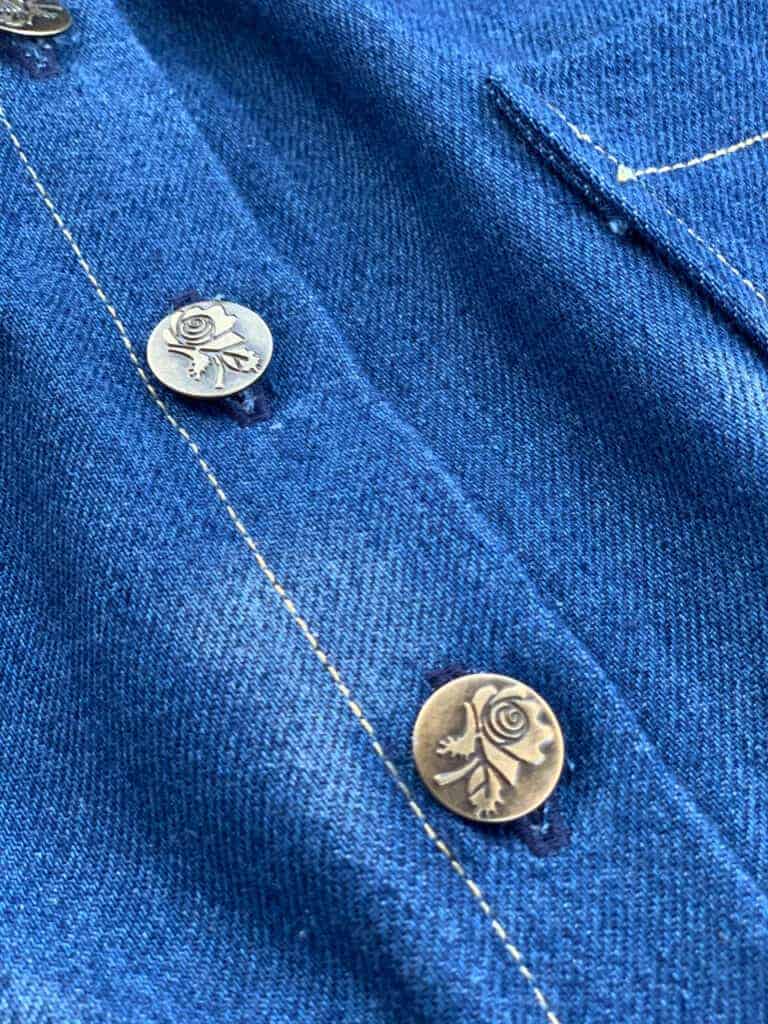 Tips for working with demin for the pinafore
If you are working with denim, here are a few tips I can offer. First of all, although I love the look of this weightier denim for this dress. I think 9 oz. denim may not have been the best choice. I would recommend a lighter-weight denim, which will make for easier construction. Also:
Be sure to use the correct needle – there are needles specifically for jeans, size 16 or higher. I would highly recommend Schmetz needles as they really stand up to the denim.
Take your time. Topstitching takes time, practice and patience. I used a Gutterman Topstitching thread made just for Jeans topstitching. It is available at Wawak.com.
Using a "hump jumper" or a "jean-a-majig" (link: https://amzn.to/2LW6v9j) when you get to thick areas of denim to sew over, such as topstitching at a seam junction or binding over a seam.
Press carefully and often! Denim can take the heat, and it really helps to keep things tamed with your iron.
If you have very thick areas, you can use a heavy object to pound and flatten it a bit. There are clappers available, or you can even just use a hammer!
I love the end result, and my granddaughter loves it as well! This pinafore will take her into Spring and it is one of the best transitional pieces ever. Denim is truly seasonless.
Create clothing stitched with love
There is something really special when kids know you stitched love right into their clothing. There is nothing like the feeling of hearing them beg their momma to let them wear it to church the next day! Can't you just see how happy she was to have her photo taken? Cue cheesy smile!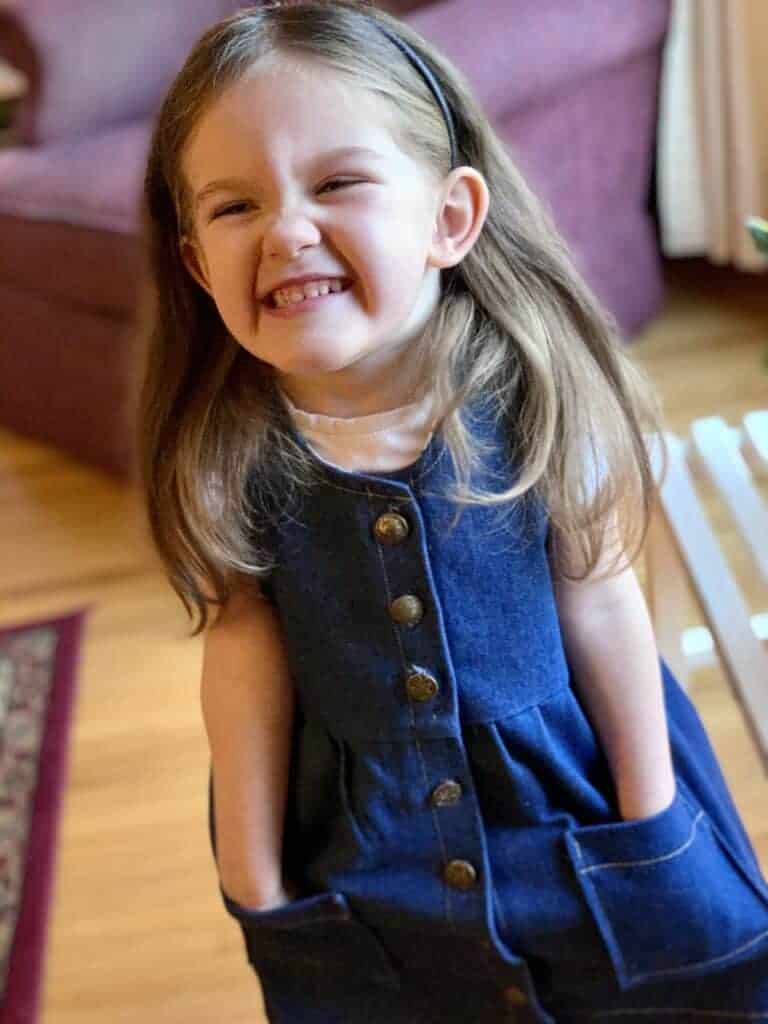 Pick up Dolce for girls for Feature Friday:
Dolce: https://www.lovenotions.com/product/girls-dress-pattern/?affiliates=404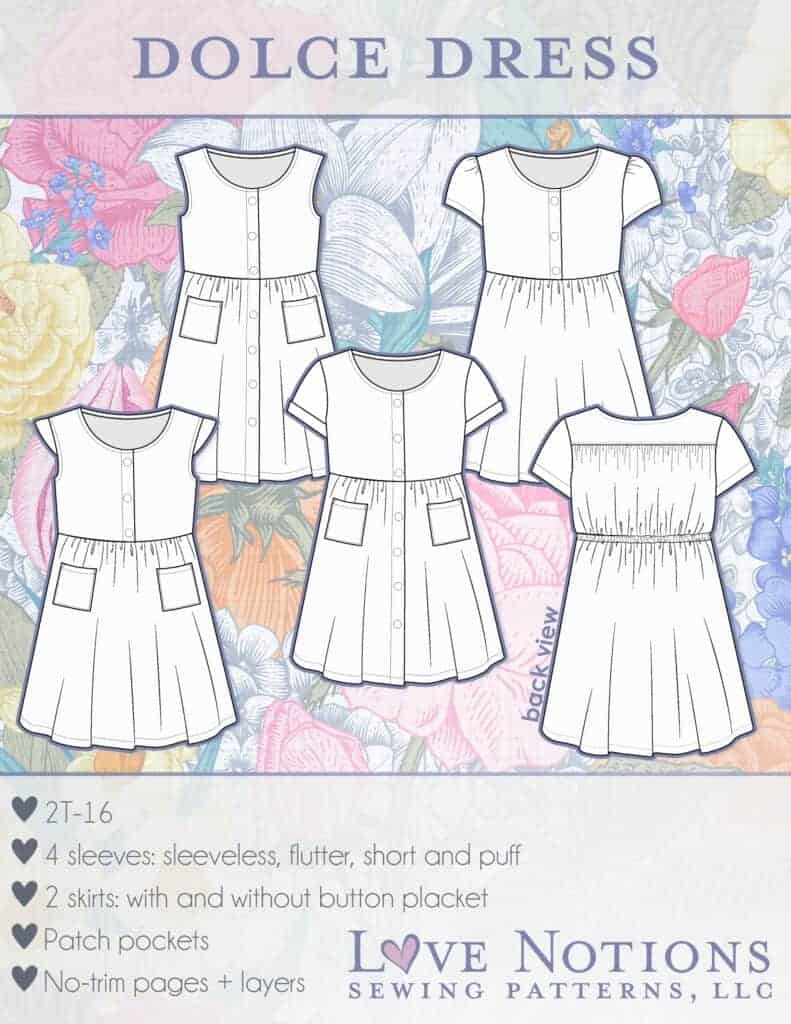 And if you are looking for a related adult pattern that has a lot of the same design elements, try the Lyric! https://www.lovenotions.com/product/lyric-dress-peplum-0-24/?affiliates=404
More kids sewing patterns
If you'd like to see the complete line of Love Notions Patterns for kids, you can check out my round up video: Sewing For Kids With Love Notions Patterns (link: https://youtu.be/WUNJm5Ljw7c).
Happy Sewing!
*This post contains affiliate links
---
Shop for more patterns
[carousel_slide id=231715]