Happy Friday, LN family! I've been not-so-patiently waiting for the chance to write up this feature and it's FINALLY HERE!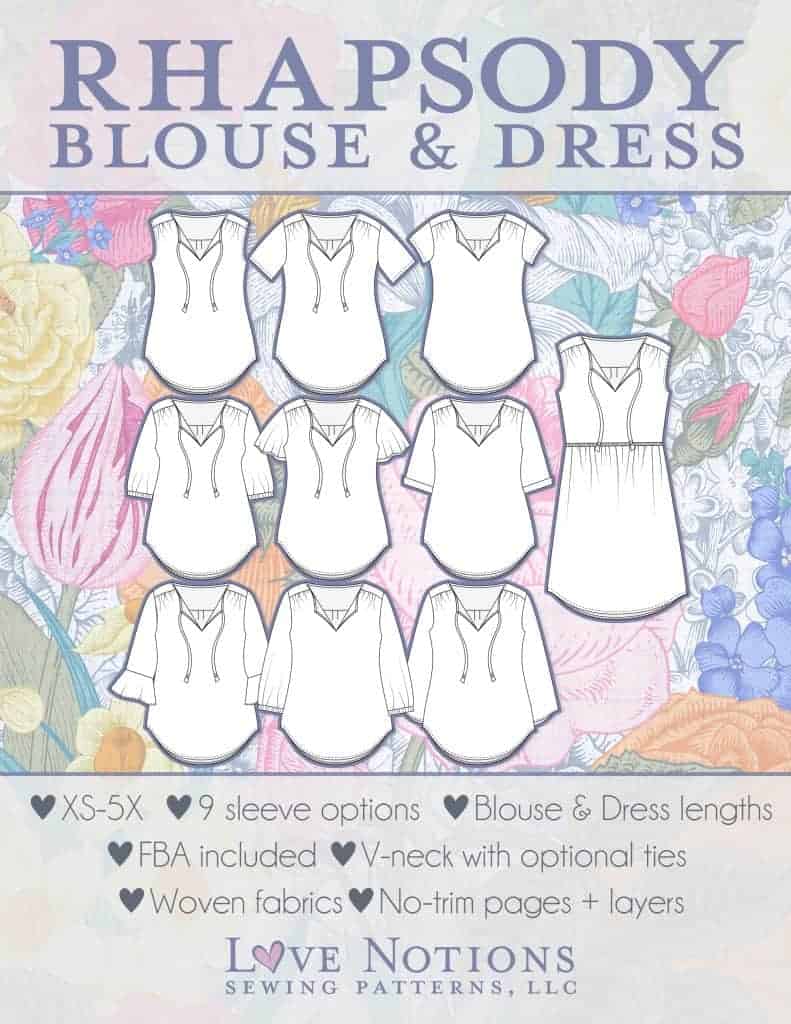 It's a woven pattern…
The Rhapsody blouse (and dress) pattern is the first woven pattern that made its way into my regular wardrobe rotation, and I love all of the little details and finishes that make it the perfect staple year round.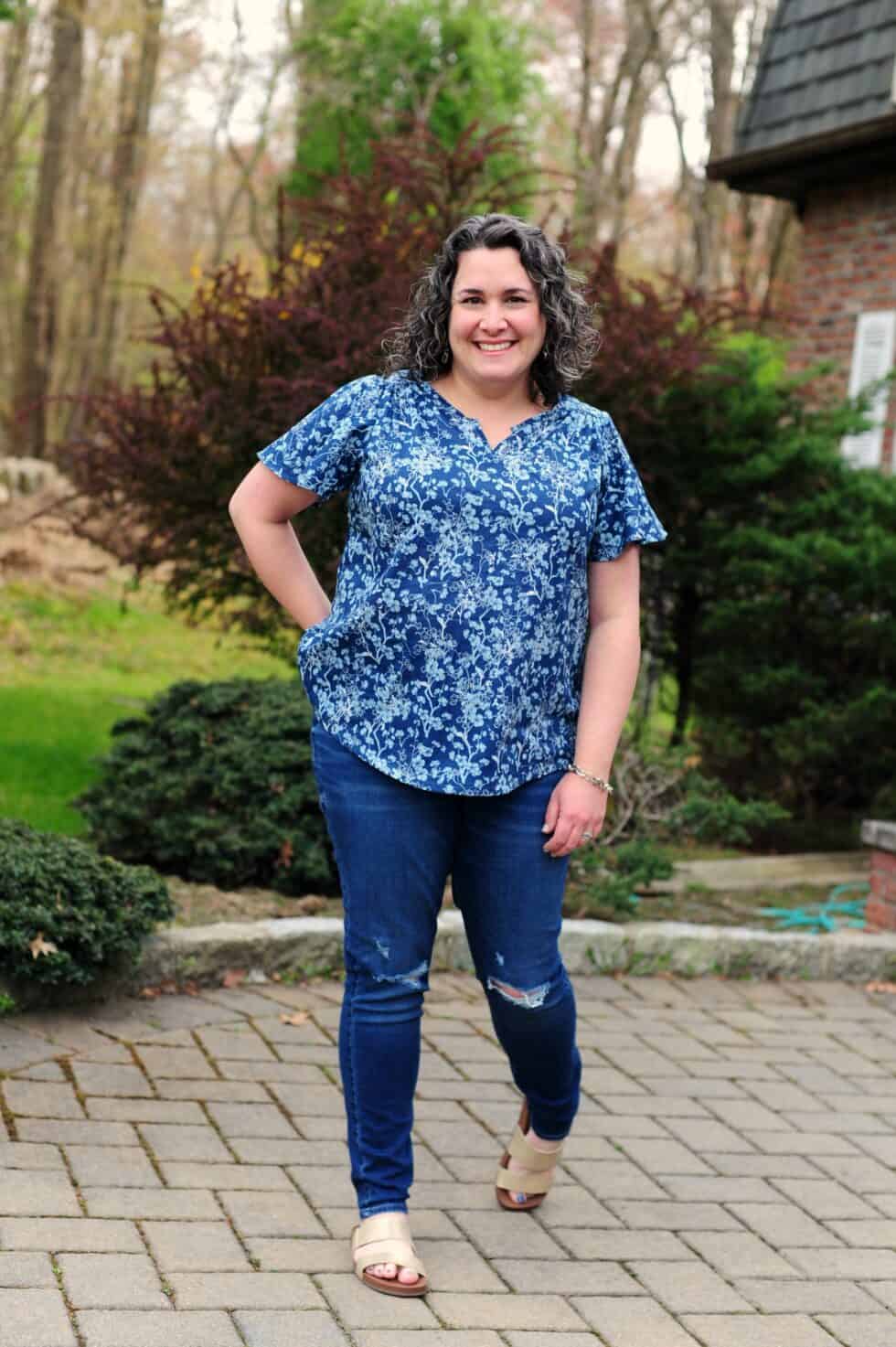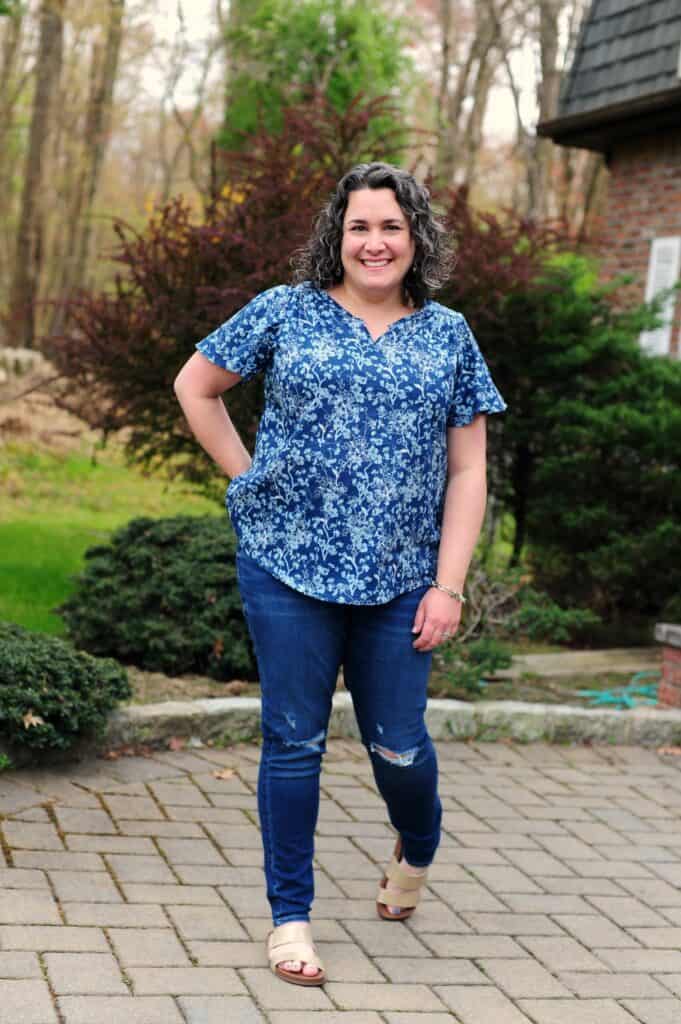 …but, I wear knits more often
I'll be honest, though, my daily life is much lighter on the cute wovens (with Sabrinas and flats) and much more knit tees (with Legatos and sneakers). So, it wasn't long before I found myself making Rhapsody in knit – and with a few small tweaks, it's my go-to when I want something a little more than a Classic Tee but don't need to break out a Ballad.
Here's a sampling of my almost DOZEN versions of Rhapsody in knit: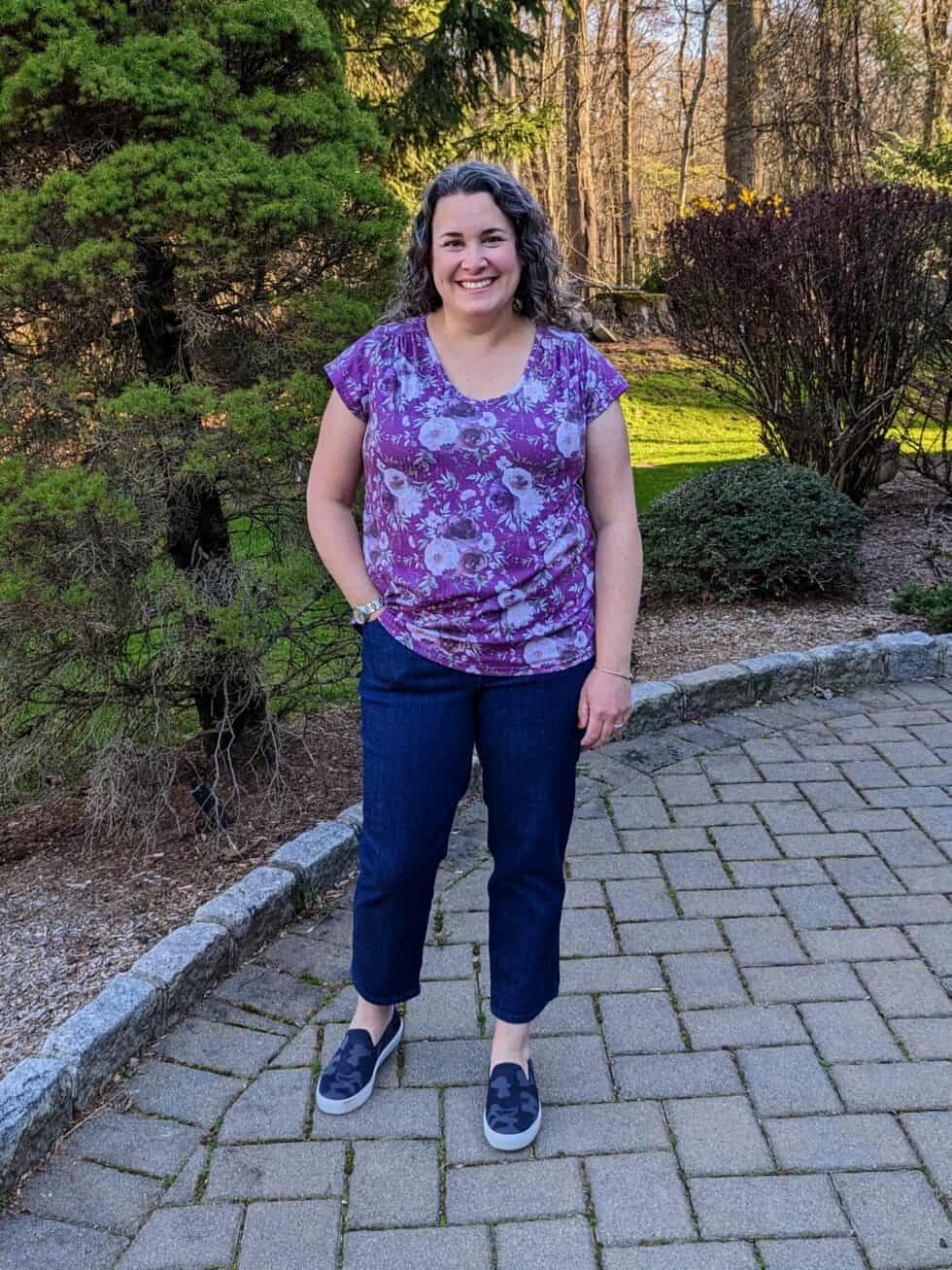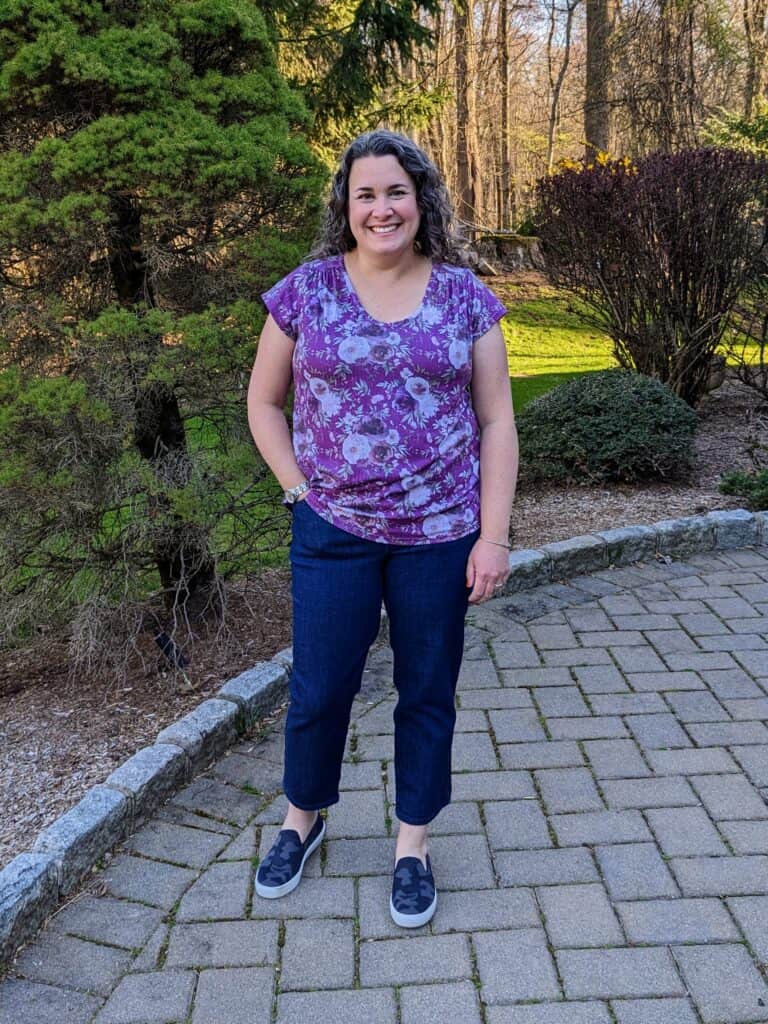 So, in honor of this knit Rhapsody extravaganze, I'm offering up a little tutorial for those of you who want to try out this knit version – trust me, if you're a knit lover like me, you will LOVE it!
3 Questions +Answers for using knits with woven patterns
Sizing questions
The first question I tend to get when I share a pic of one of my (dozen!) knit Rhapsodies in the LN Pattern Support Group on Facebook is if I sized down for knits. The answer to that one is….sort of. I know, not the most helpful! Based on the size chart for Love Notions and my current measurements, I'm right at the cusp of an XL. I sew a large in a knit Rhapsody because my fabrics have some stretch but also because the pattern has a ½" seam allowance at the side seams and I can just take a slightly smaller seam allowance and get a little extra belly room. The fit has been pretty spot on for me that way. If you're on the upper end of your size, I'd consider starting with that size and then sewing up a muslin to check the fit. I'd say if you're in between sizes, consider sizing down especially if your fabric isn't super thick and has decent recovery.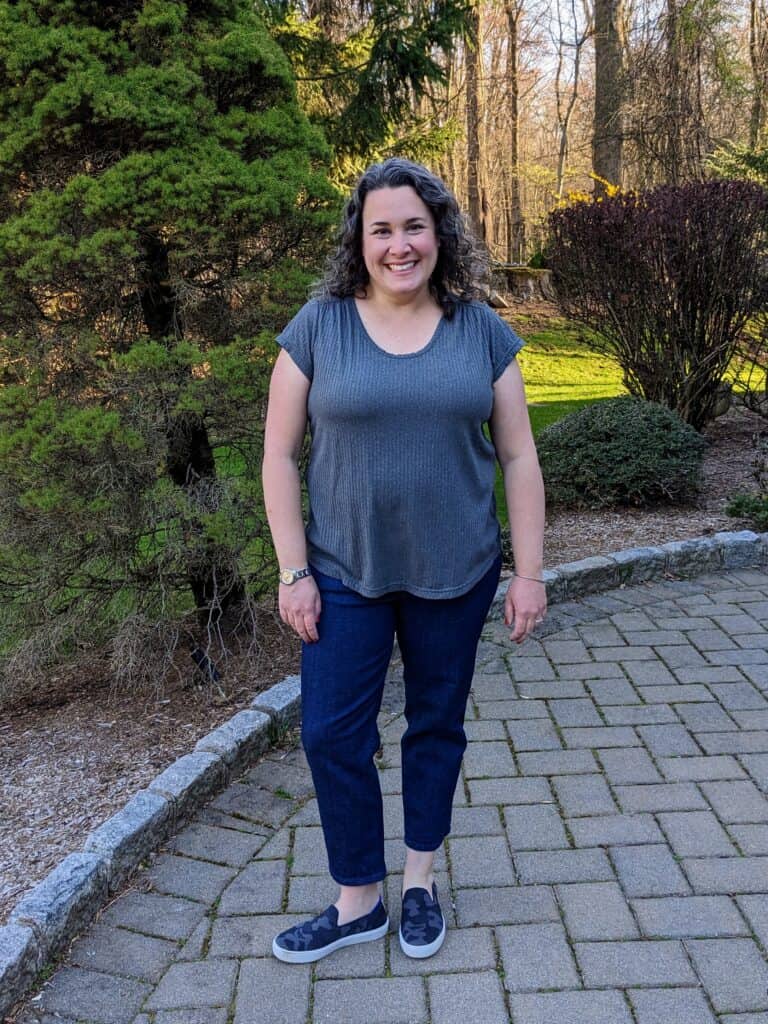 Fabric questions
That leads me to the second question I often get asked – what types of knits work well for Rhapsody? My personal favorites are knits that have some drape but recover well. Cotton lycra tends not to have enough drape, but a lot of the jersey blends do. My most frequently used knits for this pattern are double brushed poly, poly rayon spandex, poly or rayon blend rib knits, and ITY. If you have your heart set on a fabric with more drape and less recovery (like a lighter weight rayon spandex), perhaps consider using a more stable fabric for the yoke to help balance it out.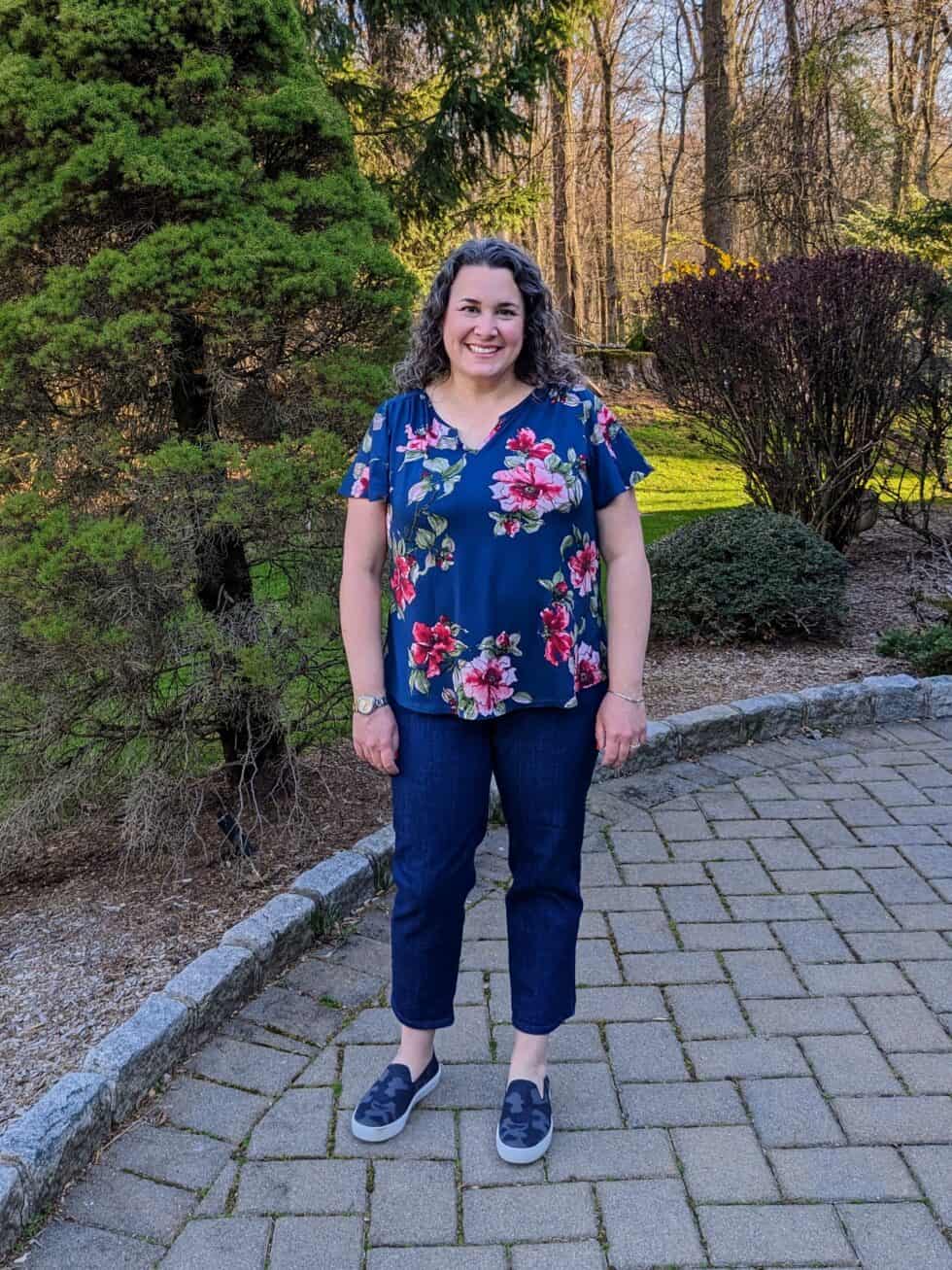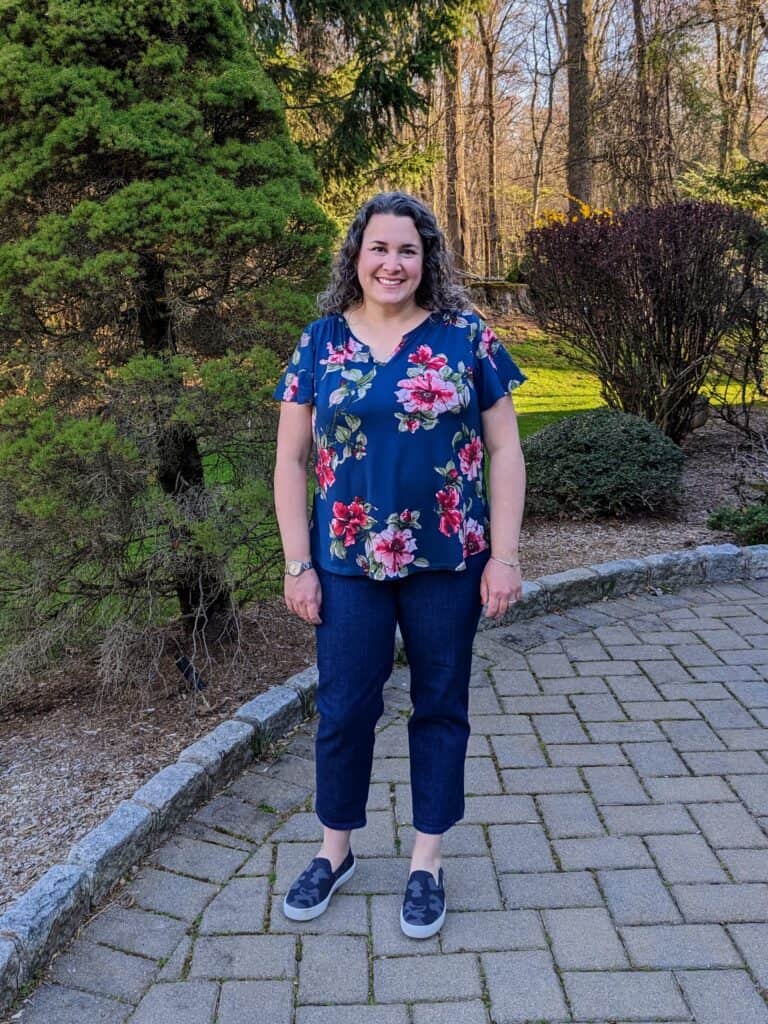 Pattern & construction questions
And this brings me to the last of the frequently asked questions – what changes have I made to the pattern as written? Here's the few things I modify for a knit Rhapsody:
Single Layer Yoke
Neckline Shape
Neckline Finishing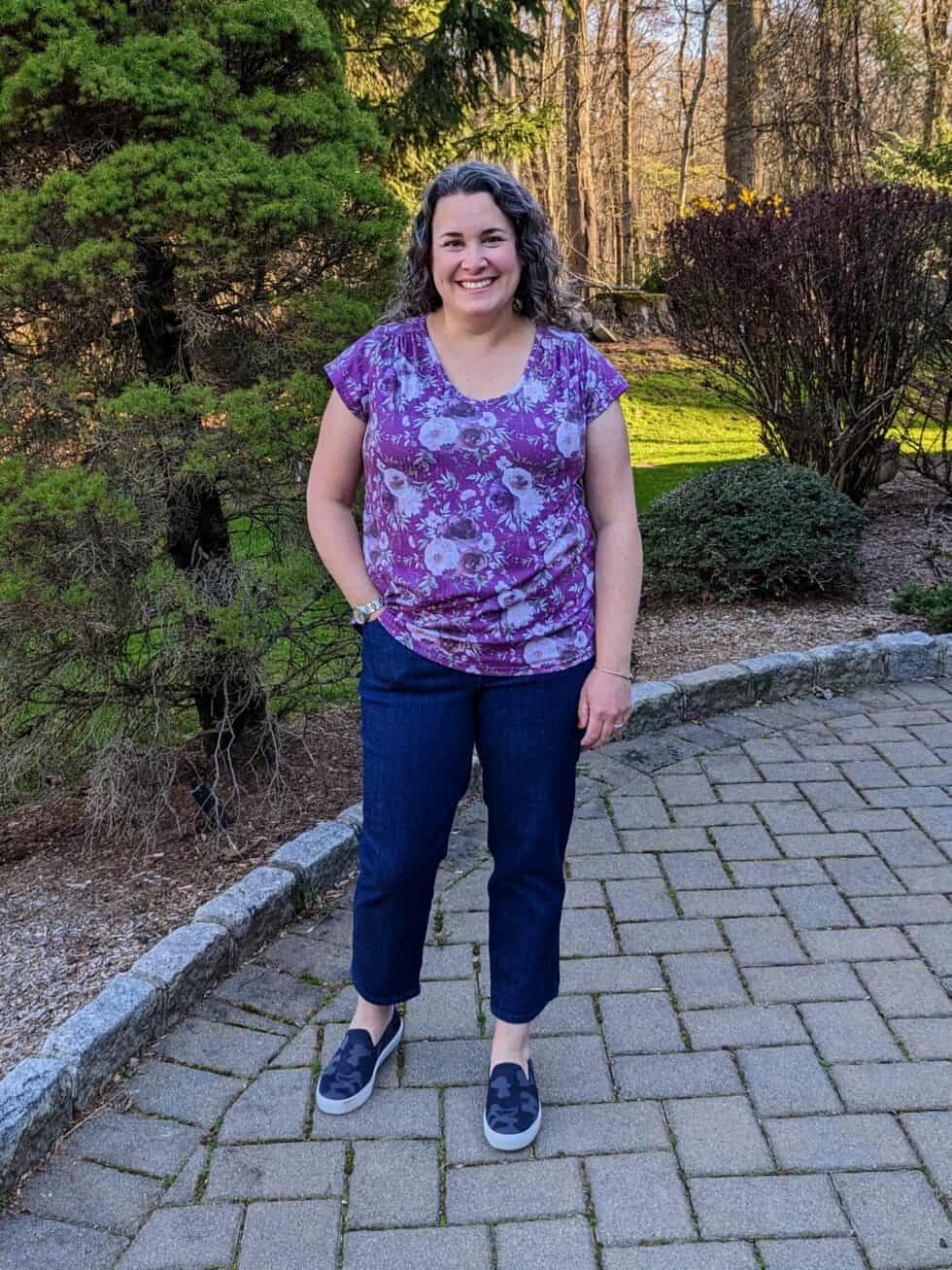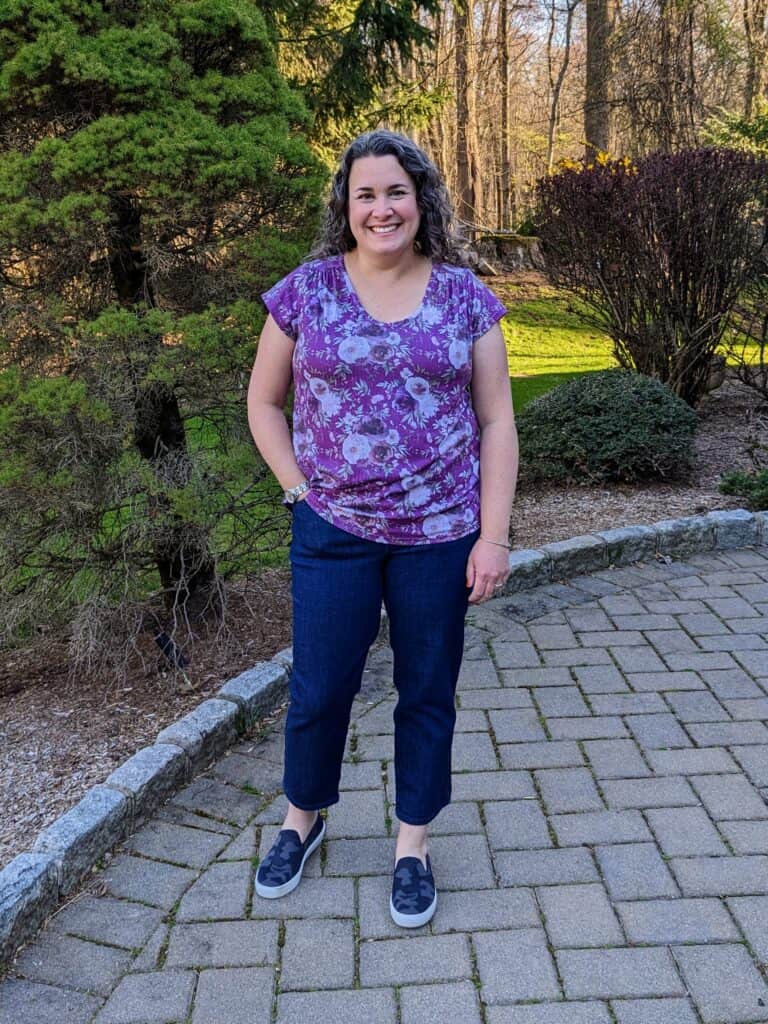 First, I only cut a single layer yoke. There is no need to enclose the seams so it's just my personal preference to keep the blouse as light and drape-y as possible.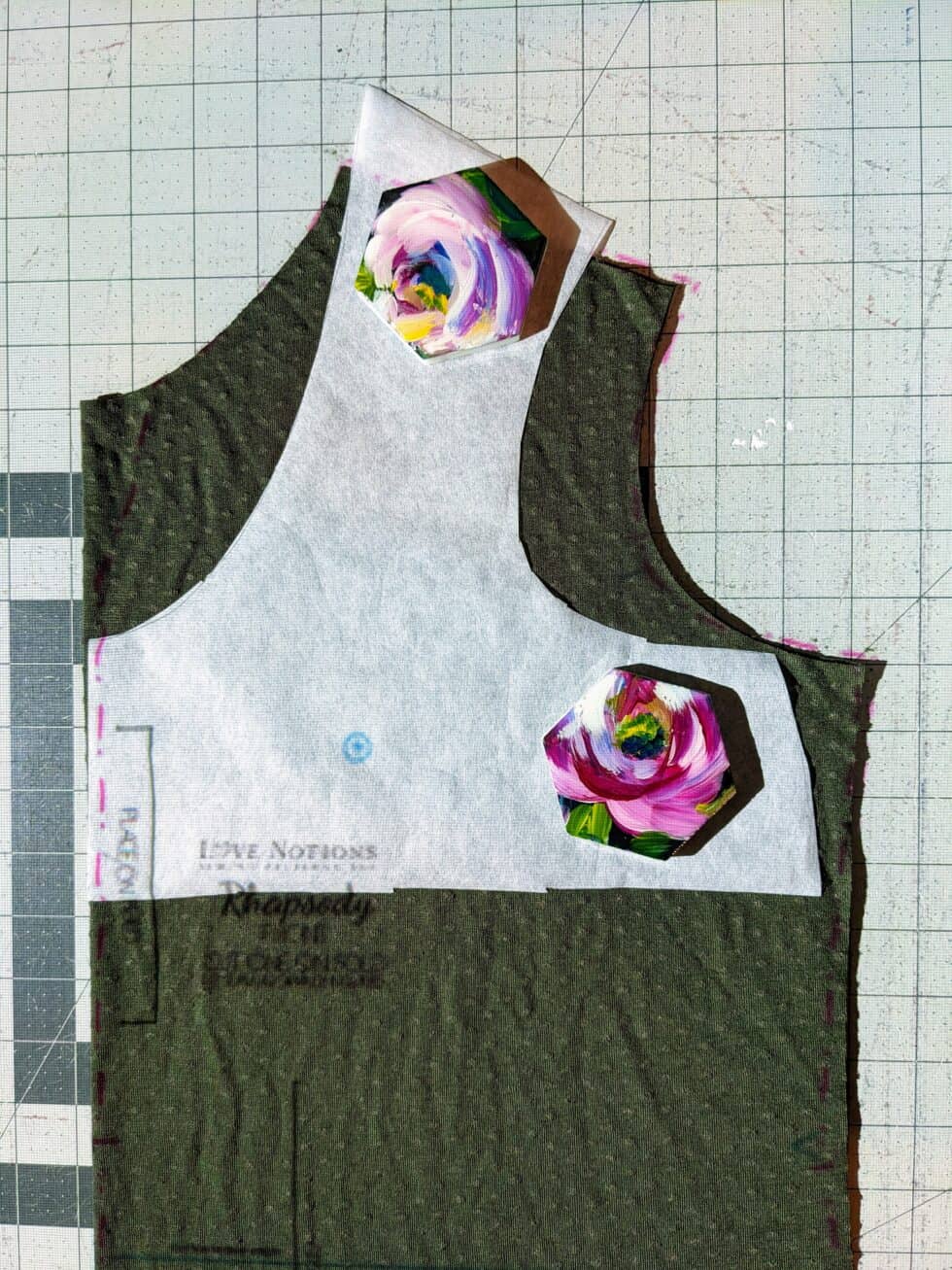 Next, I tend to cut a simple scoop neckline instead of using the original pattern neckline, just for simplicity's sake and ease of sewing. I've done the original neckline and it works just as nicely in knit, though. For this neckline, I "borrow" the scoop from the Classic Tee, since I find it a nice depth and also flattering. I traced the neckline of the Classic tee and simply lay it on top of the Rhapsody pattern. Normally I'd try to line up the shoulder seams, but in this case the true shoulder is in the yoke, so I line up the underarm curve as much as possible.
New Neckline Band or Binding Instructions
Once you've changed the neckline from the original pattern, you will need to cut a neckband or neck binding.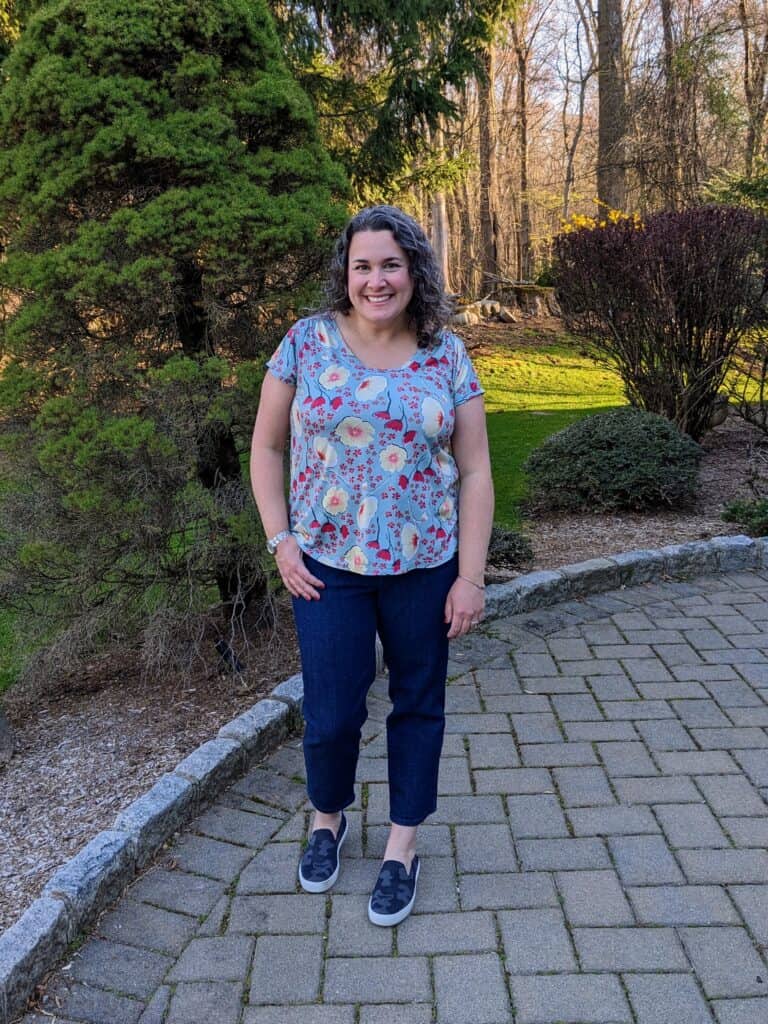 The length of this will depend on the stretch and recovery of your fabric – if I'm using a neckband I start with a piece that is about 85% of the neckline. I usually cut a strip that is about 1.5 inches long by that width. You'll want it to stretch a bit when you sew it in, or else the neckline will droop a bit and your neckband won't lie flat. For a neckband, you'll sew the short ends together, fold it in half lengthwise, and sew the side with the raw edges with right sides facing to the raw edge of the neckline. (For reference – and illustrations – you can look at the tutorial for the Classic Tee.)
If I'm using a binding, I cut a piece that is closer to 90% of the neckline, since it doesn't need to stretch as much. In this case, I'd use the same 1.5 inches for the length, sew the short ends together, and sew the binding to the neckline with right sides facing. Then, I wrap the binding to the wrong side of the fabric, topstitch, and trim the excess. (For reference – and illustrations – for this method, you can look at the tutorial for the Summer Basics tank and dress.)
---
Now it's your turn!
That's pretty much all there is to getting even *more* out of your woven Rhapsody pattern by making a few small modifications and sewing a drawerful of knits. It's truly much simpler to sew up a woven pattern in knits than to try to modify a knit pattern for wovens! As always, you can join us over in the LN Pattern Support Group on Facebook to share your successes and ask questions if you get stuck. We'd love to see you there!
Until next time,
Rachel
---
Save this article to your Pinterest Board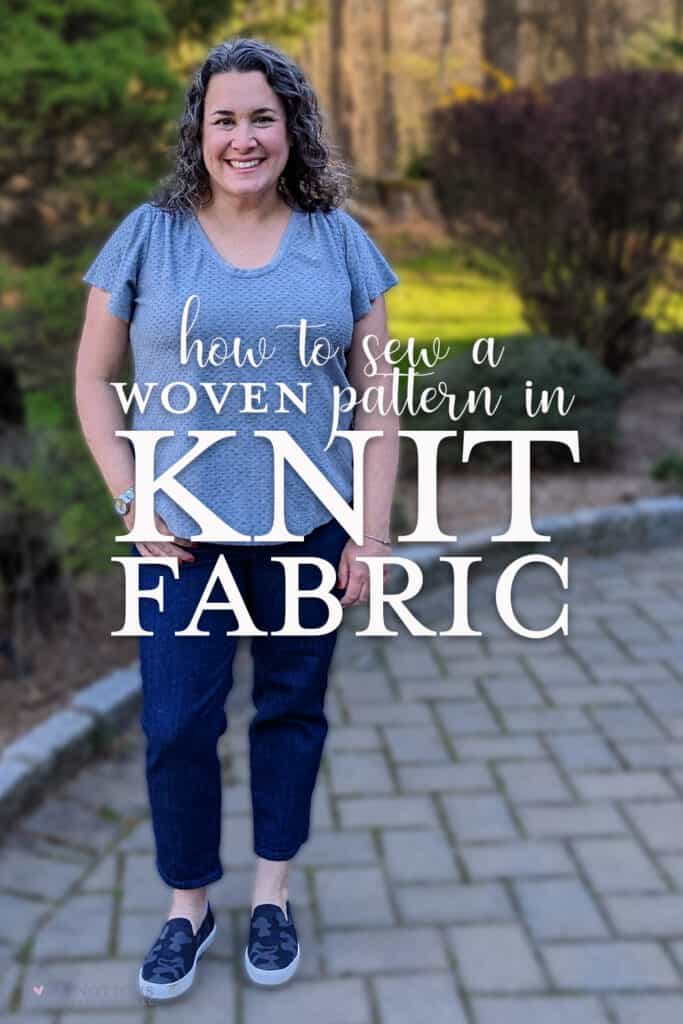 ---
Play with patterns in both woven and knit