Jeggings are the most comfortable way to look put together in secret pajamas! Josie is here to explain how you can create comfy but sophisticated jeggings from the Resolution Bottoms pattern. Read on for all the how-to's AND lots of outfit inspo.

The Best of Both Worlds: Jeggings from Resolution Bottoms
Hi everyone, I'm Josie from It is Josie and I am honoured to guest blog here for the very first time. I recently joined the Love Notions Ambassadors team which is such a joy. I am both a blogger and vlogger at It is Josie and quite active on Instagram too. A little bit about me, I currently live in the United Kingdom with my husband, son and daughter but originally from Uganda, Africa where I was born and raised. Both my mother and grandma sewed and I started sewing by watching my mum sew when I was about 9 years old. I only used a sewing machine to mend my clothes then which was short-lived. Fast forward to 11 years ago when I bought my very first sewing machine. However, I only got into serious dressmaking 3 years ago and the rest is history.
Do you really love the comfort you get from wearing leggings? We can all agree that we can't wear them all the time and everywhere. If you are anything like me, you might not love wearing leggings on their own with a top. And the only time you might choose them is when they are paired with a tunic or a longer top. If not that, you are likely to opt for jeans which are not as comfortable as leggings. That's why Jeggings (jeans and leggings) offers the best of both worlds.
Feature Friday Pattern
The resolution bottoms is this week's Feature Friday Pattern. This pattern is on sale for $5 for today only. I have used my affiliate links in this post. This only means that any purchases made using the links earn me a commission which goes to support my sewing. And this comes at no extra cost to you.
About the Resolution Bottoms
The Resolution bottoms pattern is your go-to loungewear pants pattern. It features 5 styles: plain leggings, moto leggings, straight leg yoga pants, bootcut yoga pants and leggings. The pattern also comes with both contoured and yoga waistbands. And all these are designed for knit fabrics.
Fabric used
The fabric I used for the Jeggings is the Havelock Blue Jegging Jersey (name from the seller's website). I bought it from TFG Fabrics, an online fabric store in the UK, but I am sure you can find similar fabric elsewhere. It is a denim effect Jersey with a 70% four-way stretch. It has a composition of 90% cotton, 5% polyester and 5% Lycra. It is quite heavier than your ordinary cotton lycra making it perfect for jegging.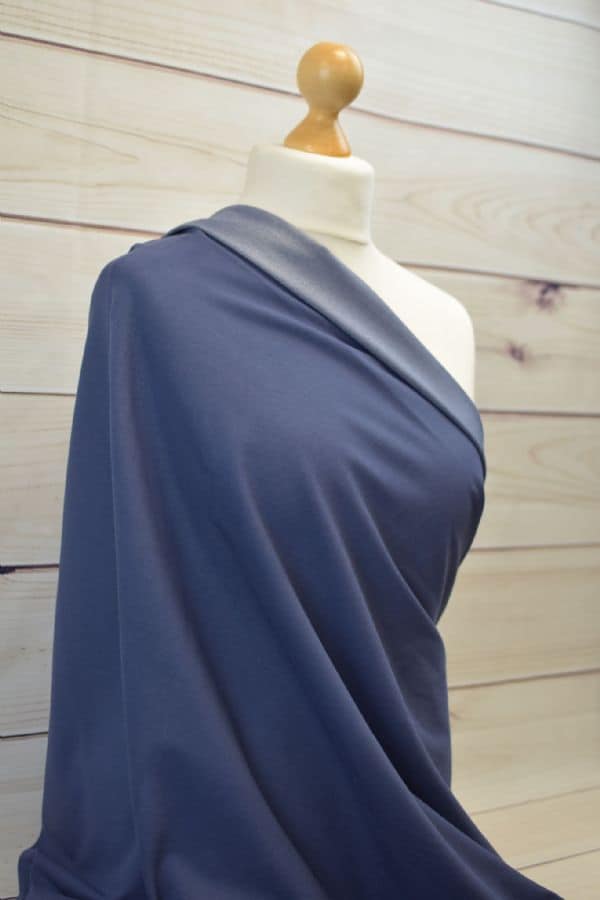 The Making
I used the plain leggings pattern to sew up the Jeggings, however, I needed to go a size up. This is because the pattern has negative ease and this fabric was slightly heavier than fabrics often used for leggings. I added a few jeans features to the leggings without taking away the comfort they offer.
Alterations made
I created a faux pocket feature on the front pants piece by drawing a rounded curve. I then added 3/8″ seam allowance to both pieces and sewed them together using an overlocker/serger. I added an extra detail by using a wide double-needle stitch using denim thread in my coverstitch machine.
I also used the double-needle coverstitch on the back yoke and pants piece. 
Image 4
I inserted a 1″ wide elastic into the contoured waistband measured to my waist. 

I made a swayback adjustment and lengthened the crotch. 
Apart from those alterations, I sewed up the jeggings as per the leggings instructions and I also added the hidden pocket.

Personally, I am likely to wear leggings with either a tunic or a long cardigan. I am not saying it is wrong for anyone who has no problem with wearing them with a top. However, I feel like jegging offer me that extra comfort and I am happy to wear them with both a top and a tunic alike.
The Jeggings are paired with a Ready-to-wear black t-shirt and an autumnal copper Boyfriend Cardigan.
The jeggings paired up nicely with my colour blocked La Bella Donna tunic made in two shades of grey sweater knit fabric.
I was also happy to wear the jeggings with the newly released Breckenridge top I made during the pattern testing process in a striped cotton jersey fabric.
Bonus Make
Of course, I did not just make one item from this pattern. Although I still went with a similar style, I wanted to show you that the resolution bottoms are not limited to loungewear alone. I made another pair of leggings in Ponte di roma (ponte) fabric for a dressier and more formal look. The Ponte pants are a more dressed-up alternative to legging and Jeans which can be worn to either an office or a formal engagement.
The Ponte fabric I used had less stretch compared to the jeggings ones. I knew the pants would end up pretty snug so I added 3/8 inch to side seams of both front and back pants pieces starting from the hips down to the hem. This gave me a good comfortable fit all around. I also added some side slits at the hem for an extra touch.
I paired the leggings with the Vivace Dolman top for a more dressy look.
Conclusion
I strongly believe the Resolution Bottoms can be a great addition to everyone's wardrobe. It is perfect for both joggers and leggings lovers and for those who love the comfort of a yoga waistband. I hope I have inspired you to pick up this pattern today and to adapt to your personal style and needs.
Thank you for stopping by. Until next time …
---
Pin this tutorial for later!