Today on the Lace Summer Tour we are drooling over some more lace inspiration! I have two bloggers with great ideas sharing and a stack of lace skirts you will be itching to create! Let's find a comfy chair and read on!
Lace skirt inspiration
To be honest, I had never really felt the need to own a lace skirt. But, browsing through Pinterest after seeing Sneha's amazing pleated Sybil skirt, I have a NEED to own several!
Lace pencil skirts are amazing for making a statement of elegance. And as the two below demonstrate, it can work for either a dressy or a casual look. Stretch lace paired with the pencil skirt version of Sybil would make this lace dream happen.
https://www.pinterest.com/pin/181199584992229287/
https://www.pinterest.com/pin/181199584992229270/
If you love a box pleat, but only have lace trim, this lace accented skirt is for you! Good thing Sybil has so many options! One pattern can cover so many different looks!
https://www.pinterest.com/pin/181199584992229292/
Love the lace skirt, but want the simplicity of a dress? How about using lace on the skirt portion of Bluezette to recreate this charming dress. Actually, this would make a darling homecoming dress!
https://www.pinterest.com/pin/181199584992229273/
Day three bloggers
Today's bloggers are Nadine from Princesse et tresors and Gemia at Phat Quarters.
I am amazed at all the different laces our bloggers have been able to find and Nadine kept up that trend! I love the mesh type lace she used for her top! Join me over at her blog Princesse et tresors  to find out all the details!
Gemia loves to sew for her kids, but we are lucky enough that she will sew for herself and step in front of the camera for our blog tours! I can't get enough of this bold colored lace she used for her look! Find out what she sewed over at her blog Phat Quarters.
The full schedule
If you are just joining us, be sure to go see what our Monday and Tuesday bloggers created. I'm always blown away by the skills of our blogger team!
https://www.pinterest.com/pin/Aeg6qt4F5lUe4LPduNXls-ZizzPqJklDTov_RZykVsZ0BdzoXKrNXrA/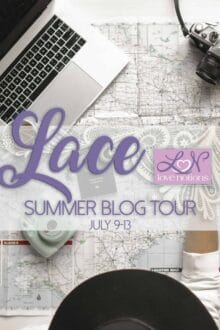 Monday: Sewing Curves SewSophieLynn Kainara Stitches
Tuesday: doodlenumber5 My Heart Will Sew On Third Shift Creations
Wednesday: Princesse et tresors Phat Quarters
Thursday: All Things Katy! Back40life,Sprouting JubeJube
Friday: Sew Like a Sloth Very Blissful Seamly Behaviour