Hey hey, Love Notions fans!  I'm Danielle from The Kisses Co. and I'm chattin' with you all for today's Feature Friday!  I'm spotlighting the (affiliate link) Miss Mary Mack Tunic!  This pattern deserves a little love and affection.  I'm obsessed, as you'll see throughout this post. 😉  I've made it dozens of times (I'll try not to completely flood you with pictures, but I can't make any guarantees…).  I love it more and more each and every time! Continue on to get the details.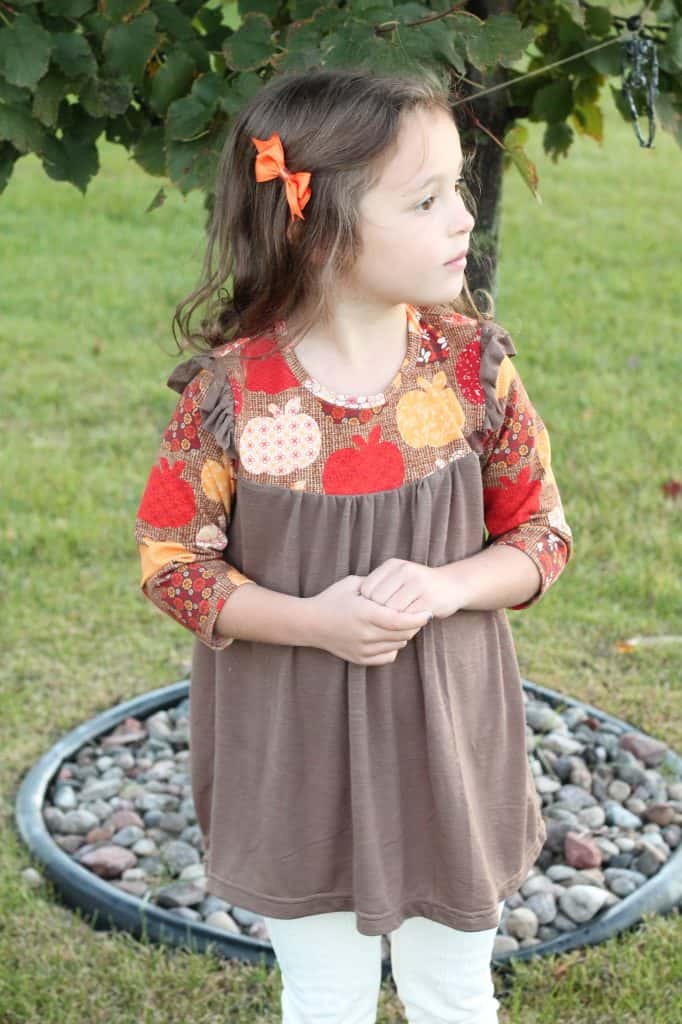 This pattern comes with ennnnndless options!
If you mix and match them, you get a total of 16 possible combinations!  From one little pattern!  4 different sleeve options, two bodices, and with or without flutters.  And if you think of all the different ways you could pair up fabrics, I mean… Your little lady won't have two shirts that look the same!
Oh, and by the way… it works great with a woven skirt, too!  The bodice has enough ease, where either woven or knit will work! So many choices!
The Miss Mary Mack that I made for Feature Friday is going to be a favorite for us this fall!  I used this gorgeous custom Country Pumpkin fabric from Vintage Lace.  I had just a little piece left after another project.  <3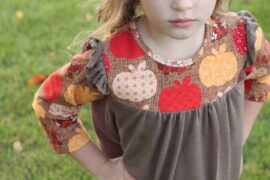 And that brings us to the next reason I love the MMM!  The bodice pieces are small!  This is awesome for using up all your favorite little fabric pieces!  I used them in this new top, as well as in a couple others! It is so much fun to dig through my most coveted scraps and make something fun, either for my shop, for my daughter, or my niece! <3
So, as you can see… you've got options with this pattern!  It is a great and playful addition to your repertoire.
Thanks for reading! <3
xoxo
Danielle
Miss Mary Mack Tunic

$

10.50