Woven and Knit Fabric: What's the difference and how to use them
We've started a new sewing series for you — and the goal is to bring you easy-to-digest and easy-to-apply lessons on some sewing fundamentals. Today's topic is everyone's favorite — FABRIC. If you need a clear and easy to understand primer on the types of fabric you'll use when you sew, this post is for you!   Caroline is here to help you understand woven fabrics and knit fabrics and has some critical lessons every sewist should know (and she's dishing up some superrrr cute Blissful Blazer inspo along with it!).
---
Sewing School: Understanding Woven and Knit Fabric
Hello there, marvelous sewists! Caroline here. I'm up on the blog today to talk to you about an important basic differentiation in the fabric and sewing world: knit vs. woven. What is the difference, when do we use which, and why does it matter. These questions and more will be covered today! And we'll do that while we celebrate an ADORABLE $5 Feature Friday pattern that can be done in woven or knit, the Blissful Blazer.
Woven vs. Knit: The basics
The fabric we use can be broadly separated into two primary categories, woven or knit.
About Woven Fabric
Woven fabric is literally woven. It's the same process as weaving a basket or weaving on a loom, except with much smaller materials. 
With woven fabric, the yarn is interlaced together in a straight and relatively taut pattern. That results in one of the most important properties of woven fabric when it comes to sewing: as a general rule, woven fabric does not stretch.
This is an incredibly detailed and informative video about the making and properties of woven fabric. I learned things! The visuals are really descriptive regarding the process of creating woven fabric.
About Knit Fabric
Knit fabric is literally knit. It's the same process as knitting a scarf, except with much thinner yarn. With knit fabric, the yarn is looped when it is interlaced together. This results in one of the most important properties of knit fabric when it comes to sewing: as a general rule, knit fabric does stretch.
Here is a short but helpful video about the making of knit fabric.
There is one kind of sneaky fabric – a fabric chameleon, if you will. Stretch woven. Stretch woven is still woven in the same process but it includes a stretch yard, such as lycra, in addition to cotton (or other fiber). This results in the best, comfiest ready-to-wear jeans and jackets. It has the structure of woven, but it has some give. I love it. I need my fabric to give!
Sewing Tip: When sewing with knit, make sure you use a stretch stitch. Common stretch stitches are the lightning stitch, the triple stitch, and the zig zag stitch.
Defining Properties of Fabric
Both woven and knit fabric have a warp and a weft. The only difference is that in woven fabric the warp and weft are straight and in knit fabric they are looped.
Warp: the yarn that goes vertically
Weft: the yarn that goes horizontally
Knit stretches, as I said above. The amount of stretch can vary widely. Some knit is SUPER stretchy and some is not. Most knit fabric that we use today is knitted with some kind of elastic or stretch, such as lycra or spandex. Cotton lycra, rayon spandex, bamboo spandex, double brushed poly, are a few common knit fabrics that include lycra/spandex. Some jersey and sweater knits do not have elastic woven in. They still stretch, but not as much as knit with lycra/spandex. They are also more likely to bag. Knitting the fabric with elastic yarn both makes it stretchy and (generally) gives it decent recovery. Recovery is the fabric's ability to return to its original shape, like when you stretch a rubber band and it snaps back.
Woven fabric can stretch a bit as you wear it, as a result of mechanical stretch. However, it does not have true stretch and it does not have good recovery. Think of how much snugger your favorite jeans are fresh out of the dryer vs. after you've worn them for the day. Cotton lycra, a common knit in the custom fabric world, on the other hand, has excellent recovery and stretch.
Examples of Woven and Knit Sewing Projects
This is a Maggie/Skater skirt dress that I just made for my little Honey Badger in cotton lycra. Cotton lycra provides some structure, has the required stretch for the pattern, and is durable enough to hold up to a little dress-loving 3-year-old. It was an excellent choice for this pattern. (As it turns out, it worked pretty well for my Blissful Blazer too – keep scrolling for more!)
Here's an Everyday Play Dress that I made for HB using cotton lycra on the top and cotton lawn (a woven) as the skirt. You can use woven or knit for the EPD skirt because the skirt is gathered and the waist isn't too snug. This is one of HB's favorite patterns!
Here's the Dolce Dress in a lightweight denim, which was a similar feel to cotton woven. You can see this dress needs snaps or buttons in order to get over the head because it won't stretch. It also has elastic at the back, which is also because woven does not stretch. It sure is an ADORABLE dress.
SEWING TIP: When sewing with knit, you must use a ballpoint needle. The ballpoint kind of moves the yarn out of the way, so that it goes through one of the little holes made by the loops in the yarn. If you use a universal needle, you can get tiny holes in your garment. You don't want that after you worked so hard!
Which Fabric Do I Use?
Most Love Notions patterns are designed for knits. Several are designed for woven, some of which can be done with either woven or knit. The pattern will ALWAYS tell you which type of fabric you should use. You can find this information in two places: In the description on the website, and on the fabric requirements page of the pattern instructions (usually page 4). You can also filter by knit patterns and woven patterns right on the LN website! Of course, you are also always welcome to ask pattern testers or ask about fabric requirements in the Love Notions Facebook group too.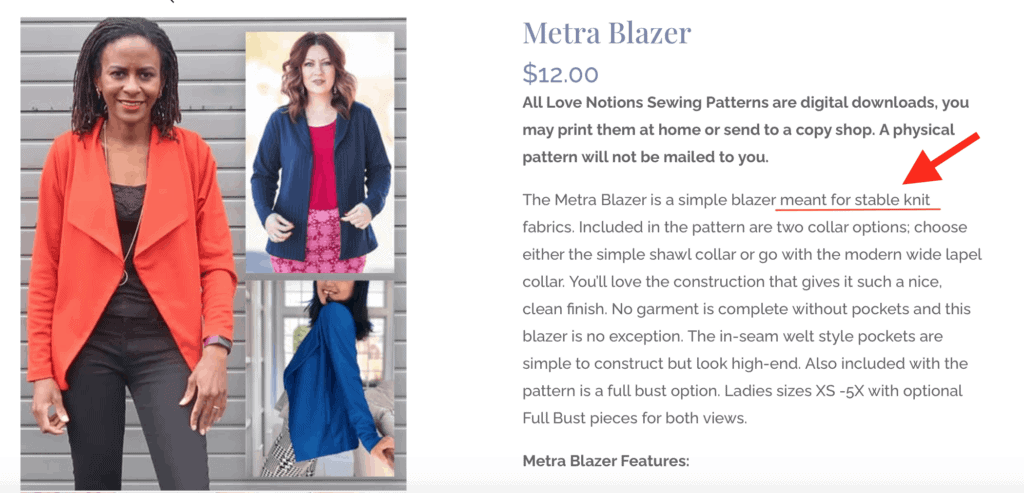 Here's a handy, short list of some common knit and woven fabrics used in Love Notions patterns:
Knit:
cotton lycra
rayon spandex
bamboo spandex
french terry
scuba
ponte
sweater knit
Woven:
Cotton woven (quilter's cotton)
peachskin
rayon
silk
denim
linen
crepe
tencel
Sewing Tip: You can often use a stable knit, such as ponte, scuba, liverpool, or cotton lycra in a pattern intended for wovens. However, you can rarely use woven in a pattern intended for knit. Knit patterns are designed to stretch. They frequently include negative ease. If you try to make a knit pattern in woven, you will more than likely end up sad.
Blissful Blazer: The $5 Feature Pattern
I pondered what type of fabric I would use for this Blissful Blazer for some time. I planned to use woven. I have a ton of cotton woven because I keep telling myself I'll learn to quilt and make bags one day, and also because…let's face it…covid. All the masks! I thought about using a softshell fabric (which is a waterproof fabric with a fleece-like inner). I really wanted to make it with corduroy, but found nothing in the store that spoke to me. Then, Honey Badger spotted me sewing myself a jacket with this cotton lycra from Black Sheep Fabrics, and that was that! (She is a big fan of R2-D2.) Decision made! I thought it would be fun to use a more casual fabric with a fancier pattern to show the versatility. I have to say, I love the final result!
I lined this Blissful Blazer with a light – medium weight quilted knit that I've had in my stash for ages. It's soft, which is important for my kidlet. It's a similar weight to sweatshirt fleece, which is perfect for us. We live in North Carolina, so we don't have much need for heavy duty winter coats. This will be perfect for her for spring and fall (and maybe even winter).
Because the ruffles are made with cotton lycra as well, I did not have to finish the ends. Most knits will not fray (loosely woven knits and many sweater knits will). Woven fabric does fray (again, as a general rule – there are always some exceptions). Any woven raw edges need to be finished in some way so that your precious work doesn't unravel. I wanted to get that raw, rolled edge that can happen with cotton lycra. The rolling will continue to develop as the coat is worn and washed. But I think it gives the coat a funky, updated look that matches the style of the fabric design.
Recommended knits for the Blissful Blazer include: velour, sweatshirt fleece, ponte, and french terry. Recommended wovens include: corduroy, twill, denim, suiting, and stretch velvet. You'll notice cotton lycra is not recommended here! Haha! Because I used a lining with more structure (similar to sweatshirt fleece), the cotton lycra worked. And Honey Badger is delighted with her new coat even if the fabric choice was slightly unconventional.
Sewing tip: Always double check that your knit has the necessary stretch for the pattern and that you are checking the grain line. In knit, the stretch is usually greatest horizontal to the grain. Some knits have 4-way stretch (meaning they stretch horizontally and vertically) and some have 2-way stretch (they only stretch vertically). If you cut a 2-way knit without noting the grain, you can end up like a sausage trying to squeeze into a casing. Ask me how I know. haha!
I admit I was intimidated by the Blissful Blazer. I won't lie to you – some curse words occurred in the making of this jacket. Ha! But, I am 100% head over heels IN LOVE with the final product. If you haven't tried this pattern yet, I hope you'll give it a go. With so many fabric options, it's easier to shop for fabric you love or find something in your stash. And at $5 today (Friday, April 2nd), you can't go wrong!
Happy Sewing!
---
Save this pin to your sewing board
---
More Pattern Shopping