Love Notions recently played a role in one of the most important occasions in a person's life: a wedding! As you will see, Love Notions sewing patterns were used throughout the wedding from the nieces' dresses, the mother-of-the-bride dress, and even for the bride herself. What an incredible honor and we are so grateful to Katie Grimm for documenting this lovely day. Congratulations to all!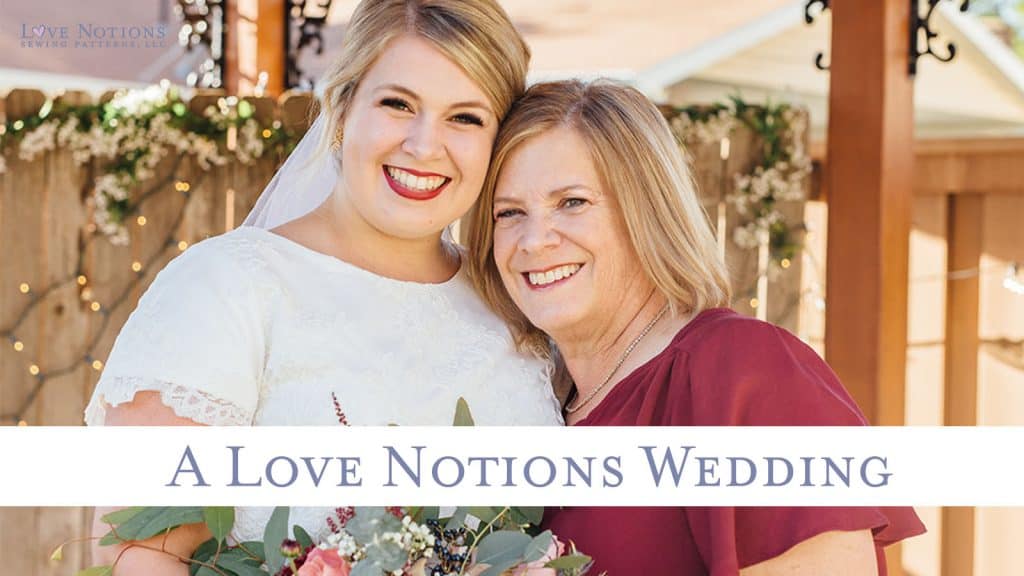 A Love Notions Wedding
Now more than ever, we appreciate something to celebrate!  To celebrate Love Notions birthday, all patterns are 40% off October 5-9, no code needed!  Sales like this only come around a couple of times a year and so it's a great time to stock up.  You can shop the sale HERE. 
I got to participate in another celebration a few weeks ago.  My youngest sister got married!  There are 8 kids – 7 girls and one boy – in my family and now we are all married.  Though it was a little different due to COVID restrictions, it was still a beautiful affair and Love Notions played a big role in the big day.  
The Harmony Blouse Wedding Dress
My sister asked if I would help make her wedding dress. Back when I was in college I made a lot of wedding dresses, but it had been a long time since I did one.  She also enlisted the help of my sister Keri and my mom.  She had several inspiration pictures and we worked to get her just the look she was going for.  She really wanted a two piece dress and I was in charge of the top portion.  I immediately thought of the Harmony Blouse when I saw the basic shape she was going for. We set to work muslining, and after a few attempts got just what she wanted.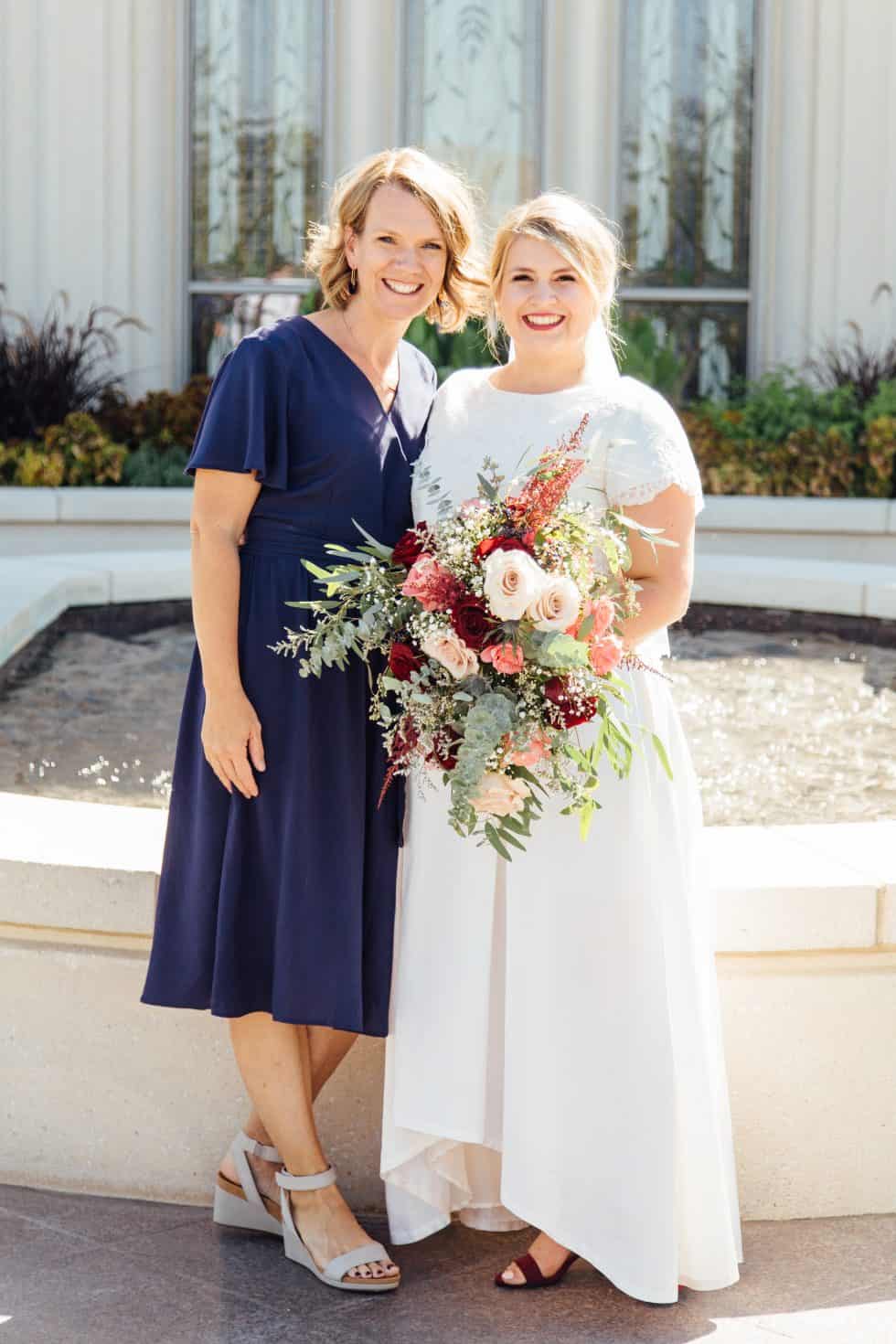 We raised the bust dart, slimmed the sides, and cropped the length.  We also eliminated the back button and did an invisible zipper down the back.  We found a happy medium in the sleeve length right between the cap and short sleeve.  In addition, we fully lined the bodice.  The fabric was a gorgeous 100% silk satin with a beautiful lace overlay.  It was lined with 100% silk lining.  We found it locally in Salt Lake City, Utah at Lace & Co.  We used the scallop of the lace to slightly hang over the underlining as the hem on both the sleeve and bodice.  It took a bit to get it right where we wanted it, but in the end turned out beautifully!  We sewed the lace to the bodice and then treated them as one when attaching it to the lining.   Keri drafted a beautiful high low skirt with box pleats, which complemented the top perfectly.  Emily is 5'2" and very short waisted.  There is no way we could have found such a beautiful dress to fit her body perfectly.  She looked amazing!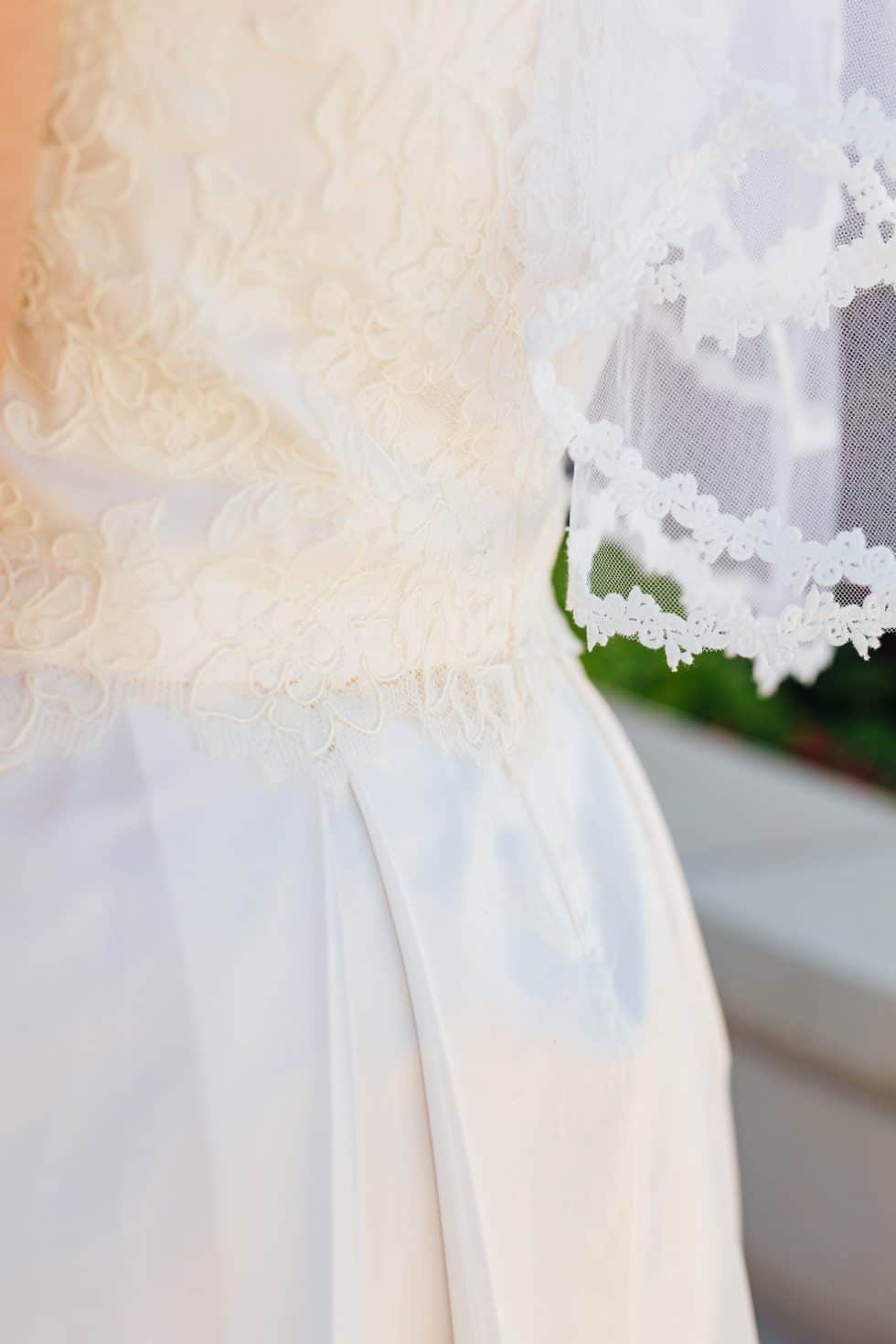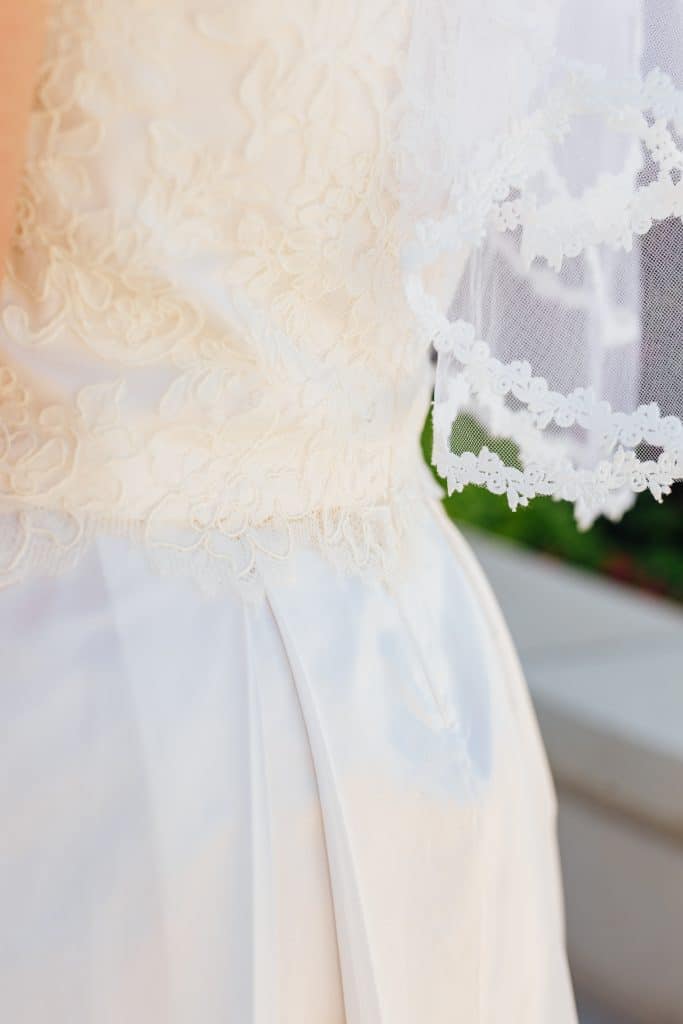 Our sisters have a tradition that the night before a sister gets married we get out our wedding dresses.  Since it was the last wedding, we recorded it with a photo and included my mom.  So neat to see all those beautiful dresses all in a row! 
The Rhapsody Mother of the Bride Dress
Finding the perfect Mother of the Bride dress has always been a stress for my mom!  This was her 8th and final dress and after searching online for something to fit her, she decided to make her dress.  She had recently made the Rhapsody top and loved the fit she got so went with that for her dress.  She picked out burgundy rayon challis from Raspberry Creek Fabrics and did the v-neck hack for the neck.  It was classy, cool, and comfortable and she looked beautiful in it!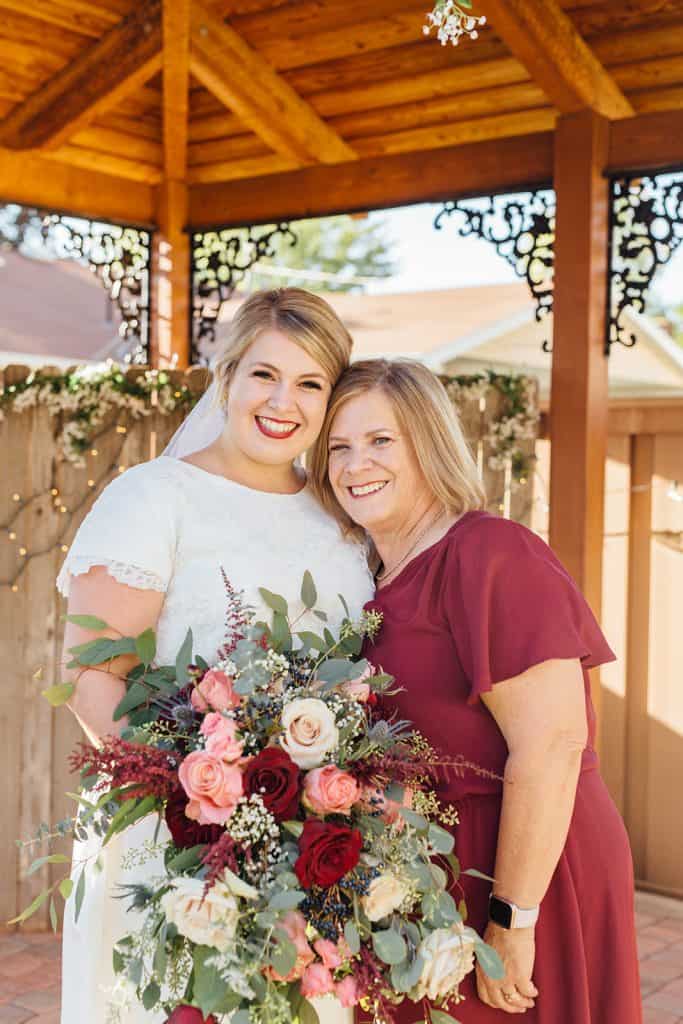 Willow Wrap Sister of the Bride Dress
The bride requested that all her sisters wear a navy dress of their choice.  My sister Natalie knew the Willow Wrap was going to be perfect for her!  She calls it the magic dress because she got a perfect flattering fit by grading using her measurements.  She has had some chronic health issues and loved that she was able to put it together so quickly and it didn't wear her out.  She felt amazing in it and also totally accomplished!  She used a navy brushed polyester from Jo-Ann Fabrics.  She used the pleated bodice wrap and calls it the most flattering wrap dress she's ever worn!  
Dresses for the Nieces of the Bride
The Everyday Playdress,  Lil Laundry Day Tee Dress, and Laundry Day Tee Dress
As you can imagine, with 7 older siblings, there are a lot of nieces and nephews – 28 of them with one on the way!  15 of them are girls and they were all giddy about the prospect of their beloved Auntie Em getting married.  A new dress made it even better.  Knowing we would be outside and wanting something the girls could continue to wear after the wedding, we went with the Everyday Playdress and Lil Laundry Day Tee Dress for the younger girls.  The older girls got the Laundry Day Tee for their dresses.  Each of the little girls got to choose which style she wanted and we chose three coordinating fabrics for them from Raspberry Creek Fabrics.  The navy blush floral was double brushed polyester and the light pink peach and elderberry were a buttery smooth rayon modal.  My mom and I worked on these together and it was fun to give the girls a dress they twirled and swished around in all evening.  They loved matching their cousins and now have a fun dress to remember the special night.  
A Love Notions Wedding
It was so rewarding to see it all come together and Love Notions played such a big role in providing patterns that went together easily with a great fit.  There is just something special about having that handmade touch- especially when it looks so good!  
Something to Celebrate
While you may not have a wedding or a birthday to celebrate, you can always find a reason to sew up a new pattern!  Please celebrate with Love Notions and enjoy 40% off your pattern purchases October 5-9! If you'd like more pattern inspiration, you can check out my blog HERE or find me on Instagram HERE. The beautiful photos were taken by Jenisse Photography.  Used with permission. 
---
Pin this for later!