What's your personal sewing style? I think that we all can agree that sewing your own clothes offers lots of benefits. It gives us a chance to be creative, to have fun, to connect, to care for ourselves and use our brains. However, another huge incentive for sewing is the ability to uncover and express our personal style. In today's featured blog, read how Chris uses sewing to develop and enjoy her own personal style. I hope this post inspires and encourages you on your style journey as much as it has me!

Express your Personal Style with Sewing
Do you ever think about your "personal style" when you sew?
"She has such a great personal style."
"She's not afraid to take a fashion risk."
If you've ever watched a red-carpet event on television, you've undoubtedly heard some of these statements. That got me thinking about my own "personal style" – do I even have a personal style?
I'm not known as a risk taker.  Certainly not a fashion risk taker! – as evidenced by these two photos taken over 35 years apart:
Notice something?
I have the same hair style!  I am also wearing a raglan style tee in both photos.  LOL!
Okay, I have accepted that I am not a fashion risk taker and honestly, I don't want to be – it's not me – but that does not mean I don't have a personal style, that my style doesn't evolve or get defined over the years.
One of the reasons I began sewing was so that I could sew garments that I wanted to wear.  Not what the department stores wanted me to wear.  Or especially that the plus size departments decided would look good on me.
The more I learned to sew, the more I began to find my look.
Fabric & Personal Style
As a maker for Minerva Fabrics, I am given the opportunity each quarter to choose from a variety of fabrics to sew up something fabulous for promotion on their website!
As I perused all of Minerva's glorious fabrics, stylish and flowy knits, and lovely wovens from which I had to choose, I was drawn to the faux furs in rich colors. Faux fur? Me?? Can a 50-something curvy woman pull off faux fur?  How does that fit my personal style?  Stay tuned…  ????
Enter Oakley Vest
The Oakley Vest is a fun and functional piece in your wardrobe, especially for this time of year.  The Oakley has now been re-released in expanded sizes, XS-5X!  To celebrate, both the ladies' and the girls' versions are the Feature Friday Patterns and are on sale for only $5 each.
Belo are my affiliate links to each of the patterns. This means that at no additional cost to you, I receive a small revenue from the purchase.
Ladies: https://www.lovenotions.com/product/oakley-vest?affiliates=199
Girls version: https://www.lovenotions.com/product/acorn-vest-for-girls-2t-16/?affilates=199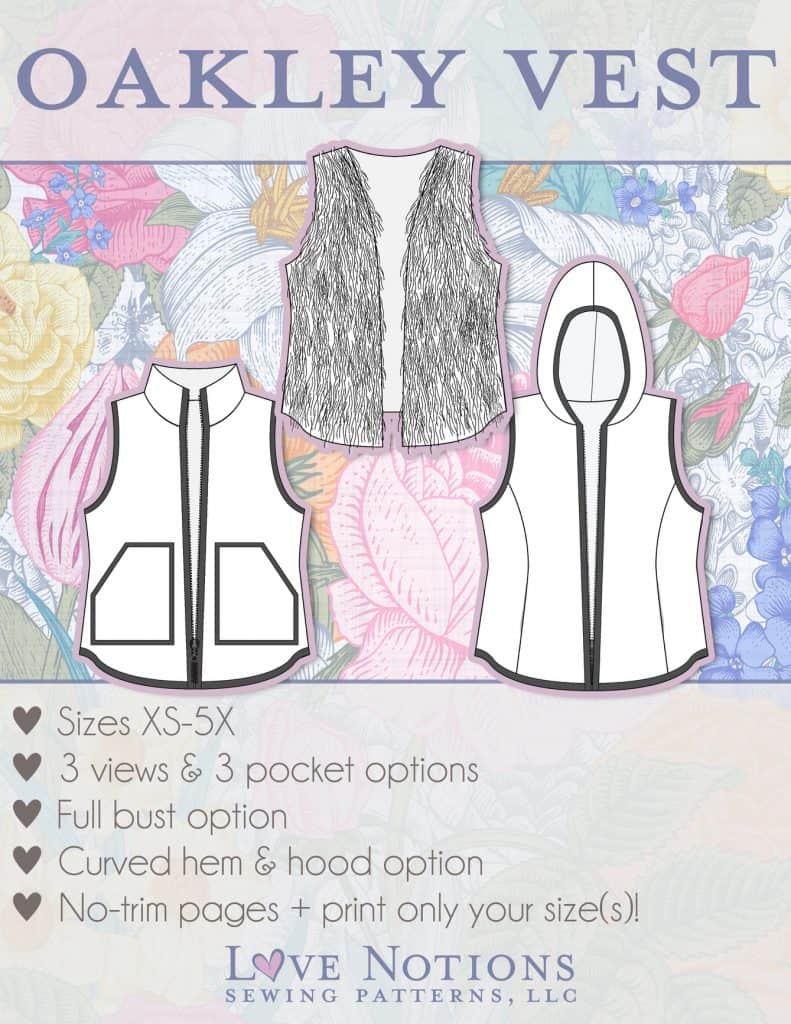 About the Oakley Vest
The Oakley Vest comes with three views.  View A is an open front lined vest which is a great style for faux furs, cuddle fabrics, or minky.
Views B and C are zip front vests with princess seams and a curved front hem.  Choose from two styles of pockets, a collar, or a hood option.   Views B and C are ideal for heavier weight fabrics including double-sided pre-quilted fabrics, puffer style fabric, or even a stable double knit.
Styling the Oakley Vest
A vest is a perfect transitional piece to take you through the cooler days of early Fall paired with the Rockford Raglan or the long-sleeve Classic Tee and some Resolution Bottoms leggings!
This is where my personal style comes in.  When I think of a "vest", my head goes to something "outdoorsy," hiking, country, and that certainly does not say Chris. Of course, there is nothing wrong with outdoorsy, country, hiking etc.  It's perfectly wonderful.  What I am talking about here is using the canvas, (the pattern) and bringing in fabric that changes that idea or picture in my head, expanding it to something that expresses my style.
When I looked in my closet, what stood out from my 90% handmade wardrobe was maxi skirts, off the shoulder dresses, flowy pants, clothes with feminine details.  I choose styles that accent my waist or shoulders. I realized that I am very girly ???? – I have a very feminine style.
The more I thought about the Oakley Vest with its princess seams and curved feminine shape, the more I realized it sure would fit my style.  Bringing some faux fur into this pattern would take the preconceived idea in my head about a vest, that outdoors, hiking thing, and would allow me to sew a vest that was "soft" and feminine in a way that fits my style.  This deep chocolate brown works with my coloring and when the light hits it, it looks even richer and prettier!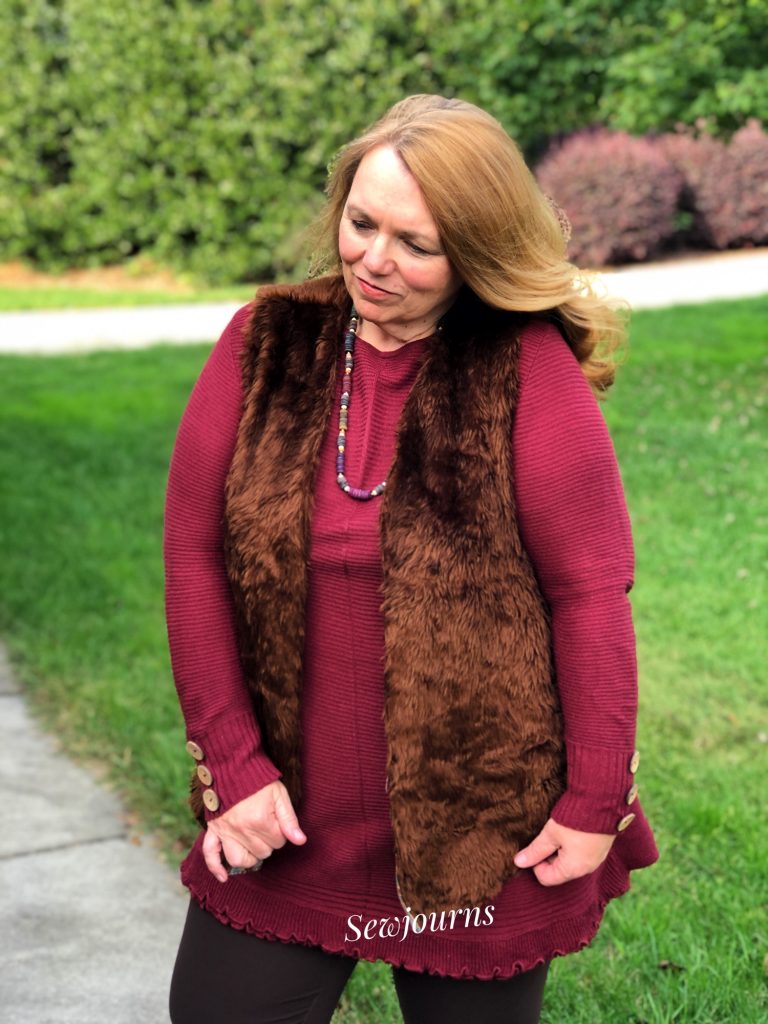 Here is my look!  The Oakley Vest in View A in chocolate brown faux fur from Minerva fabrics!
The pattern is a canvas for expressing style
What I was seeing and learning was that a pattern is a canvas, a building block for our own expression of our own style.  Bringing in new fabrics that perhaps we haven't visited before can transform an "idea in our head", like I had about a pattern, into a new fun expression of our own style! Light bulb moment even after many, many years of sewing! I was getting excited now.  Yes I was going to, even at 50 something years old, allow myself to not necessarily take a "fashion risk", but to choose a new medium to transform a pattern into my personal style!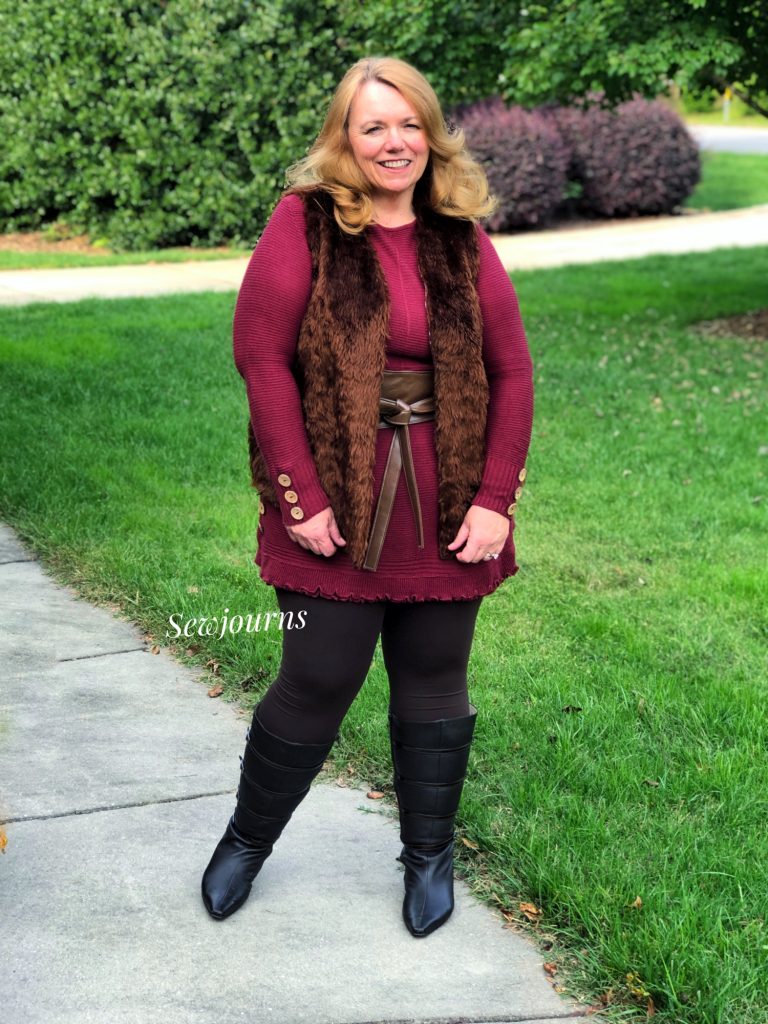 I've paired it with a ruffled long tunic top, leggings, and my favorite brown leather boots with a bit of a heel.  I accented my waist with a faux leather belt. I love this look so much that I wanted to see if I could wear my new Oakley faux fur vest with more of my Love Notions me mades.  How about an easy relaxed weekend look?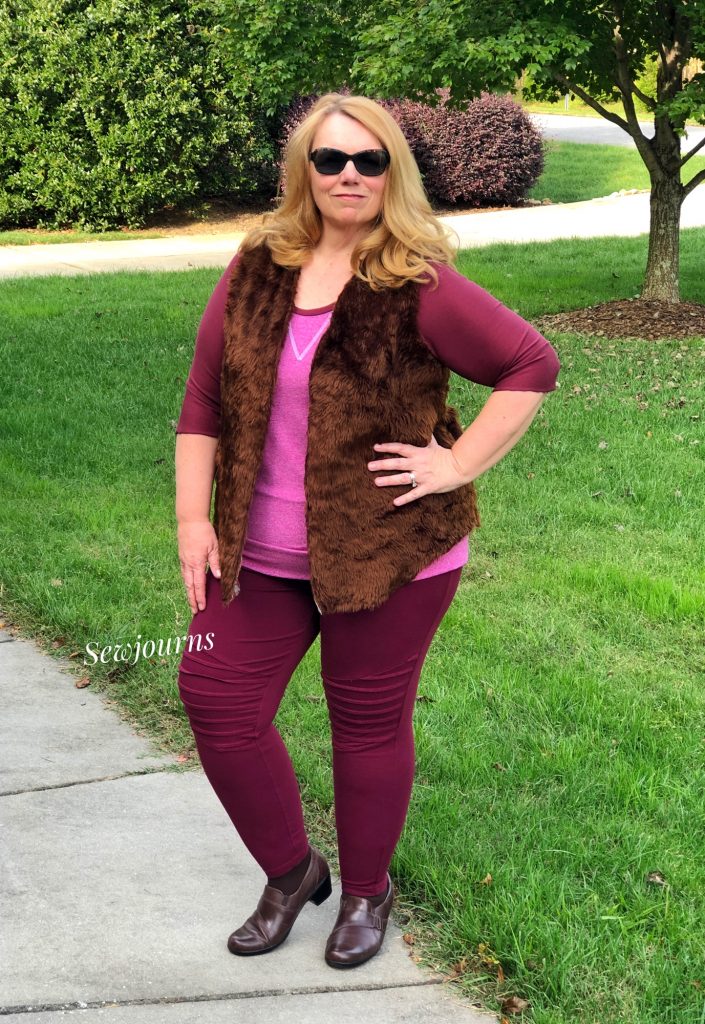 Paired here with the Rockford Raglan and the Resolution Jogger Moto style leggings.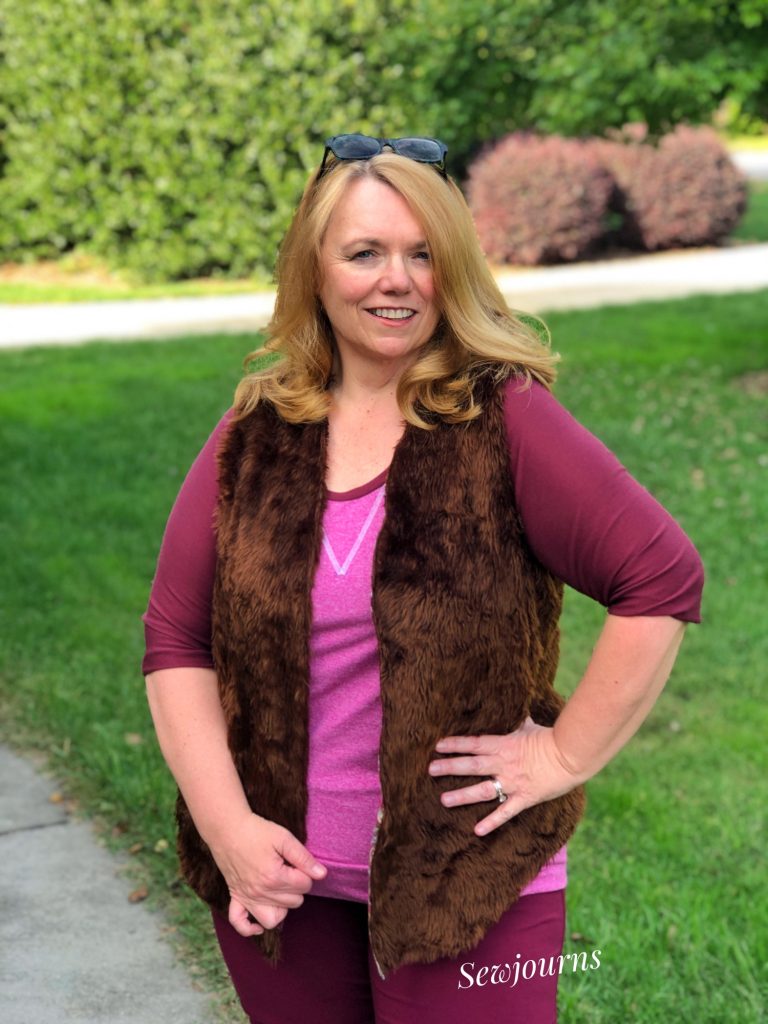 I was on a roll now.  Can I make The Oakley Vest work for me in either View B or C?  After all it is the perfect pattern for this transitional time of year, especially in North Carolina, where we slowly ease into Fall weather.
How can I make a zippered vest that fits my aesthetic?  Looking through my fabric stash, my eyes fixed on some gorgeous double-sided knit by Zenith and Quasar.  The bright pink reverse would be the perfect pop of color.
Bringing in the floral sleeves and band on the Rockford Raglan really gives me all the "girly' feel I was looking for.  And notice the panel, a nod to self-expression as well!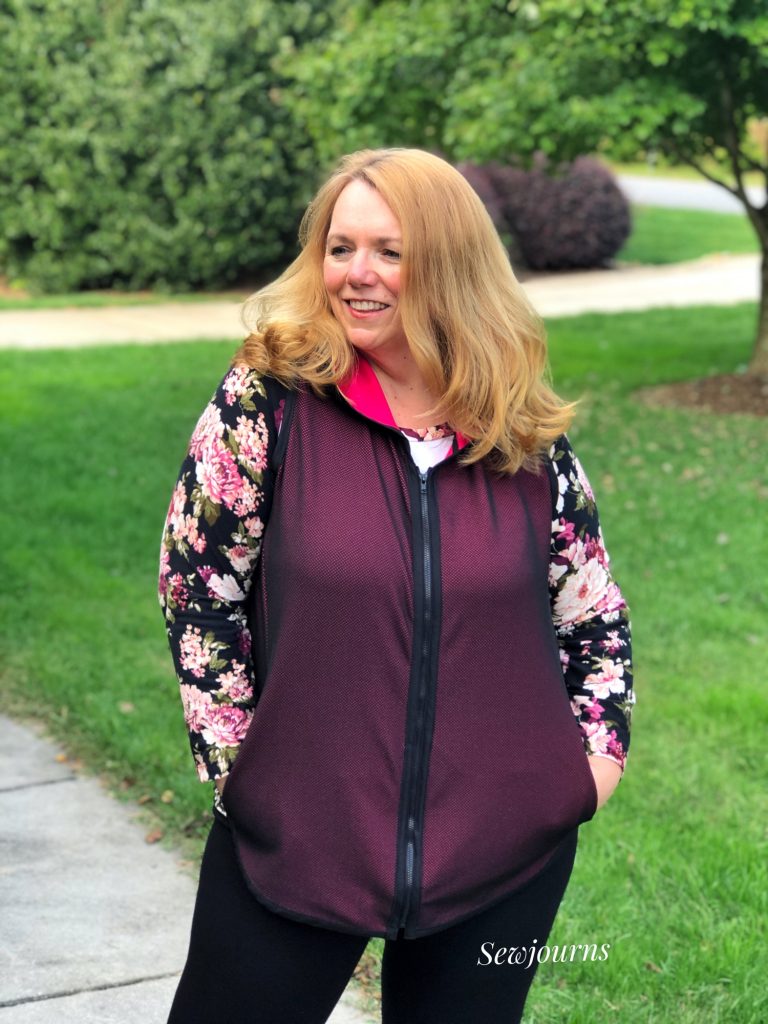 Seen here paired with the Rockford Raglan with band and black leggings from the Resolution Bottoms!
This look is so fun for me too!
Giving the hood a finishing detail:
When sewing up this look, I chose to bind the hood seam with the same black bias binding as used on the outer vest – it would be a lovely finished look for the inside of the hood.  After sewing on the binding, as you'll see in the next photo, it looked like this.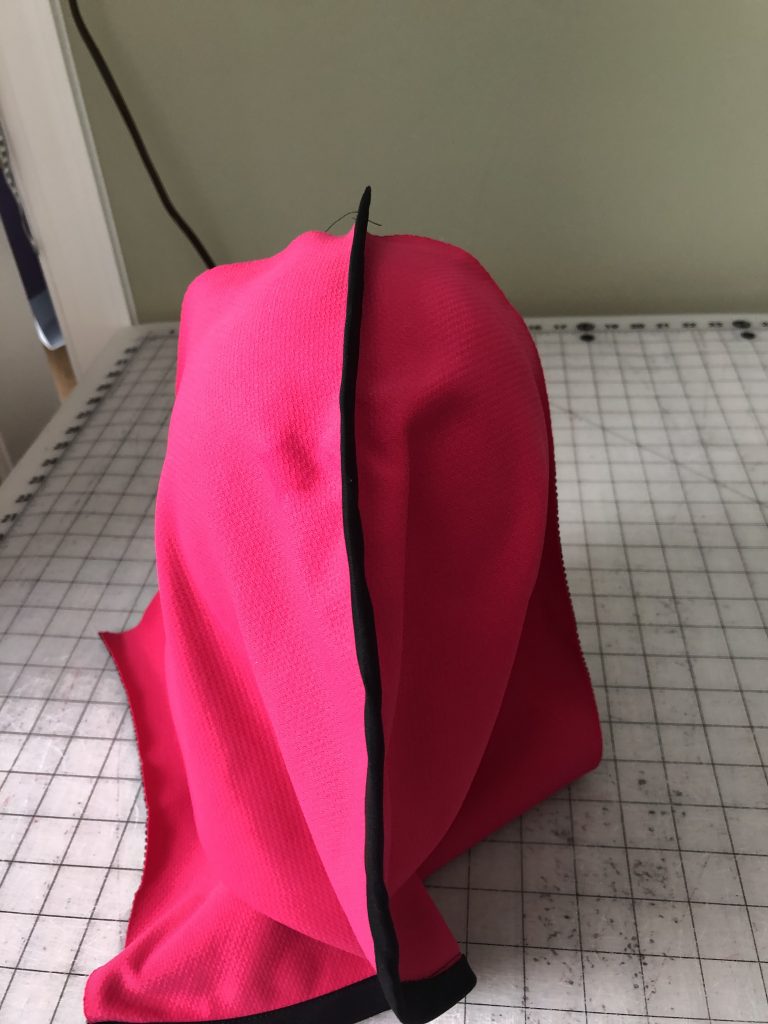 I decided to topstitch the binding flat.  It made a world of difference, from the inside and the outside.
I did the same for the seam that attaches the hood to the body of the vest.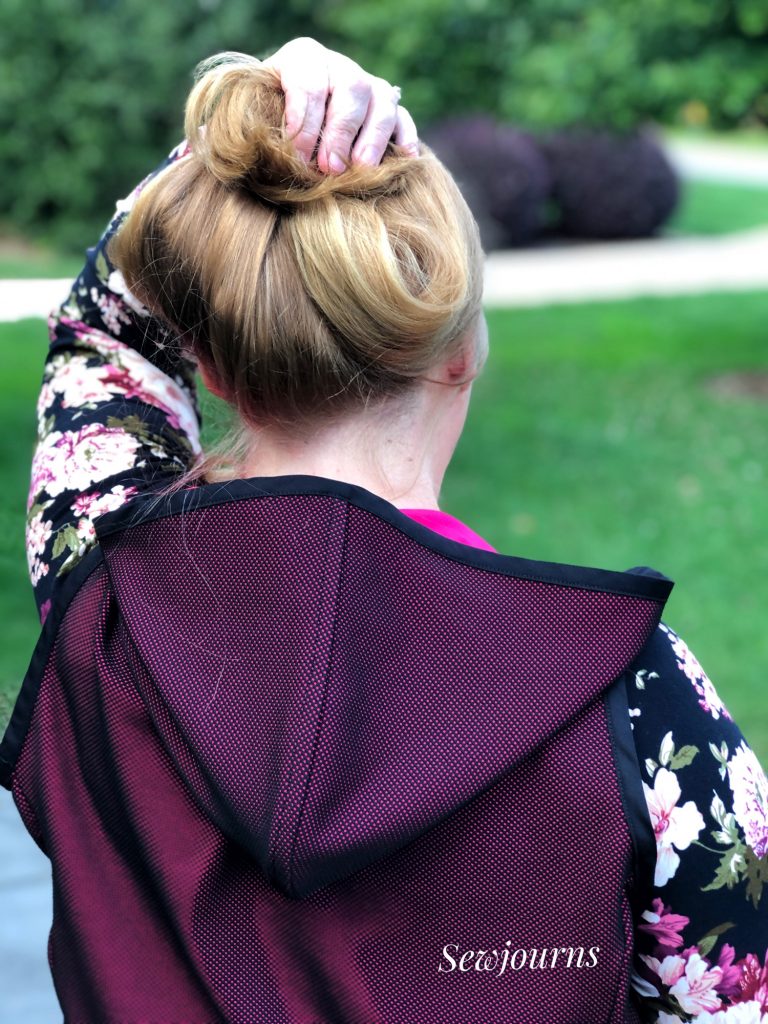 I love the pop of color on this vest and I love how it works with so many of the other Love Notions patterns as well as with much of what is already in my closet.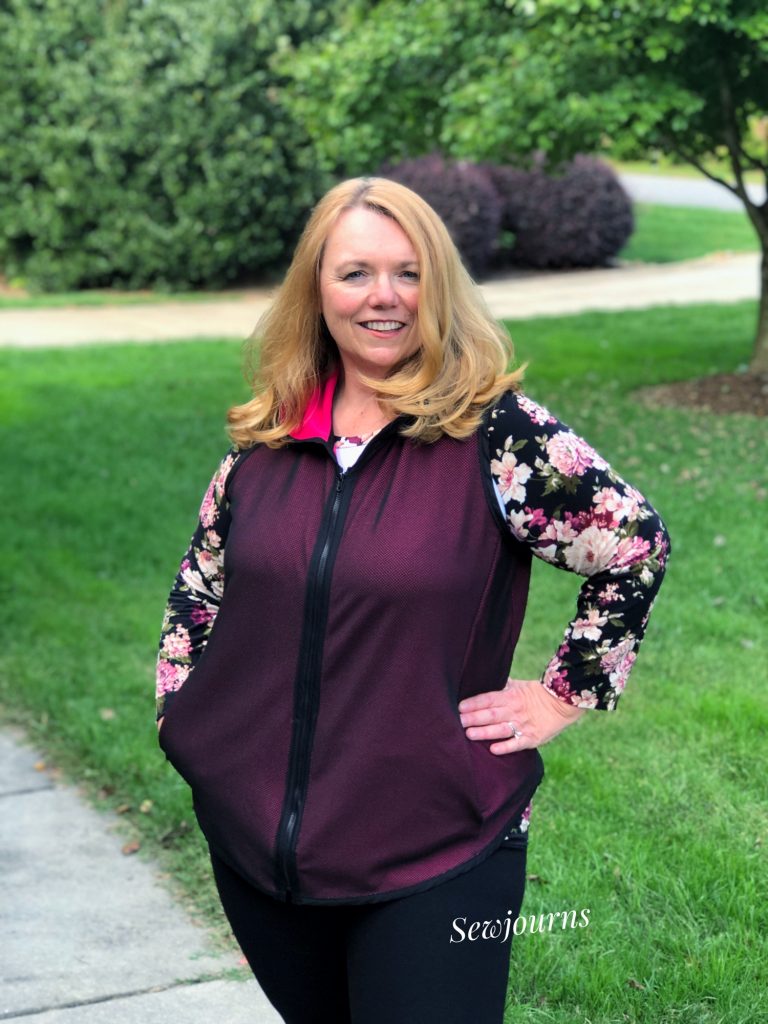 My Personal Style Evolves Along with my Sewing
So even though I have the same hairstyle and I still wear raglan tees even after more than 35 years, my personal style has continued to evolve and grow just as my sewing has and does.
I hope you will give the Oakley Vest a go or maybe another Love Notions pattern that you might have thought, "Can I make that work for me"?  I encourage you to notice what defines your look and add some of those touches to a new pattern to reveal another side of your personal style.
---
Wanna see more Oakley? Check out this video!
Pin this for later!