The Allegro Bottoms are a staple capsule wardrobe piece full of possibilities (like a faux romper!) and today on the blog Katie Grimm shows us how to make them work for every age, size and style.  In honor of Mother's Day and all the traditions (like sewing) that have been passed down from generation to generation,  I hope you enjoy her special tribute to moms and sewing as much as I did. Be sure to take advantage of the $5 Allegro pattern for today only and get ready for the site-wide 40% off sale that begins tomorrow. We wish you a beautiful weekend filled with the ones you love and hopefully a little time for sewing. <3
The Allegro Bottoms and Mother's Day
This weekend we will be celebrating and honoring women and mothers of all kinds. In honor of Mother's Day, Tami invited me on to the Love Notions blog to show off the Allegro pattern and talk a little about some of the special women in my life, including my own mom who was my first sewing teacher and instilled in me a love of sewing. First off, let's talk about the Allegro pattern.  It is on sale today only for $5. That's a fantastic deal for a great pattern! You can purchase it HERE.
My Mom, Sewing Wizard
As a young girl, my mom was a sewing wizard!  I'm the second of eight children and she was constantly sewing to keep us clothed!  Shorts and shirts, jumpers, Easter dresses, first day of school outfits. . . the list goes on and on!
My early memories are of my mom doing sewing workshops with her friends and staying up late to finish projects.  Each Christmas the door of her bedroom would close and we would only hear the hum of the sewing machine working feverishly into the night to finish cherished gifts – dolls, Barbie clothes, new pajamas and dresses.  Trips to Cloth World (which later became Jo-Ann) and House of Fabrics were common. Her stash grew and that was where we 'shopped' for our new clothes. I wore her creations proudly – from the lace covered Jessica McClintock look alike dresses to the one piece knit jumpsuit with a matching belt.  I remember the first outfit we made together – a pair of red knit shorts with a rainbow striped top. She taught me to quarter neckbands so they stretched just right, and to clip my threads! She let me use her beloved Bernina and taught me to thread the serger (even though I always made her do it anyway!).
Sewing for Mother's Day
For this Mother's Day, I created a collection of Allegro Bottoms for my mom, my daughter and myself. They fit perfectly into our wardrobes and can be mixed and matched with all sorts of outfits and styles. The capsule wardrobe possibilities are endless with this pattern! I'll show you the shorts, knee length skirt and pants I made, but there are also options for a maxi skirt and knee length shorts.
Allegros for my Mom
I wanted to make my mom something special for Mother's Day.   I love creating for the ones I love, and I can think of no better way to thank her for all she's taught me than by using it to give something back to her.  The Allegro skirt was the perfect pattern to make her! I used windowpane linen and made the pattern as written. I did add a couple of inches of length so that it would go to her knee – just as she likes it.  This is a great summer piece that can be worn with slides or wedges, with a white tee or a blouse. It pairs beautifully with the Harmony blouse in a peach sandwashed rayon challis I picked up from Sly Fox Fabrics.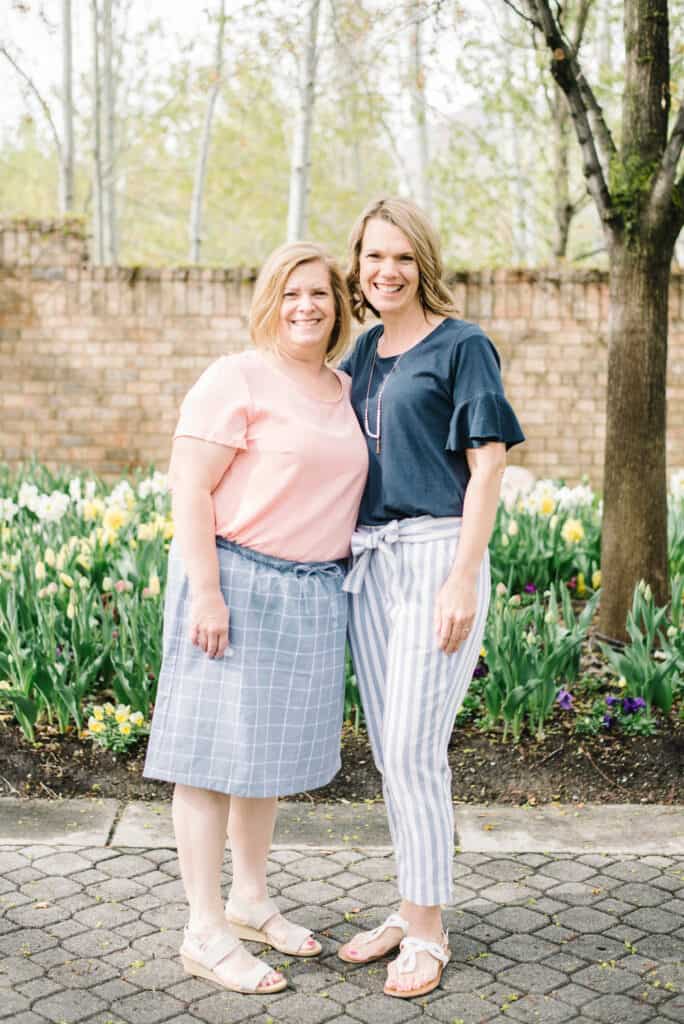 Allegros for my Daughter
Just as my mom sewed for me, now I get to sew for my daughter.  She got a pair of Allegro shorts in a skinny striped linen. These are awesome because they are super comfortable but depending on how she styles them they can dress up or down.  She can throw on her sneakers with a t-shirt, or wear a button up blouse and strappy sandals. We added a little bit of length to the rise because she likes to wear them a little higher.  She loves the generous pockets.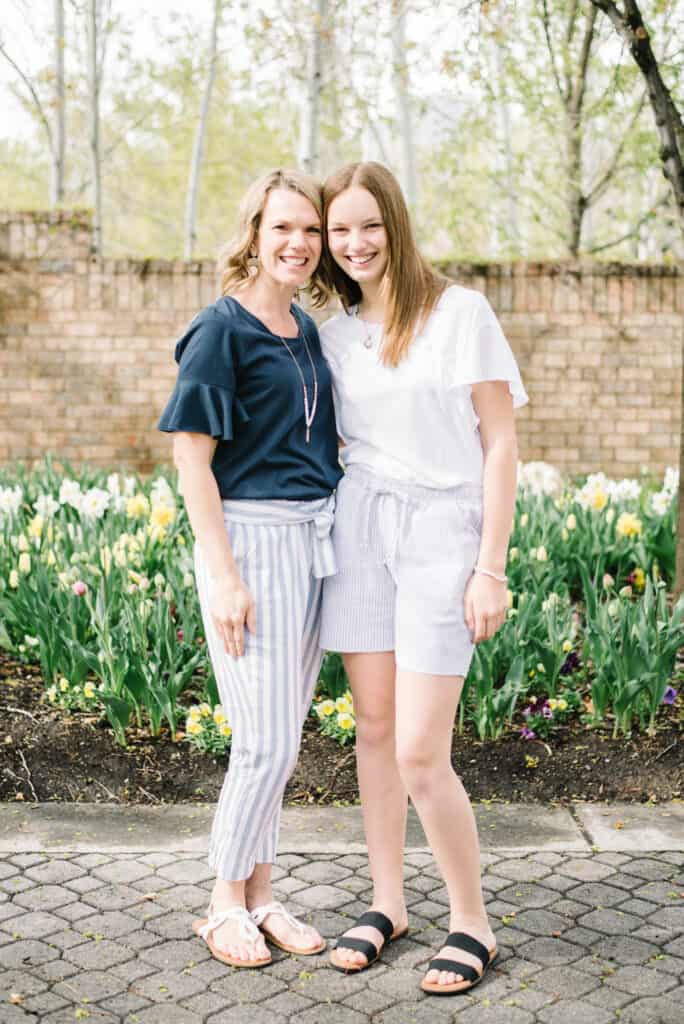 Allegros for Me!
I made the Allegro pants for myself with a few modifications.  For this pair, I slimmed the leg slightly and added ankle zippers for a fun style element.  I also added 1" inch elastic just around the back of the leg to cinch in the ankle. Instead of a drawstring, I made a wide fabric belt and added belt loops.  Made in a wide chambray and white stripe, they are perfect for summer! I paired it with a Forte top made from a dreamy cotton modal I picked up from Raspberry Creek Fabrics.
Allegro Bottoms: Options for Everybody
There's nothing I like more than a pattern that gives me options!  Four views are included in this pattern – cropped pants, shorts, knee length skirt, and a maxi length skirt.  Each view has so many ways it can be simply modified for even more looks. Even better than a pattern with options is one that is for everyone!  It's not often that I can make something I love for myself, my teenage daughter, AND my mom from one great pattern. The three of us have three different body types and preferences and I think we all got a great look.  I chose a beautiful Robert Kaufman Essex linen from Raspberry Creek Fabrics for these looks but like I mentioned, the options are endless.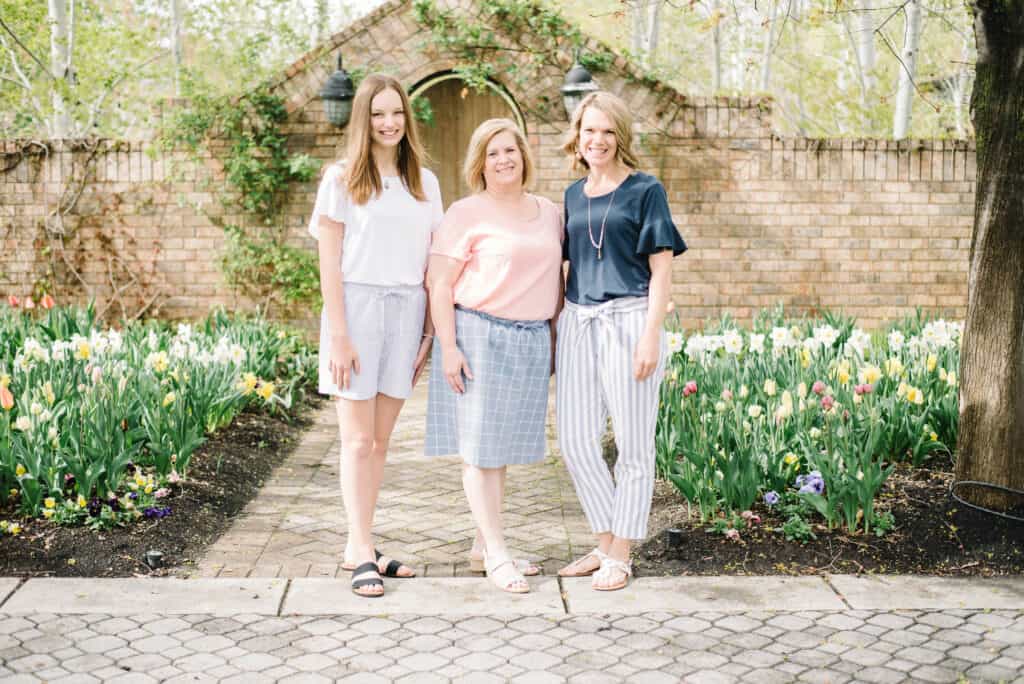 Allegro Bottoms: Capsule Wardrobe and Faux Romper
Speaking of options, who doesn't like a foundational piece for their wardrobes? Capsule wardrobes are all the rage right now and my Allegros fit perfectly into mine! And, while the Allegros can be worn as a classic skirt, pant, capri or short, they can also work as part of set to create a faux romper! Yet another way to make it a functional, but interesting piece in your capsule wardrobe. This is one of my favorite looks for the Allegro. Here I paired it with a Harmony Blouse, and I got the look of a romper without the inconvenience!  I added ¾" elastic at the ankles and made this fun tropical outfit out of rayon challis for our Hawaiian vacation.  I wanted to wear it everyday! 
Sewing Community
I hope you have gotten a little sewing inspiration from my Mother's Day Allegros and if you haven't added the Allegros to your pattern library yet, I promise you won't be disappointed with them and all the creations you can make with them.  As I wrap up here, I can't write this post without recognizing there are other special women who shared their knowledge with me that instilled a deep love of sewing and creating.  When I sew, I hear my grandma's voice telling me, "Katie- make sure it looks as good on the inside as it does on the outside!" I had incredible teachers in school – junior high, high school, and college – who shared what they knew with me.  We affectionately referred to our high school sewing teacher as "Mama G". Just like our own mothers, we knew we could count on her to teach us, help us, and yes – even discipline us! She would often tell us when things weren't quite going right –  "there are no such things as mistakes, just designer details!"
Passing Down the Passion
When I think about these women I feel connected to them.  I have a heart of gratitude for the time they took to share their love of creating with me.  They are a part of my story. I became a high school sewing teacher before I had children and was a 'mother' to hundreds of students.  Now I have children of my own. I cherish the time my children spend sitting with me in my sewing room. I drag my 4 year old to the fabric store often and my children go "shopping" in my stash, the same way I did as a young girl.  I have become the teacher, sharing the things I've learned. Some say sewing is a dying art. I believe it is very much alive and that as we continue to share our passion, it will continue to connect generations, whether related by blood or not.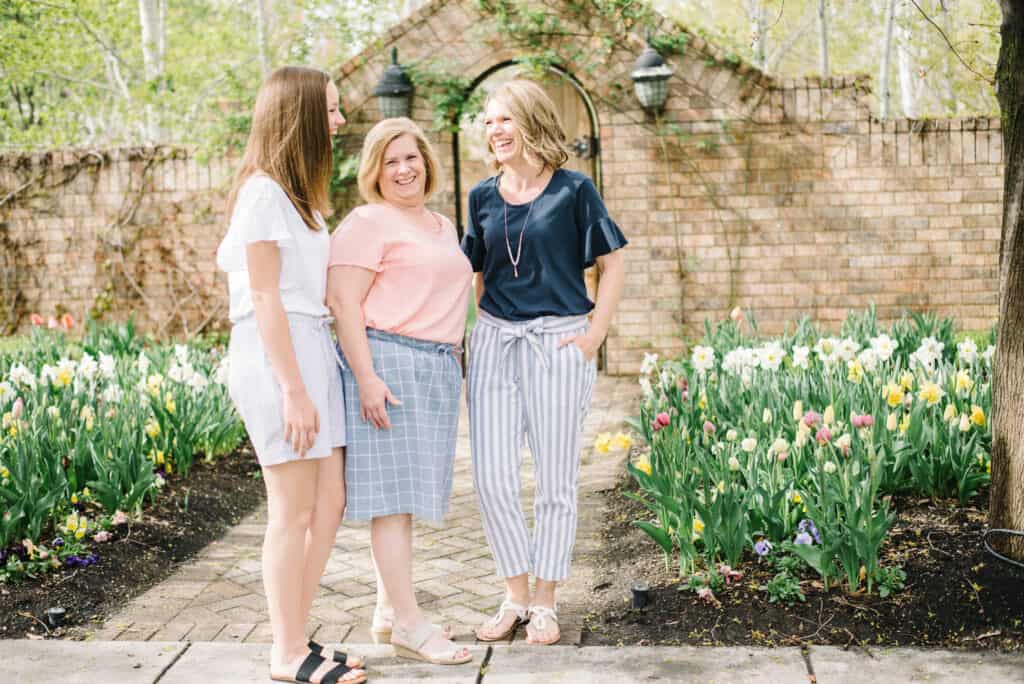 Happy Mother's Day to all women everywhere!