Who loves capris? Learn how to create and customize capri length pants using the versatile Duet Trousers pattern. Today our guest blogger is the beloved Pat English, and she is sharing her favorite ways to customize her favorite bottoms pattern with buttons, slits, and cuffs.
And be sure to read on for the fabric coupon code Pat secured for us from Discovery Fabrics.  After you grab your Duet's pattern today, get ready for the Love Notions 40% off, site-wide sale which starts tomorrow. Be sure to add patterns to your wishlist because Tami is picking a winner tomorrow morning to win an entire wishlist for free, up to ten patterns.
Three Duets: Capris with Buttons, Slits, and Cuffs
It's no secret how much I love the Duet Trousers.  I currently have 5 pairs in my closet!  But warm weather is on the way and now I need capris to carry me through the summer.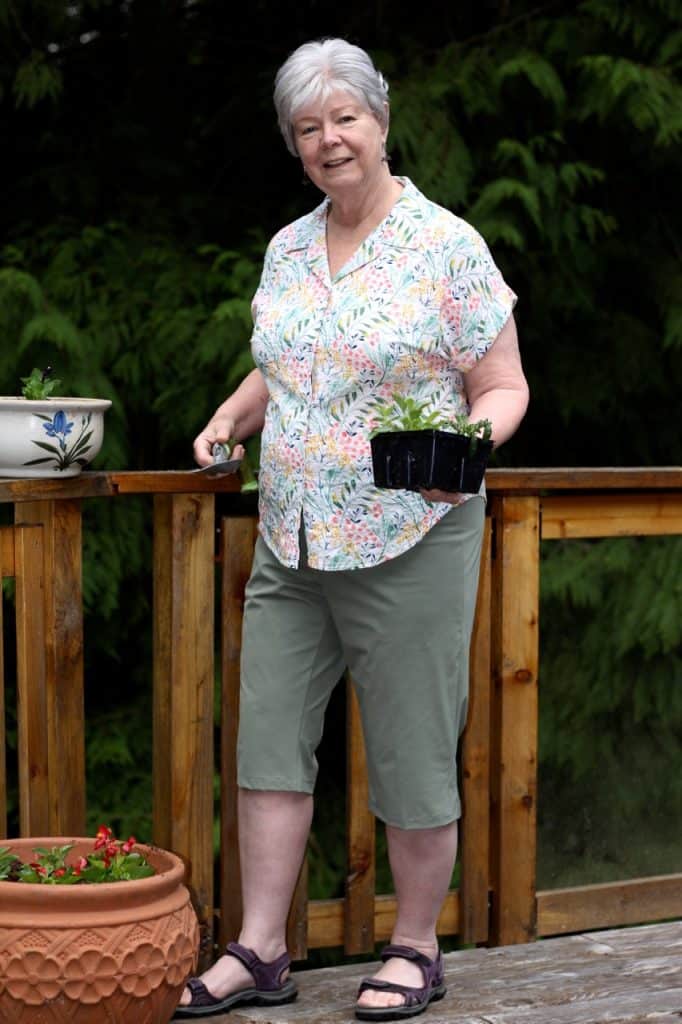 I can certainly make them from all different fabrics, but with a few embellishments to the hems, they can all look unique.  And if you prefer shorts, the same ideas I'm going to show today work for that length, too.  I particularly like the Duet pattern for this purpose, because I don't want my capris to be a snug fit and the looser fit of the Duets is perfect for my needs. So read on for finding out how to make button tabs, slits and cuffs for your Duet Capris.
Get the Right Fit
The first thing you need to do is make sure you have your fitting done.  Since I've made these trousers so many times, I know I have the fit down correctly.  Remember that the Duet Trousers have that wonderful workbook to help you get the best fit for your unique body.
Create Capris
I marked on a pair of my Duet Trousers the length I wanted my capris to be.  Then I took that off the bottom of the pattern pieces, remembering to allow for a 1" hem.  I simply folded the excess back as I know I'll be using this pattern again for full-length pants.  These treatments will work equally well for the contoured waistband as well as the yoga waistband that I chose to make.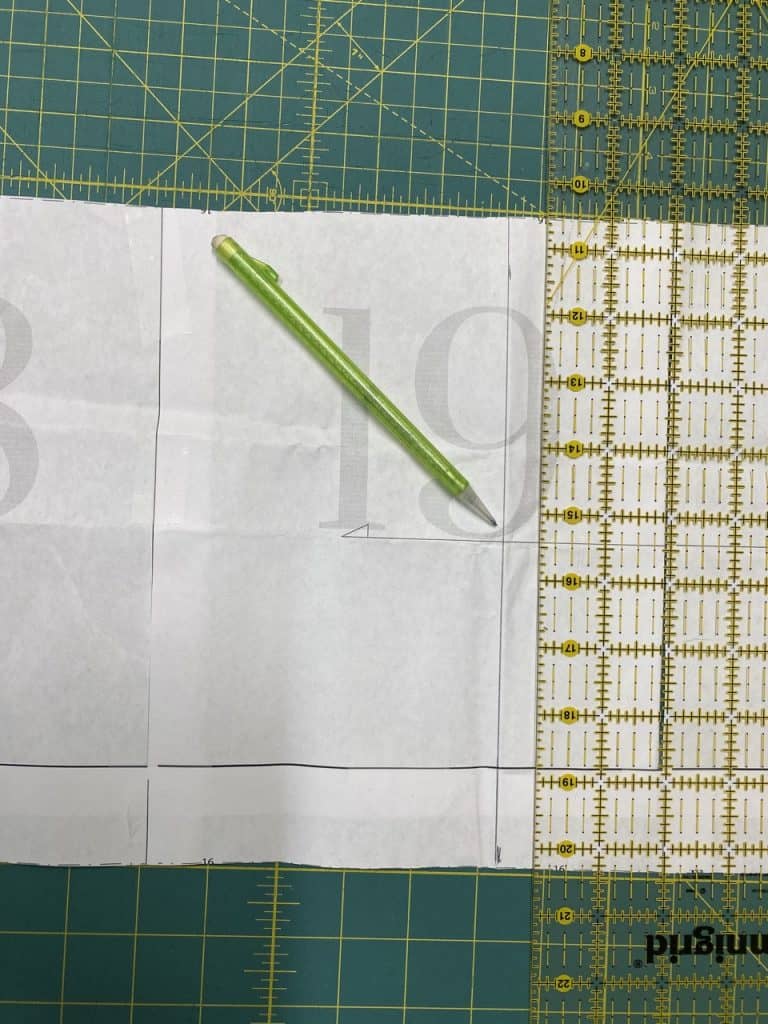 Fabric for my capris
For my capris, I will be using light knit and stretch woven fabrics with the yoga waistband with all the fabric sourced from Discovery Fabrics who carry great athletic materials.  Discovery Fabrics has generously decided to offer their fabrics at a special discount for Love Notions blog readers – check out their discount code below! I use and love their fabrics! you can click here to see what they offer.
Discount Code at Discovery Fabrics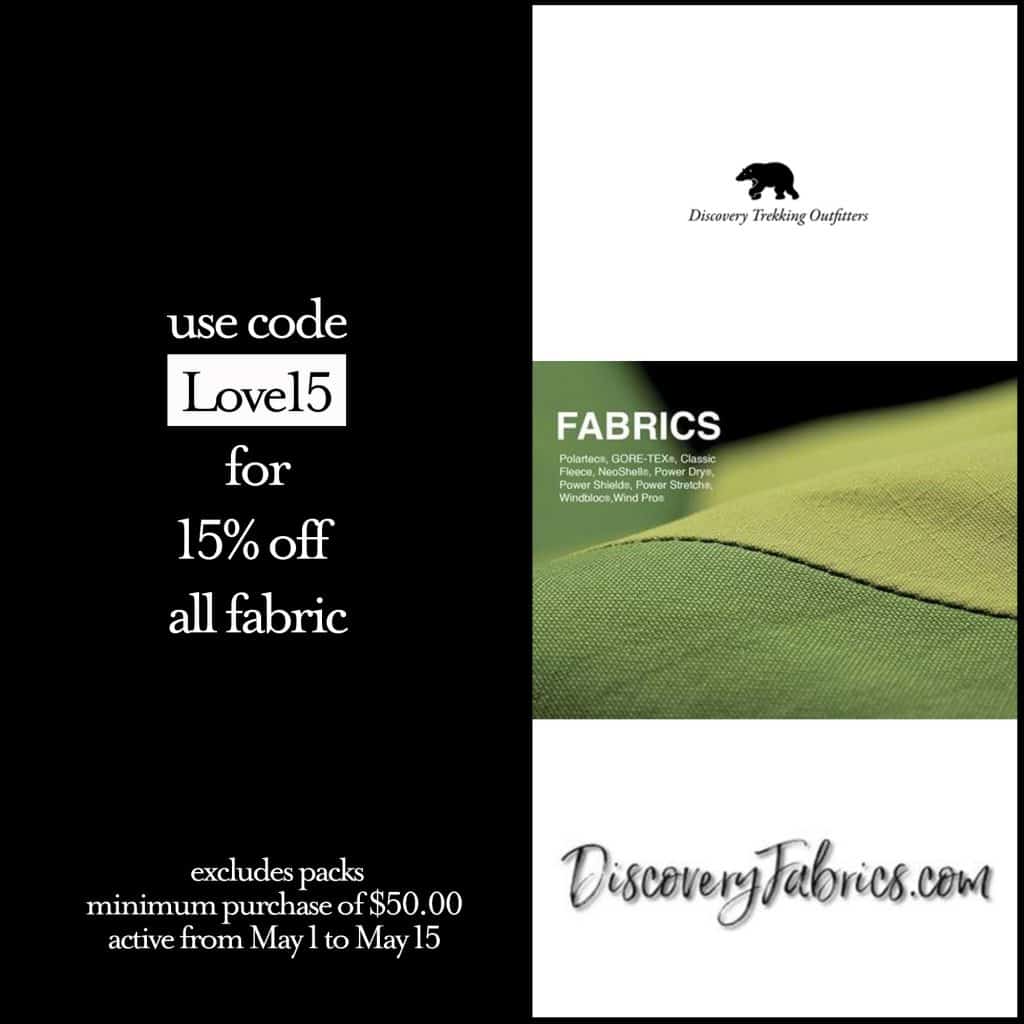 Ok, now on to the tutorials for adding a little extra pizzazz to your Duet Trousers.
How to add a button tab to your Duet Capris
I made a plain pair capri length using Yoga Stretch from Discovery Fabrics – such comfortable knit!  I finished everything except the hem, which I folded in place and pressed.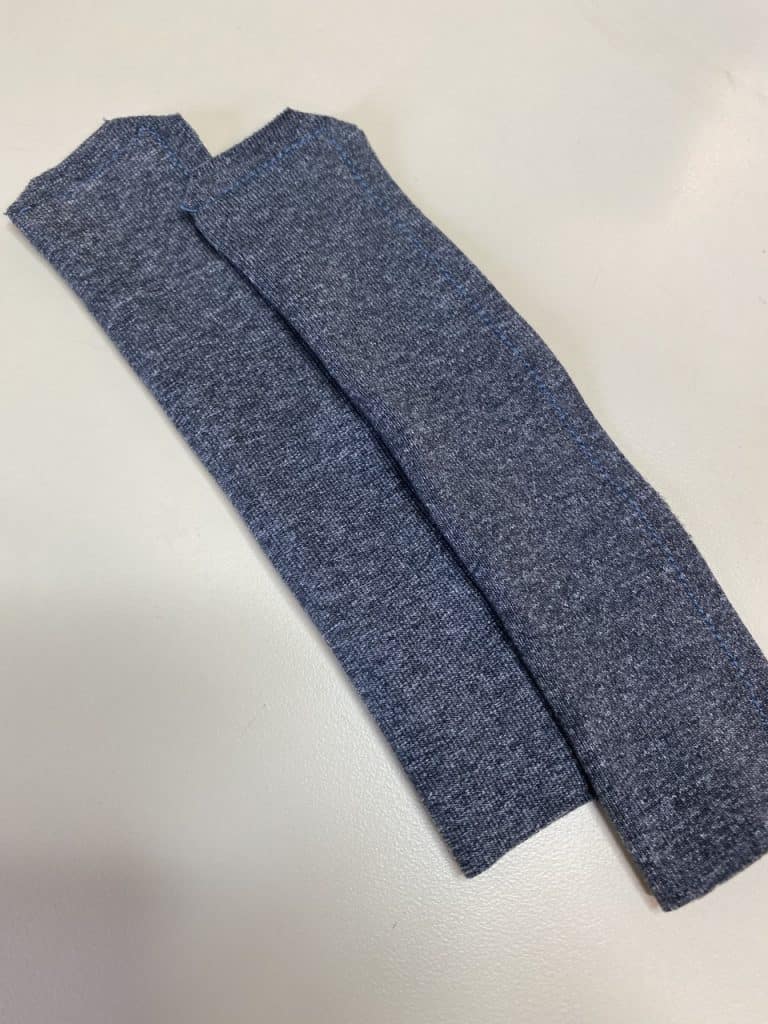 I cut two strips of the fabric 3" wide and 6" long, folded each one lengthwise, right sides together, and stitched across the top and down one side.  I clipped the corners to make turning easier.  Then I turned them right side out and pressed.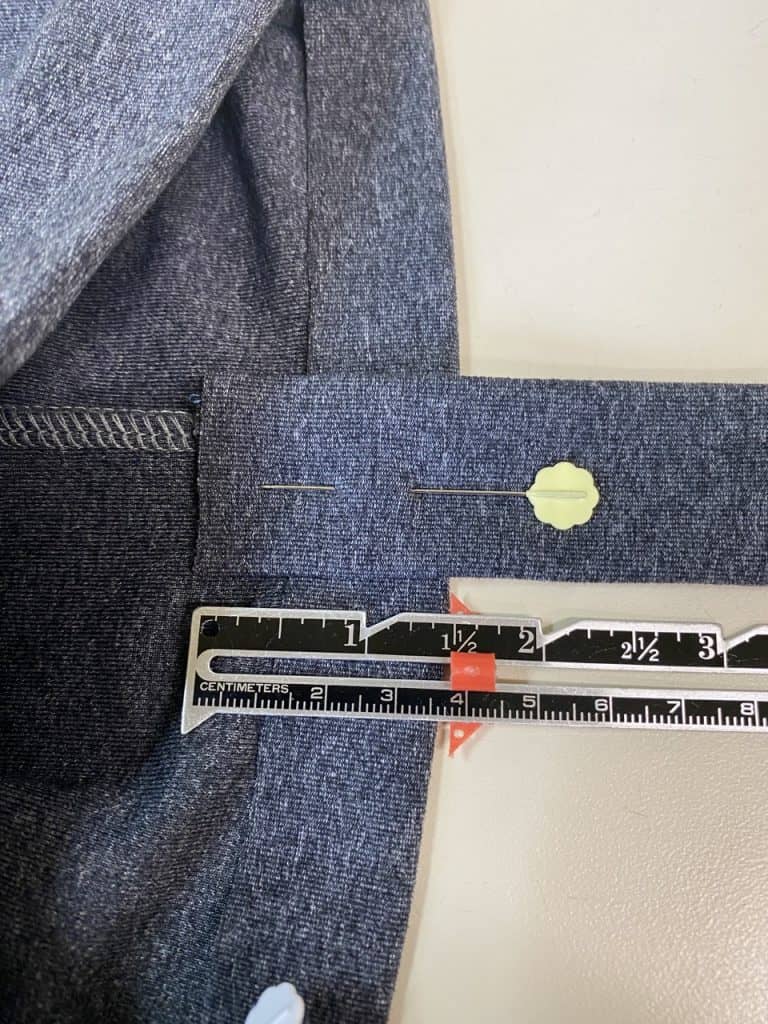 I pinned the strips on the inside of the folded hem with a .5" overlap to make sure the tab will be caught when sewing the hem.
Then I simply stitched the hem and trimmed off the excess.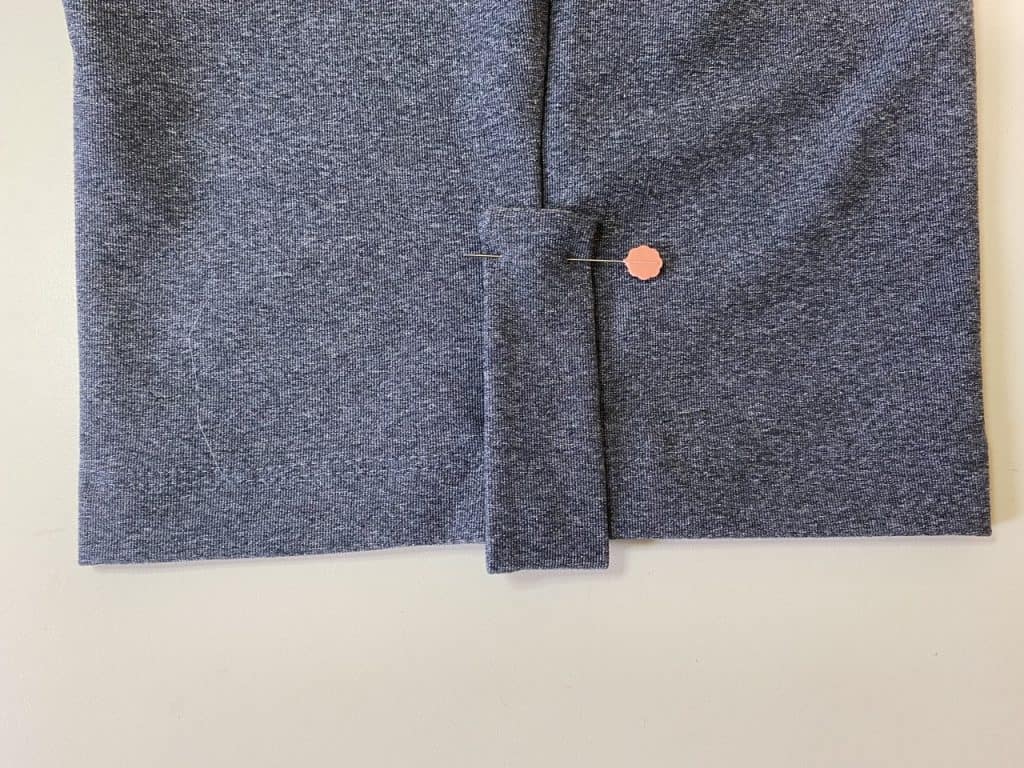 Finally, I folded the tab to the right side and sewed on a button.  Done!
How to make a cuff for your Duet Capris
The cuff addition is super simple.  This time I was using Discovery Fabrics' Stretch Woven in navy and to make sure there was lots of stretch in the yoga waistband, I cut that from their navy Yoga Stretch.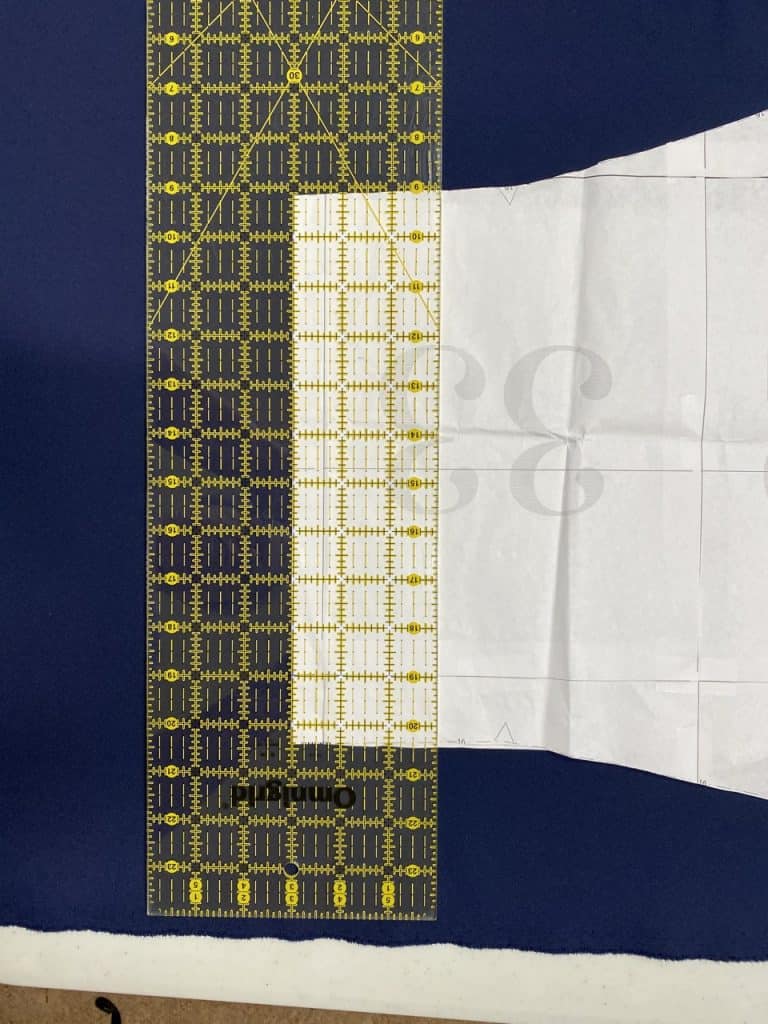 I wanted a 2" cuff, so I added 3" length to the capri pattern.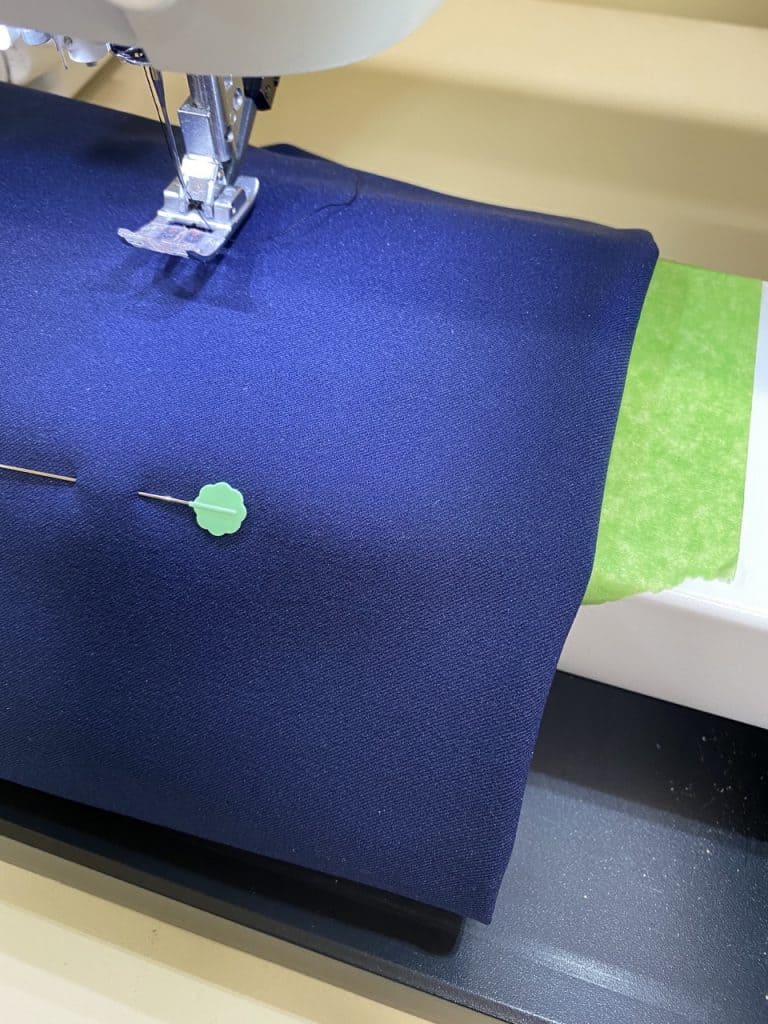 Then I finished the raw edge with my serger, folded it back 4", pressed it and stitched it in place.  I used a longer stitch and slightly stretched the fabric as I sewed to make sure there was room for movement.  Steam pressing takes care of any waviness.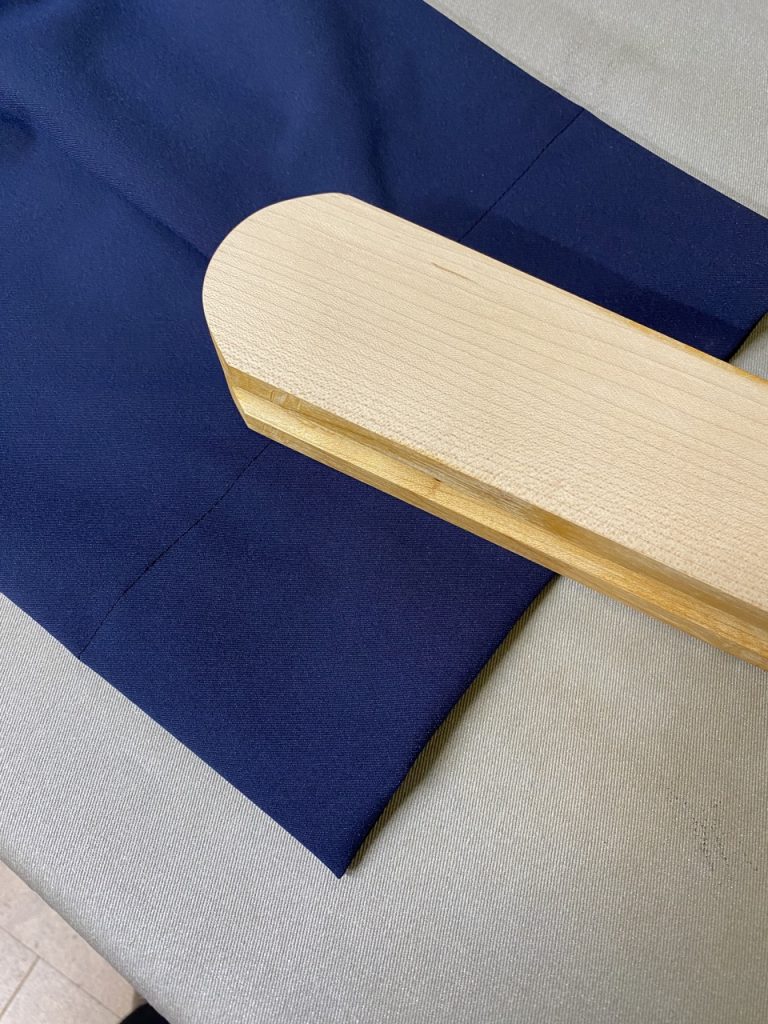 Because the stretch woven doesn't press as sharply as some other fabrics, I used a clapper which my husband made for me.  I steam pressed the hem and held the clapper on the hem for a few seconds.  Then I turned the cuff up so the stitching was just covered and pressed it as well using the clapper to get a sharp crease.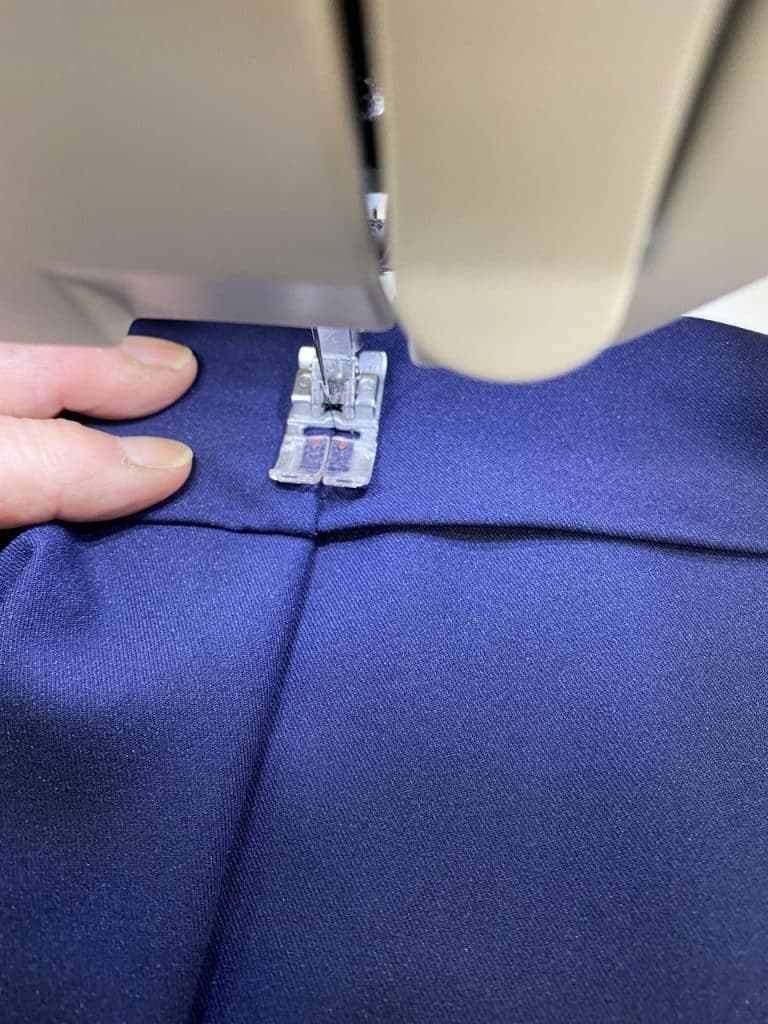 To make the cuff stay in place, I "stitched in the ditch" at each side seam.
How to make slits on your Duet Capris
My final pair of capris have a slit hem.  Again I used Discovery Fabrics' Stretch Woven with a yoga waistband of Yoga Stretch.
I cut a slit add-on from paper 3.5" long with a tapered end which was .5" in length and taped it to the outside edge of my front and back pattern pieces.
Since I will need to use my sewing machine for side seams, I finished the raw edges of the side seams with my serger.  I marked the stopping point with a pin and then stitched the side seams.
I pressed the side seams open – again using the clapper to get a sharp press.  I serged the raw bottom edge then turned it up 2" and pressed.  Finally I stitched the hem across the bottom and up around the slits.  Done!
Three unique pairs of Duet Capris
I now have 3 comfortable pairs of capri-length Duets that I know I'll be wearing all summer.  And there are so many other ways you can make each pair unique with simple additions.  How about adding a lace edge?  Stitching on a row of braid?  Running elastic through the hem?  Installing zippers up the side seams?  Adding big patch pockets on the sides for a cargo look?  Embroidered back pockets for a jeans look?  The only limit is your imagination! 
So if you don't already have the pattern, grab it now and make yourself some capri or shorts length bottoms! You can use my affiliate link to get your copy. Thank you!
Pin this for later!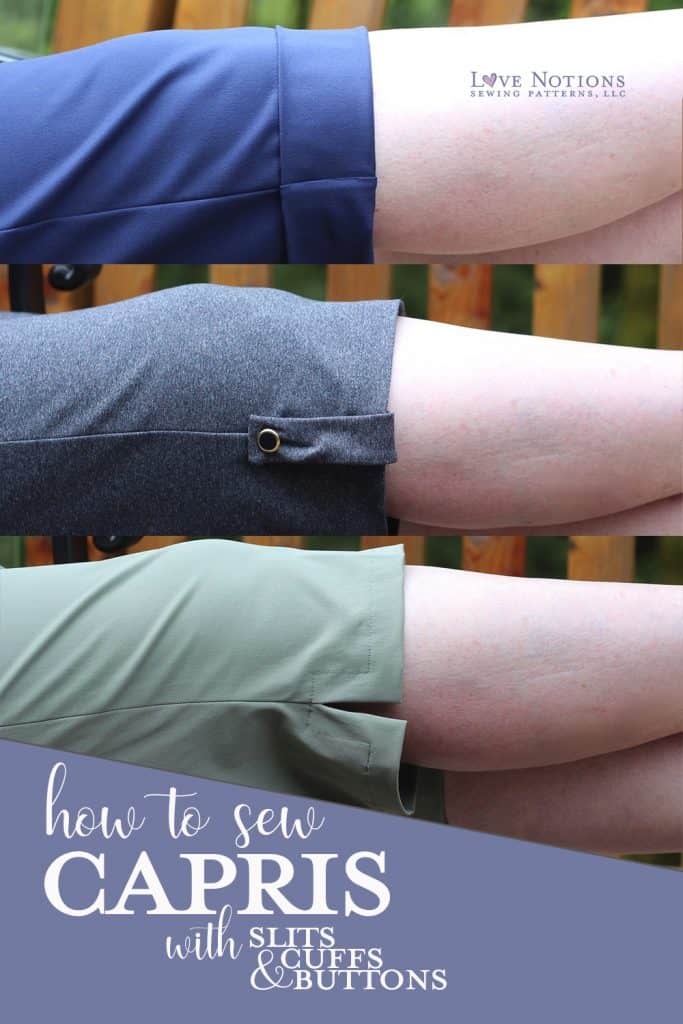 Try these bottoms in capri length too!
[carousel_slide id='397631′]