Tencel, linen, double-brushed poly, challis. If you are looking for some fabric options for your Allegros, you are in luck! Tami is here with lots of options for fabric (and she has thrown in a TON of different ways to style them. Don't miss that faux romper look and be sure to RSVP for the Allegro Sew Along.
Fabric for Allegro
I'm excited to be back here on the Love Notions blog today talking about one of my favorite things to wear and sew.  When Tami mentioned the Allegro pattern (affiliate link) getting a reboot I almost squealed when I heard a jogger option would be added.  The pattern was already so full of options, two skirt lengths, two shorts lengths and a cropped pant but now it's even better with the addition of full length pants and cuffed joggers too.  I have lived in these pants the last few summers and I'm thrilled to be able to recreate them!
Fabric makes a huge difference
For this post, I'm going to dive into how fabric makes such a difference in the look of this pattern.  I sewed up four different pairs of pants in a variety of fabric types to show just how versatile this pattern can look and how fabric plays such an important role in the final product.  The recommended fabrics for this pattern are light to medium weight wovens such as rayon, linen, chambray, gauze, or poplin.  You can also use knits but may need to adjust sizing.  I stuck with the full length pant option and added elastic to the cuffs for two of the versions.  I wanted to do them as close as possible to each other but still add a little diversity to my wardrobe.  I sewed up a size 6 and graded out for my calves according to the size chart.  My waist put me in a size 8 but I chose not to grade out and adjusted my elastic to fit.  One tip- I used two different elastic types, non-roll woven and soft waistband, and I had to cut my soft waistband elastic much shorter than the recommended length because it is so stretchy!
First up….
TENCEL Fabric for Allegro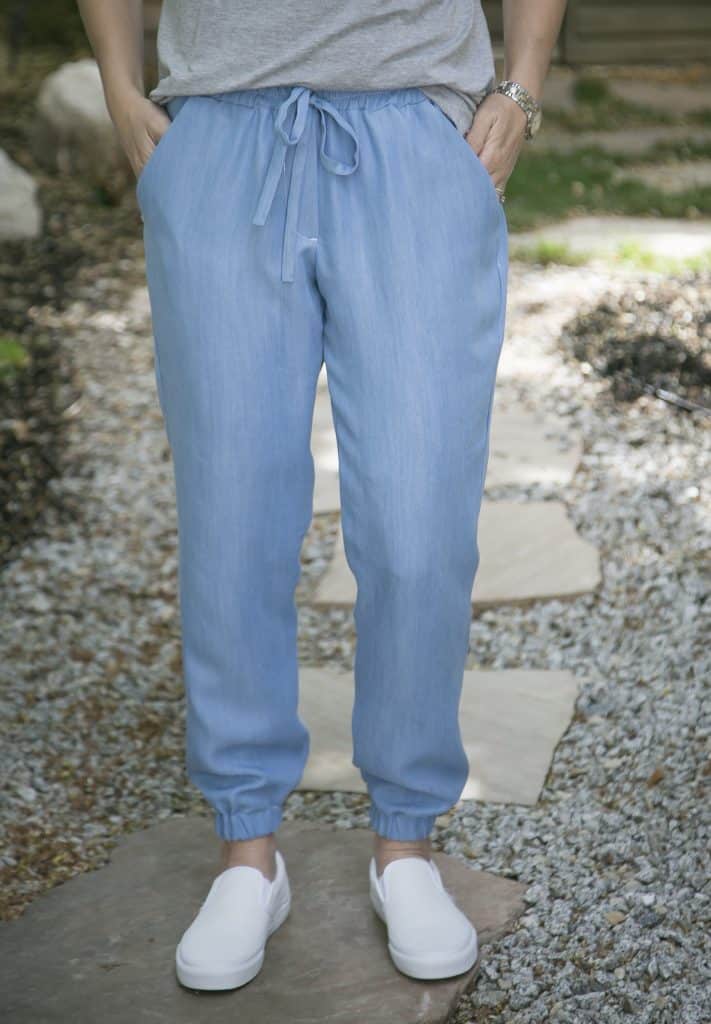 The first pair I'm going to show you is one I've had envisioned since I tried on this pair of joggers last year.  They were unfortunately out of my size and I walked away empty handed.  I grabbed this amazing Lyocell denim from Jo-Ann's and knew I needed to recreate them.  Like every good sewist, my project list is about three times longer than my actual time to sew so this fabric has sat waiting for this project for way too long.  This Lyocell has amazing drape and is very comfortable.  It's heavier than the challis but still much lighter than the linen.  It's a fantastic year round weight.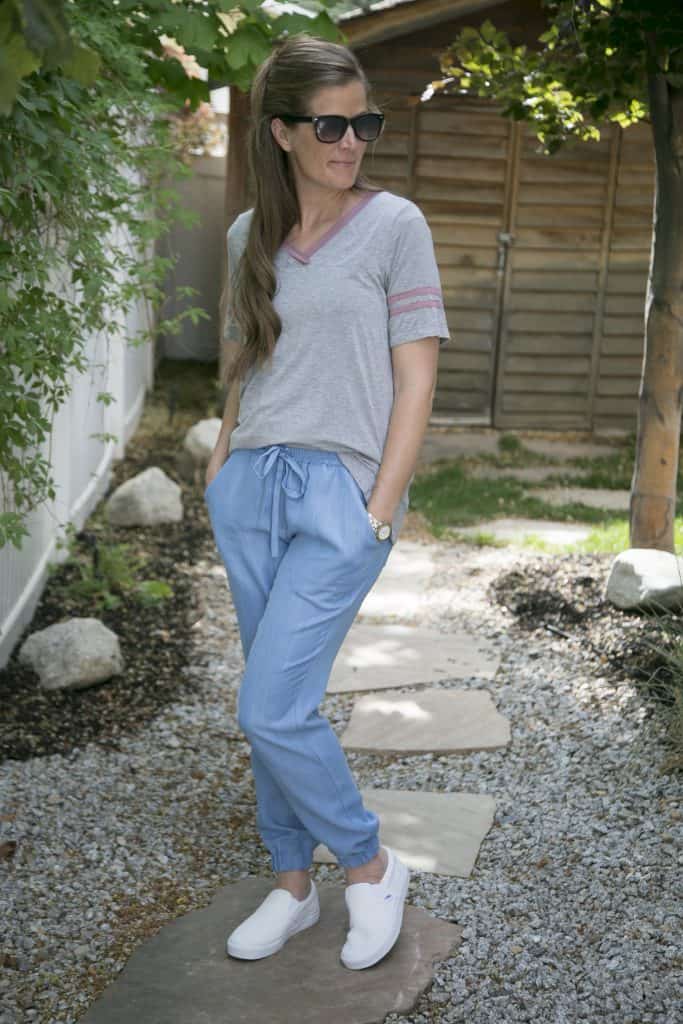 How to Style Tencel Allegros
I styled these joggers with my Game Day Jersey for a fun casual look that works for these long days at home.   These are a great alternative to jeans and will be just as versatile.  I can't wait to pair them with my favorite Rhapsody top if we can ever sneak away for a date night out.
The rest of my fabrics were all sponsored by Raspberry Creek Fabrics.  I had such a hard time picking just what fabrics to use because there were so many that would work great.  Did I want to go safe with a pretty solid challis?  Or would a bold stripe linen be more exciting?  In the end I went with three very different weight substrates to really highlight the variety of styles you can achieve with this pattern.
CHALLIS Allegros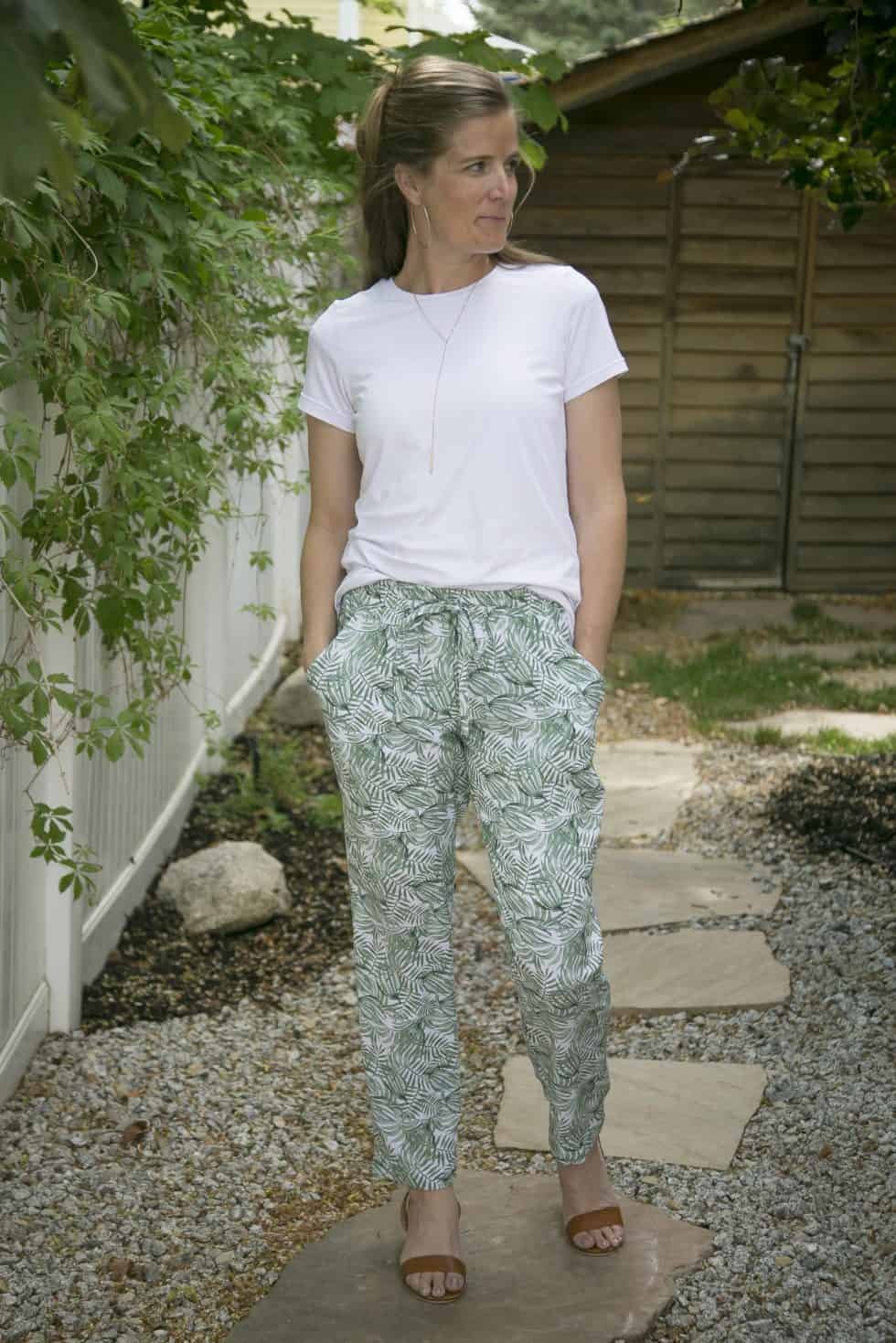 This rayon challis caught my eye when it first released and I've been trying to figure out how to work it into my closet.   This is the lightest weight fabric at 3.6 oz that I used and I love how breezy these are.  These will be perfect for those super hot summer days.  It's got gorgeous drape and I think it's the most forgiving of the substrates I used.  It really flows over the body and is so dreamy to wear!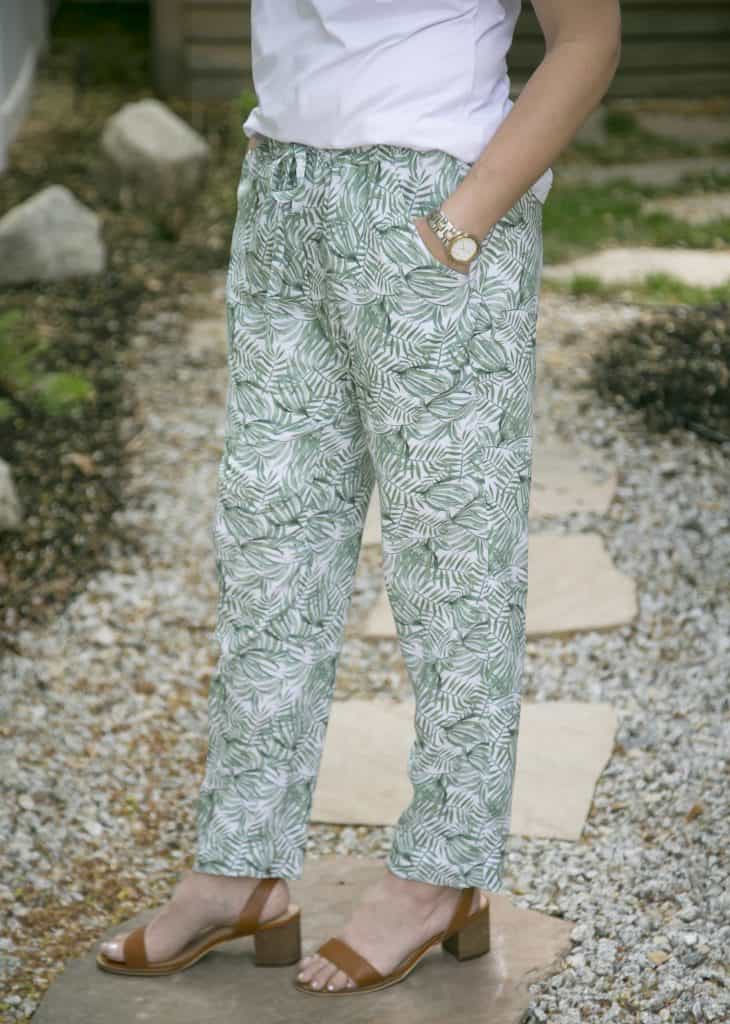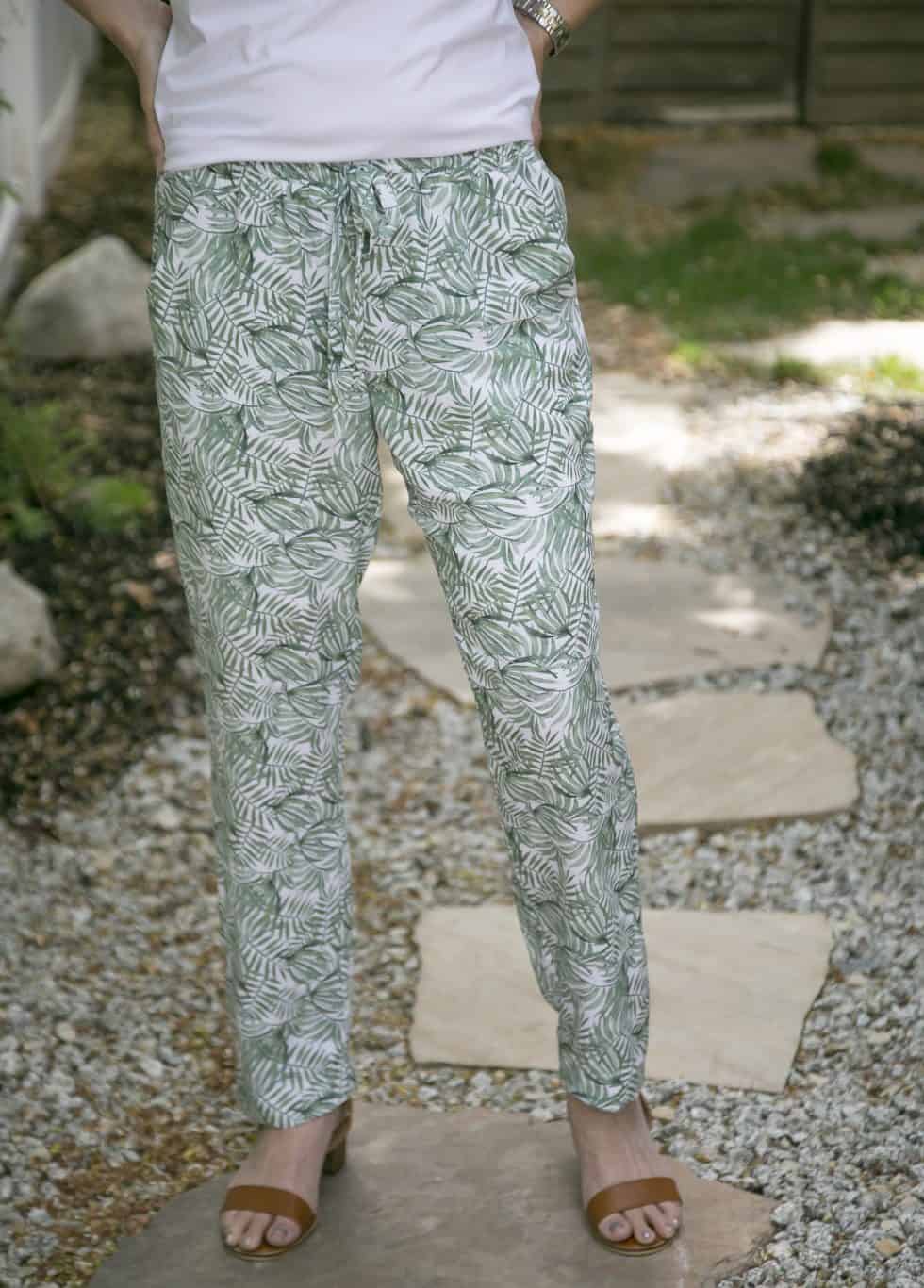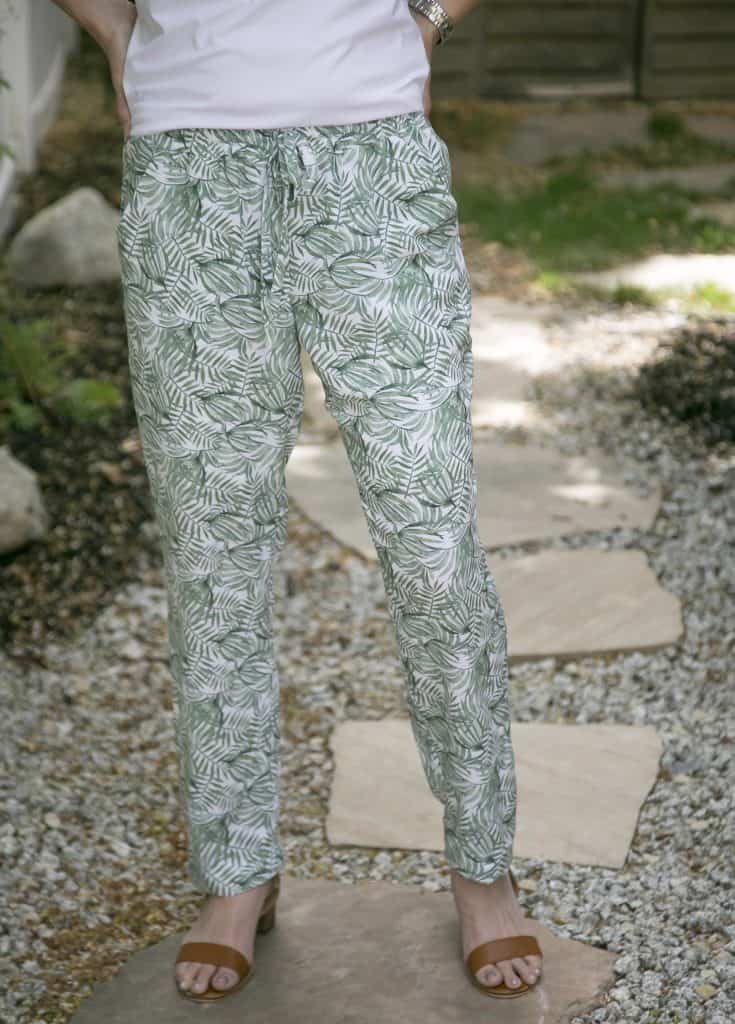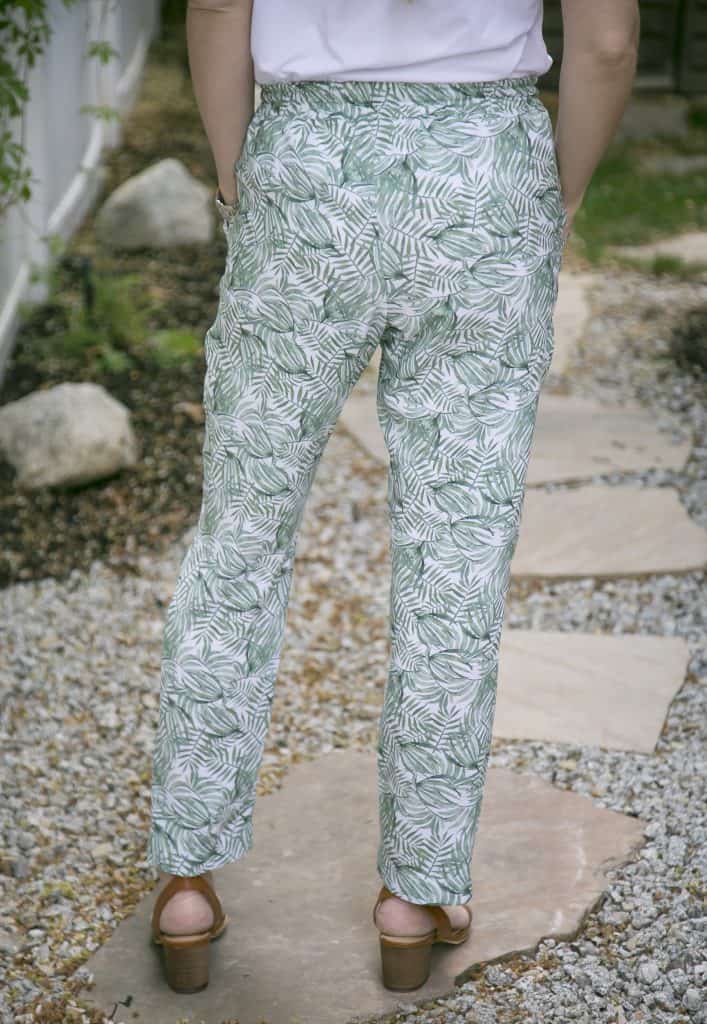 How to Style Challis Allegros
I paired these with a simple Classic Tee in white double brushed poly (this is such a wardrobe staple!).  With cute sandals, this is an outfit that I can wear all summer long.  Just looking at this outfit has me longing for summer barbecues and beach vacations.
LINEN Allegros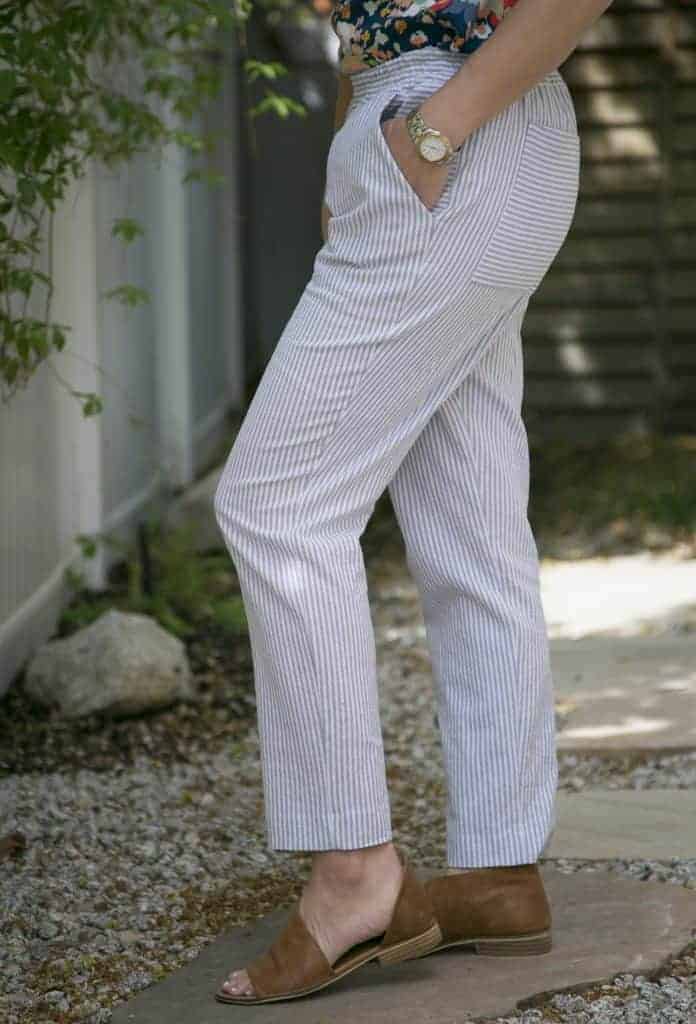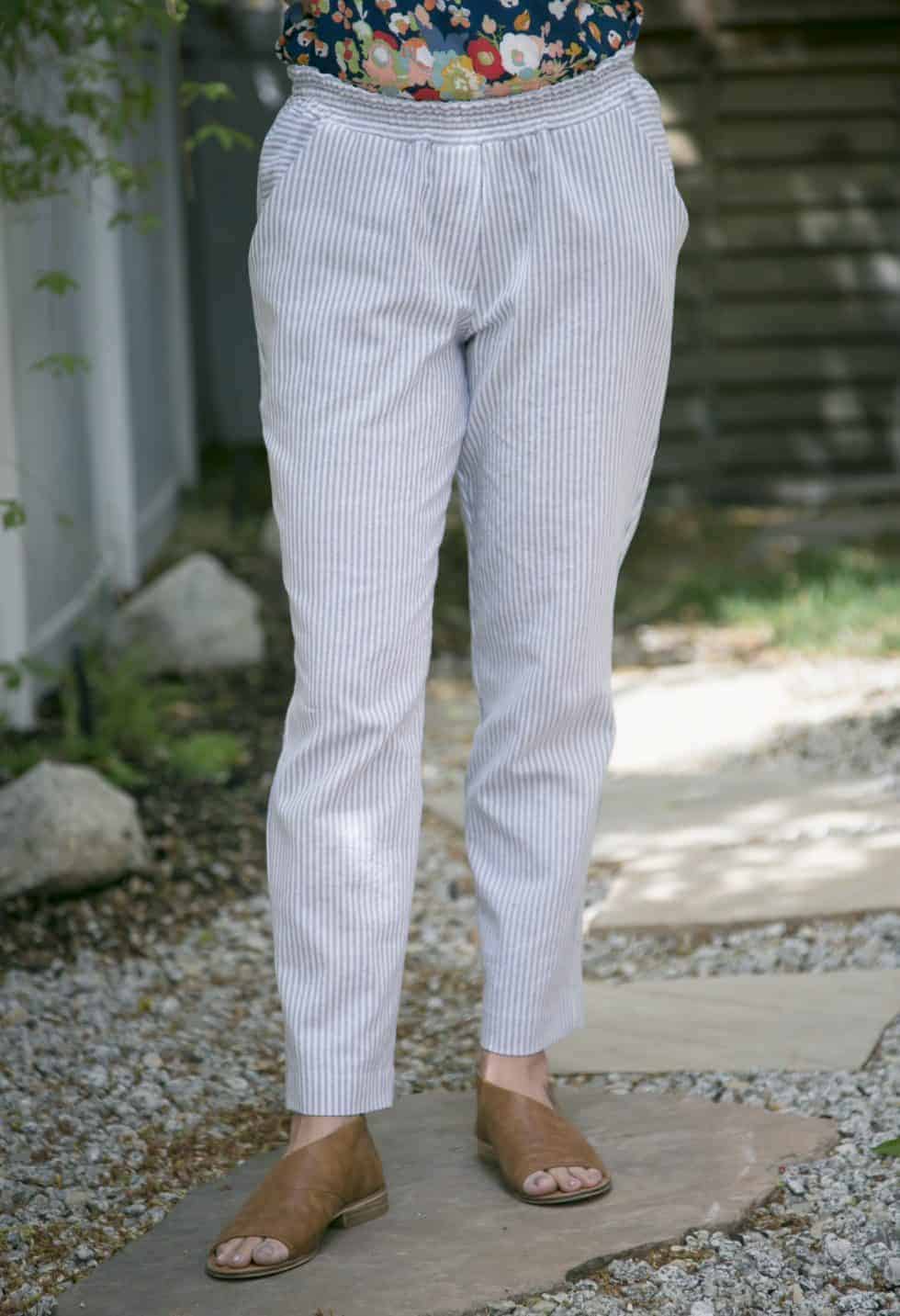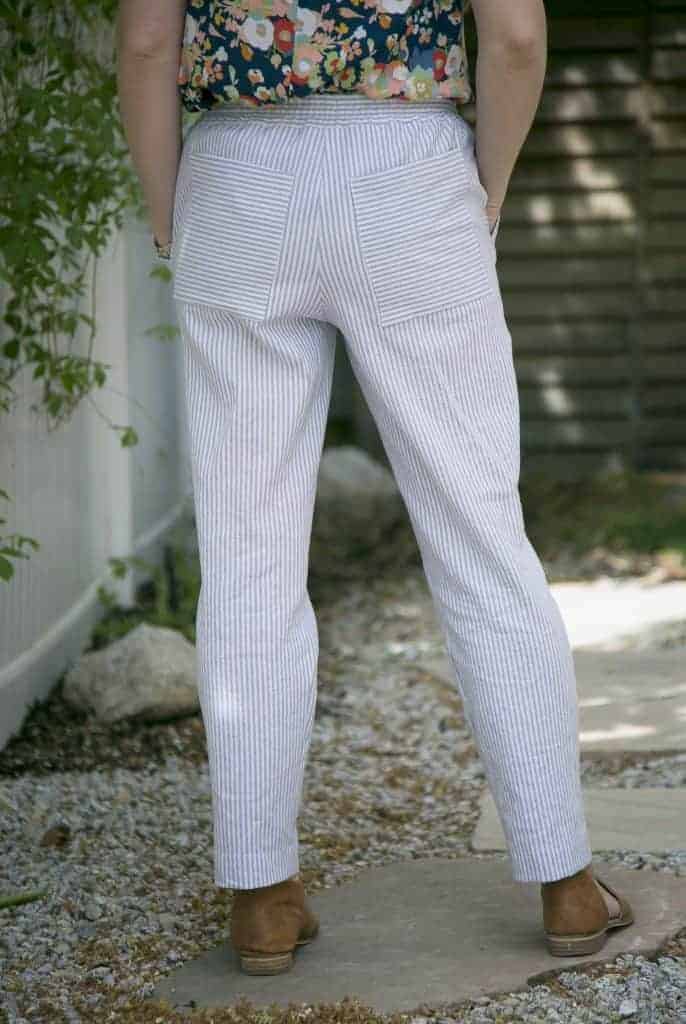 This pattern looks amazing in linen and I knew I had to give it a try too!  I picked this striped Robert Kaufman linen and had a little fun playing with the stripes with my pattern pieces.  This linen is heavier weight at 5.3 oz.  You can see that it doesn't have the drape of the others but it also hides things a bit more too.  This fabric gives these pants a straighter fit.  I think the structure would work especially well for the shorts or short skirt version of this pattern.
Styling Linen Allegros
This outfit makes me feel so happy!  I paired these pants with a Harmony Top in rayon and love how bright and cheerful it feels.
DOUBLE-BRUSHED POLY Allegros — a knit!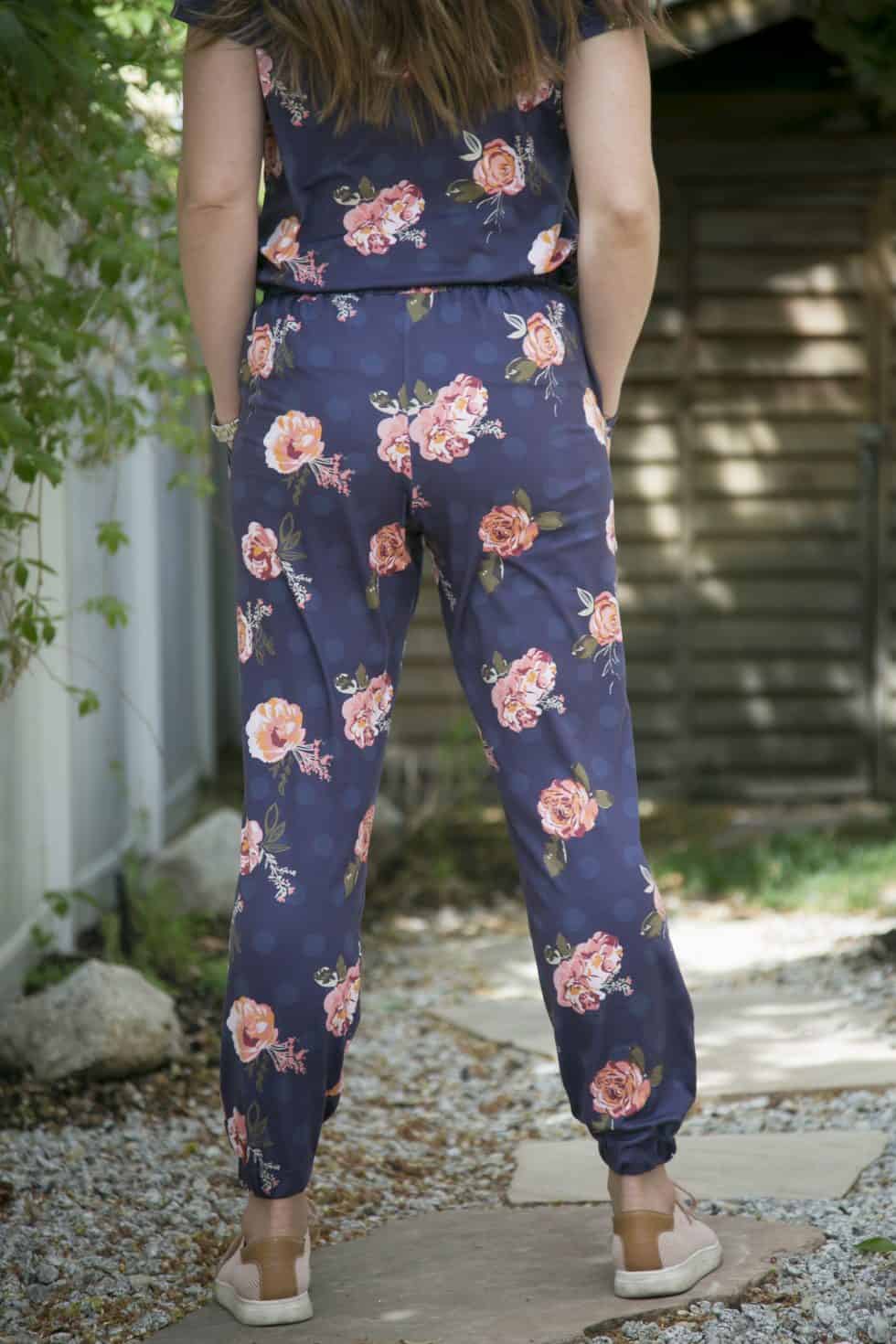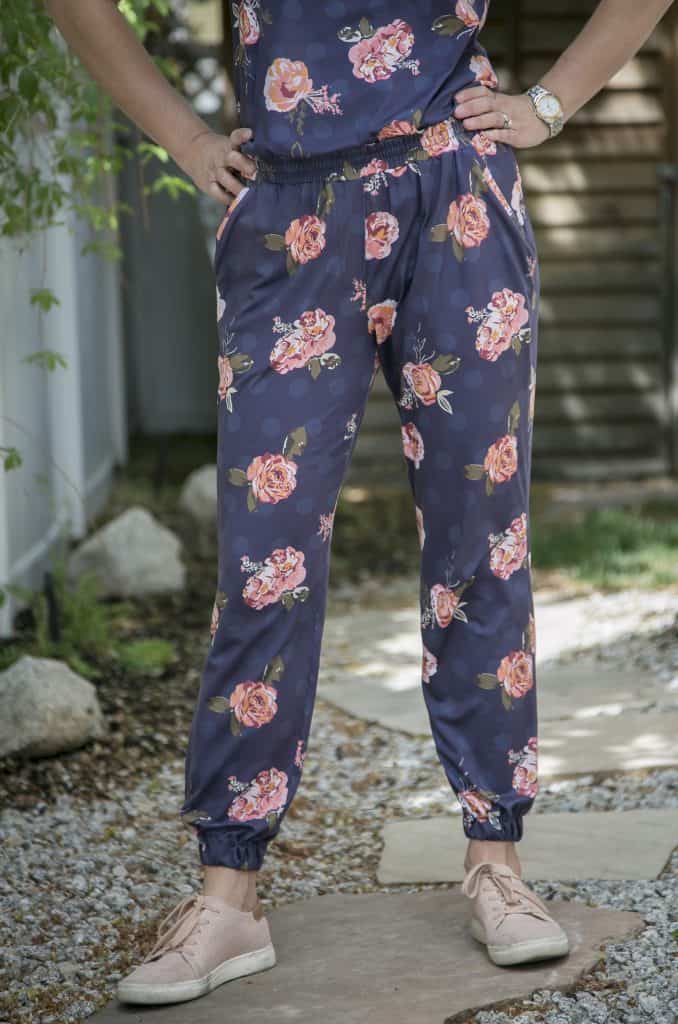 For my final pair, I switched things up and used a knit!  What?!  I used this amazingly soft double brushed polyester for a pair of pants perfect for lounging.  I love the feel of double brushed poly and wear it year round.  It has the drape of a rayon but also flows nicely over lumps and bumps.  It's lightweight and the stretch makes them so comfortable.  I didn't adjust my sizing at all and love the fit of them.  You may find that you want to size down when using knits with this pattern but I am super happy with these.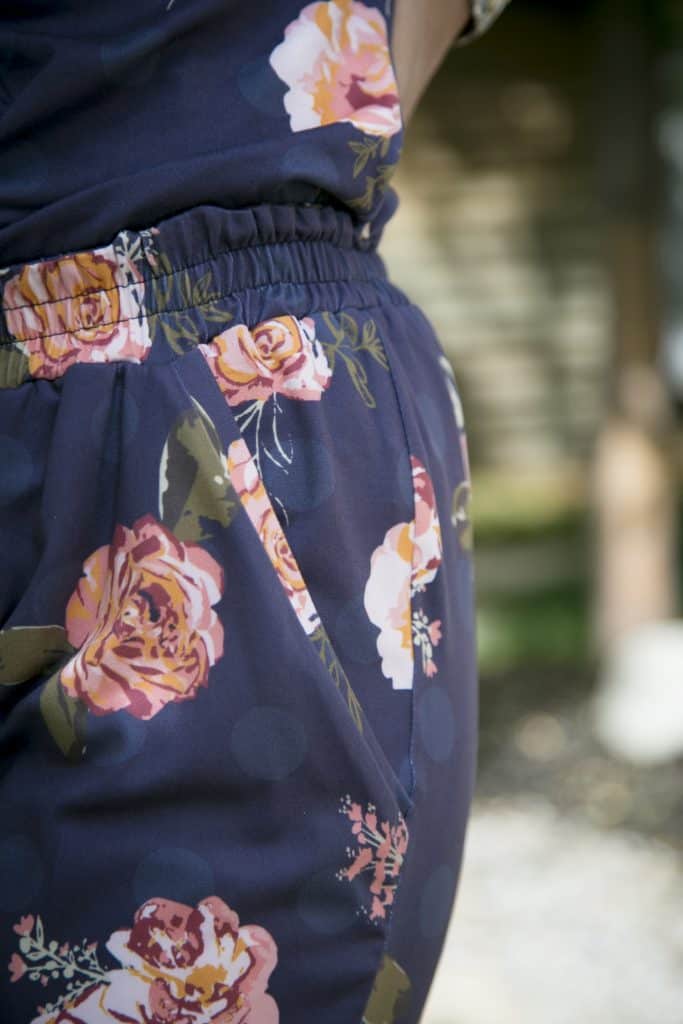 I did make one little adjustment to these.  I added a band to the pocket to keep it from stretching out.  I cut a piece of fabric 1.5″x the length of the pocket opening minus about an 1″.  You'll want to slightly stretch this piece as you sew it between the pocket lining and main pant front to bring the pocket in a touch.
Styling the Double-Brushed Poly Allegros
The Allegros are the perfect base to create a faux jumpsuit or dress and I knew I needed to include one in my looks.  These are paired with another Classic Tee for a casual jumpsuit look without the inconvenience of getting undressed to use the restroom.  This is the ultimate in stay-at-home comfort!  Head to toe brushed poly- yes please! 
For more faux jumpsuit or dress outfits, I think you can pair so many Love Notions tops with this pattern.  The Melody Top would look adorable paired with the shorts option or a Summer Basic Tank with either skirt would be summer perfection!
(Psst… speaking of one-piece garments like rompers and jumpsuits, I heard Love Notions is going to be releasing one soon!)
Allegro Sewalong
If you are looking for some more support as you sew up your Allegros, be sure to join the upcoming Allegro Sew Along with Kelly. She will walk you through all the steps from fabric, to sizing, to sewing, to hacks! Click here to access the Sew Along content. The event will happen live May 18-23, 2020, but will be available permanently on the Love Notions blog and youtube account.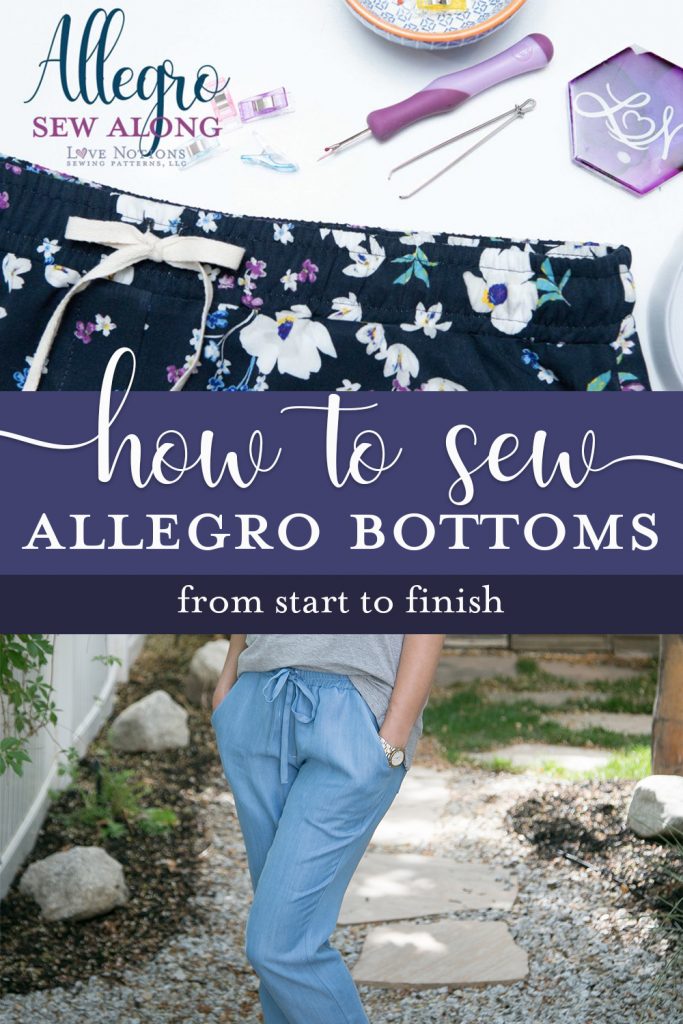 It's been so fun sewing up and sharing my Allegros and now I have a great start on a versatile and comfortable wardrobe for this season.  Make sure you grab your copy today!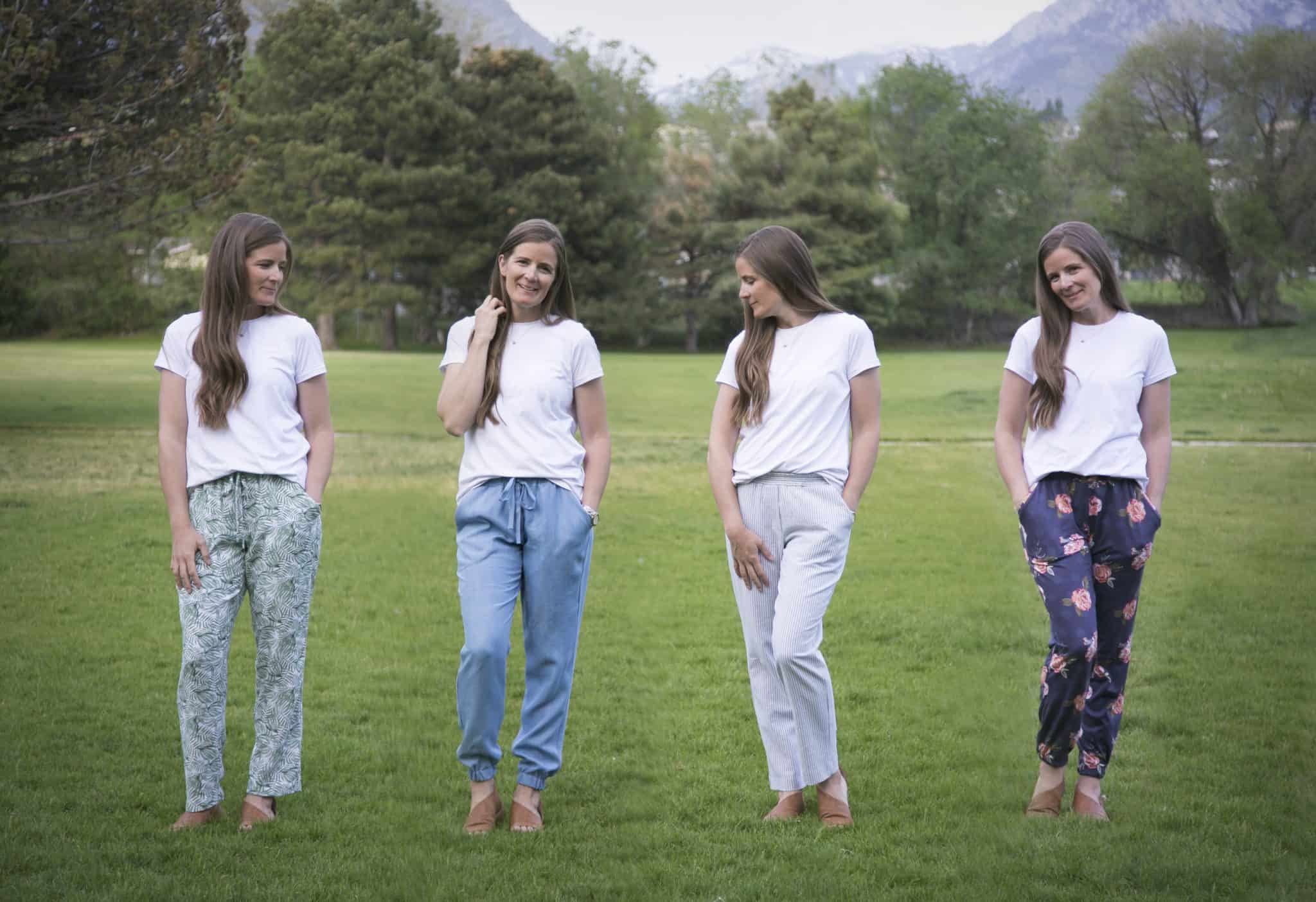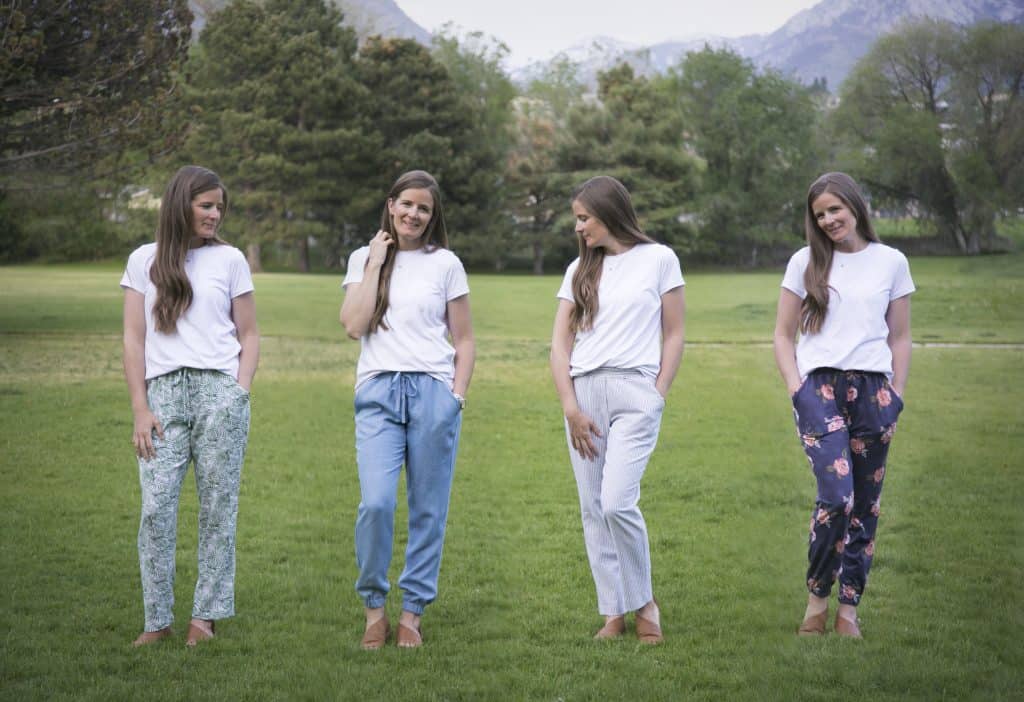 Pin this for later!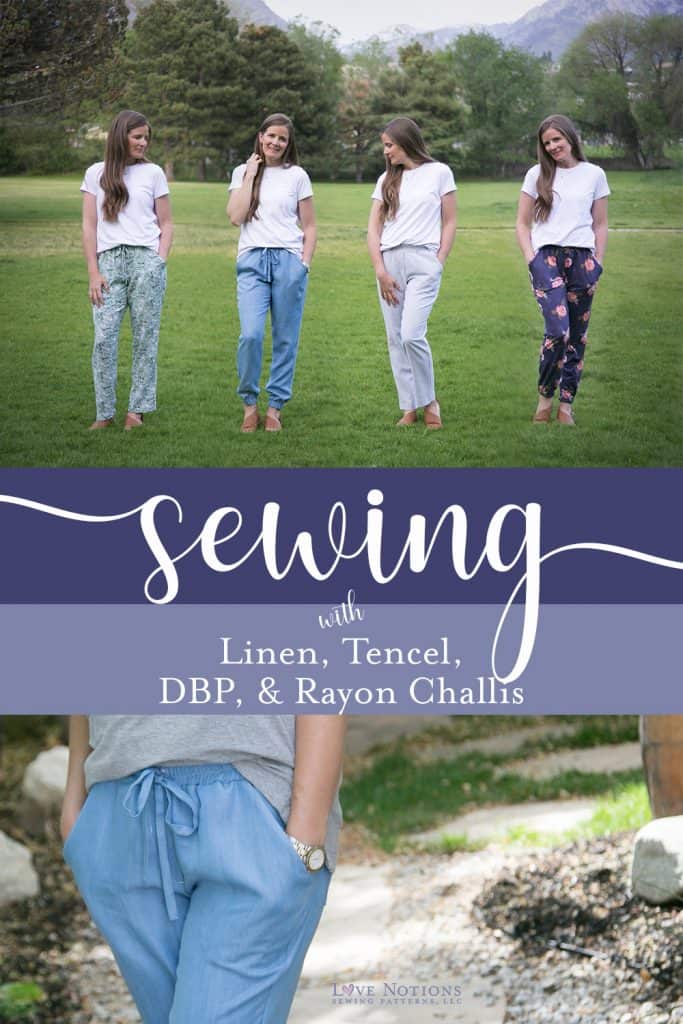 Shop Now
[carousel_slide id='397631′]