Have you bought the Melody Dolman pattern but are now wondering what fabric to use? Never fear, the Love Notions blog is here! It is remarkable how changing the fabric choice can greatly affect the style, drape, and structure of your Melody. Guest contributor Katie Grimm is here to help demystify the fabric options for the Melody, as well as give some direction on difficulty level. Read on for her reviews of FIVE different fabrics on FIVE different Melodies. (Can we call that an "Opus of Melodies"??)
The Melody Dolman is here and it's so good!  Just like every song needs a melody, every wardrobe needs a Melody Dolman.  You can purchase it HERE.  Featuring a dolman sleeve, camp collar, and shirttail hem, the Melody is such a versatile top!  
Fabric for the Melody Dolman
Let's talk fabric for the Melody Dolman!  I was very excited about this pattern and it doesn't disappoint.  When I get ready to test a new pattern, I always consult "the stash".  Sewing with wovens was my first love, so I have a nice selection. I quickly realized that I had a huge pile of options for the Melody with it's recommended fabrics of light to medium weight apparel wovens such as linen, chambray, rayon, and shirting.  I'm pretty sure I spent more time deciding which piece to use than I actually spent sewing! I finally settled on a striped linen and loved how it turned out. I knew I would need a couple more, so decided to give it a try in each of the recommended fabrics.  All of these fabrics were purchased by me from Raspberry Creek Fabrics with the exception of the stretch crepe, which they generously sent me to try out.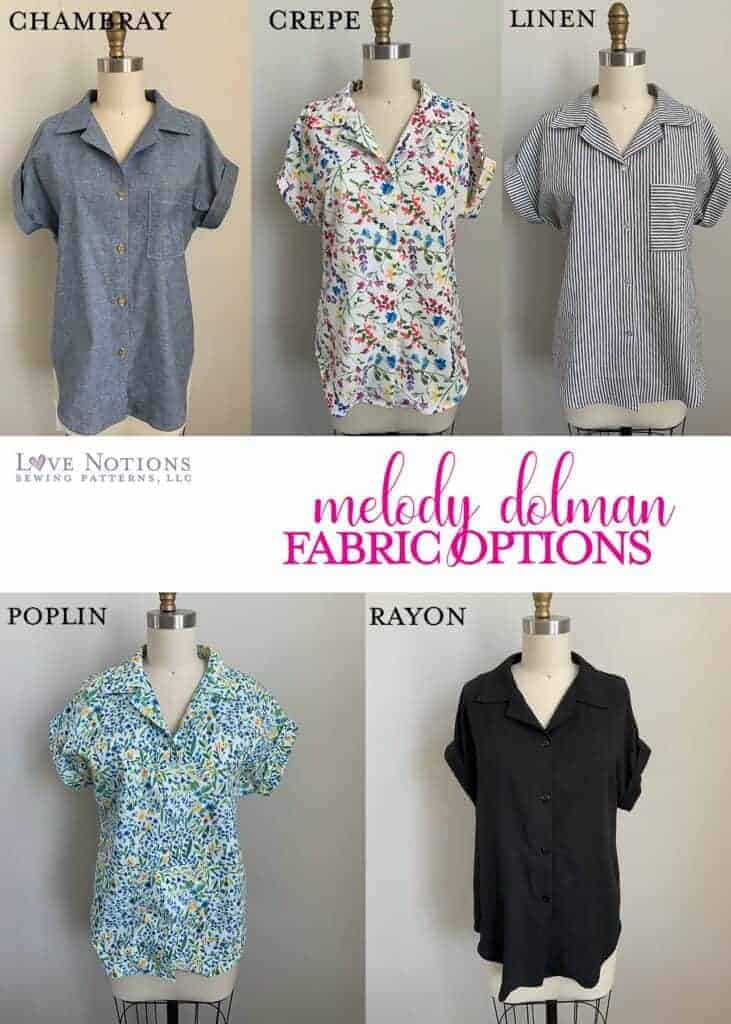 Melody Dolman Fit and Fabric
For each top, I made the same size small.  While the fit is great on all of them, there are a few differences depending on the weight of the fabric.  For example, it's much easier to tie the rayon challis version than the linen. It drapes lower and I don't even need to unbutton the last button to have a nice tie.  Here are 5 versions of the Melody Dolman in different fabrics – I've ranked them from heaviest/most structured to lightest/least structured. I've also included a few tips for construction as well as styling suggestions.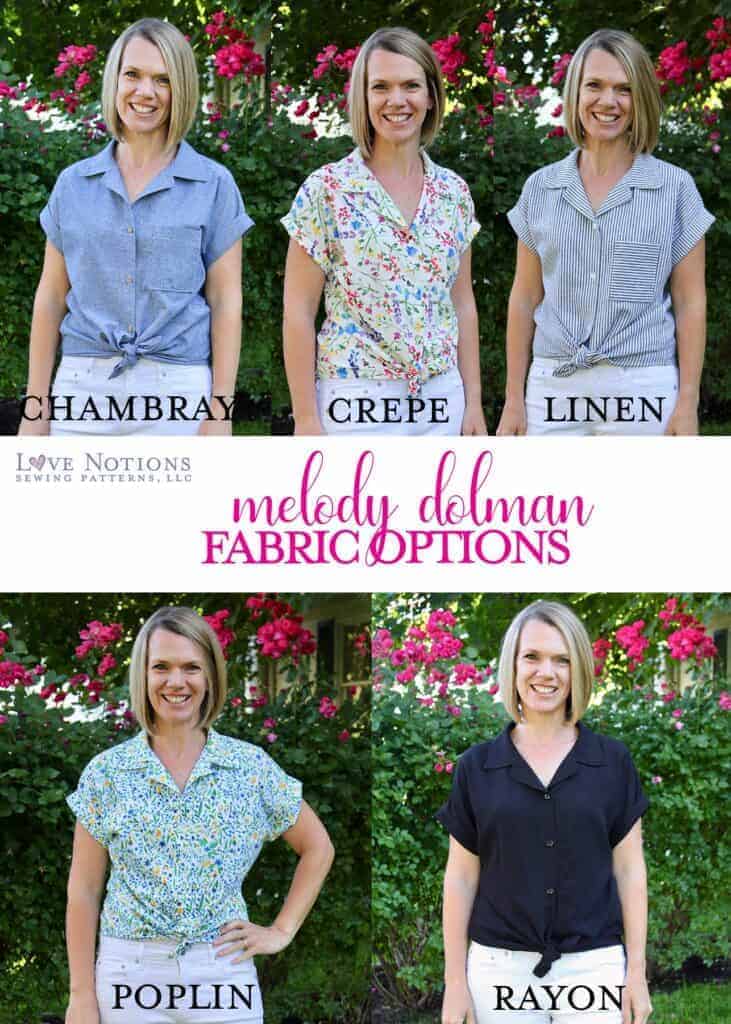 1. Linen
This Black and Ivory Yarn Dyed Essex Linen fabric is 55% linen and 45% cotton.  I initially purchased this fabric for another project and was worried it would be too heavy for this pattern.  But I kept being drawn to it and it was perfect. In fact, I think this is my favorite version! Cool, crisp, and comfortable it was easy to sew and pressed up beautifully.  It holds a nice shape and looks great untucked, with a front tuck, or the front tie. The stripes lent themselves to some fun details on the sleeve cuffs and pocket as well. I'm excited to try this in a rayon linen soon and I think it will be dreamy!  It looks fabulous styled with a Sybil pencil skirt, or with your favorite jeans!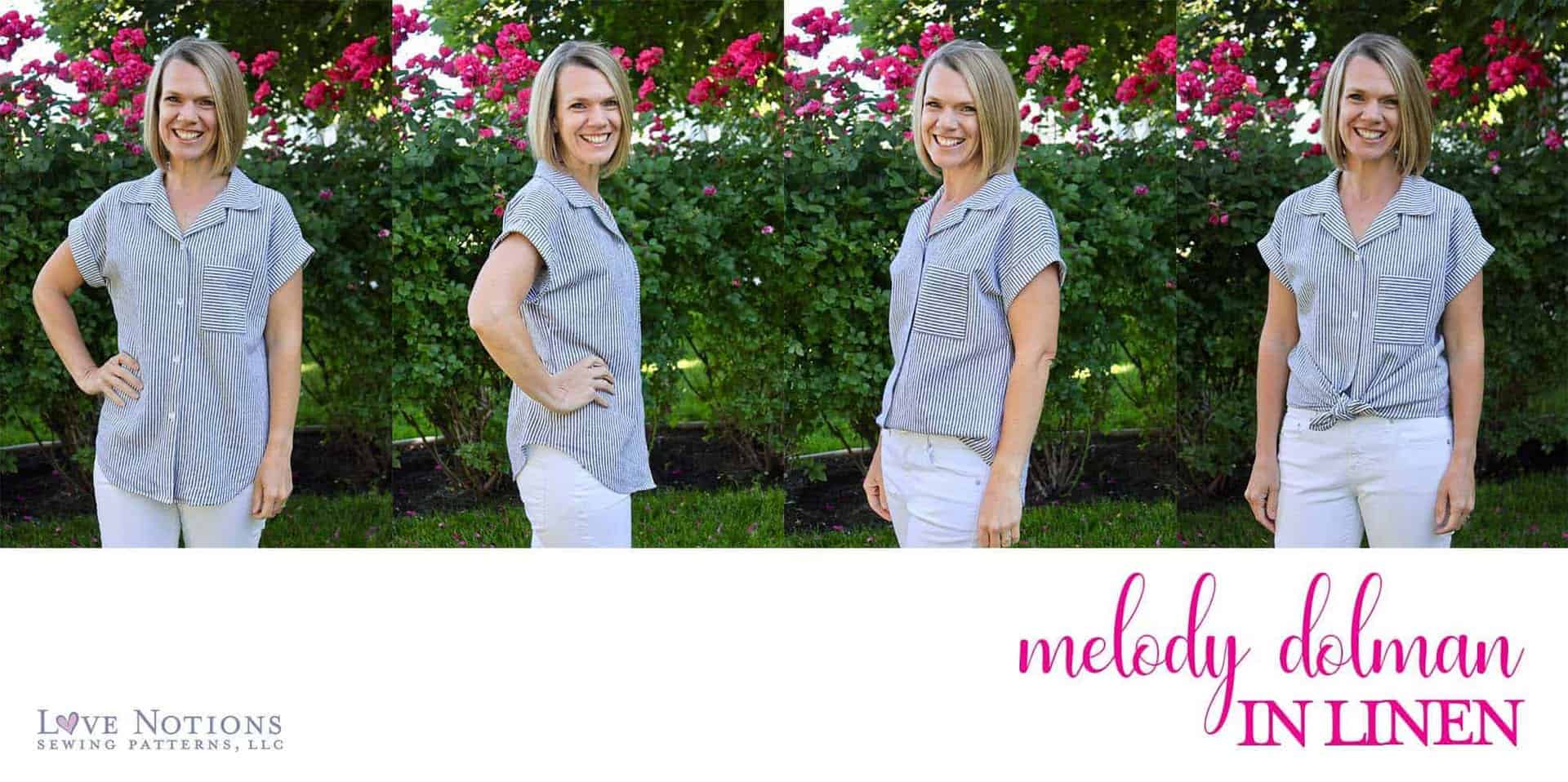 2. Chambray
I used this Indigo Blue Medium Weight Chambray.This is 100% cotton and has a nice weight.  It's not quite as heavy as the linen, but holds its shape well.  I imagine with time and washing it will continue to soften. Like the linen, it was easy to sew and press and also looks great both untucked, tied, and with a front tuck.  With its neutral color, this would look amazing layered over a Summer Basics Dress or with a Ravinia Skirt.

3. Poplin / Shirting
This Petite Ditsy Floral Lightweight Poplin is a new base fabric that Raspberry Creek Fabrics has started carrying and they print their amazing CLUB designs on.  It's 50% cotton and 50% polyester which cuts down on the wrinkles!! Seriously though, I pulled it out of the dryer and barely had to press it.  Slightly lighter than a quilting cotton, it's a great weight for this blouse. It's perfect for layering too. You can throw a cardigan or denim jacket over it and take it all the way through fall!  This type of shirting is a great choice of fabric for the Melody. It's easy to sew and doesn't shift, but it still gives a little more drape than a more structured fabric like the linen. This would be super cute paired with an Allegro skirt or Sabrina Slims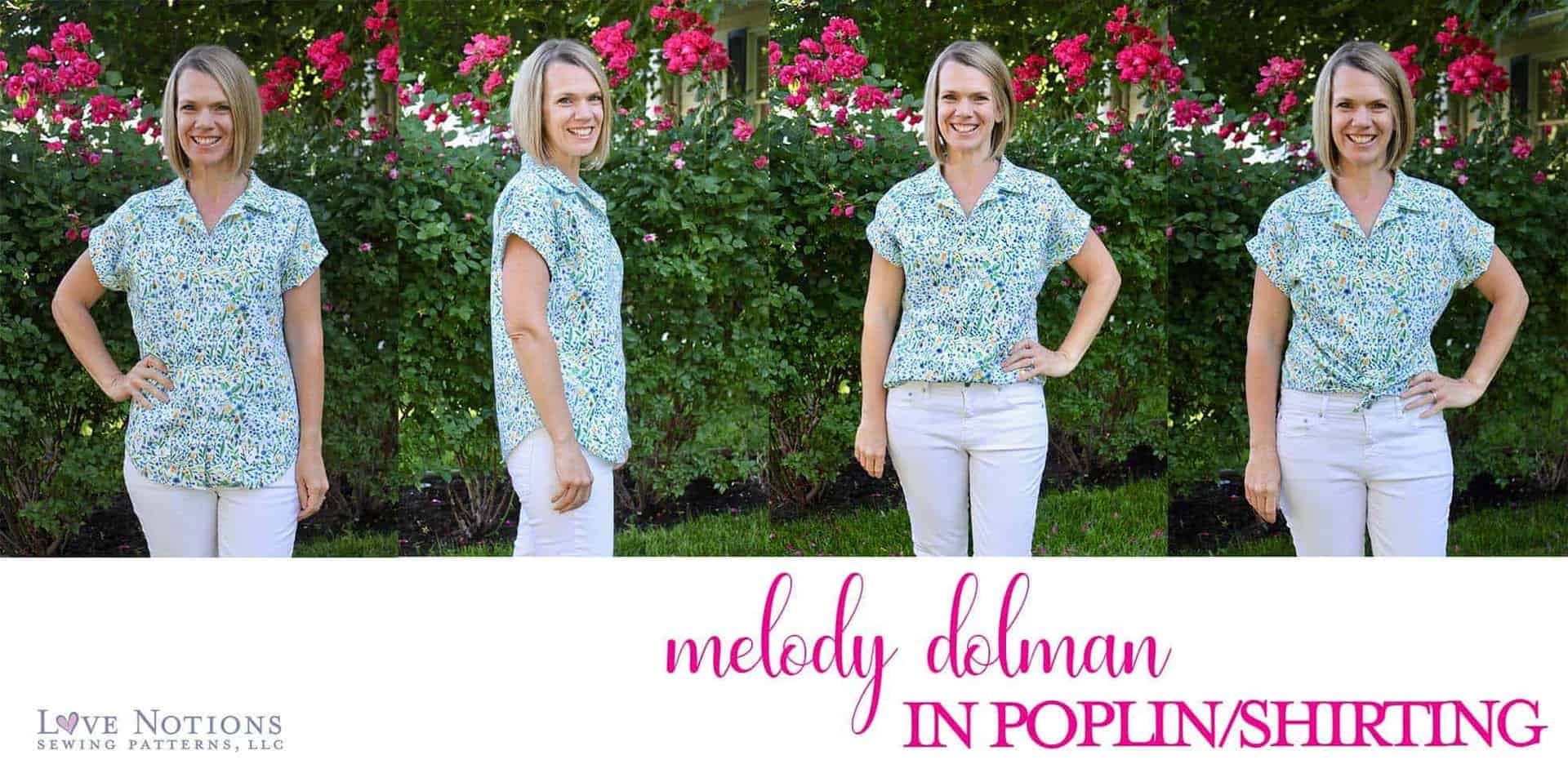 4. Crepe
This Wildflower Stretch Crepe is also a new base fabric that Raspberry Creek has started carrying with their CLUB design prints.  It's 98% Polyester and 2% spandex. The stretch isn't overly noticeable but it does give it a little extra body.  Because of the polyester, it doesn't wrinkle – at all! But this also was a little challenging to get it pressed just right.  I highly recommend using a pressing cloth so you don't melt your fabric! This fabric has beautiful drape and since it's a got a little more weight to it, it pulls the length down a little longer.  It also has the crepe texture which gives it a little more dimension. I didn't have any trouble with the upper collar stretching out, but this is one that you could add interfacing to both collars if you wanted.  You could also extend the interfacing piece to the size of the facing which might help the lapel portion of the collar lay better. This would look great with a pair of Duet Trousers!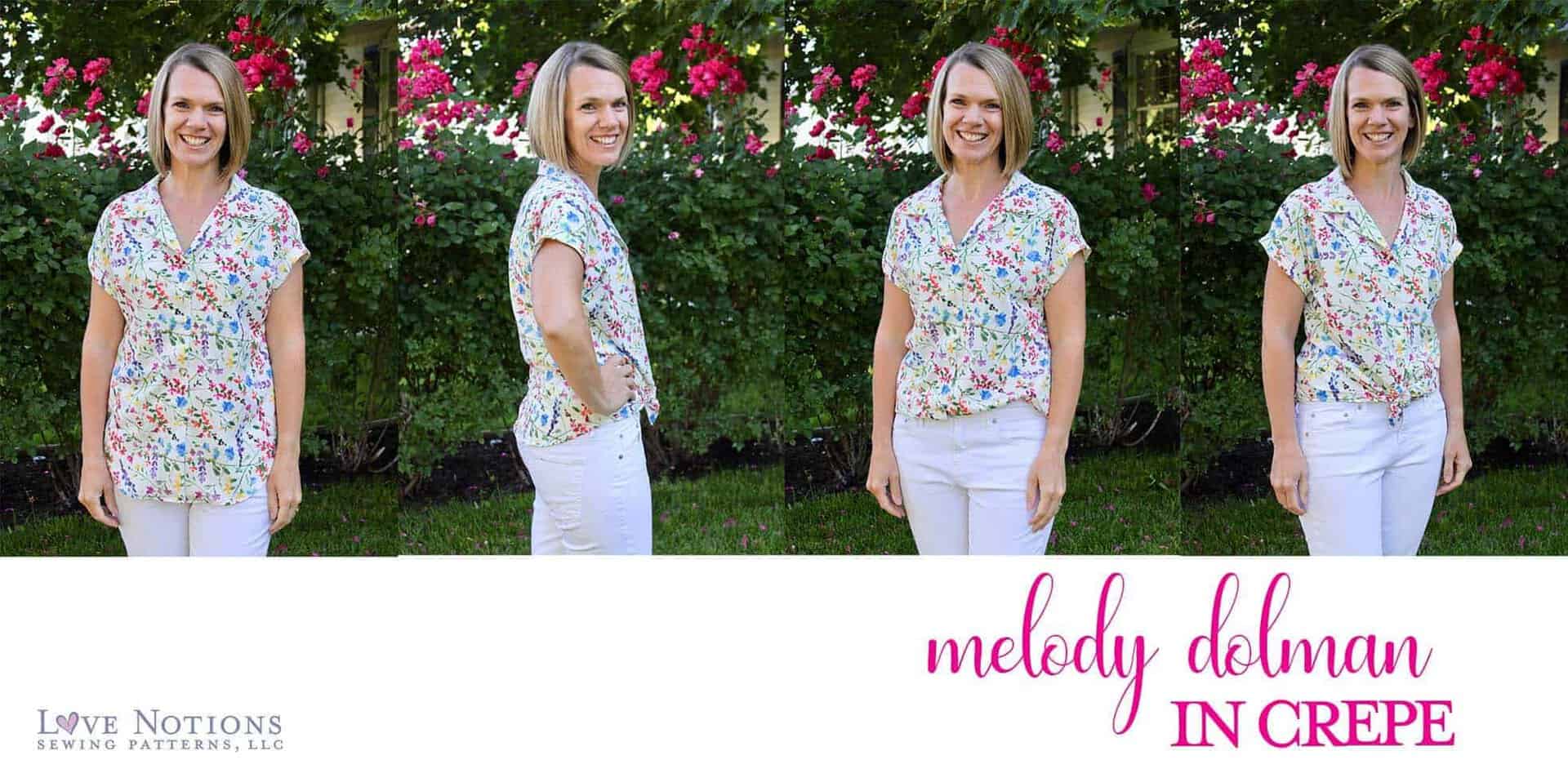 5. Rayon
Last, and most lightweight of the fabrics I tried is a 100% rayon Black Rayon Challis.   Rayon challis is one of my favorite fabrics to sew mostly because it has such beautiful drape and feels so good on! It's cool and breezy and easy to press.  The downside is that it can be a little shifty when sewing. The nice thing about the Melody is that it has a grown on facing which cuts down on your pieces.  I used a SF101 interfacing, made sure to staystitch, and it came together great! This is a great place to interface both the upper and under collar pieces. It will help the collars line up and prevent stretching as you attach the collar.  And don't forget to staystitch!! As with the crepe, if you desire a little more stability in your collar placket, you can extend your interfacing on more of the facing piece of the front. If you are new to sewing wovens or collars, I might suggest sewing one with a more stable fabric to begin with, but you can get beautiful results with rayon with a little practice.  I'm planning to make a pair of Allegro pants to go with this one for a nice faux jumpsuit outfit!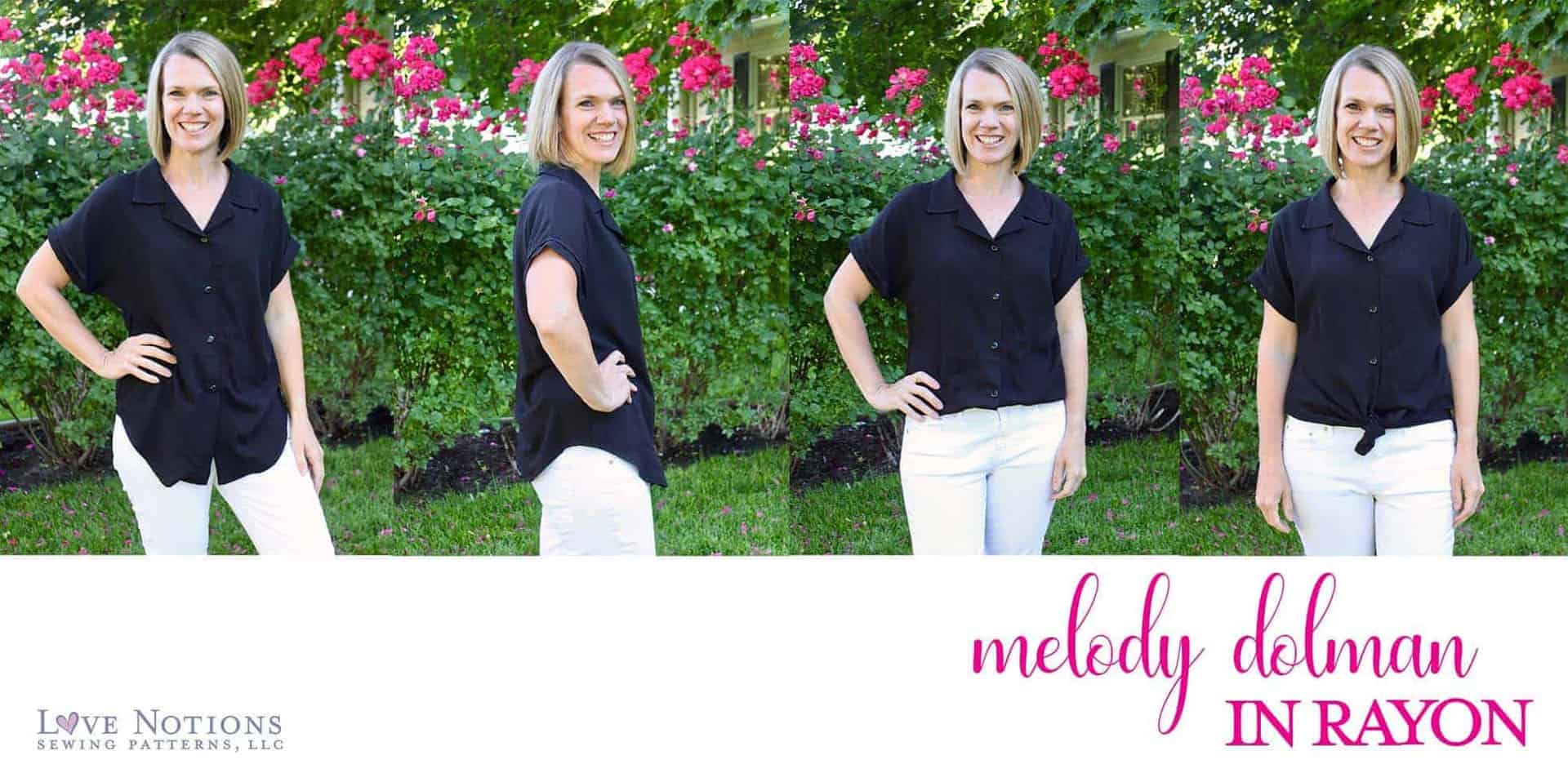 Melody Dolman Styling
As you can see, there are so many options when it comes to the Melody Dolman.  It's an extremely versatile top and comes together quickly. It's a great top to start with if you've never sewn a collar before.  Linen, chambray and shirting are going to be your best options for beginners, but with a little practice (and patience) you can conquer the drapey wovens!  If you want to see some more ideas for styling, you can check out my blog post HERE.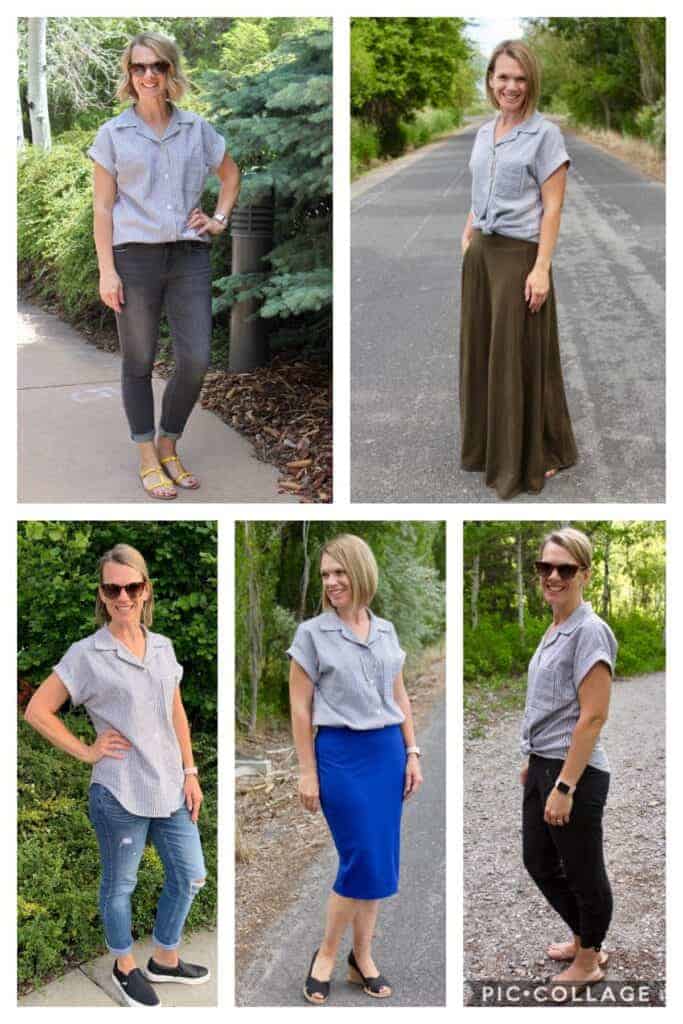 You can also follow me on Instagram @madebykates for more Love Notions inspiration.  Happy Sewing!