Today's blog is geared toward beginner-friendly patterns, fabric, and notions. However, if you are a more experienced sewist, I bet you'll want to take a scroll through, especially if you love pretty fabric and the chance to win a game-changing set of sewing scissors. Additionally, this post shows off the newly updated Ravinia Skirt — now available in sizes XS-5X. Big thanks to fabric sponsor Raspberry Creek and the Favorite Things Blog Tour which inspired this post.
My Favorite Beginner-Friendly Patterns, Fabrics, and Notions
It might be time for a post on beginner-friendly patterns, fabric, and notions because, from my point of view, the sewing world seems to be bursting with all sorts of newer sewists. Is that you?
Maybe you've been sewing since childhood, but are coming back after a hiatus. Maybe you've struggled to find clothes that fit in ready to wear stores and are ready to learn how to make them yourself. Maybe you've bought a sewing machine to make masks during the pandemic and now are interested in branching out in your new hobby. Maybe you needed a calming or satisfying hobby during quarantine and borrowed your in-law's machine.
Regardless of the way that you found yourself sewing, I am glad that you are here! Welcome! This post is all about my favorite notions, fabrics, and patterns for sewists on the beginner side.
My sewing story
I know that I've said this before, but sewing kind of saved me. I stumbled into sewing (or was dragged into it) by my sister after it was clear that I needed a "thing."  I needed an interest that was all my own — one that would engage my mind and fulfill my desire to do something beyond taking care of my house, my husband, and my little girls. I needed something that was just for me.
Two years later, I consider myself a more intermediate sewist, but I still have the beginner mindset and understand how overwhelming it can feel to jump into the deep end with a hobby as expansive as sewing. There are just soooooo many options! Sooooo many types of fabrics to learn about, soooooo many patterns to weed through, soooooo many gadgets and gizmos to understand. So this post is a simple crash course for any newbie that wants to get a few suggestions on where to start.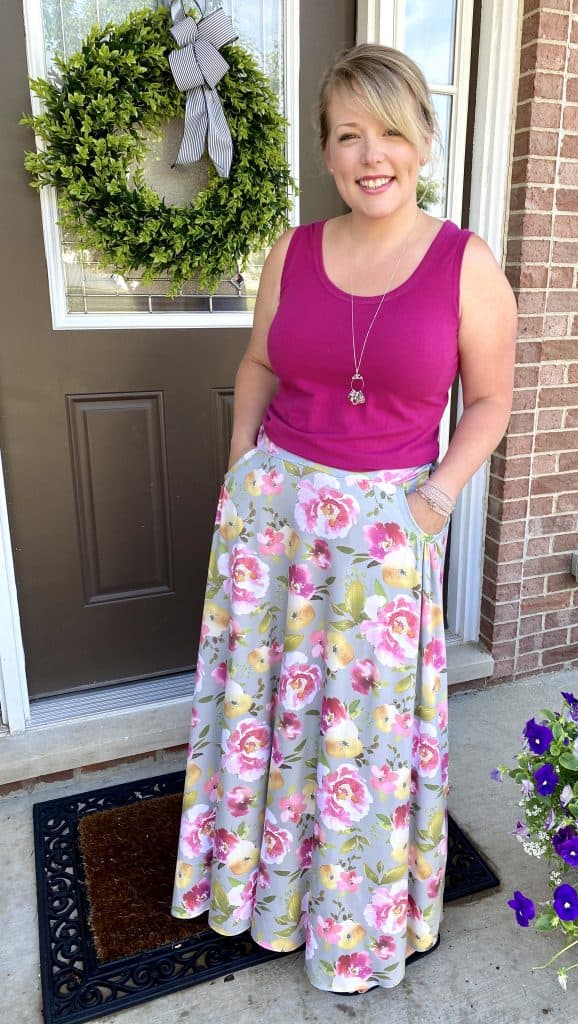 My Favorite Beginner-Friendly Fabrics
Double-Brushed Polyester
The very first fabric that I ever sewed up all by myself was double-brushed poly, or DBP. I made a Laundry Day Tee and was just THRILLED with the results — there is very little that is as exciting as your first sewn garment! The inside of the garment was a MESS and the neckband had tons of puckers but I didn't care — I made a THING! All by myself, AND it actually looked cute on my body. Talk about a beginner-friendly fabric!
Double brushed poly is a knit fabric that has quite a bit of stretch to it, as opposed to a woven fabric which usually has no stretch. Typically, people start sewing using woven fabrics like quilting cottons, and then move on to the stretchy knits from there, but I am thankful that I started my garment sewing journey with knit and here's why:
Knits are forgiving when it comes to FIT. Clothes that are made from knit fabric like DBP are going to be easier to wear right off the bat and will have more leeway if you get the seam allowance wrong, or if you have to cut the neckband off a couple times before you get it right, or if you accidentally choose the wrong size. So yes, cottons and woven materials might go under your machine a little easier, but newbie garments made from fabrics like DBP will actually get worn and those mess-ups are often easily hidden.
Here are some more reasons why I think DBP is a great beginner-friendly fabric:
"Brushed" texture on both sides helps it stick to itself when you are sewing seams, it's not slippery
Has lovely drape and can "skim" over body with the right patterns
It's super soft
Works beautifully for skirts, leggings, t-shirts, and dresses
Is readily available at brick and mortar shops and well as online shops
Comes in thousands of colors and prints
I am a sucker for a lovely floral DBP, and found this fabric from Raspberry Creek that just spoke to me when I saw it!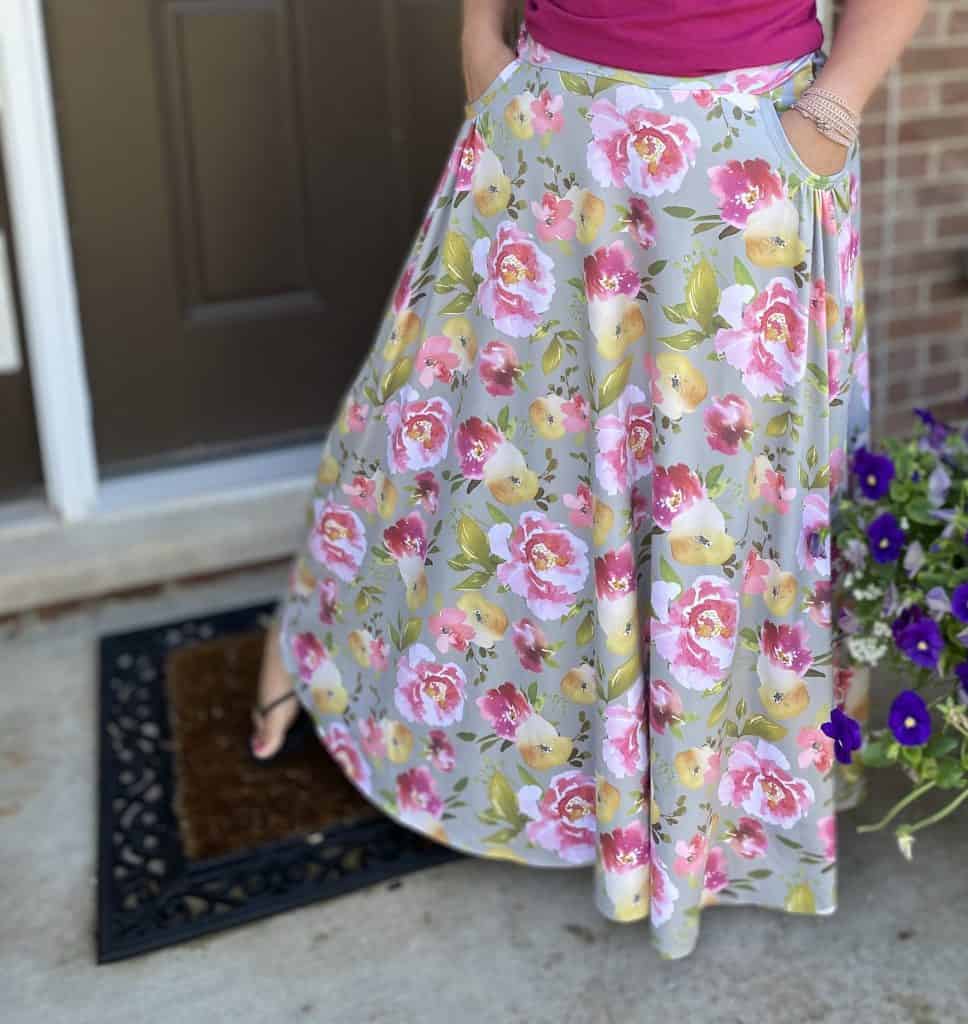 Cotton Spandex
Another knit fabric that is approachable for beginners is Cotton Spandex (it also goes by Cotton Lycra or Jersey). This fabric is the type you would usually associate with a regular t-shirt. It is available in a few different weights (for example 10 oz or 7 oz) and it has great stretch and recovery. Recovery is how well the fabric "bounces back" into shape after being stretched. I like to have lots of cotton spandex on hand in solid colors because they are perfect to pair with pieces that have more "going on." This type of fabric is also a little more substantial and thick so doing certain finishings are easier (like hemming, neckbands, or bindings). The cotton spandex feels a little tougher and resilient after being handled, so it's a great choice for a beginner who might have mistakes to fix or seam ripping to do. This tank is a magenta cotton spandex with a great weight.
My Favorite Beginner-Friendly Patterns
When you first start sewing, finding patterns and sifting through all of the options can be really overwhelming. I have two patterns here that I have found to be very beginner-friendly while still offering some options. I also think the tutorials for these patterns are perfect for showing a few new skills and walking you through each step with great directions and even video tutorials. I also think these patterns look *amazing* together!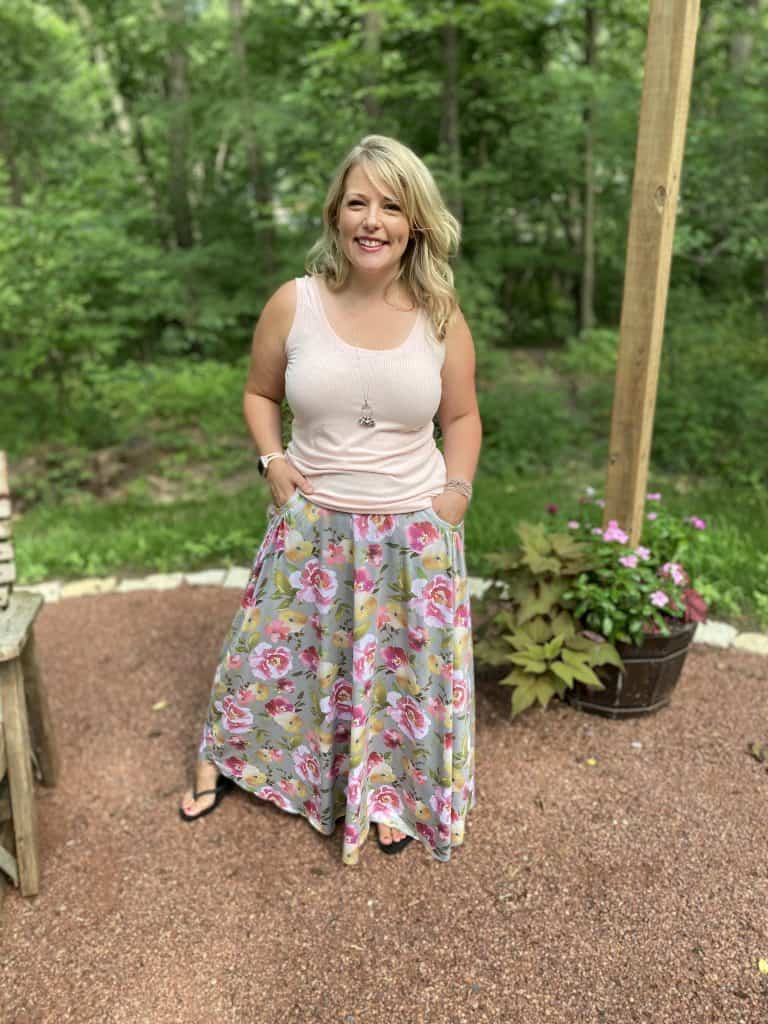 Beginner-Friendly Ravinia Skirt
The Ravinia Skirt is one of my absolute favorite patterns and has been since it released earlier in 2019. However, the Ravinia Skirt just received an update and has RE-released in sizes XS-5X.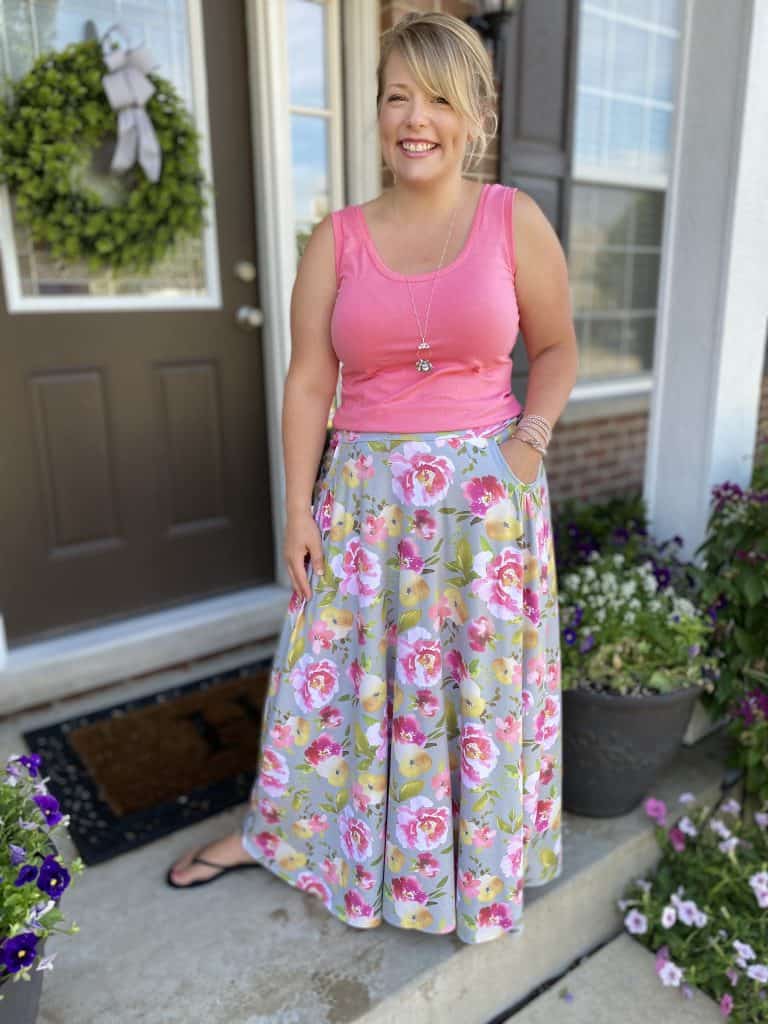 This is a great pattern for a beginner and also anyone who struggles to find skirts that are the right length in ready to wear. I am pretty short and finding a maxi skirt that I don't have to completely cut off and re-hem when I get home from the store is just a game-changer. The logic works the same for anyone who is particularly tall as well! I also love that the knee length version in my size typically takes just about a yard for my height (I'm 5'2) , so it's a great option for making up a muslin (or practice version) first.
For some help with those pretty pockets (the most complicated feature of the pattern) you can watch this gathered pocket tutorial video or this coverstitching video. And if you have any other questions about sewing up Ravinia, just ask them below or on the Love Notions Pattern Support group. We have an amazing group of sewists there who love to help everyone, especially newbies.
This is the coversitiching video if you are ready for some more intricate finishing tips.
As far as Ravinia's beginner friendliness?
Limited amount of pattern pieces
Elegant and simple design, not a lot of complicated details or techniques to figure out all at once
Choose the yoga band for a SUPER easy make — just one pattern piece for the waistband then!
Lots of support for customizing to your shape, especially for those of us that need to shorten or lengthen patterns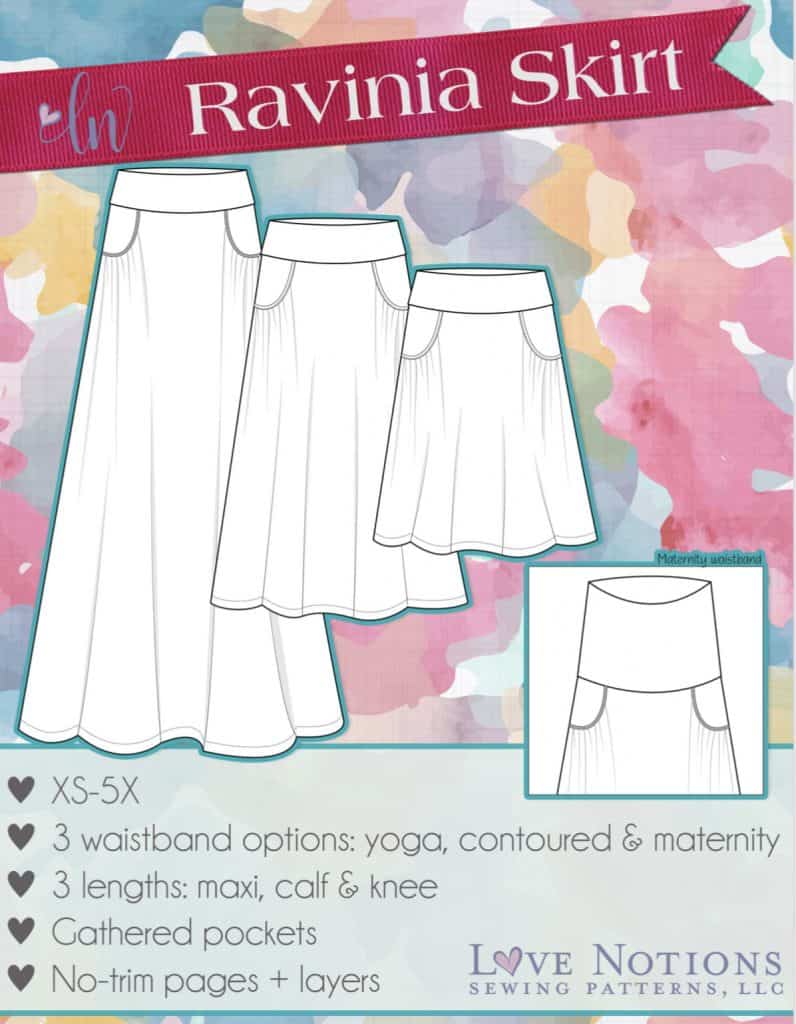 Summer Basics
Another pattern that is super beginner-friendly (but also helps you branch out on your sewing skills step by step) is the Summer Basics Tank and Dress pattern. I used this pattern to make a matching top with my Ravinia Skirt and LOVE how they pair together. (To be totally honest I made 6 all at the same time — they are discussed here on this batch sewing video.)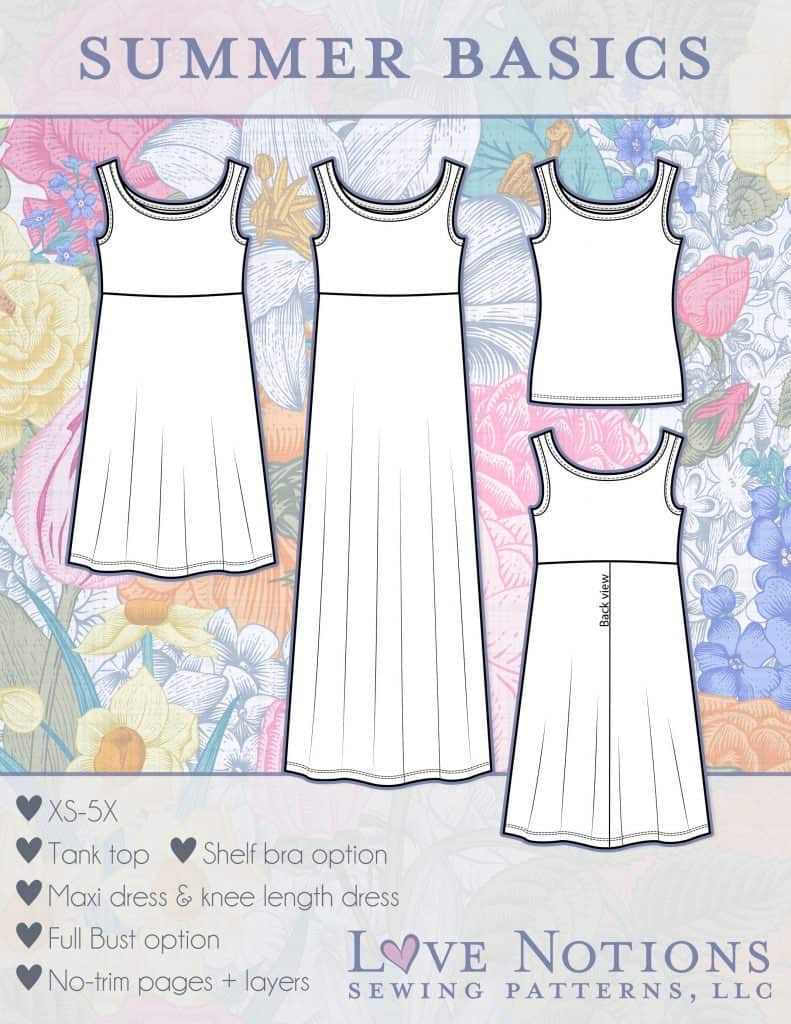 This pattern is a value for its several options (tank, knee-length dress, maxi dress) but it is also another simple design that can become a wardrobe staple. We all need basic foundation pieces like this in our closets! And aren't these tags just the best!?
I consider this a beginner-friendly pattern because it has just a few pattern pieces and has a very straightforward design. Summer Basics does allow you to work through some more potentially tricky techniques (modifications to your shape, neckline and armscye binding) but there are clear, step-by-step directions and it's not overwhelming. As long as you take your time and re-read directions, any beginner can accomplish this tank with ease! (That video linked above has all the fabric details for the tanks that I sewed up — it was interesting to see how different they all were!)
Use Patterns that are Simple and Wearable
So often I think beginners bite off more than they can chew with complicated and confusing patterns, and they get disillusioned and frustrated with the whole sewing process. Accumulating a big unfinished object pile is NOT my goal and it probably isn't yours either. It certainly wouldn't make me want to keep sewing. In contrast, it is so validating to have simple pieces like these that you can wear right from the start — that's motivation to continue to learn and sew more. And those comments from astonished friends of "You MADE that?!" don't hurt either.
My Favorite Beginner-Friendly Notions
As long as we are talking through patterns and notions, some major newbies to garment sewing might be curious what tools and gadgets are essential for their soon-to-be sewing obsession — I mean HOBBY. So here is exactly what I started with (and still use)!
I have found that some notions really can make or break your sewing experience. Especially when it comes to the little things! Those tiny snips for trimming seam allowances or stray threads might seem superfluous, but they really can make your experience easier, more efficient, and more enjoyable.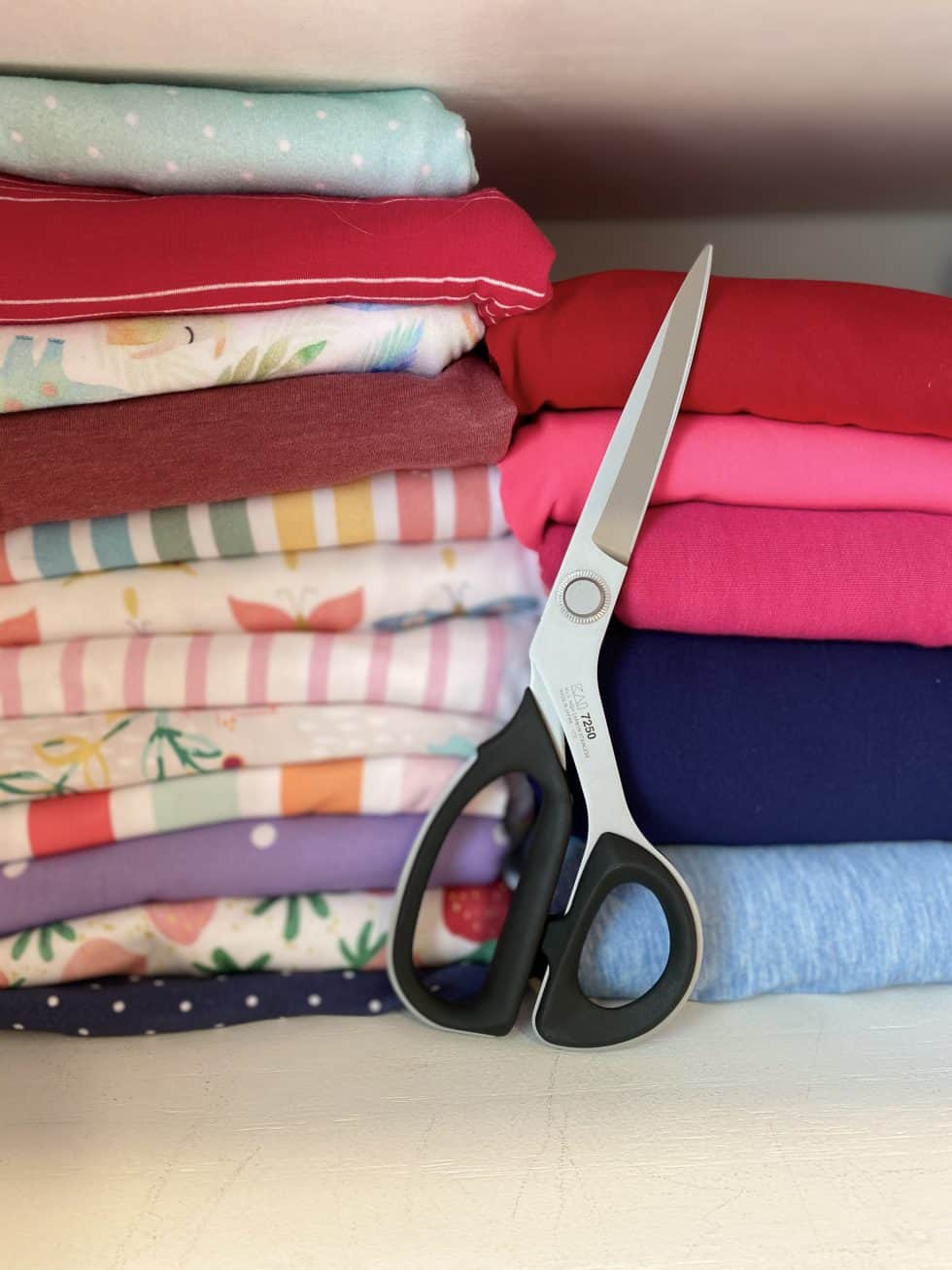 One of the notions that really helped me step up my game was my super nice pair of Kai shears. I just feel like a sewing boss when I whip these out! Cutting fabric with easily dulled scissors or ones that are rough to open and close just makes the whole process less exact and more cumbersome. If you are in the market for some new cutting tools, I highly suggest Kai as a source for professional options. I like their 7000 series for the heft and the smoothness.
This post was part of a stop on the Raspberry Creek Fabrics Favorite Things blog tour and I hope you take a second to check out all the other spots for some great fabric, sewing inspiration, and notions that we all love!
Head to all the stops on this week's tour:
Monday: Sewjourns, Sewing and Things, and Sew Mary Mac
Tuesday: Life Sew Savory, Made By Kates, and SewSophieLynn
Wednesday: Sweet Mama Life, Replicate Then Deviate, and Stitching and Making
Thursday: Handcrafted By RED, My Sew Bliss, and Kainara Stitches
Friday: It's Liesel, Tessa Does for Love Notions, and Margarita on the Ross
Save these pins for later!
Shop Now for more Beginner-Friendly Patterns
[carousel_slide id='414175′]