We're excited to be here on the final day of the big Love Notions Spectacular with our Halloween costumes hack!
Halloween is just around the corner and Lindsay, from Doodle Number 5, and I, Tami from SewSophieLynn are here to share a couple of fun costumes using our favorite Love Notions patterns.
Read on to see what patterns we used.
Make sure you stop by the Love Notions Facebook Group to enter your handmade Halloween creations from this year for the chance to win a Brother B&W printer (game changer for those that print a ton of patterns!), a Craftsy class & your choice of 2 yards of Art Gallery knit, or a Pat Sloan Aurifil thread pack.
The Lil' Laundry Day tee and dress is a favorite pattern of mine.
There are so many options that my girls closets are full of them.  It's a great pattern to create a simple Halloween look, too!  I used the long sleeve dress version with asymmetrical collar  for a classic Wednesday Addams costume.
Add some tights, boots, and of course a pair of long braids and you're ready to hit the neighborhood.  This girl will be comfortable and ready to load up on the candy!  I used cotton lycra jersey from one of the tour sponsors, Raspberry Creek Fabric.   It is the perfect weight and I love her ever changing selection- she adds new fabric a couple times a week!
Bonus that this dress can be worn later with a few fun accessories to brighten it up.  She's dying to pair it with cheetah print leggings and pink shoes for school.  That's how I do Halloween costumes 😉
---
Lindsay here- I LOVE Halloween! I love Fall, and orange is my favorite color, and I love that it's finally not so blistering hot in Los Angeles that I can bake without feeling like I'm burning down my house.
But when my son asked to be Spiderman for Halloween this year, I was a little underwhelmed. I've had free reign on all of his costumes up till now, and this is the first year he had an opinion. He's three and he's BIG on opinions now. So I challenged myself to make him an awesome costume that could be worn (at least in pieces) long after Halloween. Enter the Moto Maxx + Vanguard Mash-up!
Here are my mods:
Add hood from Vanguard set (the necklines for size 2 match exactly! Use Kelly's tut to match the necklines in case your size isn't exact)
Add mask to hood
Color-block chest piece (Kelly's color-blocking tut here)
Color-block sleeves
Lengthen sleeve cuffs
Add spider applique
No mods to pants
For the mask:
I had him try on the finished hoodie and put safety pins on the hood parallel to his eyes so I would know where to stop and start the mask piece. I measured the distance from those two points across his face while he was wearing it, and made sure it was pretty snug so I would know how wide to cut the mask. Thankfully he wears glasses, and I used those to determine where to place the eye holes.
To make it moveable (it slides up to rest on top of his head so he can wear his glasses), I installed eyelets on the hood piece, and jeans rivets on the mask piece through the eyelets. It came out really well!
And here is how the color-blocking came together for the costume:
I didn't make any modifications to the back, or to the pants. I just love how it came together!
Now that you've been reading this a while, go back and re-read Tami's first paragraph. Get your Halloween projects loaded into the album in the Love Notions Pattern Support page on facebook for your chance to win some awesome prizes!
---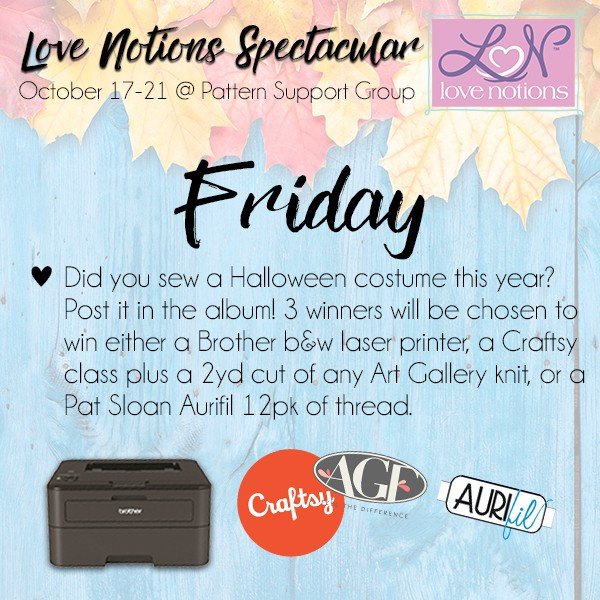 Save
Vanguard Kit

$

10.50

Girls Li'l LDT

$

10.50

Moto Maxx Set

$

10.50