High bust, full bust – what measurements are most important for sewing? Hi sewing friend, are you looking to get a great fit when you sew? You are in the right place!
Mary here, from the Sew Mary Mac sewing blog.  I'm always thrilled to be a guest blogger for Love Notions Patterns.  For today's Focus on Fit, I'm going to talk about selecting the correct pattern size to get the best fit for our own bodies.  Sometimes that isn't always easy~ especially for newer sewists.  
When I scroll through the Love Notions Pattern Facebook Group page, one of the most common posts I see are those asking for help with selecting the correct size for a pattern. Other times a poster will ask what pattern adjustments they can make to get a better fit when in actuality they  began with the wrong size.  I totally get it~ sewing pattern sizing can be confusing and frustrating.  Why is this so hard?
Challenges to Fitting
Well, here in the US, there hasn't always been a standard body measurements chart. Back in the 1970's and 1980's pattern sizes and ready to wear sizes were quite similar. However, over these last 40 -50 years something we call "vanity sizing" has come into play. Since this shift in RTW sizing, we have seen a bigger difference between pattern sizes and RTW sizes. This is especially confusing for newer sewists (and returning sewists as well!). On top of that there are many Indie pattern companies like Love Notions, and each company has their own sizing chart. Here is the Love Notions sizing chart.
The MOST important thing about choosing the correct pattern size when making a garment is to MEASURE yourself and compare your measurements to the body measurement charts. Not sure how to properly measure yourself? Visit this LN blog post for detailed directions. One of the biggest differences between RTW sizing charts and sewing pattern sizing charts is the High (or Upper) Bust measurement. It's pretty nonexistent on RTW charts.
The Key to Fitting
One of the very best things about sewing our own clothes is the opportunity to fill our closets with clothes that fit us well. The High Bust measurement is the key to doing this! For a really good fit, we need to make sure the shoulders and neckline fit us really well. How do we get a great fit in this area? You guessed it~ using the High Bust measurement to select our pattern size rather than our full bust measurement. Why does this work? Simply put, the high bust measurement gives a more accurate indication of the size of your body frame. This is especially true if you are petite and busty!
To demonstrate this, I made 2 blouses. I used my full bust measurement to choose my size for the first one. I used my high bust measurement to select my pattern size for the second.
For demonstration purposes, I am going to be using the Ballad blouse sizing charts and pattern. The Ballad Blouse is a relaxed fit blouse. I had never made the Ballad Blouse before working on this blog post. Every time I make a new to me pattern, I make a "wearable" muslin. These two Ballads will serve as my wearable muslins. Want to know more about muslins? Read here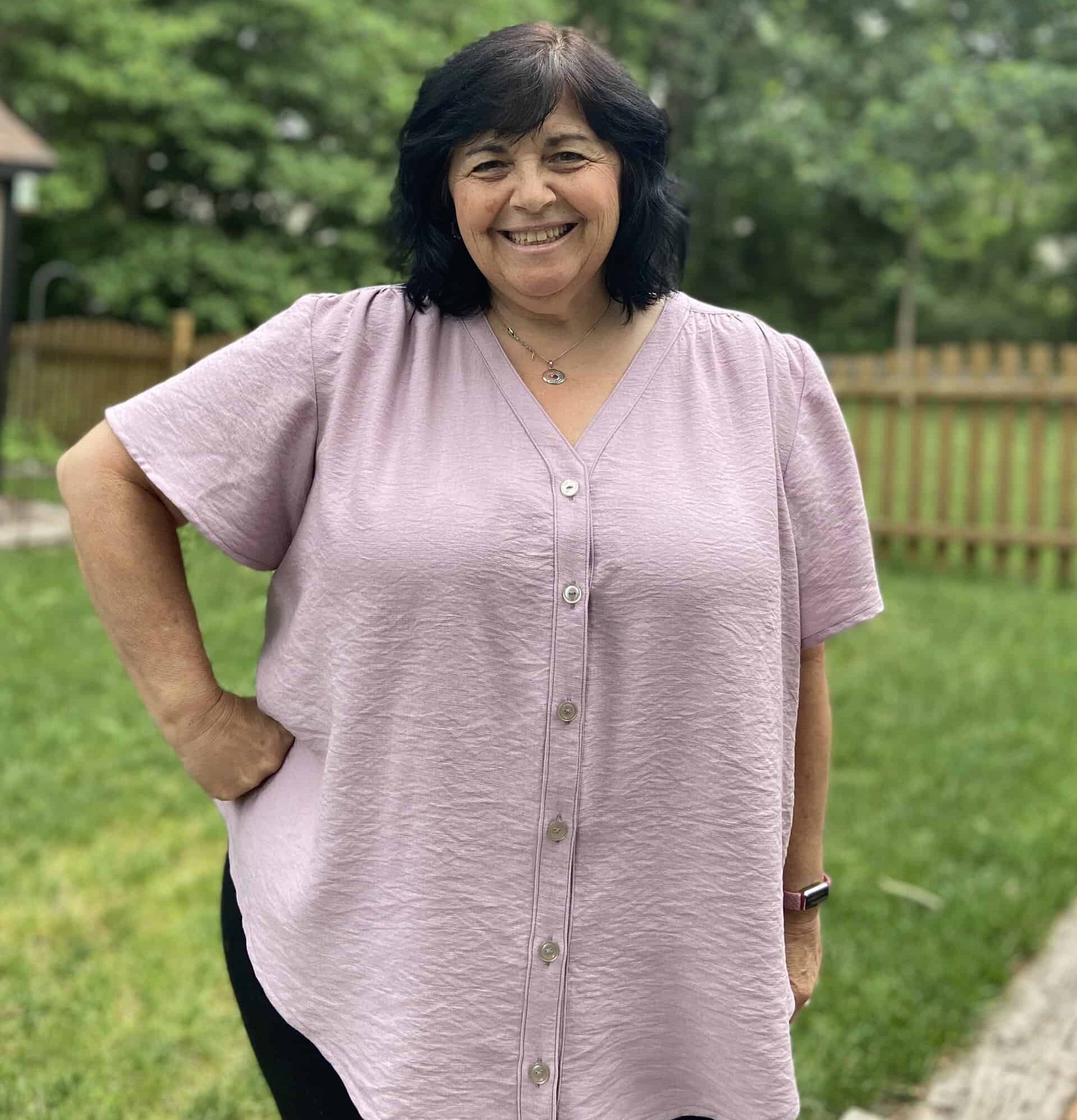 Wearable Muslins
Let's chat about wearable muslins for a few. I rarely make a muslin out of muslin or old sheets, etc. (Although that is a great way for new sewists to practice). I like to use a fabric that is the recommended type and weight. This is especially helpful with patterns that require fabrics with drape. By using a recommended fabric, I can wind up with a garment that is totally wearable, hence "wearable" muslin. I will sew the garment from beginning to end. It allows me to practice the tricker aspects or any new technique without worrying about my "beloved" fabric. I like to wear my "wearable" muslin one or two times before I make my final version. I am sure you have tried things on before and thought you loved them, but then once you actually wear them all day you find something about it bothers you. By doing this, I give myself the opportunity to make additional changes if needed.
The two blouses I have made for this blog post are both wearable muslins. I did not make any other adjustments to them, other than grading between sizes.
Remember that your measurements can fluctuate. I find mine change up and down all the time. (Partly because when we travel we tend to over indulge in all the good stuff.) Make sure you are using up to date measurements!
I like to keep a notebook, and jot down my measurements every week. It helps me make sure I'm getting the best possible fit. (And nudges me when I need to walk more!)
June 6, 2022
High Bust 40"
Full Bust 45.5"
Waist 39"
Hip 49"
These are the measurements I used when selecting my pattern size.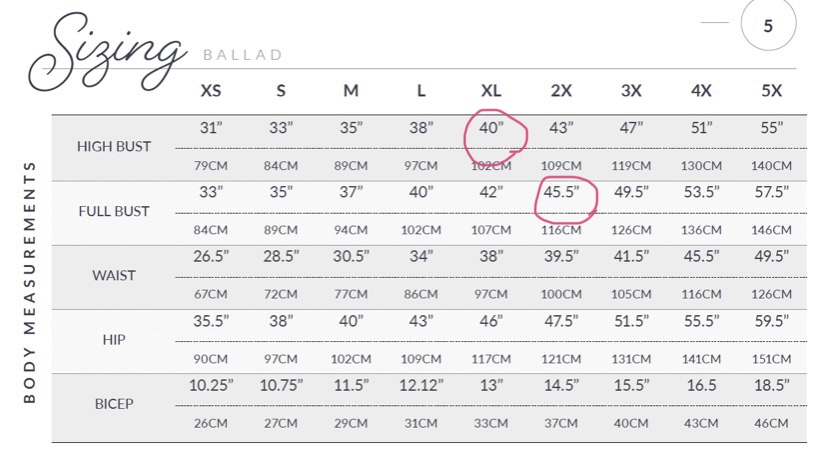 Version 1
Plum- Straight size 2X
For this version I used my full bust measurement to choose my size. My full bust measurement of 45.5" puts me in a 2X. I made a straight size 2X for this version without any other adjustments.
Results: As you can clearly see this blouse is simply too big on me. It is especially too large in the shoulder area and looks sloppy rather than relaxed as intended. Overall, I feel sloppy in this version. This Ballad will get passed on to a friend who I know will wear it often.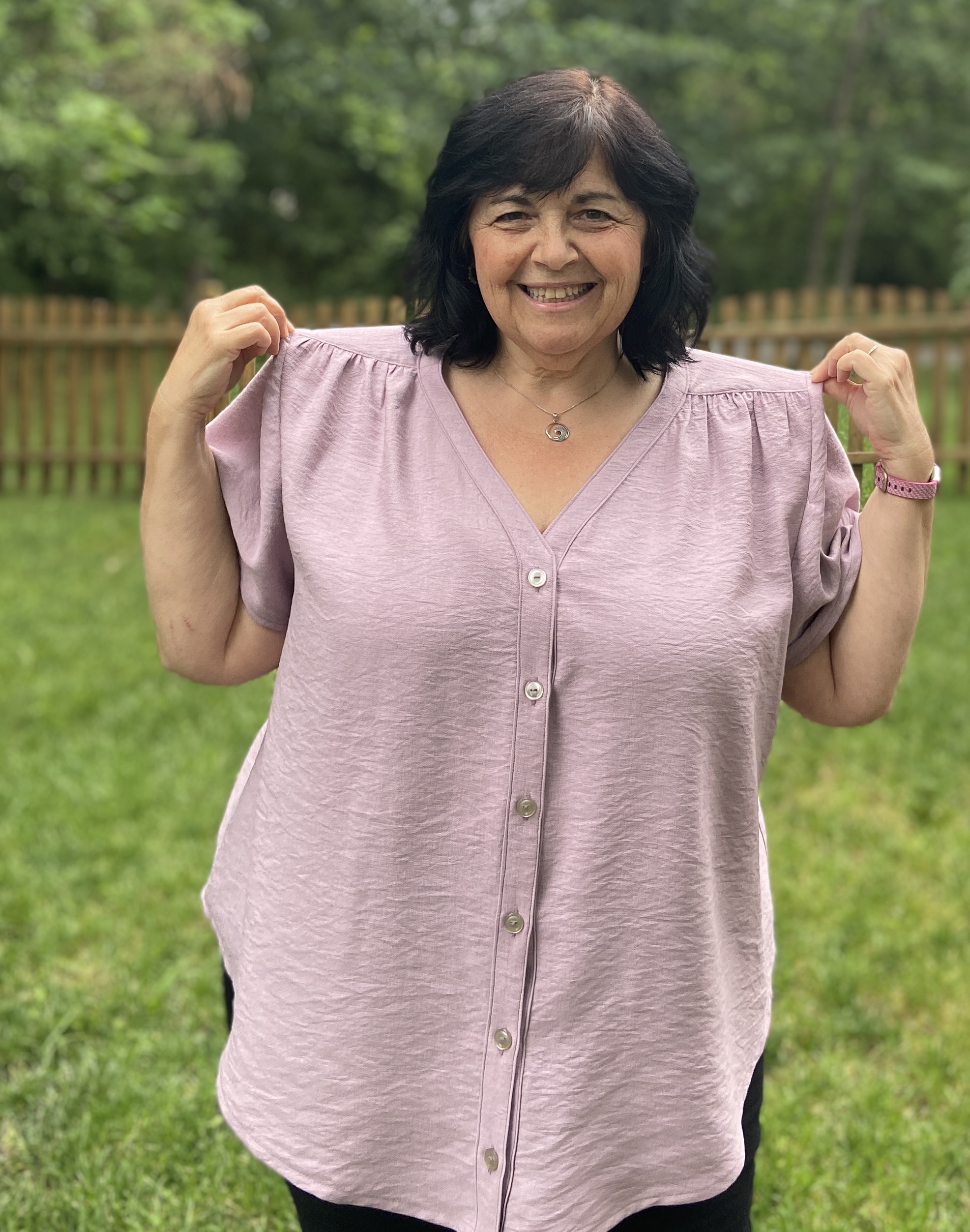 Version 2
Blue – XL with the Full Bust Front Piece with grading out for my hips
For this version I used my high bust measurement to choose my size. My high bust measurement of 40" puts me in an XL. I began with the XL for this version. I did grade out in between the XL and 2X for my hips since they measure bigger than the XL body measurement chart. Since my full bust is 5.5" larger than my high bust I used the Full Bust Front pattern piece. Remember using the full bust front piece adds 2" to the finished garment measurements at the waist and hip. Even though my waist and hip measurements clearly put me in the 2X size, I did not fully grade out to the 2X since the additional 2" from the FBA front piece and the design ease give me plenty of room for my hips.
You can use the "Finished Measurements" chart to see how much ease is included in a pattern design. It is important to remember that some ease is always needed so that you can move. This is called wearing ease.
Results: This blue version fits me nicely. The Ballad is designed as a relaxed fitting blouse. This blouse fits me nicely in the shoulder area. I'm very pleased with this version. This will make its way into my closet.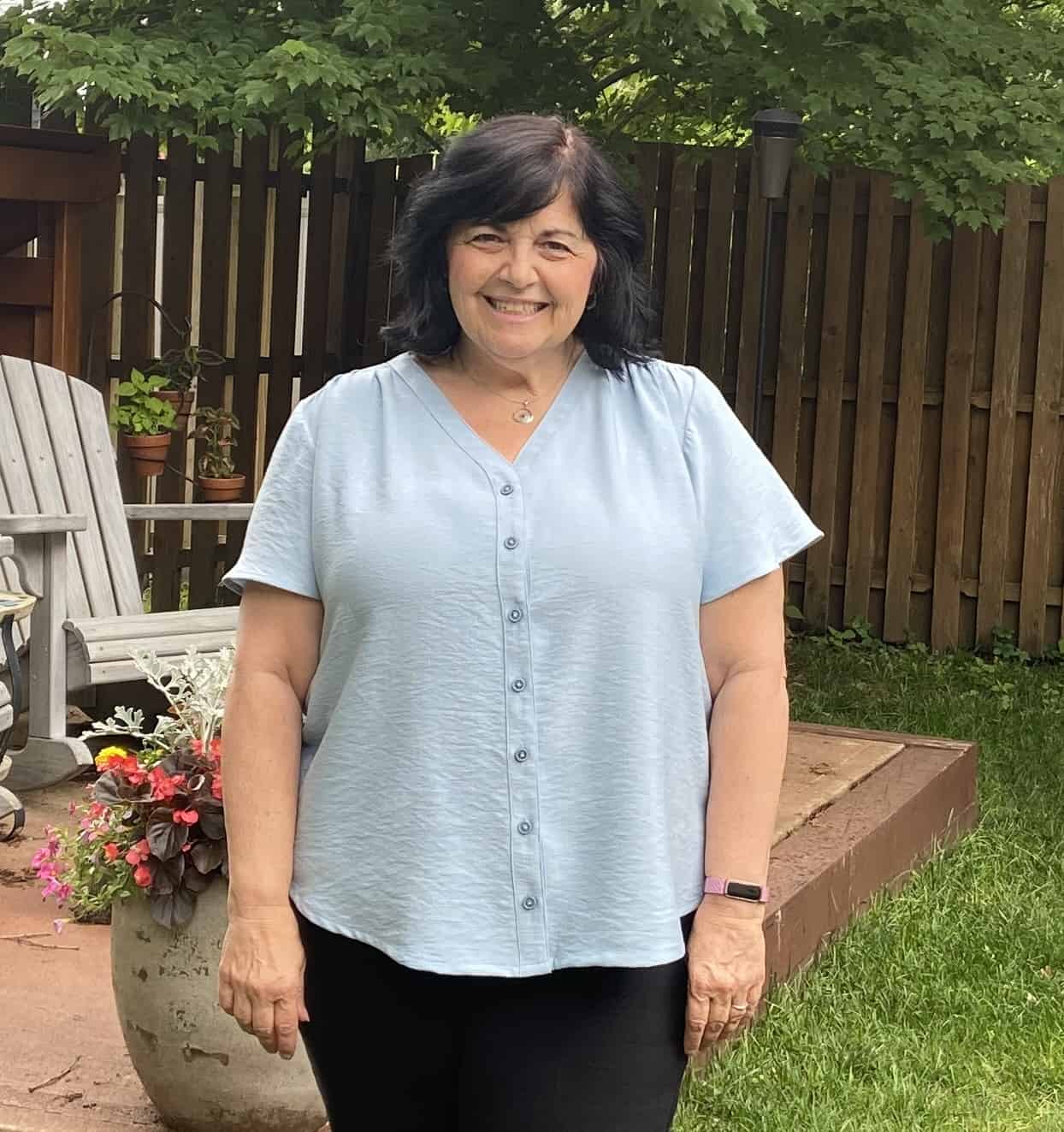 Final Version~ Floral Rayon Challis
I started with the XL with the Full Bust Front pattern piece. I did a very small narrow shoulder adjustment on this Ballad. I don't always need a narrow shoulder adjustment. This is why it is so important to make muslins (wearable or not) for all patterns that are new to you.
I am only 5" tall, and I did not make any length adjustments to the first 2 versions. For my final version, I did not want to shorten the entire blouse, because I liked where the side length of the blouse hit my hip. I redrew the front bottom curve a bit to shorten it. (Note: The FBA front piece does add length to the center front length~ typically this is because larger breasts tend to pull up the length in the front. I have found that I normally don't require this extra length at the center front.)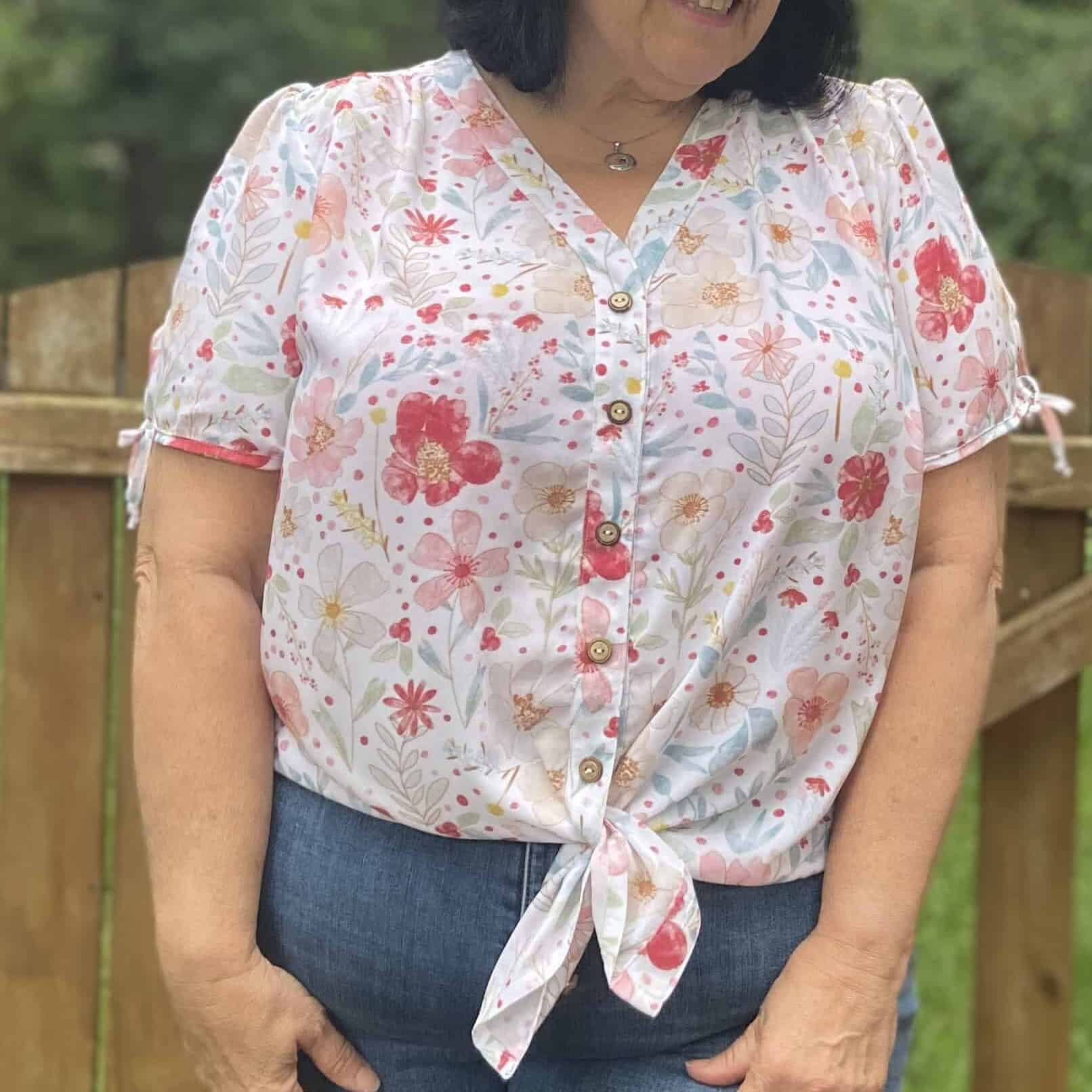 Results:
I love my new Ballad Blouse! You can read all the details about it over on my blog, Sew Mary Mac. I'd like to mention that I found Block Fusing came in really handy for the plackets of the Ballad~ especially when sewing with rayon challis. Visit my blog, Sew Mary Mac to learn more about this technique.. Click HERE.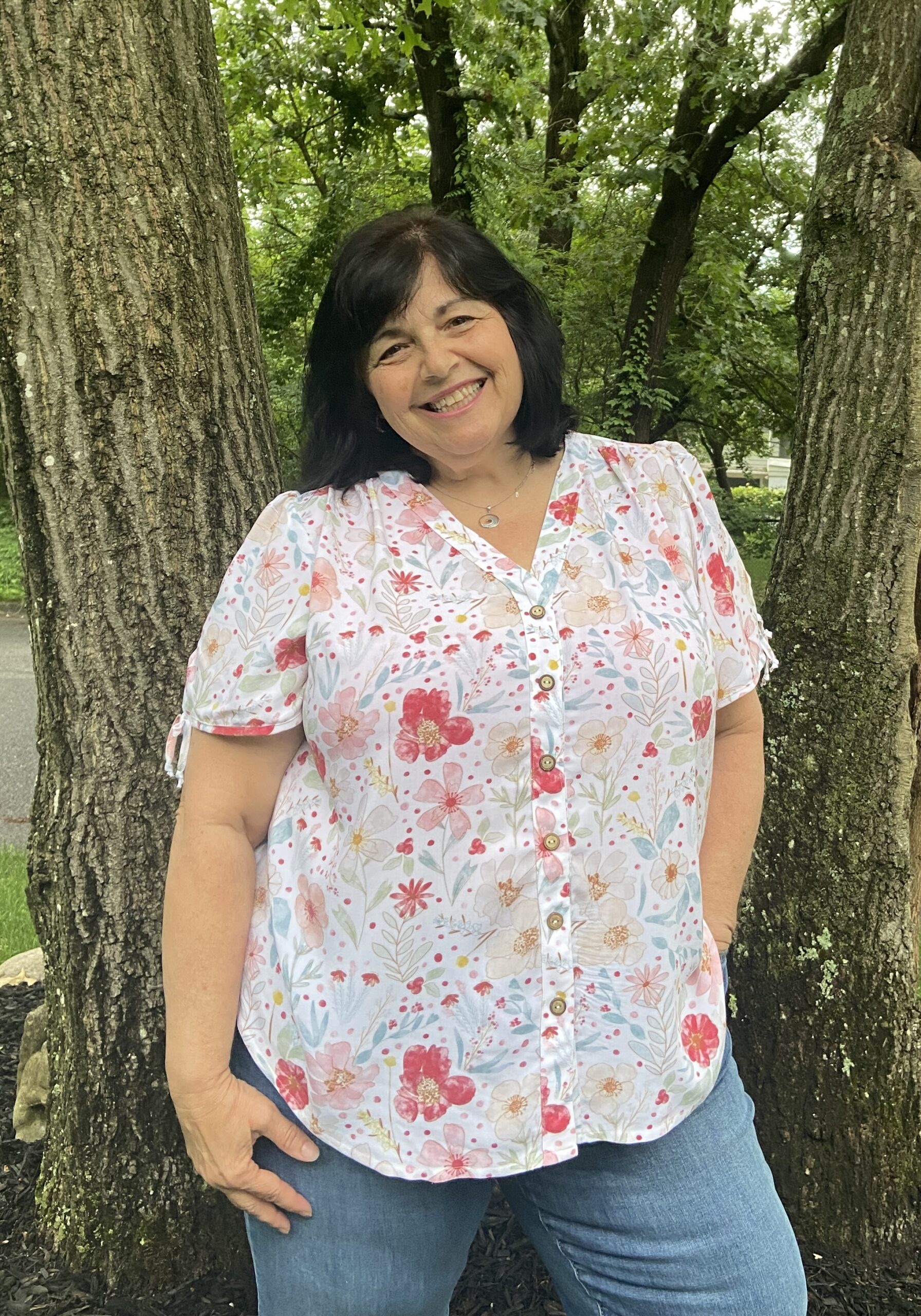 Get your Ballad Blouse, too!
If you'd like to purchase the Ballad Blouse pattern, please consider using my affiliate link HERE. This costs you nothing, but it does help fund my fabric addiction (and helps me test more patterns.)
To find a special discount code, make sure to check out my blog post about the Ballad Blouse HERE.
If you use Instagram, consider following me @sewmarymac, to see all of my recent makes.
Happy Summer and Happy Sewing!!
Mary Anne 😉
---
Shop more patterns here
[carousel_slide id='242634′]
---
Save this article to your sewing board on Pinterest