Making a Muslin featuring the Duet Trousers
Hi, sewing friends! I am a huge Love Notions fan and ambassador. I am relatively new to sewing. I have been an avid sewist for about seven years. I have a profound hearing loss, and I love being able to make new connections via the sewing community. I'd love to connect with you on Instagram. I'm still just learning and I'm excited to share with you my journey to get a good fit with the Duet Trousers.
About Muslins
I have a lot of self-motivation, but it's hard to invest time making something you aren't going to be able to wear out when you are done. I used to think that I couldn't wait to get all the patterns I have adjusted to a perfect fit and I'd be finished. But I've realized your body measurements continue to change over time. Muslin making and getting the right fit seems to be a continuous part of sewing.
So, what is a muslin? Muslin is a cotton fabric of plain weave usually made in cheap material. If you live outside the United States, a muslin might be called a toile. Toile and muslin are different terms with essentially the same meaning. The fabric that I buy actually has the word muslin on the label.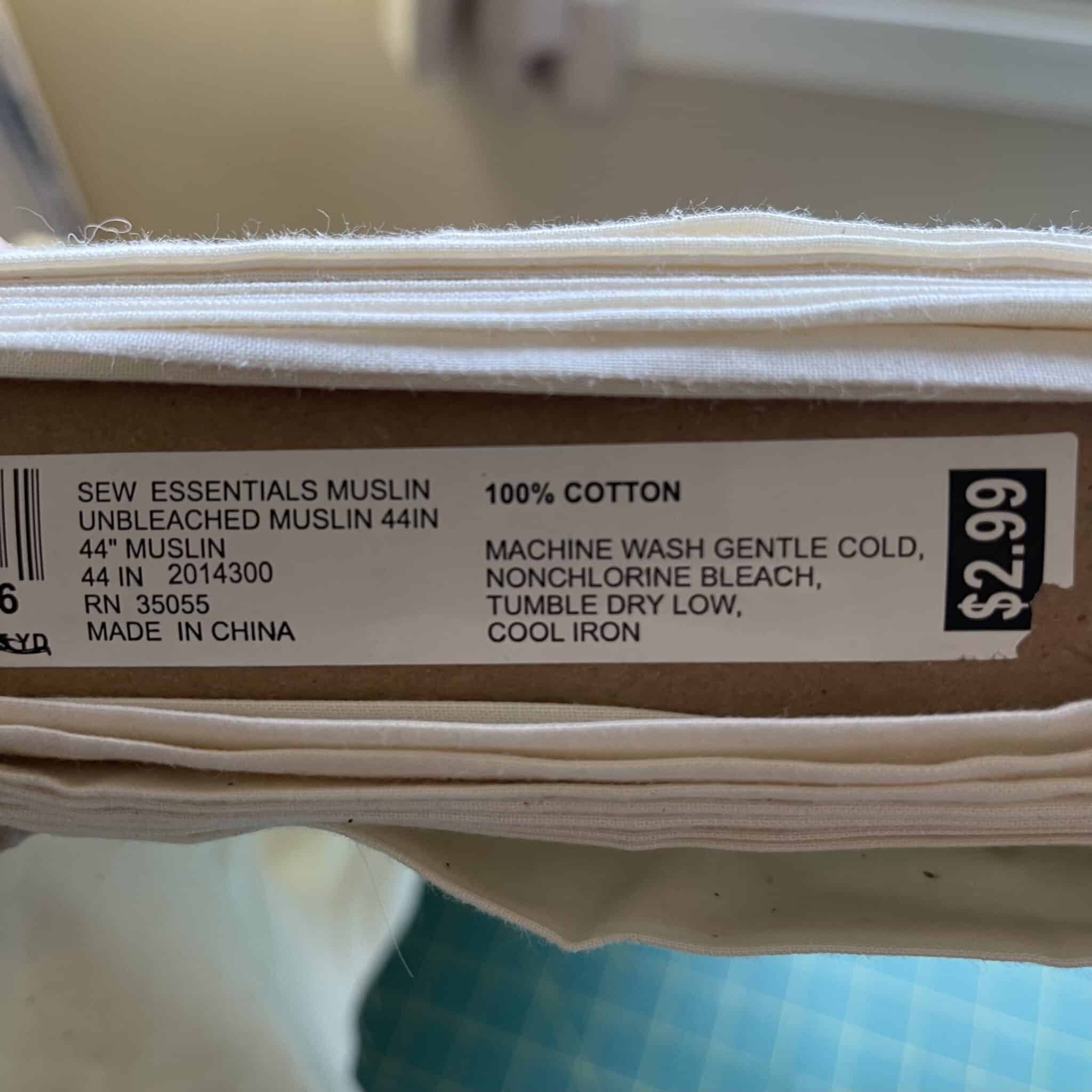 Here are some Do's and Don'ts that might help you as you make your muslin:
The Do's for Muslining
Ensure you use a fabric that is recommended for the pattern for your muslin. If it recommends woven, then use a woven of a similar weight. If it is a knit pattern, then use knit fabric of that same weight. (Duet Trousers allow for either, but your knit must be stable like ponte or Liverpool.)
Add facings or any element that could impact the fit.
Use a light color fabric when possible to enable you to see the areas where adjustments are needed.
Use a basting stitch with your sewing machine, so it's quick to sew up and easier to pull apart.
Refer to Katie's great blog on measuring yourself. The crucial measurements for this pattern are high hip and the hip.
The Don'ts for Muslining
Feel like you are wasting fabric because muslins can save your nicer fabric. If you do feel wasteful, you can use scraps or thrifted material like bed sheets. As long as it is the same type/weight recommended for the pattern.
Add pockets or anything that is not needed to evaluate the fit of the pattern.
Use matching color thread. It is easier to rip the seams out if it contrasts.
Use your serger, because it will shave off the seam allowance. Using a sewing machine provides more seam allowance room to adjust the fit.
Assume your measurements haven't changed. You should measure yourself often for best results with sewing.
The Duet Trousers Fitting Workbook is included with the pattern purchase and is a treasure trove of information. Page 3 provides shortcuts with making the muslin that are very helpful. You also need to cut out only one waistband front and back piece. No need to add the zipper. You can just pin your muslin's side closed. But don't sew it closed or else you might not be able to try it on. Also, it recommends just cutting the pattern piece to the knee to save fabric which is genius.
Muslins aren't very flattering but they are useful. I made 4 ½ (one was just a new back) muslins in my process of getting a good Duet Trousers fit. After each one, I had someone photograph me or I took a photo of myself in the mirror. I looked at the photos on the listing for the pattern on the Love Notions website and compared my own photos. Then, I used the Fitting Workbook to make adjustments.
Woven Wearable Muslin
It is called a wearable muslin, because you hope you can wear it when it's done. I use inexpensive fabric, so I won't be heartbroken if it doesn't turn out. This pattern provides a 5/8" seam allowance to enable adjustments once finished. So, that gives you a better chance of making your muslin wearable.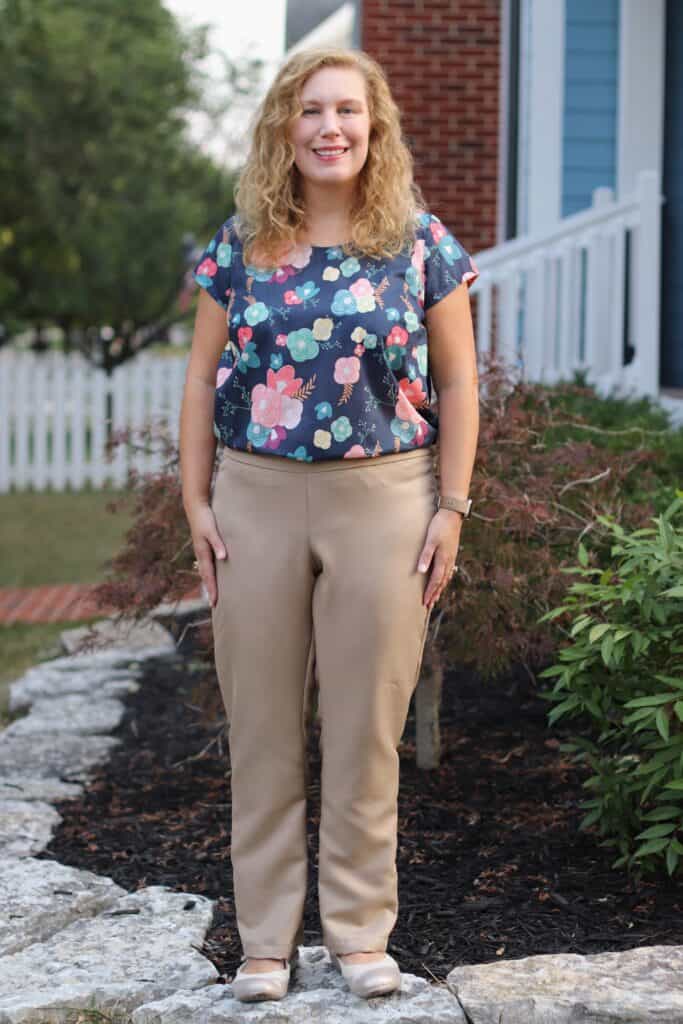 Oh my goodness! My wearable muslin turned out perfectly.
Uh, oh! Maybe it's not so great. I introduced some issues by making a few needed adjustments to this wearable muslin, but it got me to a better fit. So, it's really fine.
Knit Wearable Muslin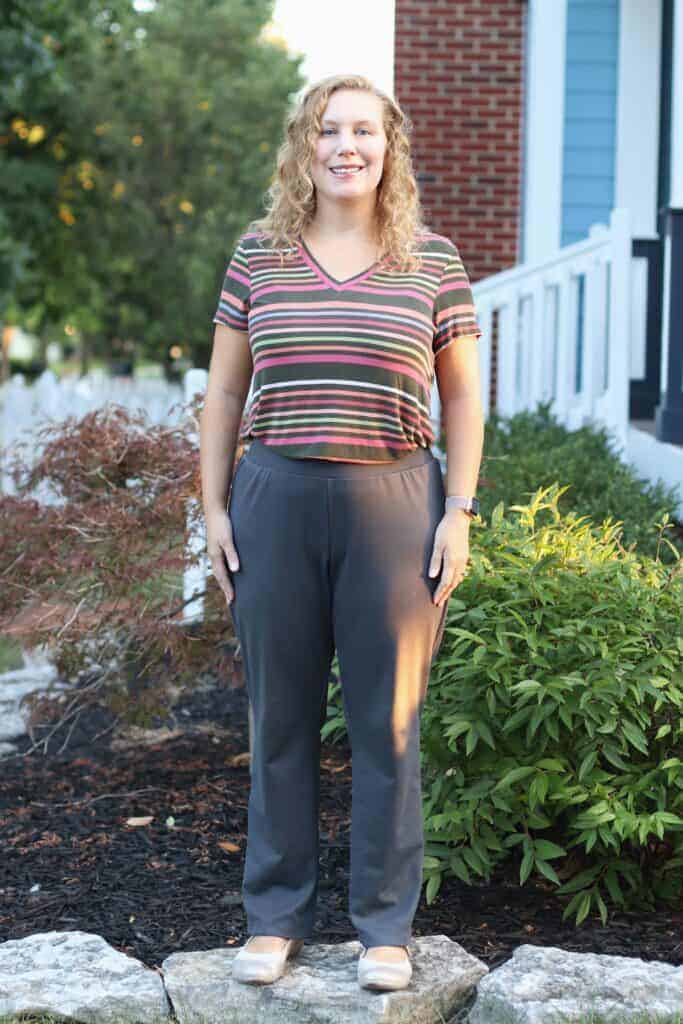 This pattern is unique in that I can use stable knits as well as woven fabric. This ponte fabric that I used was very cheap online. The lighter colors were significantly more expensive, so I went with the lightest color at this price.
I was hoping the wrinkles at the back would be resolved, but I still have some work to do. Overall, these are very comfortable and I'm pleased. This was planned as loungewear but I'll wear this to work with this Rayon Spandex Jersey Classic Tee or another top.
Duet Trousers in Good Fabric
These are my trousers in my good fabric. I used a Medium Weight Stretch Linen. I'm happy that I resolved many of the issues, but they feel a little large in the front. I'm going to take it in stride, because I wasn't completely happy with the fit of my Glissandos and Allegros until I'd made several pairs. These are definitely very wearable and I'm so glad to have something more to wear with my Ballad Blouse. I think that just using high quality fabric helped the fit. Yet, I'm still glad I made the muslins and wearable muslins to save my good fabric.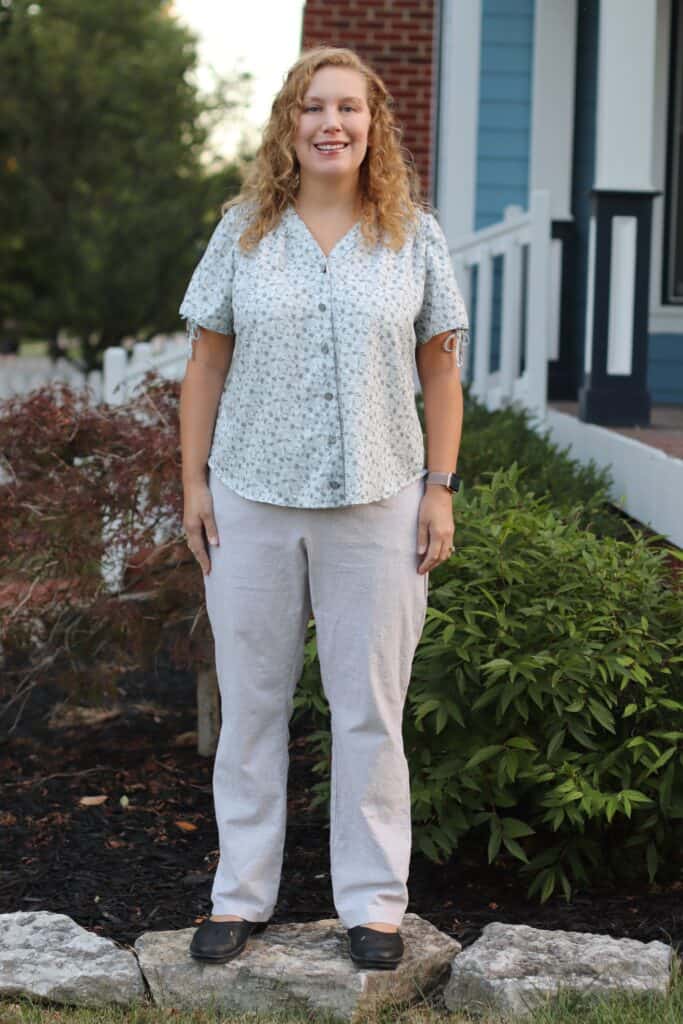 Conclusion
I really appreciate you taking this journey to get a good Duet Trousers fit with me. In total, it took me a little over a week from start to finish, which included two weekends. This time might vary based on your skill level and time available. Honestly, it would take me at least that long to find a less decent fitting pair in the stores. I will continue to work toward a more perfect fit with each pair. I'll be excited to share with you my progress in the Love Notions Pattern Support Facebook group.
---
Save this article to your sewing Pinterest board:
---
Fall Sewing Ideas
[carousel_slide id=442930]