Upcycle Sewing
Hello Love Notions family! Anjori here from Bee Threadly. to share how you can incorporate upcycling into your everyday sewing. Today I'll walk through how I made a Summer Basics maxi for myself, the Cartwheel Collection shirt, and the girl's Skater Skirt for my daughter.
Before continuing, I want to say Happy Mother's Day to all the great moms out there – and you are all great in one way or another. Aaand if you want to get yourself a little gift, all Love Notion patterns are on sale right now for 40% off until May 10 (no code needed)!
---
Mother's day is a tough time for me, since losing my mother almost 9 years ago. I still swing between "can't believe it's been that long" and the raw emotions of the early days. Each year, I like to do something to honor my mother for Mother's day. And this year, I am honoring her, as well as Mother Earth.
Ways to incorporate the mentality of reduce, reuse, and recycle
Somehow, I understood at a very early age (1st/2nd grade) that we as humans have got to change the way we do things to preserve this planet, the only planet we have. As I got older, I learned new ways to incorporate the mentality of reduce, reuse, and recycle; from saving all glass jars as containers, to using reusable grocery bags.
What I didn't know was how my clothes buying was affecting the environment. Before I sewed for myself, I would usually buy clothes from the clearance section or deep discounted sales to save some money. So when a garment didn't work for me later, I used to just toss it to the donation pile thinking, I just paid $5 for that, no big deal.
Why Upcycle?
But it is a big deal. Garments are tossed or donated in huge numbers in the United States; not to mention overwhelmed donation centers.+ Multiple resources state that the textile industry is one of the top contributors of pollution today (both carbon emissions and water). There is fabric waste (scraps from cutting out pieces), fabric dyes, microplastics that we wash away each time in the washing machine.++ Ok, confession time – raise your hand if you have a huge fabric stash but keep buying fabric! ????‍♀️ Yup, both my hands are up. Even if we as sewists, don't contribute to the fast fashions, we unknowingly contribute to the larger problem.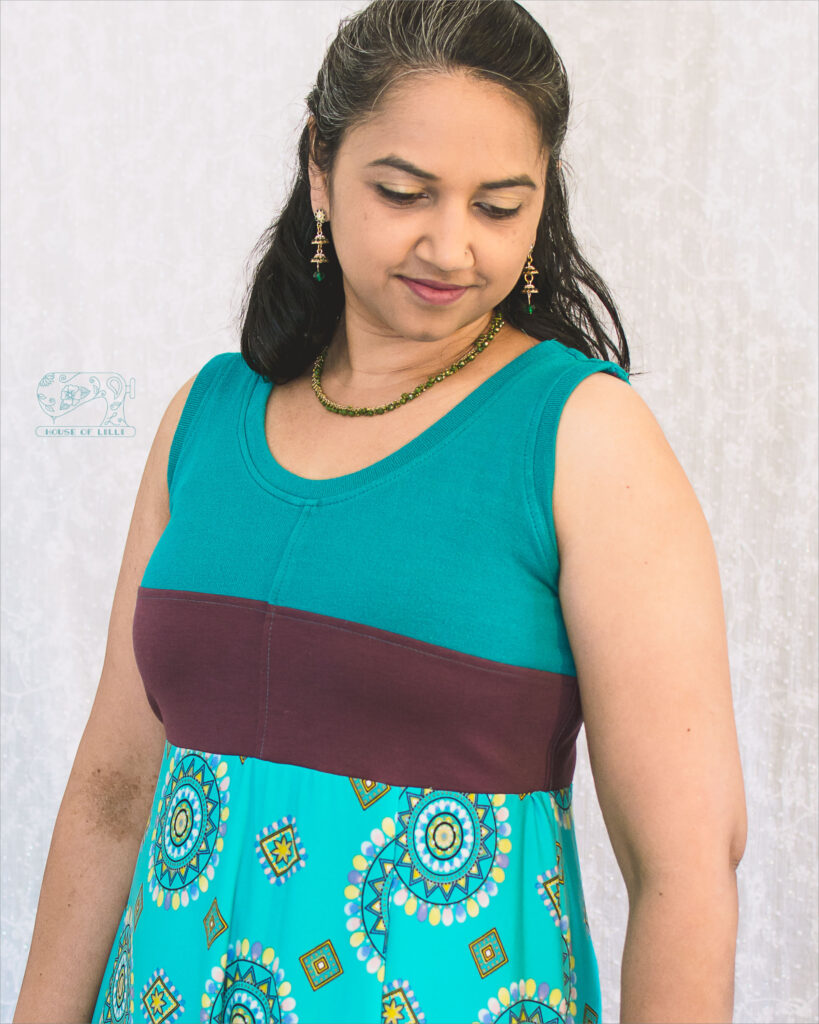 Are you feeling overwhelmed yet?
I know I am. Pollution is a big problem and while it needs a big solution, that is nearly impossible without government intervention. But there is good news. We all can make a difference going forward. Am I saying that we should stop making clothes? NO! I would be a very angry person if I had to stop sewing.
If you want to read more about the textile industry you can read my post on Bee Threadly.
How to Upcycle
Just like when we were buying clothes, we will get tired of the clothes in our closets, me-made or not. Before you toss that garment, see if you can change it or upcycle it. I mean, sewing is our sew-per power, right? We take flat pieces of fabric and magically turn them into clothes, why not take existing clothes and turn them into new ones? It takes a bit of creativity but isn't that what sewing is all about?! And I will show you how I do my upcycles below, through a series of videos, pictures, and descriptions – from taking existing garments apart to working with smaller pieces. I got 4 steps for:
Picking the Pattern
Prepping Fabric
Working the Pattern and/or Working the Fabric
Adding Details
Picking the Pattern
Personally, I like to pick a pattern to make before finding "fabric". This allows me to determine how much "yardage" is really required as well as whether it needs to be a knit or woven fabric.
Prepping Fabrics
After deciding which items to upcycle (this can be old clothes, curtains, fabric shower curtains, etc) we need to prepare it for use.
Pro Tip: If your item to be upcycled has been in storage, it might be a good idea to launder (I had pulled out some onesies that smelled musty after 5 years).
Next step is to separate into flat pieces. This may mean cutting away seam allowances or ripping serger and machine stitching. I have a few techniques to rip out serger stitches to help you out. Each garment is different and sometimes it is more time effective to cut it off.
One more thing about prepping the fabric – see if you have pieces that can be used in your project without alteration. For example, one of my daughter's old shirts had flutter sleeves that I removed intact so I was able to reuse them as the sleeve in the Cartwheel Collection shirt.
Working the Pattern
Going from a larger size "fabric" to a smaller one is pretty straightforward because there is enough yardage to cut out pieces as a whole. Just make sure you follow the grainline or know when you can break that rule. But when going from smaller garments to larger ones, it is helpful to do some colorblocking.
To colorblock, it is helpful to trace out the pattern piece on tracing paper, and trace both halves if a pattern is on the fold. This makes it easier to visualize what the end product will look like. The two videos below show how I used different approaches for the child vs adult garments. For my daughter's Cartwheel Collection shirt, I tried to assemble the different fabrics to how I liked it and then drew cut lines onto my pattern piece.
But when I went to make my Summer Basic maxi, I had a vision in mind and worked the block pieces based on both the vision and my limited fabric. Some things I kept in mind were how best to have the seam lines to fall on my body to be most flattering. For example, on the back, having the lines converging at the waist instead of at the top of my back.
Working the Fabric
What about when you don't want to colorblock but don't have enough fabric for your pattern pieces? You can alter the pattern to work with your fabric. When I was making the Skater Skirt, I needed the skirt piece to fit in a much narrower fabric – there was about 4 inches too much flare at the bottom of the skirt. So I used the slit-and-overlap method to reduce the skirt flare of the pattern piece. The waist remained unchanged, which meant I didn't have to change my waistband piece either.
Adding Details
The key to making upcycled garments not look like a hodge-podge of fabrics is to make it look intentional. In my Summer Basic maxi, to make the colorblocking look more part of the design, I added topstitching to each of the seams.
But for the Cartwheel Collection shirt, I made the focus fabric the yellow shirt, by adding yellow sleeves, yellow side panels, and the peeking yellow neck binding.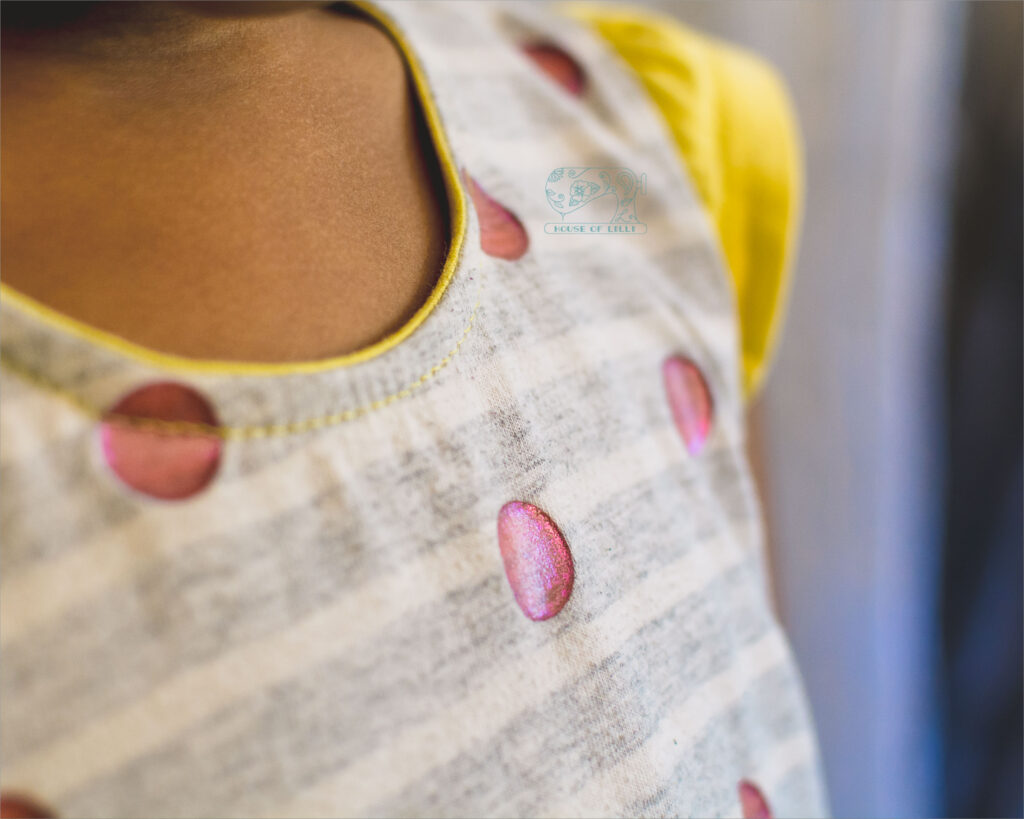 I hope I was able to inspire you to tackle some upcycling in the near future. It can be intimidating at first because it is different, but as with anything, the more you do it, the better you get at it. So go out and be creative with what you have in your closets! And remember, don't stress and have fun!
You can follow me on Instagram @bee.threadly and my blog.
Resources
+https://goodonyou.eco/the-problem-with-donating-your-clothes-to-charity/
++https://www.unep.org/news-and-stories/story/putting-brakes-fast-fashion
---
Pin this post for later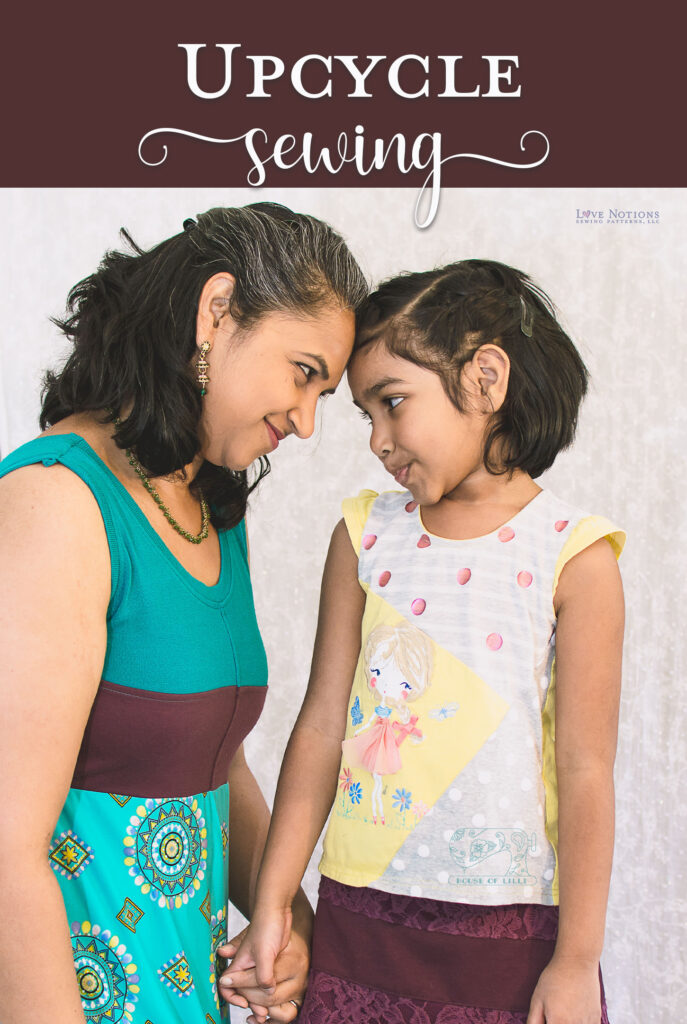 ---
[carousel_slide id=408209]