Want to lengthen or shorten your sewing pattern and need some sewing support? You're in the right place. Today we're diving into our new Focus on Fit series with a post all about how you can take sewing patterns and make them fit YOUR body.
Hello Love Notions Family!
I'm Crystal from Crystalsewsandstuff.com and I am so happy to be back on the blog today to share some tips for today's $5 Feature Friday Pattern with a Focus on Fit for the Ladies Sunday Romper Pattern. Today we are talking all about how to lengthen or shorten your sewing pattern.
Before: Let's see what it looks like without any adjustments
I began by making a quick muslin (a practice version using similar fabric) of the shorts version in a fun yellow knit from fabric scraps in my stash. I sewed my normal size in Love Notions Patterns based on the size measurement chart. I cut out a size eight for the bust area and graded out to size 14 for the hips (the pattern includes clear instructions for doing size blending like this). I didn't make any length adjustments for my 5'1" height. As you can see from these photos, the original waistline of this romper is very low on me and the crotch line is particularly long on my frame.
Adjustment Time! Here's how to lengthen and shorten
How to shorten the waistline
In order to adjust the pattern pieces, I compared them to my body. This helped me decide to shorten the pattern bodice waistline by one inch for my shorter torso. So, I first created a straight line at the waistline on the front bodice piece and measured one inch above it. I cut the line and moved it up to the second line and taped it down. I then smoothed the side seams and repeated the process on the back bodice piece. This shortened the entire bodice so that the pattern's waist will now hit me at MY waistline. Keep in mind that you can follow the reverse of these directions to lengthen.
Raise crotch length
The second fit adjustment I made was to raise the crotch length. The instructions for the Sunday Romper pattern provide a clear guide as to how to make this simple adjustment. I followed those guidelines to raise the crotch length and it was easy and straightforward.
First, I drew a straight line at the triangle marking that designates the hipline location on the front pant piece. Next, I drew a second parallel line above the first line. I then cut the first line and taped it up to the second line and repeated the process again on the back pant leg piece.
After: Waistline matches mine and crotch line is raised!
After I made these easy alterations to shorten the pattern and raise the crotch, I re-cut the pattern in my fashion fabric. As you can see from these pictures, the waistline is nicely situated, and the crotch line is no longer dropping too low. There is just enough ease in the hip area for movement while maintaining the pattern's design.
Want more articles about how lengthen or shorten a sewing pattern? Check this.
This is a fun and comfortable pattern that can easily be dressed up or down with the right accessories. I enjoyed styling this jumpsuit with some cute heels and a straw belt and bag to give it some spring flair.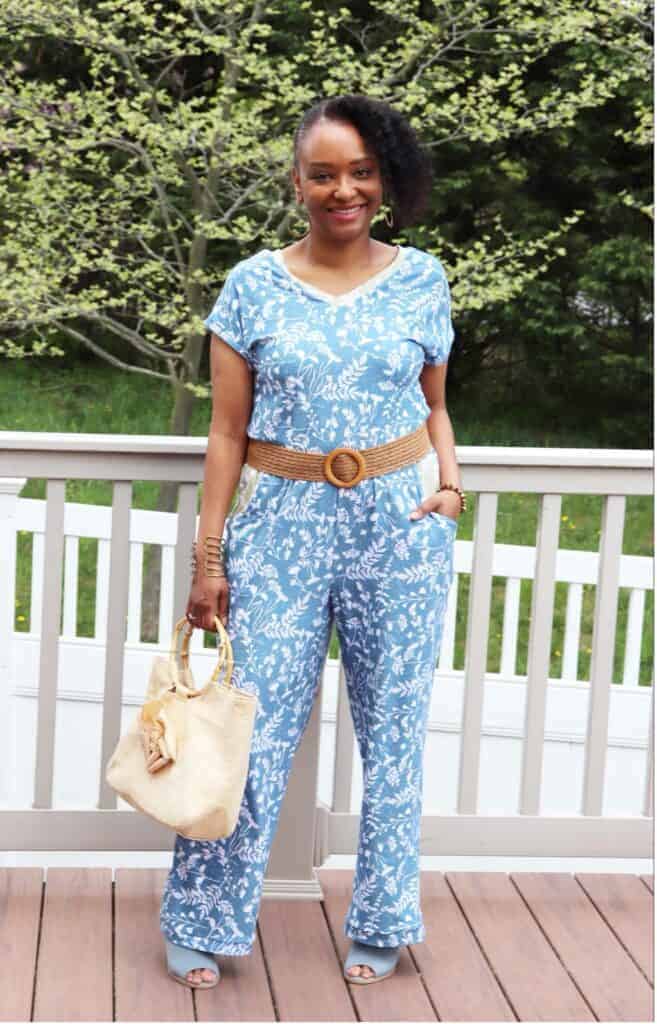 I also made a coordinating Girls Sunday Romper for my daughter. She loves how easy it is to throw on and the large side pockets are her favorite part! Her romper was certainly comfy enough for her to play around with our little dog, Ruby, out on our deck. I how quick and ease this jumpsuit was to sew up in only a few hours. I love that I can continue to make her more of these rompers over the years since it is available in sizes 2T-16.
You can pick up these patterns at a discount today as they are this week's $5 Feature Friday Patterns using the affiliate links below. Don't miss out on these fun and comfy makes while they are on sale!
Ladies Sunday Romper Sewing Pattern (XS-5X) with bust sizing options
Girls Sunday Romper Sewing Patter (2T-16)
Until next time,
Happy Sewing,
Crystal
P.S. If you are looking for more sewing support try some of these:
---
Save this post to your sewing pinterest board!
---
More patterns to customize to YOUR body!