A moto hack for Metra Blazer is exactly what you need to make this blazer even more versatile. In honor of the release of Metra, we're welcoming Marta to the blog to give her how-to for a cropped, shortened, and pointed version that will be great for accompanying all your outfits from dresses to jeans. Thanks, Marta!
Hi there!
This is Marta from The Pickle & The Banana on Instagram and I'm so excited to share with you my Metra Blazer moto hack! This blog contains affiliate links and I'm really grateful if you use them. Don't forget that today is the last day of the release sale and that Metra Blazer will soon go to its regular price of $12.
Before we get started, let me tell you, this is a true hack.  I had an idea, and I just started hacking away at the pattern and fabric.  I have no technical knowledge of how sewing works.  I live on a dream and a prayer, cut first and fix my mistakes after.  That's just who I am. 
MY MOTO HACK INSPIRATION
I have this blazer that I bought at Target many years ago. I wear it all the time. It's perfect because it's not super structured, made from a comfortable fabric, and goes with just about anything. When I made my first Metra Blazer I knew that I would have to try to replicate it but with a fun little spin.
CHOOSING FABRIC for the MOTO HACK
For my first Metra Blazer I used a stretch velour that wasn't very structured so it gave the blazer a more slouchy look.  I knew I wanted something more structured for this one.  So I went back to one of my favourite combinations:  faux leather and ponte from Libelle Sewing.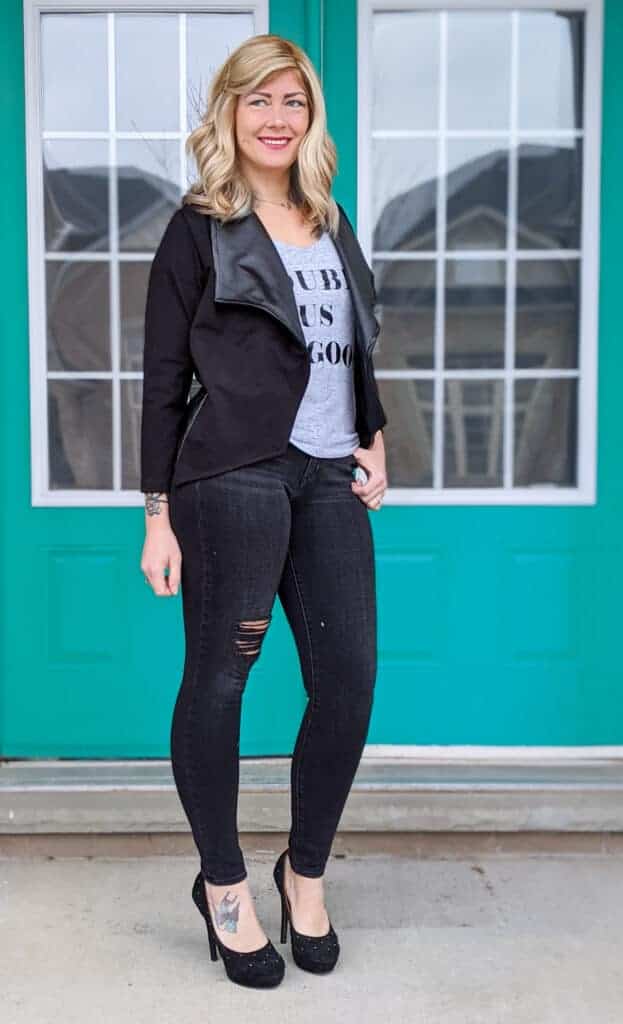 I also used it to make a Tessa Sheath Dress and Sybil Skirt mash up. You can read about that on the blog here.
LET THE (moto) HACKING BEGIN
The first thing I did was decide where I wanted my back bodice to end.  I put on my pink blazer and just made a mark roughly where I thought would work.
Then I transferred that onto the pattern.  Then I kind of changed my mind on the measurement.  I told you I was winging it!
The next step was to work on the front pieces. I layed out my existing blazer onto the pink one and felt good about where it ended. I want to crop it at the front but not too short.
Then I layed out my pattern pieces.  Make sure to lay them out correctly and line up the T marking on the front panel with the bottom of the back panel and the armscyes correctly.
 After that I  put the black blazer on top and traced the point.  If you don't have an existing blazer to trace you can just create a point at any angle you like.  Just make sure to line up all of the pieces you are altering so that the hems meet.  Otherwise you will have pieces of varying lengths.
Here is the back piece and the side panel piece.  I've made sure that they end in the same place so it will be even when I sew them together.
I used my quilting ruler to clean up the lines of the point I had traced so that it was nice and neat.
Make sure to move your T marking as well.  It sits one inch above the hemline.
I also shortened my sleeves by a few inches to get more of a cropped look. I took that length out from the middle and just redrew the lines to make them meet up.
Once all of my pattern pieces were altered and I was *fairly* sure that they would match up, I started cutting my fabric.  I didn't do pockets on this one since I was cropping it and I was pretty sure they wouldn't make it in properly.
CONFESSION
It seems like everything went well, right? Nope!  While cutting the main front pieces I got distracted and started to cut out the pocket piece even though I wasn't including it.  I had already cut the entire rest of the piece and I didn't want to waste all that fabric. So, I grabbed a bit of knit interfacing and attached it to the back.  You can see it a little bit here.
Then, after I had finished the whole thing and was ecstatic at my glorious success, patting myself on the back for being a hacking genius…..the iron melted my collar.  I was using a press cloth but the temperature was too hot.  I coloured it in with a sharpie. Maybe I should colour the bit of white interfacing that's peeking through the fabric with a sharpie too!
The moral of the story is
Sometimes you don't know what you're doing and it still works out great.  Sometimes you make mistakes and you have to figure out how to fix them.  It's ok!  When I put my glorious Metra Blazer on, nobody can see these issues, and I still feel fabulous and proud of what I made.
TIME TO SEW…AND HOPE FOR THE BEST
Now that I've confessed the errors that are not visible in photos, let's get back to the sewing. Changing the pattern pieces was the most effort. After that, I just followed the instructions in the pattern. As I was sewing and the pieces were coming together I was actually pretty shocked. They fit! I was going to accomplish what I set out to do! (And then I burned my collar….but shhhhh….we won't mention that again.)
THE FINAL PRODUCT
Here it is! My cropped, pointed, slightly melted, glorious, Metra Blazer.
I wear a lot of dresses and I prefer a shorter blazer to go over them.  If I do this again I will probably bring the points up a little higher even so they sit at my natural waist.  But overall, I'm VERY happy with the result.
The Metra Blazer is such a great staple pattern on its own.  It's perfect for dressing up or down, depending on the fabric you use.  And it makes a great base for hacking and changing up the shape to suit your needs.  You could add length to make it sit mid thigh if that's what you prefer.  It would be gorgeous in a pinstripe fabric for a suit-style look.  There are so many possibilities.  The detailed instructions and videos for the tricky bits make it a pleasure to sew.  I'm sure I will have many more in my closet soon.
I hope my adventure in hacking has inspired you to get creative. Grab your Metra Blazer pattern now (while it's still on sale!) and create something amazing!
xoxo
Marta
---
Pin this Moto Hack post for later
---
More Outer Layer Patterns
[carousel_slide id=430561]