It's time to start sewing on the Serenity Sew Along! Today we will be assembling the front of our Serenity Sweater.
The crossover front is a beautiful element of the Serenity Sweater!
The construction is actually quite simple! I'll include a video of the process at the bottom of this blog post.
The first thing to do is to press the front edge of the Serenity Sweater in place on both front pieces. Hem tape, like the Heat n Bond Soft Stretch pictured below, can make this process easier if you have fabric that won't stay in place or shifts around easily. Topstitch in place. I used a coverstitch, but you can use a straight stitch with a sewing machine for this step. If using my sewing machine, I prefer to lengthen my straight stitch a bit, to about 3.8.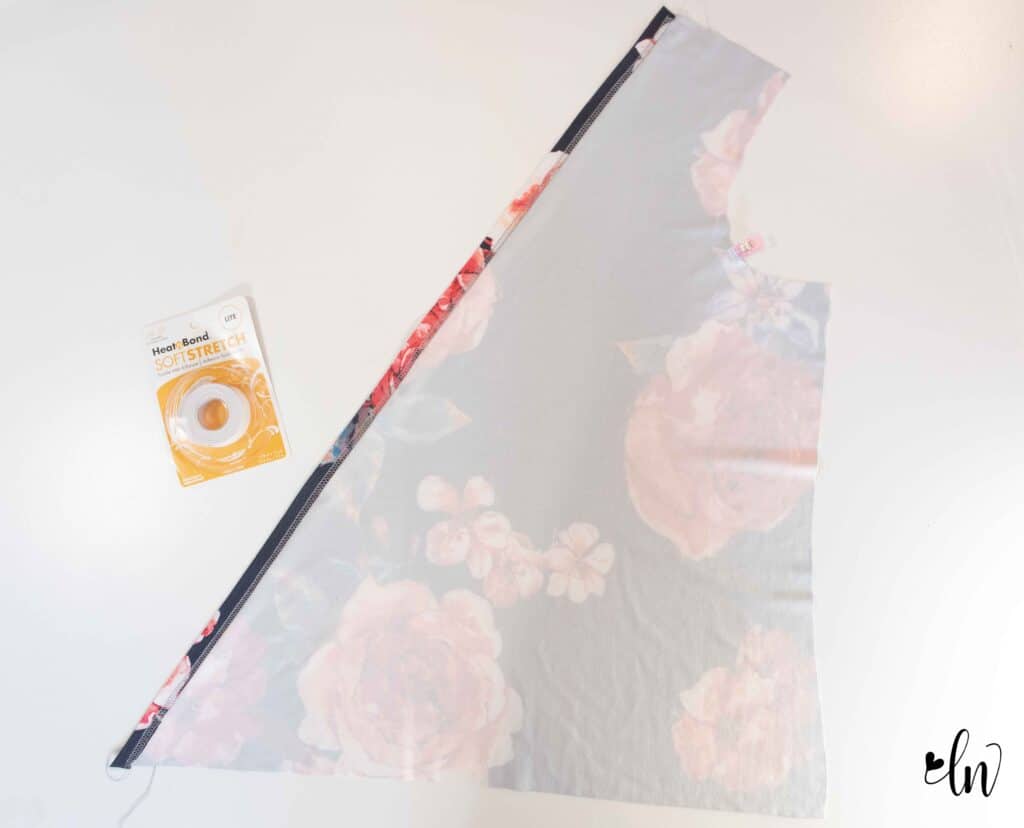 Place your two front pieces together. The wrong side of the bottom piece will be against the right side of the top piece. Line up the bottom hems and sew along the bottom with a 1/2″ seam allowance. Again, you can use a straight stitch for this. Do NOT use a serger for this step. You need the seam allowance to attach the elastic in the next step.
After the bottom is sewn together, sew the 3/8″ clear elastic into place using a zig zag stitch. Be sure to stretch the elastic as you go!
After the elastic is in place, flip your front to enclose the elastic between the two front pieces. Fold the top piece down like the photo below.
Lift the front by the hem and allow the front to fold at the bottom seam encasing the elastic.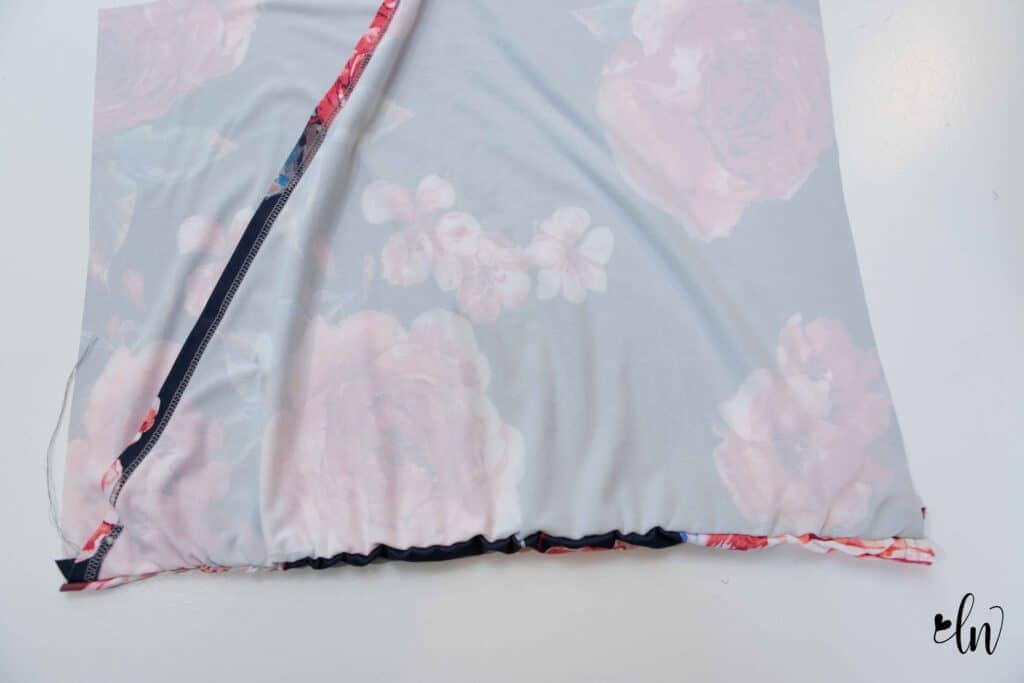 The elastic will be completely enclosed in the front pieces. That's all there is to do! For a video of this process, hop over to our YouTube Channel
Gorgeous fabrics from Surge Fabric Shop
This blog post features Lola on Midnight Navy from Surge Fabric Shop. Our YouTube tutorial features Misty on Smokey Mauve. These are both  double brushed poly fabrcis that have such a soft drape and great stretch making these super comfortable to wear.
Sew with friends and win prizes!
Sewing with friends on a common project is a great way to socialize and "meet" new people! Join our Serenity Sew Along Event happening in our Facebook Support Group. There you will get daily reminders for blog posts and YouTube videos, be able to ask questions in a friendly environment, and enter to win a prize at the end of the week! One lucky person will win a $50 gift certificate from Love Notions Patterns (good on all PDF patterns) and a $50 gift certificate from our sponsor Surge Fabric Shop.
Sew along discount codes
Use code SerenitySAL for 10% off now through November 30th. Sponsored by Surge Fabric Shop — take 10% off your purchase from 11/1-11/13 with code LNSAL10OFF.
Serenity Sew Along Schedule
Monday: fabrics, adjustments and cutting
Tuesday: assembling the front of the sweater
Wednesday: constructing the body of the sweater
Thursday: sewing the sleeves and attaching armbands on the sleeveless sweater
Friday: hemming and sewing the banded hem option