Hey Y'all! It's almost Thanksgiving, and here at the Love Notions Fan Club – er, I mean Monga household, we're doing a lot of reflecting and counting of our blessings. We've been living in this wonderful country, the United States of America, for just over ten years now, and have gladly added it's holidays to our calendar. Today I'm feeling so blessed to bring you my favorite all-occasion pattern, the Love Notions Rockford Raglan, and a few thoughts about thankfulness.
The Love Notions Rockford Raglan for women and the Wrigley Raglan for girls are both on sale today for $5 each. The Rockford features multiple fits, either fitted at the bust and flowy through the hips or straight with an optional asymmetric overlay or banded hem. The Wrigley offers a slim tee style and a raglan dress with optional inseam pockets. There's even a hood you could choose to add! There's a variation to match your every mood.
Of all the styles you can choose to sew, I find raglans are the easiest.
There's no shoulder seam to sew up before you sew the sleeves, which means all the matching up can be done right at the cutting table. You can then sew the whole body assembly-line style, which basically means one seam after the other. You don't even need to cut the thread each time until your sleeves are attached at all the four seams! Since each of the four seams is independent of each other, you don't need to press before you sew the next one, unlike a traditional top where you should press the shoulder seam to the back before you add the sleeve.
To begin, cut your fabric as per the pattern instructions, making sure you're cutting notches as per the pattern piece. This is vital since the front and back seam of the raglan sleeve is very different. The back is higher since it contributes to the back neckline.
Lay your back body piece, right side up, on your cutting table. Align the sleeves (right sides together) with the back, matching notches, and pin every few inches. Flip open the sleeves, carefully, exposing the right side of the sleeve fabric. Now place the front (right side down) over the sleeves (you may want to scrunch up the back piece to match the width of the front), matching the notches along the raglan seamline. Pin well again.
In one fell swoop you've pinned up all four of the raglan seams, and you're ready to sew!
While at your machine, remember your seam allowance is ⅜", and begin sewing up one seam after the other, without stopping to cut the thread after each seam. Remove your pins as you come to them and not in advance because that will save you a lot of anxiety about whether you've sewn the correct edges together. Don't forget to backstitch if you're using your sewing machine at the beginning and end of each seam! If you're serging and like to tuck the tails in after you've sewn each seam, leave a long (6") chain between feeding the next seam.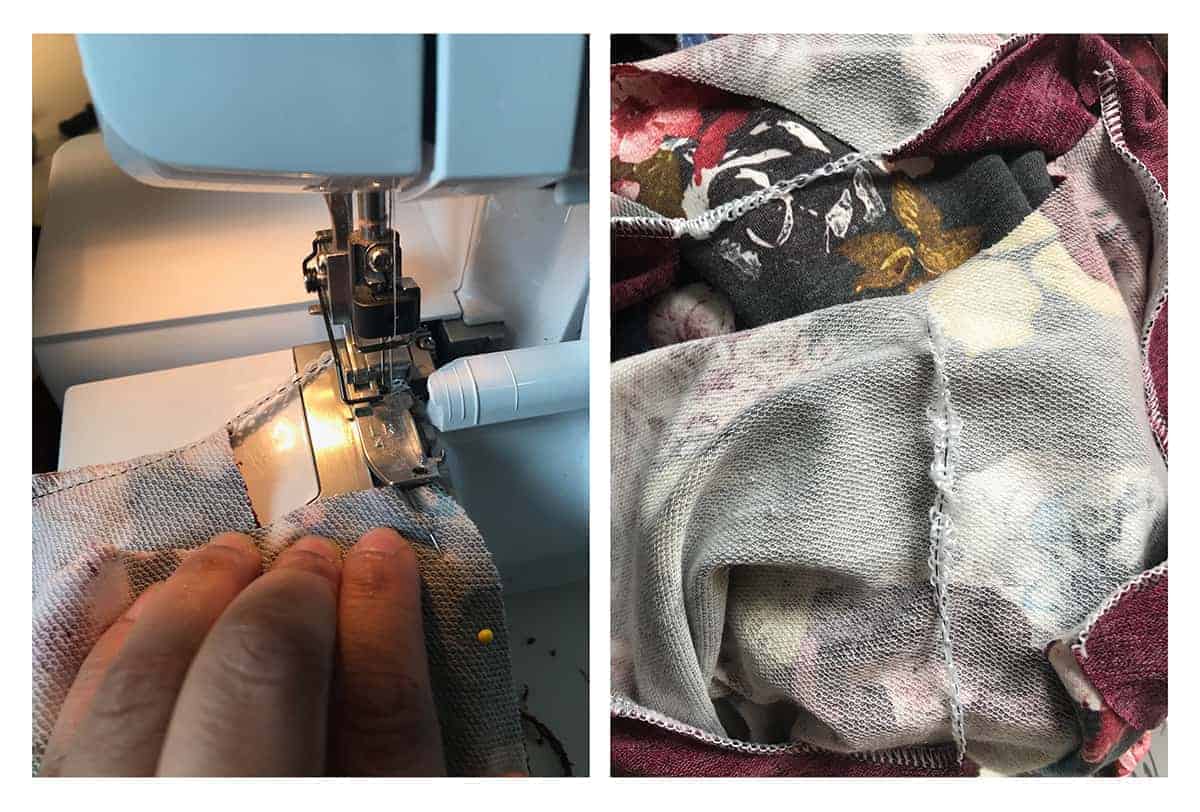 Your raglan probably looks all twisted since it's joined to itself in all kinds of ways right now. Worry not! Cut all four chains in half, and using your tiny crochet hook or needle, tuck the ends in. Also, tuck in the beginning and end chain. If you're sewing, just snip the start and finish of each seam to free your raglan!
Press well for a great finish, especially since these seams are curved.
Here's another tip: press the seams toward the darker fabric so there's no visible shadow under the lighter fabric. If both fabrics are opaque, always press away from the body, toward the sleeve to make the tee sit nicely and reduce bulk.
All that's left is matching up the side seams and sewing! Make sure you're pinning at the underarm, and your seams are laying the way you just pressed. Hem and add the neckband, and don't forget to press well. And you're done!
And now I'd like to talk about why I chose this pattern for Thanksgiving.
Having been in the US since we got married ten years ago, our family has come to celebrate this melange of Indian and American culture. It's wonderful, celebrating twice as many reasons to gather and be with family and friends. While we don't have a turkey at home, we go over to our friends' houses to share in their feasts. The Indian festival of lights, Deepavali (or Diwali), is usually in early November, and we invite our friends over to celebrate with us. Back and forth it goes, almost all year round! Isn't that being doubly blessed?
I am also incredibly thankful for the fact that eight years ago, a Joann's store behind my house closed down. They were just moving to a bigger store nearby, but that 70% off sucked me in. At the time I only knew how to knit and crochet, and hand-sew Barbie doll clothes. But ohhh, the fabric! At those prices! I knew nothing about sewing machines, or fabric beyond "cotton", let alone woven vs knit, but I knew I needed to learn all I could about all of it. So I signed up for a pillow-making class at Joann's (the new store), bought a paper pattern and a sewing machine (a Janome cheapie, but it's still my only sewing machine) and set off on this wonderful journey.
Since we all know the Big Four paper patterns don't do much hand-holding, I would google how-tos and tutorials. As I started googling how to add a zipper, how to make french seams and such, I found the wonderful world of PDF patterns. And bam! My life changed. I found the Love Notions' Leggins for FREE (gasp), and decided I could do that! I could make that! So I followed Tami's instructions, and I did. I DID, y'all!
Y'all, I scour it daily for tips, tricks, ideas and just the joy that there are so many people that share my love for this pattern company. I'm not kidding. I'm not an admin, but I end up answering questions anyway. And I may keep going until they make me stop, lol. I am so thankful for this wonderful repository of knowledge that can get me out of most sewing jams, for keeping me sharp as a pin (hehe) and engaged in something greater than my little world.
Above all, I am grateful that I have made so many friends in this sewing world, friends that keep me laughing and motivated and competitive.
I'm so grateful for these relationships that have supported me through seven interstate moves, two children, ups and downs, richer and poorer, where each of us is learning and yet so knowledgeable. I'm grateful that I was chosen to be a pattern tester, working alongside such innovative minds, pushing me to learn photography, social media skills, pattern drafting and hacking – the list is endless.
I'm grateful for my favorite Love Notions top pattern, the Rockford Raglan. A pattern I tested, with the slim-fit bust and flared hips that suit my mom-bod so well. The raglan cut lets me play with two fabrics if I choose, a semi-formal style that is so very me.  
Today, I'm thankful that I am here, with all these opportunities. I wouldn't have learned to sew had I not moved to the US, driven past that closing down sale. I wouldn't be giving you my tips, sharing my love for this craft and this sewing world. I am so grateful and blessed to be sharing it with you.