What do you get when you plan and work and organize an event for a year? Answer- a wonderful, fulfilling time spent with other garment sewing enthusiasts! Planning this sewing retreat was a labor of love. It was a lot of work but BOY was it worth it.
Before I go any further, I have to show you all how great our swag bags were. We had some super generous sponsors that certainly helped make this sewing retreat.
Our swag bag sponsors were: Shannon Fabric, PDF Plotting, Therm O Web, Schmetz Needles, Superior Thread, Birch Street Clothing for their Swedish Tracing Paper (yes, every guest got a roll of STP in their swag bag!), Mrs. H Patterns, Fiskars, Olfa and Patterns By Jen. A HUGE thank you to these great sponsors!
I also purchased a few goodies that I LOVE to add to the bag.
Such as custom pattern weights from Mikimooshi, an Easy Check tape measure from Hoechstmass (that I ordered all the way from Germany- worth it), a custom printed modal knit that Sly Fox Fabrics helped procure, a beautiful charm bracelet from Craftista as well as a few other odds and ends. Some of these lovely businesses helped with the cost by giving me a bulk discount. Thank you!
Riley Blake Designs was also a big sponsor. Back in the spring, they sent me a HUGE box of some of their beautiful fabrics to help with the decorations. We used those fabrics to make everyone a custom lanyard & coordinating pillowcase. We also made a kajillion feet of pennants to dress up the hall. The fabrics were such a fun touch! We had so much fun decorating and arranging the Gathering Hall. I can't tell you how much debate and thought was put into the layout of the hall. We had two objectives- space for the hand's on lectures and space for sewing workstations. It was harder to figure out than we originally thought but I think we accomplished both goals.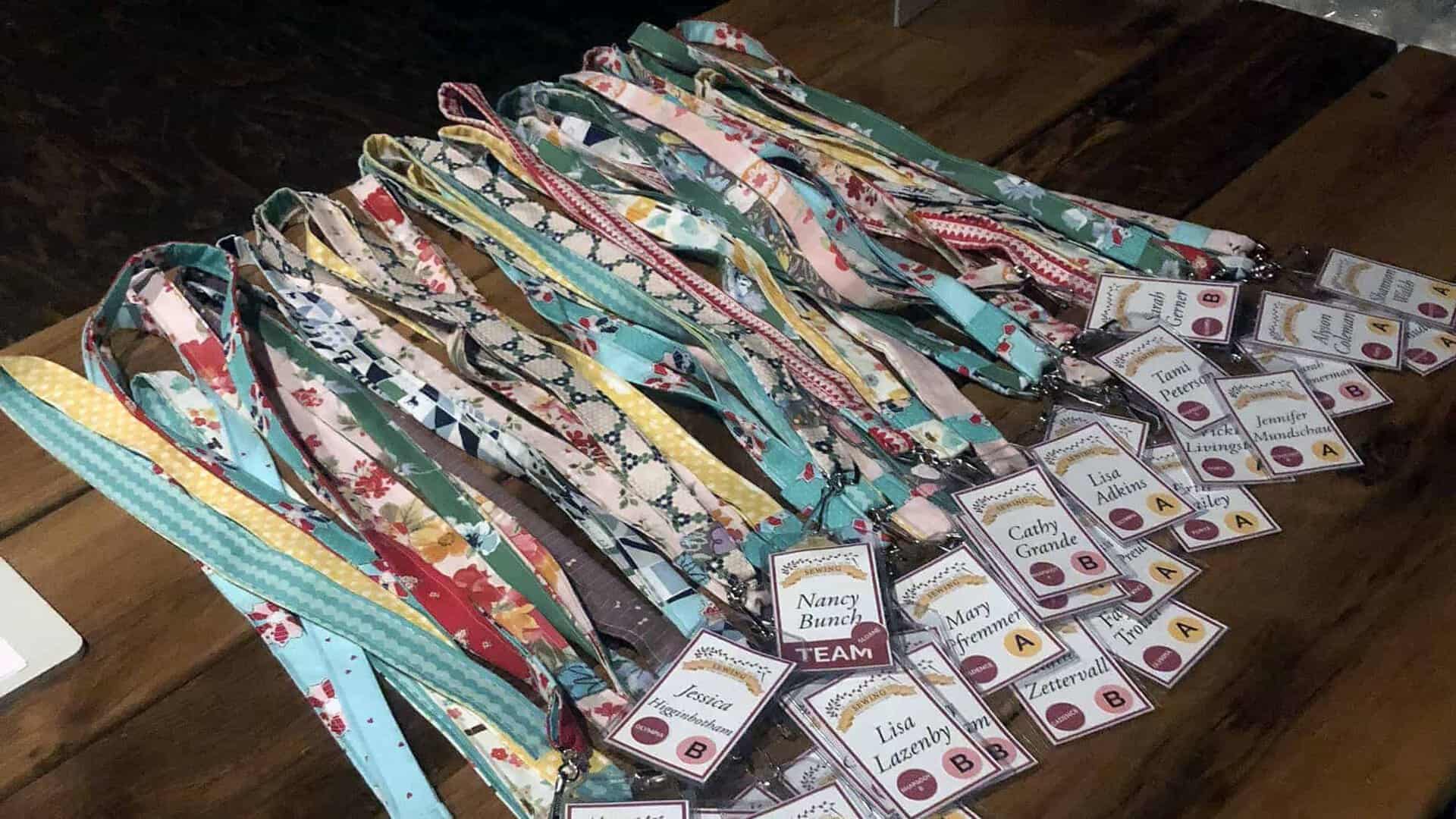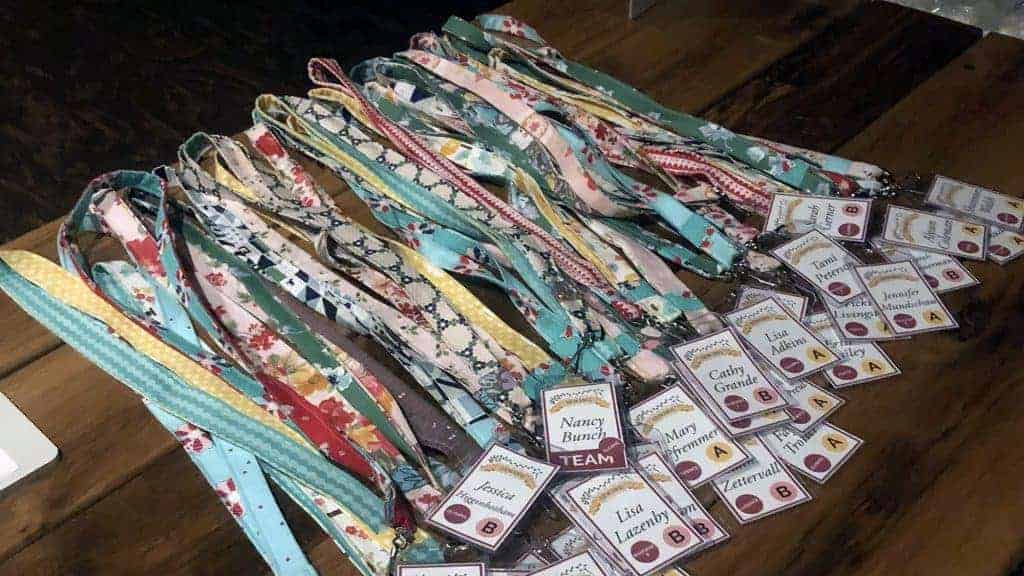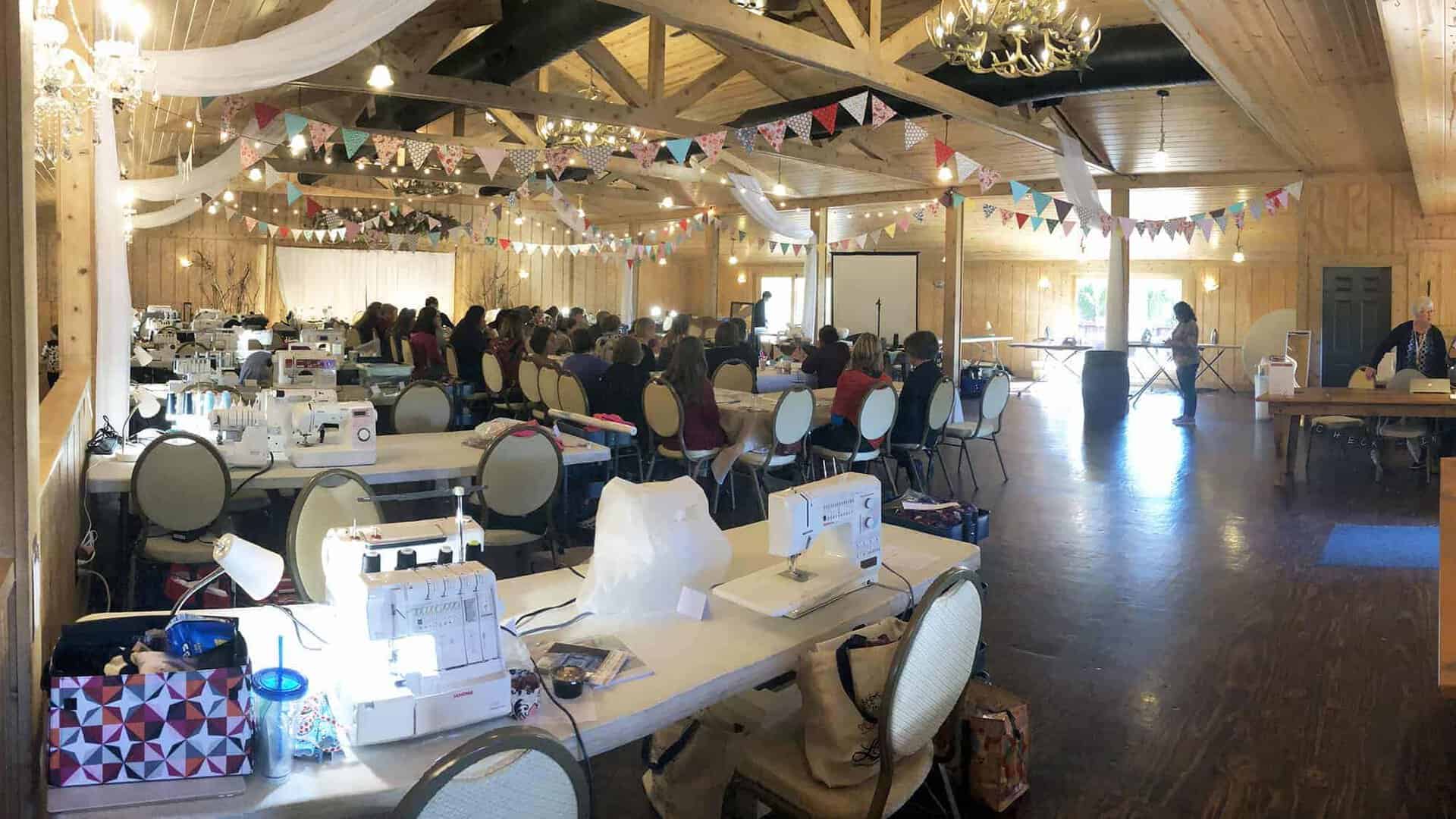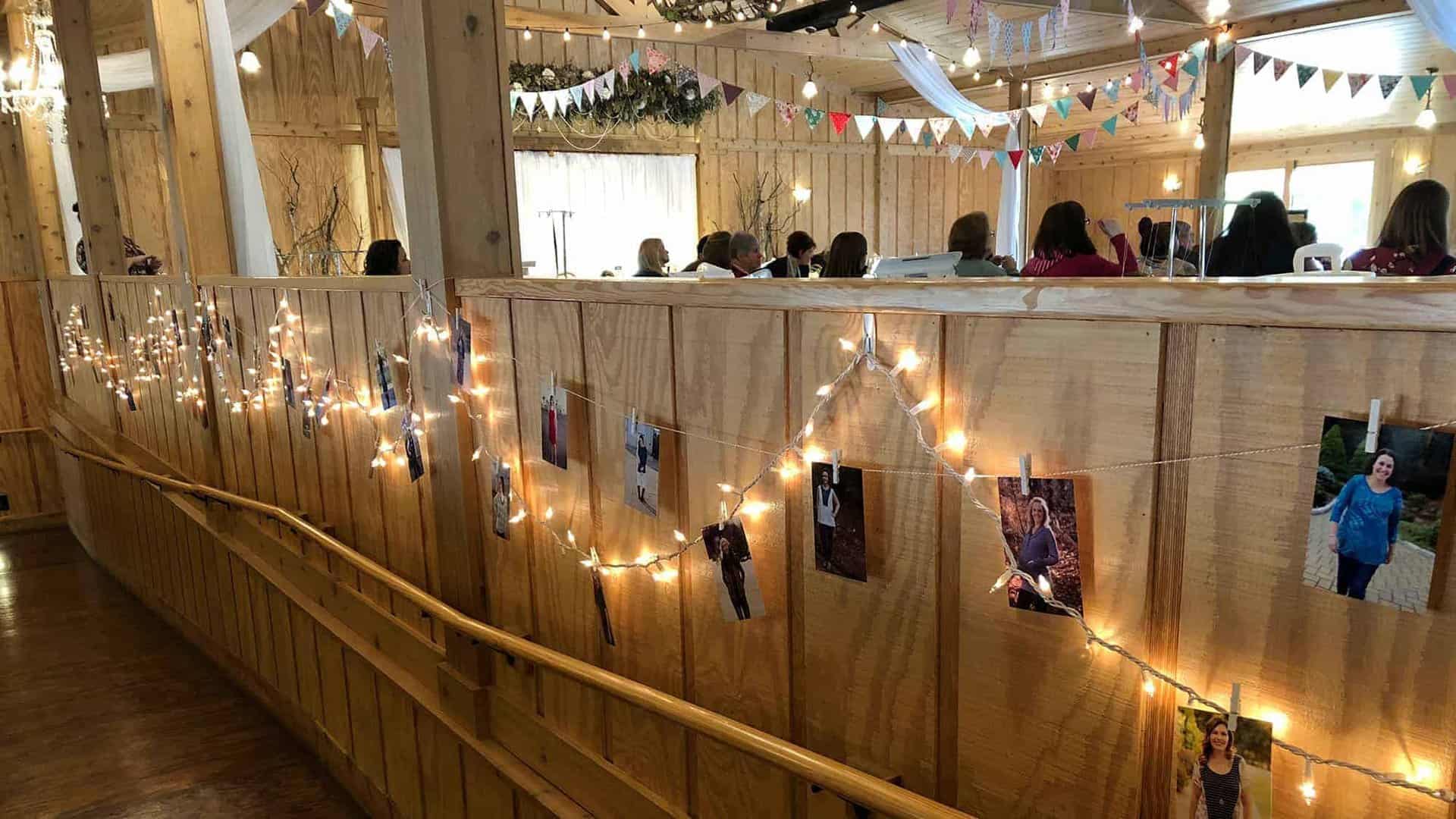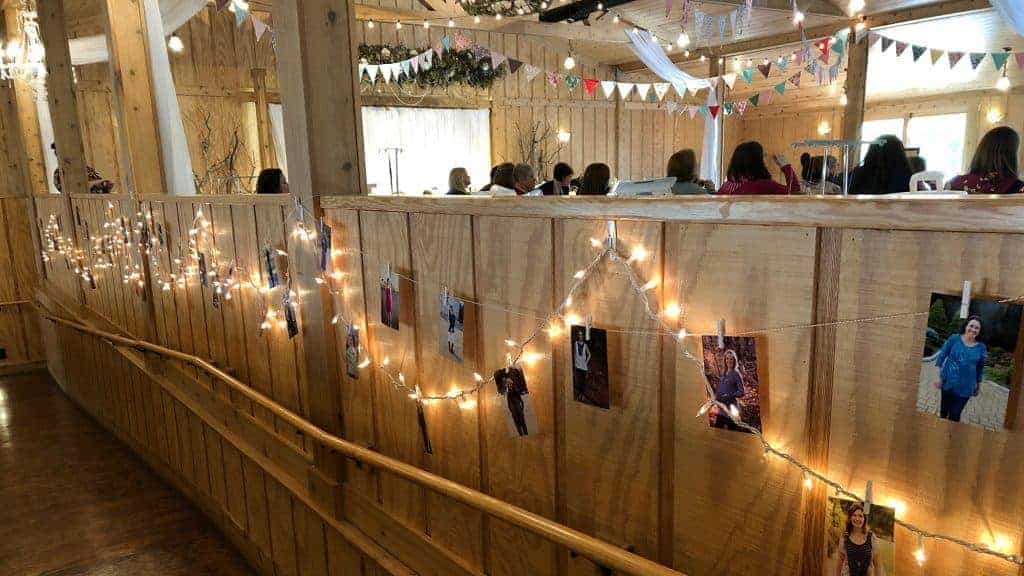 We didn't stop at decorating the Gathering Hall, we also added a few touches to the Lodge. Each of the seven rooms was renamed with a Love Notions pattern name. And of course, the matching pillowcases!
Once everyone checked in (all 38 of us), we had a nice lunch and then got right down to business with the first class I taught- Pattern Hacking 101. It was such a fun class to teach. I even gave them a little assignment to create their own pattern hack using a scaled down pencil skirt sloper. They did a great job! My goal in teaching that class was to give anyone intimidated by hacking the confidence to just try a simple hack on their own. Mission accomplished.
We also had a heat transfer vinyl class presented by Kelly & Rachel that was a hit! Students got to try their hand at weeding and applying some decals and even got to cut out some custom designs.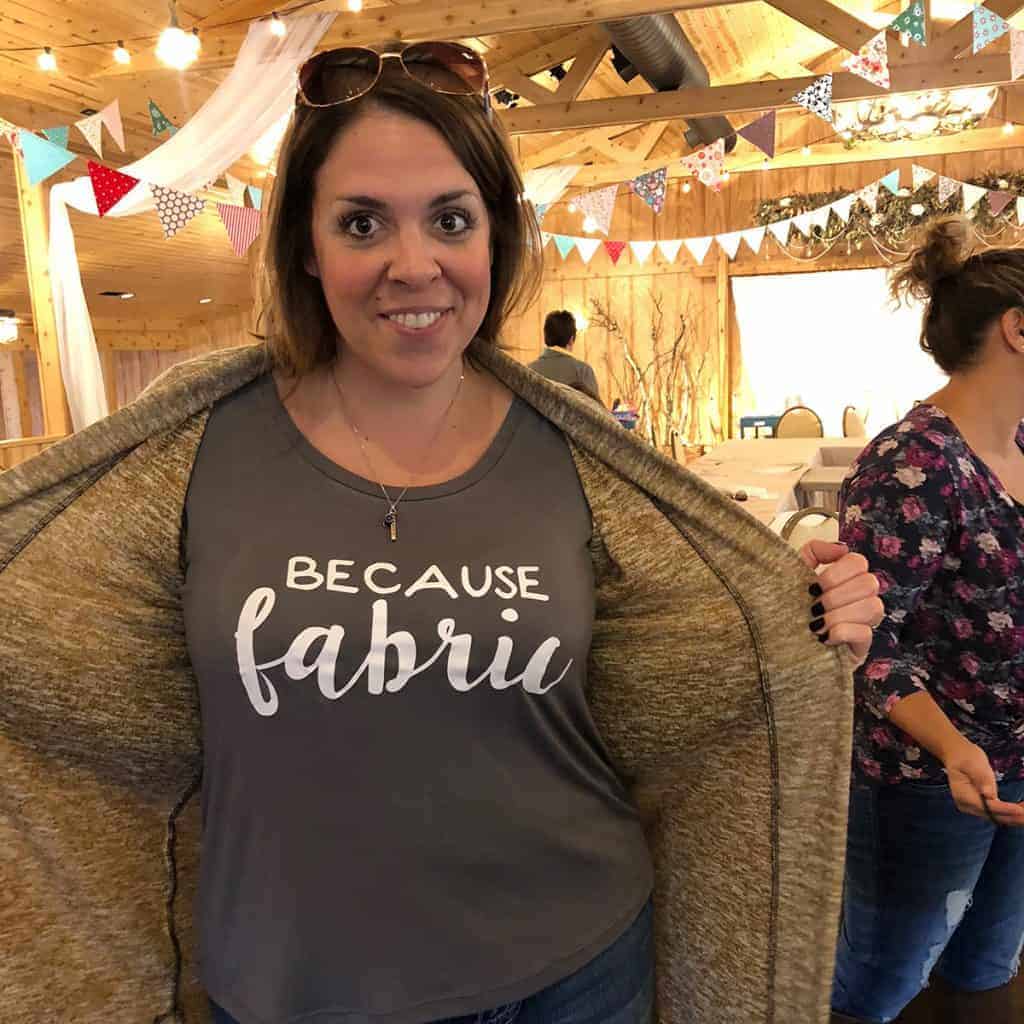 Fabric Fun
After a pizza dinner, we all met up at the Lodge for a presentation from Sly Fox Fabrics. Boy, were we in for a surprise. In addition to bringing samples of all different types of knit fabrics we could feel in person, they also did a Yankee Swap (aka White Elephant). If you ever want to play a game with some fellow sewers, THIS is a great idea. They had brought purses stuffed with 2 yards of different fabrics for each guest! So much fun (and stealing) was had. Having Sly Fox attend the retreat was such a treat. Everyone really enjoyed getting to know Mary Beth and Katy and their team. It didn't hurt that they brought fabric for us to shop.
If there's a lesson to learn here, it's if you want to make instant friends- bring fabric!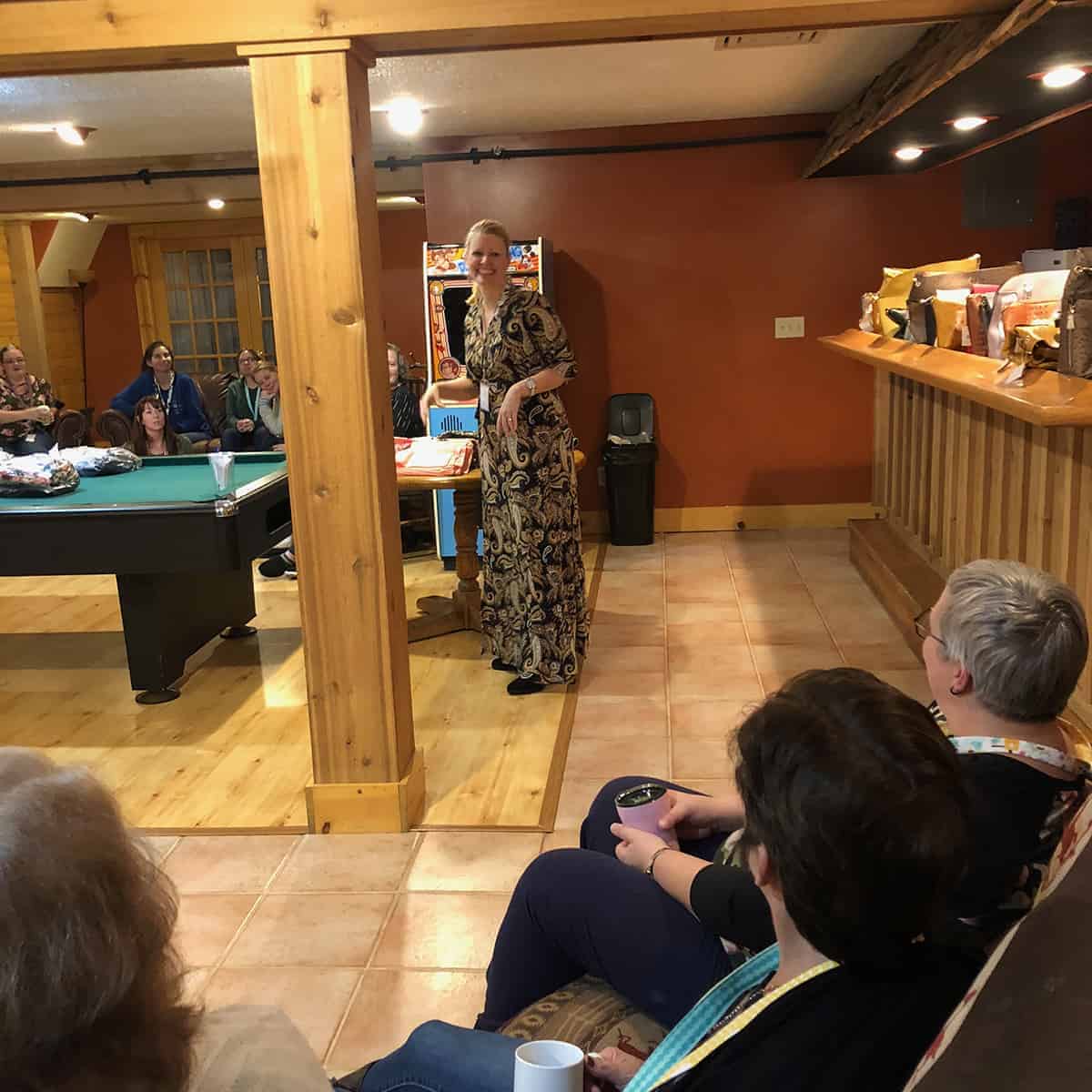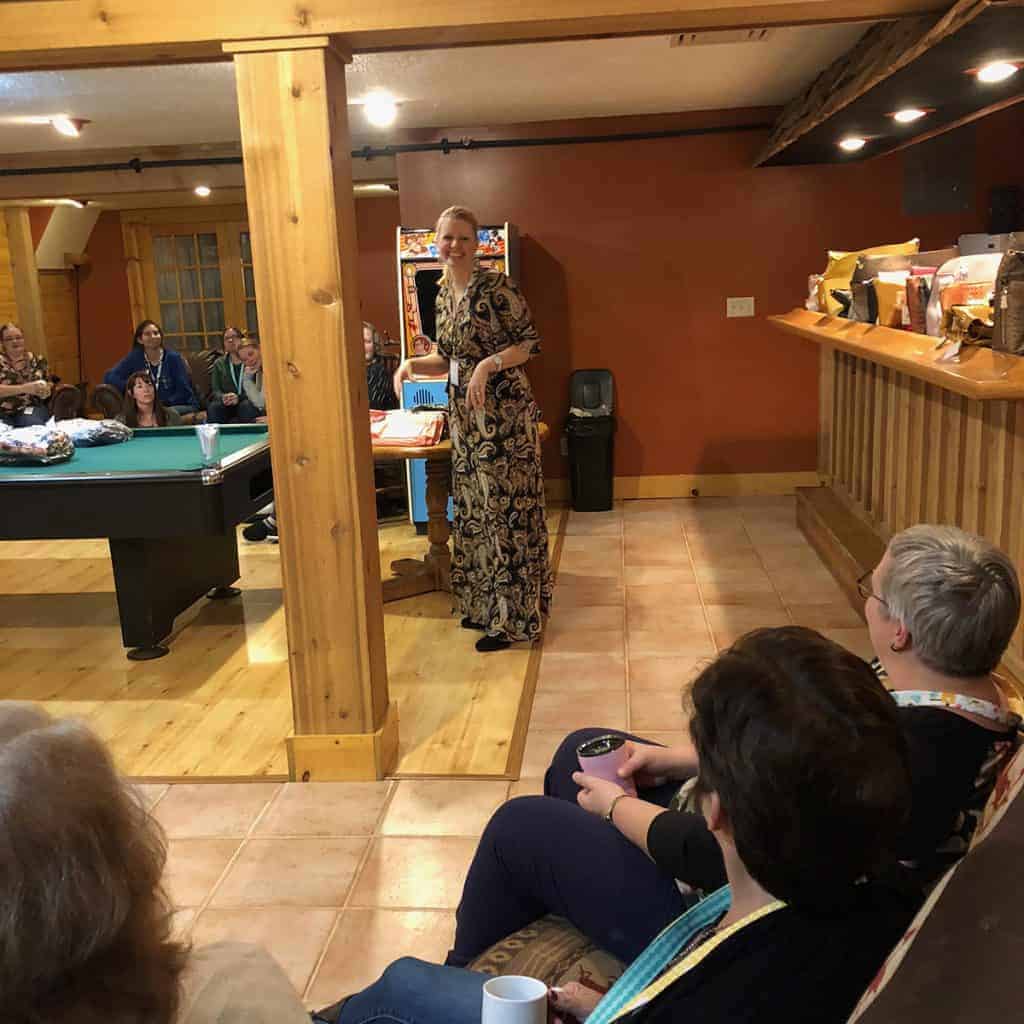 By this time, I was completely bushed. I headed to the hot tub to relax and just chat. The perfect way to wind down a very busy day. Others stayed up until 2 AM to sew, evidenced by all the coffee cups (and chocolate wrappers) left at the stations. 😛 I can't believe how productive everyone was. I know there were more than a couple ladies who completed 8+ projects!!
Sewing Retreat Day 2
Some ladies started the morning off with a peaceful yoga class amongst the sewing machines. I wish I would have gotten a picture of that. That morning we began a busy day with teaching a pattern fitting class (along with taking comprehensive measurements), two sewalong sessions, a photography class and more free sewing time. It was another late night for some. Not having other obligations to worry about really frees you up to sew your heart out.
Day 3 Sewing Retreat Wrap Up
This morning we mostly got each other's contact info, Instagram handles and last minute photos while packing up. But before we said goodbye we did a drawing for all our great prizes donated by Fiskars, Olfa, Birch Street Clothing and my mom (who made beautifully quilted machine mats). I added in two Oliso irons as well- got to spread the Oliso love! These are my favorite irons. Side story- at one point during free sewing time, Cathy G. shouted 'IRON' and ran across the room because she saw my Oliso iron sitting plate down on the ironing board. I forget people aren't used to seeing an iron in that position not being used. The auto feet are so cool!
Back to the prizes–
To enter the giveaway we did a little scavenger hunt where there was a list of 'moments' they had to capture on their phone. Each moment capture was an entry and they could earn more entries by sharing on social media. It was really fun and a nice icebreaker.
A comment I heard more than once during the sewing retreat was that sewing can be such a solitary hobby, it was really refreshing to spend dedicated time with others who enjoyed it as much as they did. Sure, we have our virtual sewing community, and that is really special too, but spending time in person with others doing what you love is just the best. If you ever have a chance to attend a sewing retreat (whether Love Notions or otherwise) DO IT! You might be nervous because of the logistics or because you don't know anyone or because you're an introvert. I promise you every person at this retreat had one of those thoughts but they were all glad they overcame those hesitations and came. And I am so glad each and every one of them did. It was so special for me. I can't express my feelings at how cool it was to see these 'strangers' wearing Love Notions patterns. People who weren't related or really know me! I was surprised at what a cool feeling that was.
Three ladies I could not have done this without were Kelly, Rachel and Tessa. All three of these ladies really pitched in and helped in all different ways. They also made me feel comfortable and confident in my role as host. I can't thank them enough. <3 Not pictured here is my mom who also came and helped out in a BIG way. She got up early every morning to get breakfast going for all of us. My mom is a wonderful cook and host and she sure made my life easier during the retreat (and all the time, for that matter).
Until next year!
If you'd like to hear more about any future retreats and in-person retreats, be sure to sign up for our newsletter.