It's day four of the Thomas Track Pants Sew Along. We have talked about sewing view A, the basic pants, how to sew the pockets and using 1″ elastic when we don't have 2″ elastic on hand. Today's focus is sewing pants with a lining. Lined pants are perfect for kids who are bothered by the side seams because all of the seams are contained. They are also great for when you want to use a lighter weight fabric, but want a warmer pair of pants. Don't let sewing lined pants intimidate you! Keep reading for some tricks to make it easier.
To sew the lined Thomas Track Pants, you will need to cut two sets of pant legs. When you cut the lining fabric, you need to fold down the waistline and fold up the hem before you cut your fabric. The picture below shows the hem folded back on the "cut here for lining" line and the other pattern piece shows the line where you will fold back the waistline for the lining.
After you have your lining and main assembled, you will have two pairs of pants. Keep your lining inside out and turn your main pants right side out.
Then, after you have your elastic attached to the main pants, follow the instructions in the Thomas Track Pants pattern and place the lining inside of the main pants. Make sure to match up the front and back correctly!! Fold the waistband down, being sure to catch the lining fabric. Take your time on this step and use lots of pins to hold things in place. Keep your seams aligned and work your way around. I like to start at the back rise, then pin the front rise, and then work my way to the side seams. After I have all of those places pinned, I go back around and pin between those points. Taking your time is very important here!
Once everything is pinned together, you have two ways that you can tackle topstitching the waistband in place. You can sew along the bottom edge of the elastic on your first pass. (This is what I normally do.) Or, if you have especially shifty fabric, sew around the first time just 1/2″ from the folded edge of the waistband. So in this case, you are sewing along that first line of topstitching you see in the photo below. This makes handling the waistband a bit easier because you are working in a smaller area and it's easier to keep the fabric lined up straight. After I get that top row of stitching in, I will then go around and topstitch along the bottom edge of the elastic. And then last, I will topstitch between the first two rows. Again, take your time! And remember to stretch the elastic while you topstitch.
Once everything is lined up, topstitch the waistband in place and then topstitch through the elastic.
How to color block the leg of the Thomas Track Pants
We've all been there. We order some fabric with intentions of sewing something but then we never get around to sewing said item. For one reason or another, the fabric sits and waits for us. And then, the next season, we decide we are going to sew up that item! So we pull out the lovely fabric, measure our child, print the pattern, lay the pattern out on the fabric, and then bam, it hits us. There isn't enough fabric because the child grew. Whomp whomp waaahhh.
That is exactly what happened with me and this amazing green Under Armour fabric from Surge Fabric Shop. I had ordered a yard, and last year that yard would have been plenty, but this year, I need four more inches for his Thomas Track Pants Yep, just four inches. That left me with grabbing different fabric or making it work. I decided I was going to make it work! Let's color block! I wanted a bit more of a design element than a straight line, so I mimicked the Kayak shorts and did the color block at an angle. Measure up the side seam (and inseam if doing an angle) of both the front and back pieces. Use whatever measurement you need. I needed 10″ of length for the design I wanted. Draw you line. This is where your seam will be.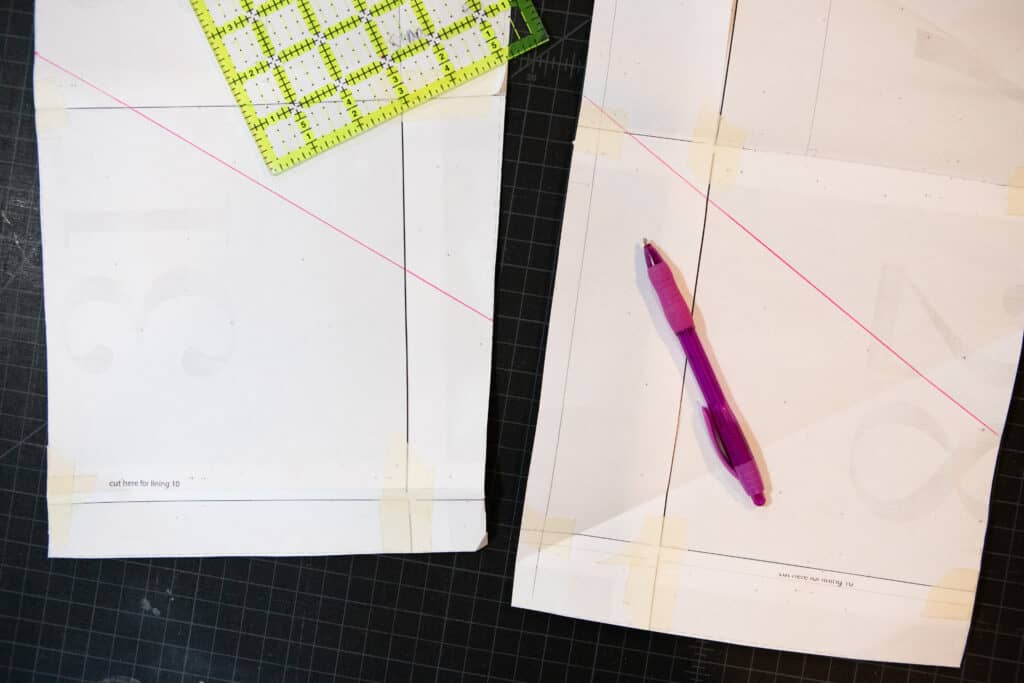 Fold your pattern back along this line. Again, I like to preserve my pattern pieces whenever possible, but you can cut along this line also.
When you cut your fabric, make sure you add the seam allowance! I place my ruler beyond the seam line and then cut.
I used the scraps of my athletic fabric to cut the bottom portions of the legs. Then sewed my pieces together, pressed the seam allowance and topstitched. Done! Now I can continue on with assembling my Thomas Track Pants!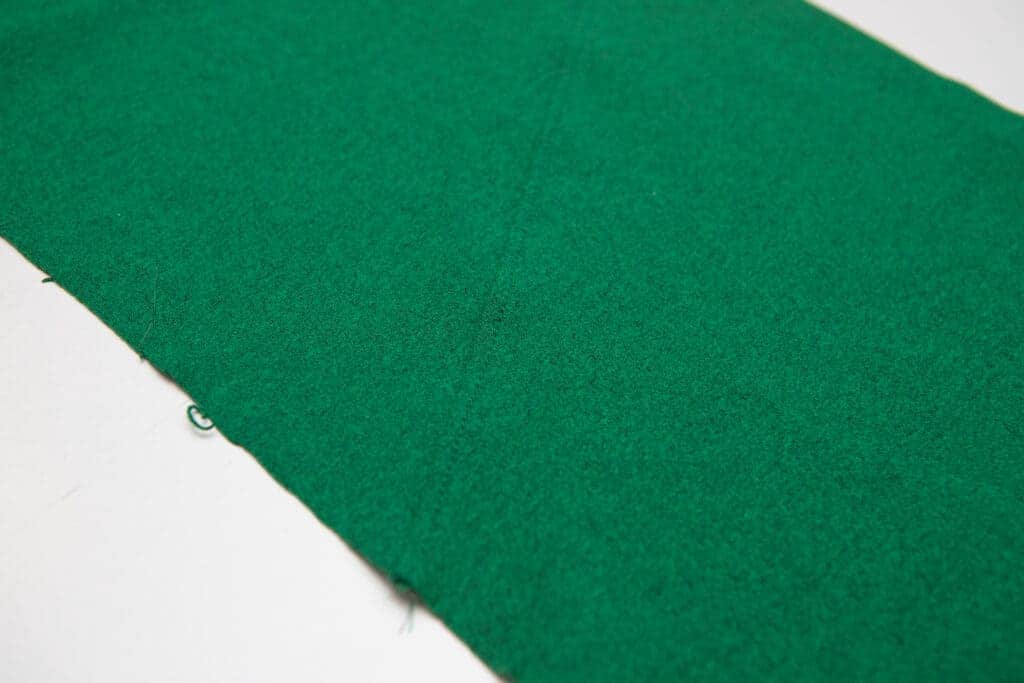 We love sewing with friends!!
Join us over in our Facebook Support Group to sew right along with me! Share photos of your progress, and check out what others are sewing also. You can even ask questions and watch live videos as I sew each day's step of the Thomas Track Pants!! We will also have a give away at the end of the sew along where one winner will receive a $50 gift certificate to Love Notions Pattern AND a $50 gift certificate to Surge Fabric Shop!! All of this only happens in our Facebook group, so join us today and don't miss out!
Day Four: How to sew pants with a lining, Color block pants
Day Five: How to sew the zipper hem
Thomas Track Pants

$

10.50