Feature Friday is here again! The Vanguard Kit pattern collection is worth every penny as it delivers up style after style and option after option. It's got just enough to be fun and exciting for the little kids, but still cool and sturdy for the big kids. Today, Pat English shows just how versatile this pattern is with her makes for her cyclist grandson.
The Feature Friday this week is the Vanguard Kit and for versatility, I don't think you can beat it.
There are so many options with this pattern that it's hard to find something you can't do!  It has to be my most-made pattern of all time and works equally well for boys and girls!
Vanguard: Plain, Short-Sleeved Tee
Are you looking for a plain short-sleeve tee?  Look no further.  The Vanguard short sleeve has a band on the bottom and when I use a different fabric for the neckband, I like to echo it elsewhere in the shirt.  And look at the hemming you've saved yourself!
This plain short-sleeved shirt is made with cotton/spandex from l'oiseau fabrics and I made my grandson Kayak Boardshorts of Solar Stretch from Discovery Trekking Outfitters.  Both garments are roomy and are perfect for this active kiddo!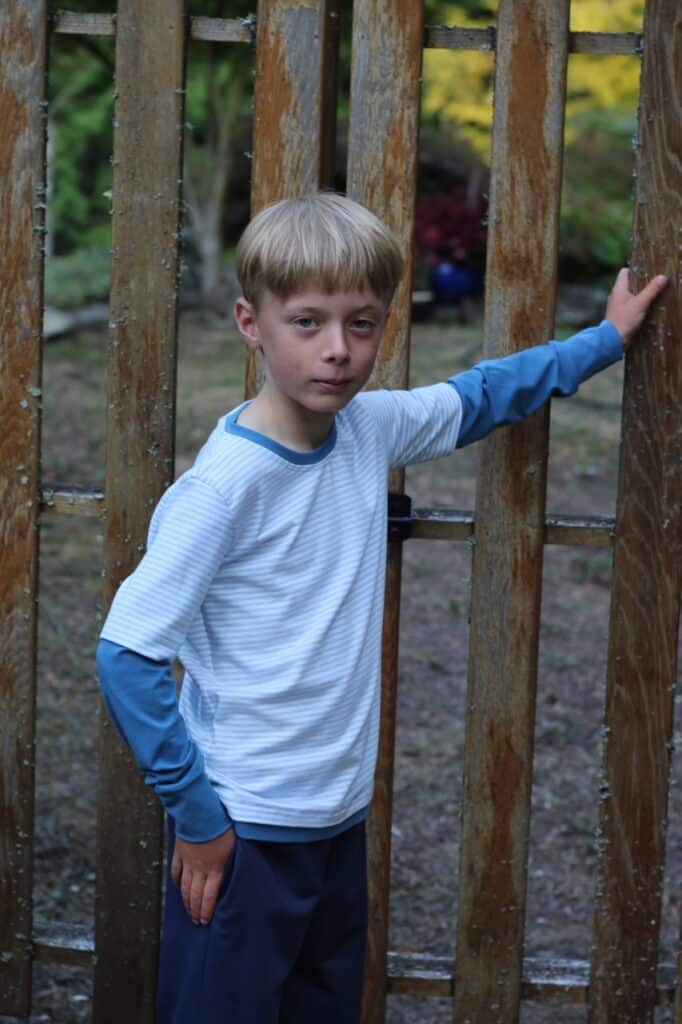 Vanguard: Long Sleeved Shirt with Faux Hem
When the cooler weather arrives, the Vanguard shirt is right there waiting for you.  I chose the faux hem version for this long sleeved shirt and decided to give it a faux short sleeve while I was at it!  Again, my cotton/spandex came from l'oiseau fabrics.
The instructions for the faux hem are right in the pattern, but if you're unsure how to do the sleeves, here's what I did.
First of all, I cut the short sleeves 1″ longer as I wasn't going to add the band and hemmed them.
I laid the short sleeve right on top of the long sleeve and treated them as one.  The pins at the top are the shoulder markers from the pattern piece.
I serged the sleeve pieces just as I would if there was only one sleeve piece and then stitched up the sides.  The only extra care I had to take was making sure the short sleeve ends and the stripes matched.
I was pretty pleased with how this shirt turned out and was quite chuffed that my stripes matched!
I paired this Vanguard shirt with Love Notions' Thomas Track Pants which I made using Fleece Backed Lycra from Discovery Trekking Outfitters – the perfect athletic fabric for warmth and comfort for my energetic grandson. (Be sure to join in or catch up on the Thomas Track pant sew along with Kelly! You can find all of her Thomas Track pant sew along blogs here. This is such an amazing resource!
Vanguard: Colour-Blocked Hoodie
My grandson is an avid cyclist and again – Vanguard to the rescue for a terrific hoodie!  He helped choose the perfect fabrics – again from l'oiseau fabrics – to complement the vibrant patterned fabric.
This time I made the fully colour-blocked version with bands of neon green and orange cuffs in black sleeves.  The shirt front was colour-blocked black, pattern, black and the back is patterned.
The black hood is lined with the same "rad" patterned fabric.  I was pretty sure he'd like it, but this is the third day in a row he's worn it – in spite of the warm summer weather.  I think it's a hit!
To go with the biking theme, I made him a pair of Moto Maxx pants using medium-weight scuba from Discovery Trekking Outfitters.  This stretchy fabric is perfect for my biking enthusiast!
Vanguard: Endless Possibilities
Now these are only 3 shirts made using the Vanguard Kit pattern.  The possibilities are endless!  If you're looking for a quick, versatile pattern, you can't go wrong with the Vanguard Kit.  And as a Feature Friday pattern for only $5 it's an amazing deal!