Welcome to day one of our Thomas Track Pants Sew Along!! I am so excited for this sew along. My son loves his Thomas Track Pants, especially that side zipper at the hem. He has sports practices during the winter and he gets HOT during practice, so he wears shorts. But during transport, he needs some pants. (It's cold in the Midwest!) The hem zipper makes it so easy to slip his pants off before practice without having to take off his shoes. I know that the zipper can be a bit intimidating, especially with a lining, but we are going to go over all of that step by step this week! This sew along is also perfect for beginner sewists, as we will go over the very basics on how to sew a pair of pants. The Thomas Track Pants makes for the perfect pair of lounge pants! So let's talk supplies and get ready to sew!
Typically day one of our sew alongs, we go over the perfect fabrics, well this time we already have that covered! Hop to THIS BLOG POST that talks about the perfect fabrics for the Thomas Track Pants.
Surge Fabric Shop is our sponsor for theThomas Track Pants. Sew Along. They have a great selection of fabrics perfect for the Thomas Track Pants.! I ordered some ponte for the color block version. The heather grey ponte and the monotone charcoal ponte. I also picked up some of the 280 GSM athletic brushed poly in teal for a solid pair of Thomas Track Pants.. I love the weight and drape of all of these fabrics! The selection of french terry fabrics are also a great option!! Sweatshirt fleece would make for some super cozy pants for cold winter months. And let's talk athletic fabric. SO MUCH TO CHOOSE FROM. Wow!!
The Thomas Track Pants. features a nice wide elastic waistband. This ensure that the waist stays in place without any rolling while the little wearer is running and playing hard. You can find the 2″ wide elastic that the pattern calls for at most fabric shops, or if you shop online, Wawak and Amazon both have great prices for bulk shopping.
Zippers can also be found at most fabric shops. Etsy has some great places for zipper for cheap! I love Zipper Stop. Fast shipping and quality zippers. Make sure you buy the correct size. You want a closed end zipper, 4″ for sizes 2T-4T, 6″ for sizes 5T-8, and 8″ for 10-14. If you can't find the color you want in the size you need, buy longer. You can always shorten the zipper to the length you need. Don't forget, you need TWO zippers!!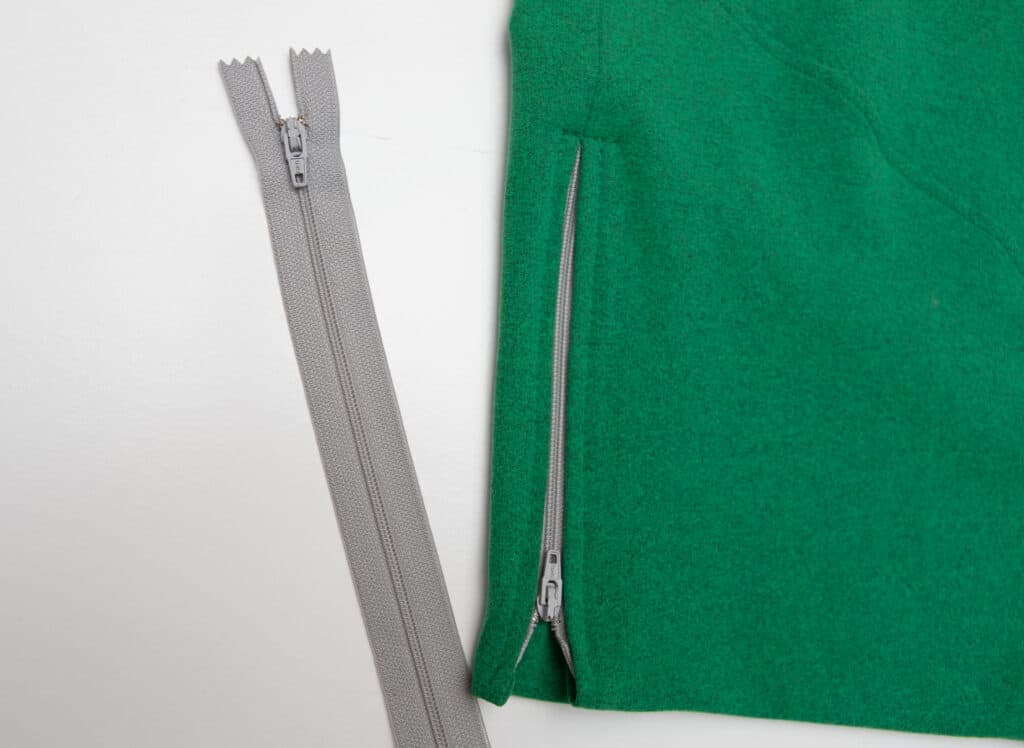 Piping is a fun optional detail that you can add to your Thomas Track Pants., either view, the color block or the solid. Buying prepackaged piping is quicker and easier, but you can always make your own. This tutorial by MADE Everyday is a great one.
After you have all your supplies, you will need to print your pattern. To choose the size, measure your child's waist, hip, height, and inseam. Use the hip measurement as your base size. Then blend for the height size and lengthen/shorten the inseam as needed. In the image below, the left in red shows how to blend if you need more height, the right in green shows how to blend if you need to shorten. I highly recommend that you sew up a muslin pair to ensure they fit properly, especially if you are needing to blend sizes. Flannel or quilter's cotton are great for this. Just sew up the basic pair to check that they fit properly and you have a great pair of pajama pants in the end!
If your child's height is all in the legs, or has short legs, and you don't need to worry about messing with the rise, you can shorten or lengthen directly at the hem. Here I am adding 2″ for my son's leg length. I just move the ruler so I can cut the extra length I need. If you are using the zipper hem, make sure to adjust the marking for the zipper placement.
After you have your fabric selected and pattern printed, go ahead and cut out your fabric and join me tomorrow to start sewing! In tomorrow's post, I am going to go over how to sew a basic pair of pants. We will cover assembly, sewing in elastic and hemming of a basic pair of pants.
We love sewing with friends!!
Join us over in our Facebook Support Group to sew right along with me! Share photos of your progress, and check out what others are sewing also. You can even ask questions and watch live videos as I sew each day's step of the Thomas Track Pants!! We will also have a give away at the end of the sew along where one winner will receive a $50 gift certificate to Love Notions Pattern AND a $50 gift certificate to Surge Fabric Shop!! All of this only happens in our Facebook group, so join us today and don't miss out!
Day Two: How to sew basic pants, How to eliminate the side seam
Day Three: How to sew the Thomas Track Pants pockets, Using 1″ elastic
Day Four: How to sew pants with a lining, Color blocking the leg
Day Five: How to sew the zipper hem
Thomas Track Pants

$

10.50