Read all about the sewing convention that Tami and I recently attended and see if this type of in-person sewing event is something that you want to add to your sewing bucket list. (Spoiler Alert: It is!)
Have you ever thought about going to a sewing convention? Conventions in general seem to be a booming cultural phenomenon right now. Every hobby, product, activity, sport, and interest has its own big event where fans gear up for a total immersion experience. People who love everything from comics, to cars, and even candy all have their own events complete with costumes, swag, vendors and classes — and the sewing world is no different!
There are sewing conventions, sewing meetups, and sewing events around the nation every week, but this past weekend Tami and I attended the Sewing and Stitchery Expo (or "Sew Expo") in Puyallup, Washington. According to its website, Sew Expo is the "largest annual gathering of the sewing community in the entire country" and it was truly a full immersion sewing experience. (While quilters seem to have an event every day of the week — this expo was geared toward both quilt AND garment sewists.)  There were hundreds of classes, hundreds of vendors, and thousands of people all gathering to celebrate their sewing experience. 
So, here's a recap of our trip with some reasons why I think you should go to an "in real life," sewing-focused event the next time you have an opportunity.
5 Reasons to Attend a Sewing Convention
Reason 1 to Attend a Sewing Convention: TO GET INSPIRED
Do you need a sewjo reboot? I have to say that for both of us this trip inspired a huge round of sewing before we even got on the plane  — because of course we had to show off our Love Notions best!
Tami sewed up and wore her latest pattern design in both knit and woven and received a TON of compliments on it. The pleat front top, tunic and dress is going to be great for spring! Tami plans to call it "Vivace." We grabbed some pictures of a few of our makes in the *adorable* Air BnB we rented close to the expo. It was a darling hundred year old house with such charm — and great light!
As for me, I was inspired to sew up a bunch of new patterns for our trip. I wore this hooded Sloane + kangaroo pocket with leggings and a quilted Oakley vest — it was the perfect travel outfit. I sure appreciated all those pockets!! (My Sloane is in the Minimal Floral jersey, newly released from Raspberry Creek Fabrics.) 
I also wore this Harmony and it was perfection for a put-together and layer-able look for travel — this crepe fabric DOES. NOT. WRINKLE. (In fact, the day after I wore it, we realized we didn't get any pictures and I pulled it from the actual laundry hamper at the Air BnB to grab a photo!) On the day I wore it at the expo, I paired it with a Canyon Cardigan — another perfect-for-travel item. (P.S. The Canyon Cardigan is on sale in honor of the upcoming Sew Along! Take 10% off with code "canyonsal" AND Raspberry Creek is the sponsor and you can take 15% off now through March 22nd with code "lnsewalong".)
Here we are in our expo-inspired makes enjoying the not-to-be-missed raspberry scones found at the fairgrounds! Scroll down for a link to all the Love Notions pieces we brought in our suitcases.
Reason 2 to Attend a Sewing Convention: TO LEARN
Besides sewing inspiration, one of the main reasons to come to a sewing event like the Sew Expo is to learn. Lectures, fashion shows, panels, hands-on classes, and product demos were available round the clock during the expo.  
This expo had literally hundreds of classes of varying lengths and types. As a relative newbie with no formalized training, I learned some specific techniques from the classes I attended — many of which would be so hard to replicate on a sewing video or blog. I attended a class about fitting, one about sewing and social media, and a couple about professional finishing. We both look forward to taking some hands-on classes as well next time!
My favorite quote from Annette Millard's class about fitting was "It's a bust measurement, not a mammogram."
We also saw some exciting new (or new-to-us) products that we were able to investigate in person. I am all about on-line shopping, but if you have ever wanted to test-drive a new machine, a sewing convention is THE place to do it. We had every brand, model, and make ready and waiting. My mom *almost* pulled the trigger on a new Bernina (and she still might!)  and I got to play around with the Babylock serger with jet-air threading (which I'm dreaming about for my next big sewing purchase). Tami was super tempted by the Baby Lock Triumph (though she learned that it would be too big for her new sewing table).
I dared my mom to write out Love Notions on the giant long arm quilting machine at Baby Lock. 😉
We also saw this new pin or clip alternative called Sew Tites which was really intriguing, as well as a made-to-order dress form from Ditto Form. Of course, we all loved test-driving the scissors at the Kai booth (best scissors ever, I promise!) and we made several stops to try out all their options. This sewing machine light from Daylight was super tempting and many, many stops were made at the Clover spots around the expo. Tami swears by these bodkins and is trying out this point turner right now.
Reason 3 to Attend a Sewing Convention: FOR SHOPPING
The expo is the perfect place to shop around and many of the booths had some great finds that we wouldn't likely see on-line. One major difference in this type of shopping was the ability to actually speak to an employee about the products – and many times we were able to speak to the business owner or creator. Our mom and aunt did some major shopping — my mom even brought another full bag to bring home all her fabric and notions, I think she bought over 20 yards! (By the way, you can see a "Sew Expo Shopping Haul" on the Love Notions instagram, just click on the "Sew Expo" highlight — and be sure to follow @lovenotions while you are there!)
Aside from that, this experience (and it's fabric and pattern shopping opportunities) prompted both of us to purchase items that weren't from our typical shopping locations, and we are excited to work on some new projects! Tami is even breaking into the bag-making world with a Klum House Dopp bag, and her Pendleton Wool purchase has inspired a new pattern for the fall. 
Reason 4 to Attend a Sewing Convention: TO CONNECT
Let's face it, most of us exist primarily in the "on-line" sewing community. We spend the majority of our time connecting through social media and the internet, so one of the greatest opportunities with this expo was the "in real life" connections. We were so thankful to connect with a bunch of Love Notions customers, testers, and friends! 
We were also able to meet many other on-line sewing faces — we talked with Amanda from So Sew English (what an engaging and passionate business owner!), Lindsey from YouTube's InsidetheHem (so sweet and we love her makes!), and Michele from Stylemaker Fabrics (they had the cutest booth!).
Reason 5 to Attend a Sewing Convention: TO HAVE FUN

It's been said many times before that sewing can be a lonesome hobby. For some of us, we rarely see another passionate sewist. It can be validating to see others with a similar connection to sewing. I have to admit that it was so fun to connect with and be around literally thousands of people who also "get" it. Most of my friends in real life have no idea what a bobbin is, let alone how to wind it! Spending time with others who understand this passion and who have made it a priority in their lives was invigorating.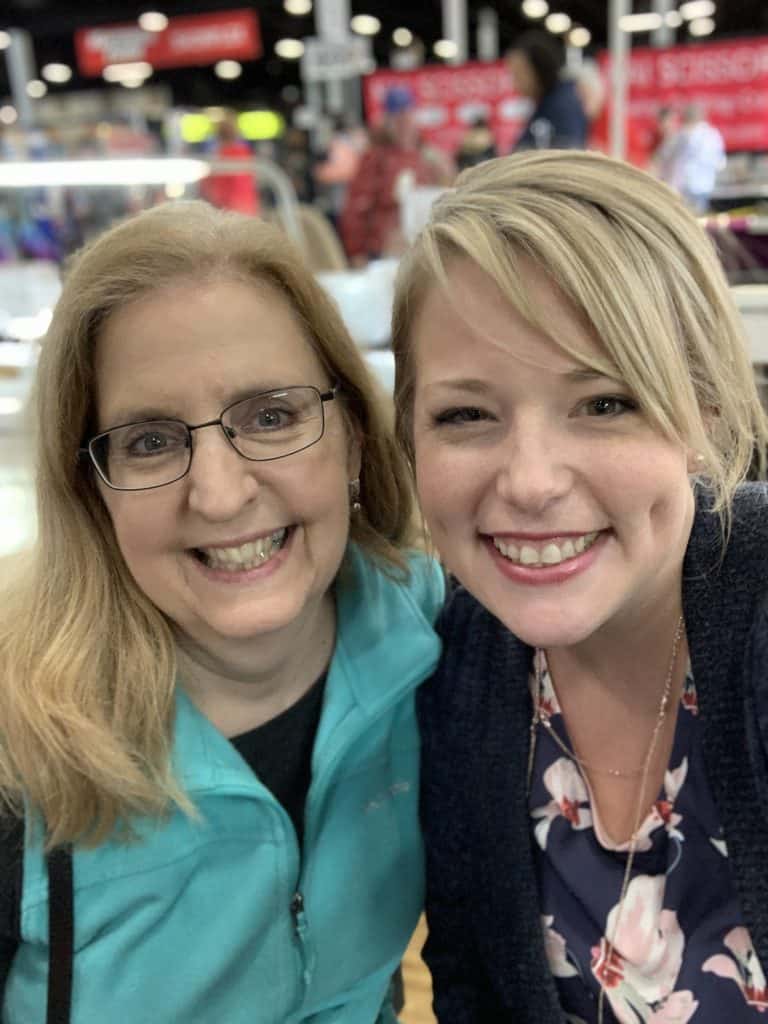 A trip to a sewing-related event can also make just THE most fun getaway trip. Tami and I are lucky enough to have family members who are avid sewists, so it was a given that our mom and aunt would tag along. (They are quilters more than garments sewists, but we're working on that ;P.) In addition to the expo classes and shopping, we were able to do some sight-seeing and adventuring. We toured the Pike Place Market, visited our old house in Seattle, ate delicious seafood and just enjoyed each other's company, 
Whether we were enjoying a delicious meal, relaxing in our Air BnB, joking around on the drive, or exploring the sights — this trip was full of laughter. As a mom of three little ones, I don't get very many chances to engage in extended conversations with adults — let alone have a 4 day weekend without diapers, refereeing fights, or cleaning up spills — so this getaway was such a blessing.
For this reason and all of the above, I highly suggest attending a sewing-related event the next opportunity you have!
Now, what sew-related event should we travel to next?
Want to see more of our trip? Check out my instagram stories for even more sew expo highlights. I'd love to connect with you there — but hope we can meet up at a sewing event in the future!  For now, you can find (and follow!) me @tessadoes on Instagram. This is where I share adorable pictures of my gorgeous girls in their mama-mades as well as record my own adventures in pattern hacking and sewing pretty fabric and patterns.  And be sure to email me (tessa@lovenotions.com) for anything marketing or event-related with Love Notions Sew Patterns. 
Want to connect "In Real Life" at other sewing events and spaces?
Here are some options:
Original Sewing and Quilting Expo
Your chapter of the American Sewing Guild
Like this article? Pin it for later!
Shop Our Suitcases