Love Notions has "grown up" a little bit more every year it's been in business, and some of us have developed right alongside it. Today's guest blogger, Rachel Ring, is one of those originals and you can see her and her darling family grow up right before your eyes on the pages of the Love Notions website. Today, in addition to her Blissful Blazer Zipper Hack for $5 Feature Friday, Rachel Ring leads us on a trip down memory lane with a round up of the seven Love Notions patterns that are just about ready to retire. She and her daughter are on the listing pages for each and every one.

For a limited time, you can claim your own part of Love Notions history by purchasing these patterns for a deep discount of only $3 each until the end of February 2020. 
Retiring Pattern Roundup, plus Blissful Blazer Zip
Happy Friday, friends! I'm Rachel Ring and I've got two parts to this post, and both are close to my heart. We're going to be retiring some of our oldest patterns (all of which I tested waaaay back when), and I'm excited to take a little trip down memory lane to share some details about those patterns with you – you'll want to make sure to pick them up while they're still available! Then, in true Feature Friday fashion, I'm excited to share a mod I made to the Blissful Blazer for my tween. 
A TRIP DOWN MEMORY LANE
First, memory lane. I know I've shared this story here before, about how I became one of Tami's early testers and she has been kind enough to keep my kids and me around ever since. Basically, I sewed up Tami's first pattern (The Everyday Playdress) and then shamelessly sent pics of Miss P modeling the dress and begged Tami to add me to her tester pool for future patterns. I was so excited when she replied and said she'd love to have us join her! We've tested nearly every pattern since then, and I've been lucky enough to join her team for the past two Love Notions retreats as well. My kids' wardrobes have been basically sponsored by Love Notions, between tests and just reaching for the same tried and true patterns many times over. I've loved watching them wear their mama-mades proudly, and now my niece and nephews have even gotten to wear their way through the hand-me-downs. The styles have been timeless yet modern, cozy yet still put-together.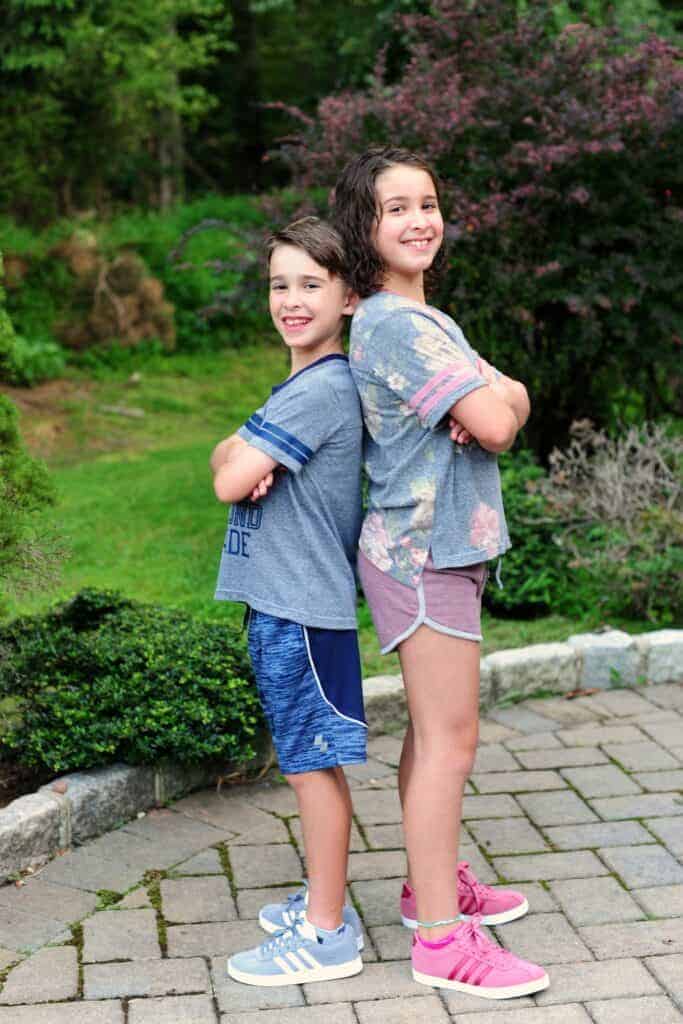 Here's my crew in their Navigator Pullovers and Game Day Jerseys.
And when Tami introduced ladies patterns, at first I resisted – so much that the Trendy Tunic for ladies is still one of the only LN patterns I've never sewn! Now Tami's aesthetic has made its way into my closet too, and I've developed a close (if not always affectionate) relationship with my measuring tape. As my body has grown and shifted with motherhood and time (and some help from gravity, ugh), being able to sew for myself has been an empowering solution.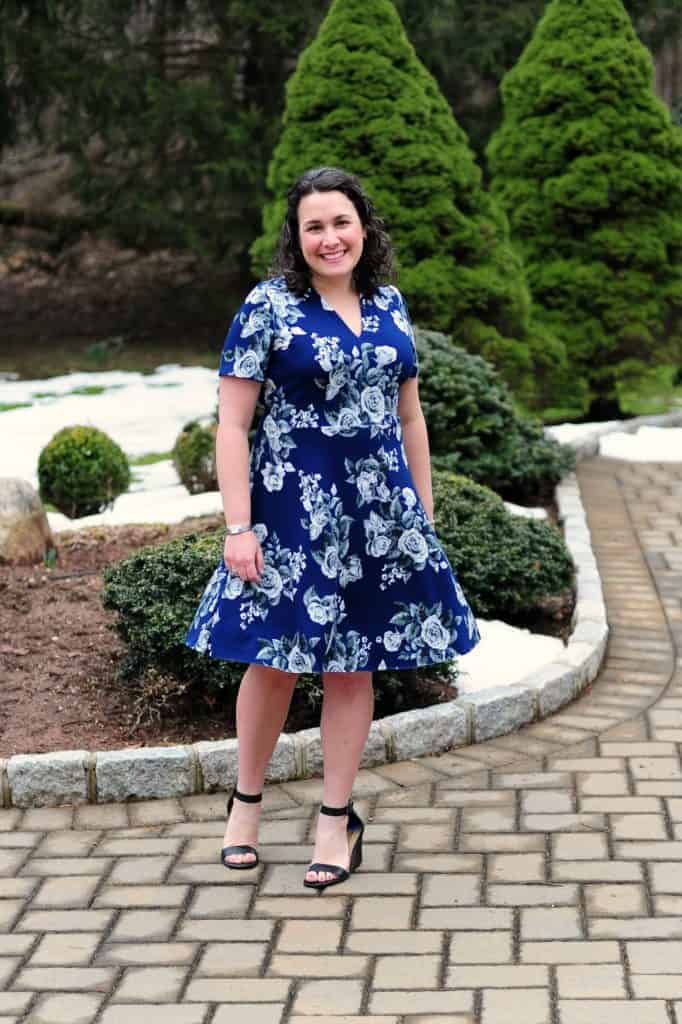 Here I am in my Olympia Dress and Willow Wrap Dress.
Here are the Retiring Patterns
Tami's aesthetic as a designer has evolved and grown over time, just as my family has, and she's decided to retire the following patterns from her collection. You can visit the retirement sale page for them as well.
To send them off with a fond farewell, these patterns will be marked WAY down to just $3 each until the end of February, so get them now while you can. For those of you who already have some (or all!) of these patterns, you will still be able to download them from your account. They will not be available for purchase after February 29th, 2020. 
My daughter and I are in the listing for each of these patterns and we helped to test all of them way back when. Here's the line drawings of the patterns as well as a few shots of me and my daughter to show you how the pattern sewed up. We have so many fond memories in these garments. Writing this post has been nostalgic to say the least!
Bluezette Dress for Girls and Ladies
Bluezette Dress (girls) and Bluezette Dress (women)
Origami Tunic and Cardigan
The Origami Tunic (girls) and The Origami Tunic and Cardigan (womens)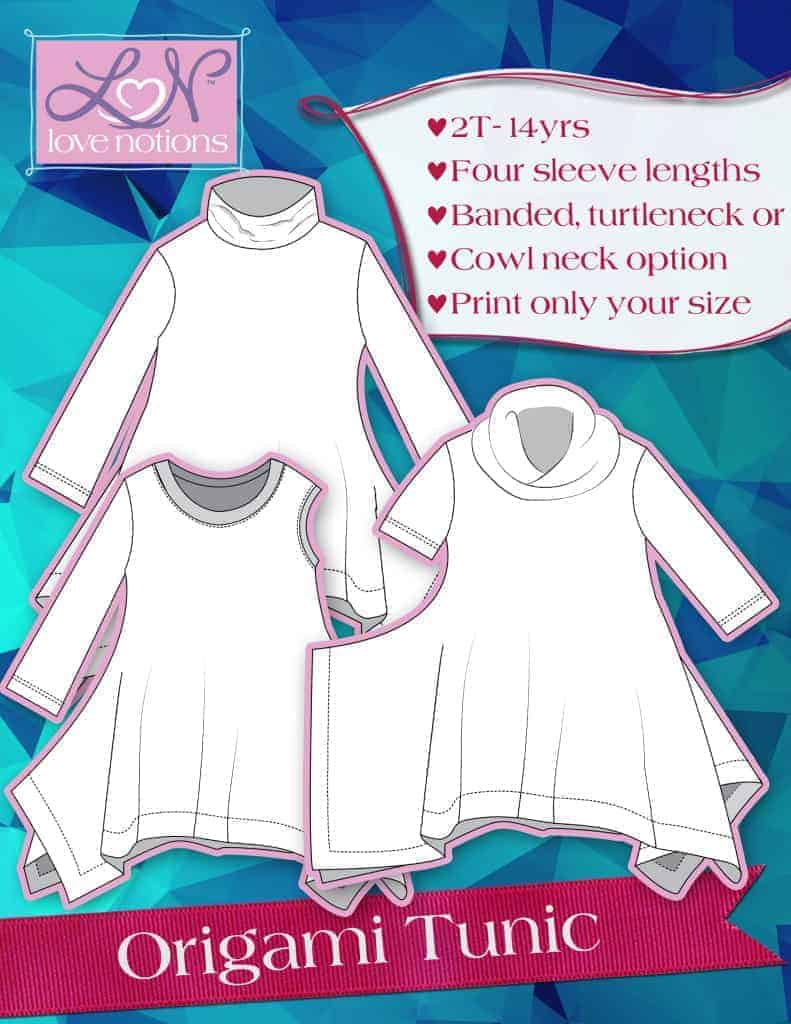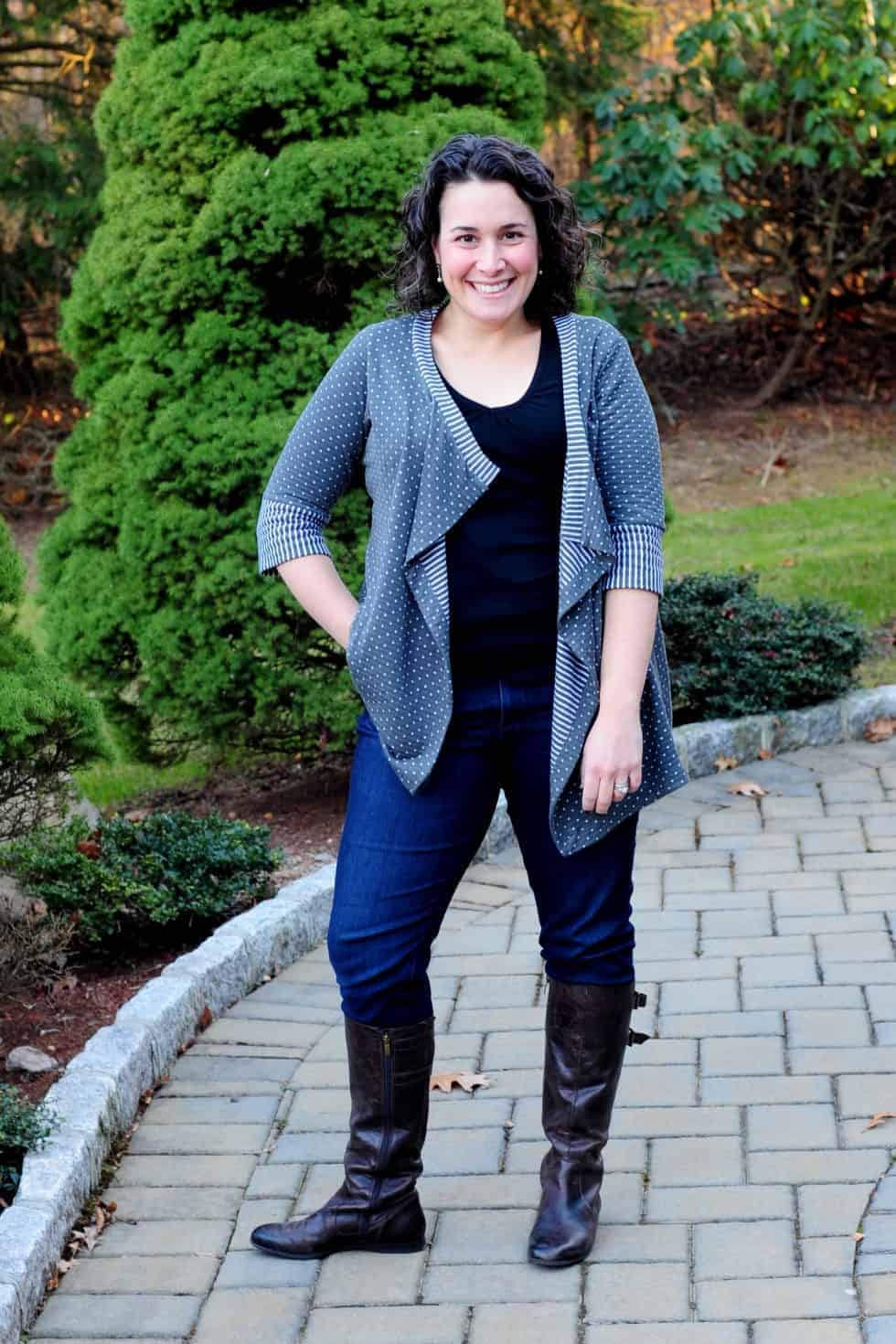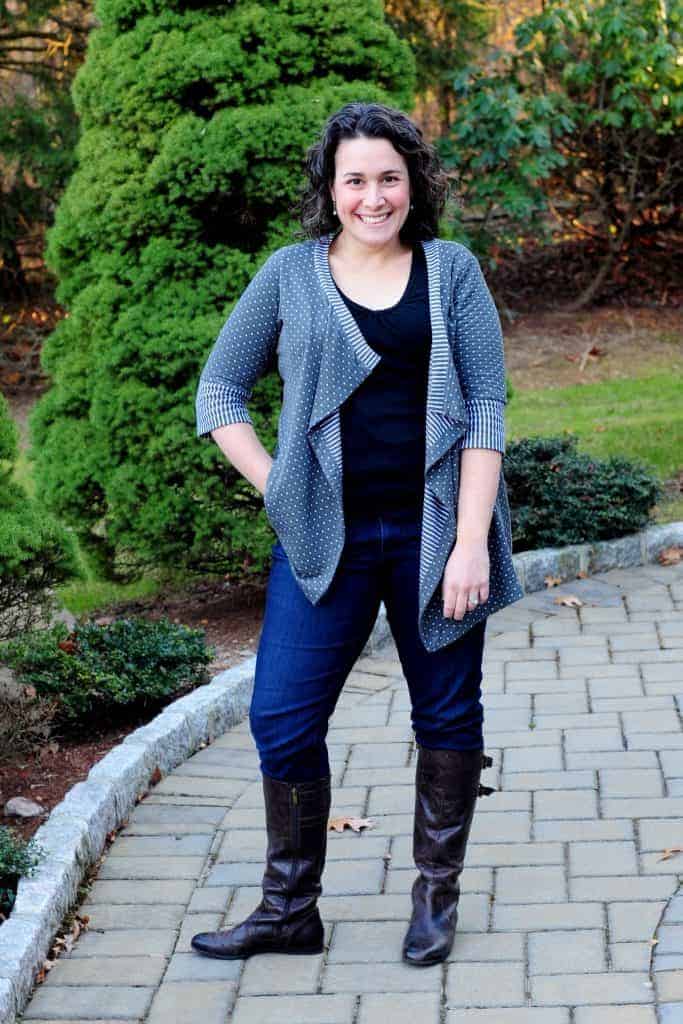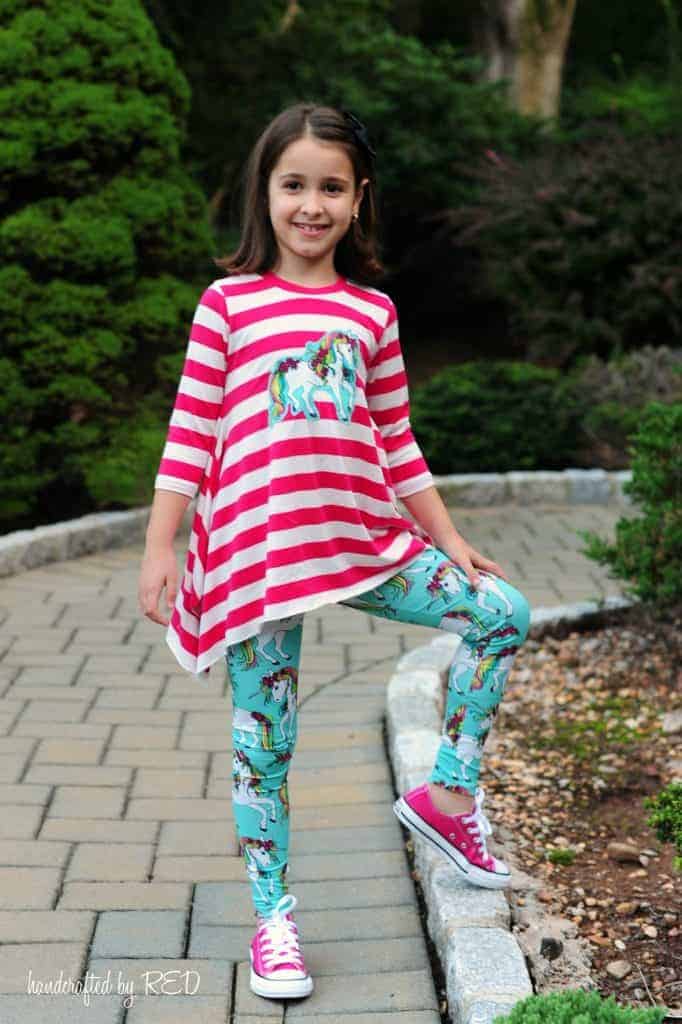 Hip Hop Tank
Hip-Hop Tank (girls) and Hip-Hop Tank (womens)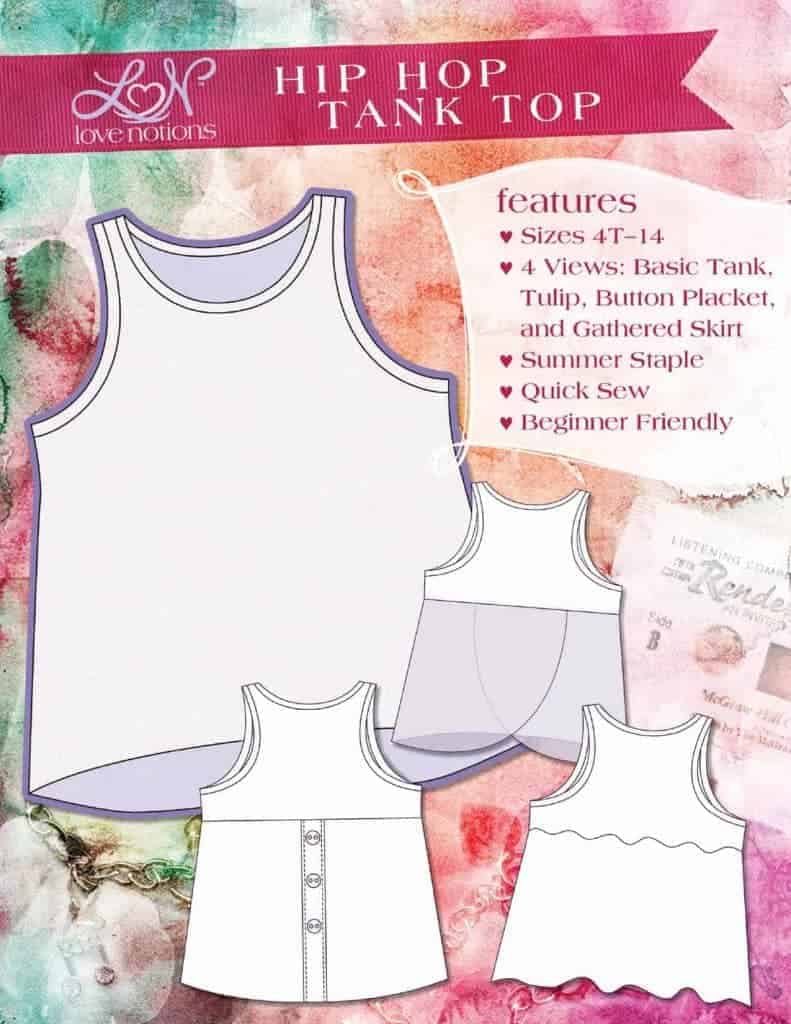 Tuxedo Dress
Tuxedo Dress (girls)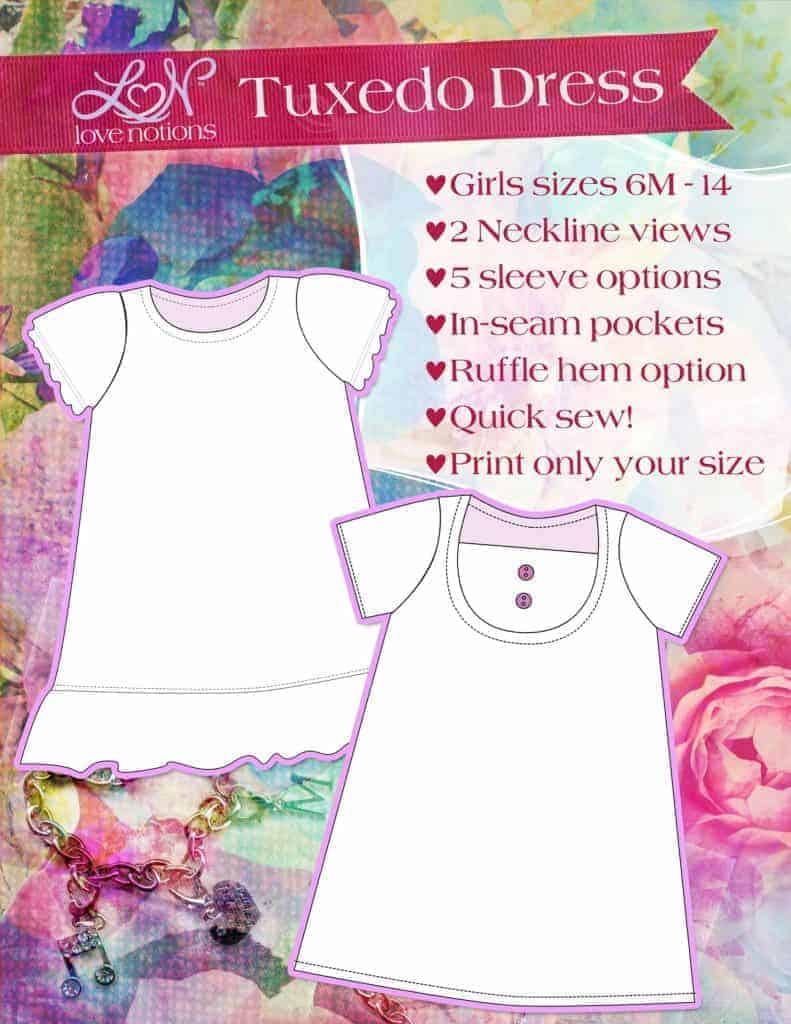 Our Favorites
I've sewn all of these many times over the years, but these versions are some of my favorites.
The striped Origami with the unicorn appliqued from the same fabric as her Leggins was one of the most-worn outfits of 1st grade, and the Bluezette dress with the rosette heart and sparkly skirt saw a lot of wear, too. I had been wanting to try a giant applique like I'd seen in the Mini Boden catalogs, and the Tuxedo Dress test was a perfect opportunity for that.  I am grateful to be a part of the Love Notions community for many reasons, but having such sweet photos of my kids from every age and stage is an added bonus. I asked Miss P this week if she remembers our photoshoots fondly or not, and she said they have been a lot of fun for her – unless it was cold or rainy or itchy, ha! (A pro tip for those of you who take photos of young ones: keep the photoshoots short and sweet, and try again another day if needed. There's very little difference in the number of *good* photos in my shoots that had 200 pics compared to those that had just 50 or 60.)
Can you ever outgrow handmade?
One of the greatest advantages of PDF patterns for me has been the ability to use layered printing to select the correct size and reprint or trace additional sizes as needed. It's made it much easier especially when sewing for rapidly growing kids – generally I look at catalogs and websites with Miss P to find some inspiration, and it allows me to see what types of prints, colors, and styles she likes. I always wondered when she would "outgrow" wanting handmade clothes, and I think by staying current and trendy we've been able to delay that a bit. She does wear more ready-to-wear clothing now at age 10 than she did when she was 4 or 5, but she still enjoys selecting fabrics and styles for me to recreate at home for her. She's a super creative kid, and I love to see her generate designs and ideas and then be able to sew them for her.
Now, for $5 Feature Friday:
THE BLISSFUL BLAZER
And don't worry! The Blissful Blazer is not retiring — but you should get it today as it's not going to be priced this low again!
Our take on this week's Feature Friday, the Blissful Blazer, shows off our ability to grown with our patterns. We tested this pattern when P was freshly 5, and she's now 10.
Tami had actually put these fabrics together – the grey velour, floral lining, lace, and pink knit for the ruffle – and sent them to me for the final photos during testing. My girl felt so special when that package arrived, and really took those photos seriously, too. (As did I, apparently. There were hundreds to sift through when I was looking back for some to use in this post. Yikes.) We've both grown a lot since then and Miss P wanted another blazer but didn't want the ruffles this time.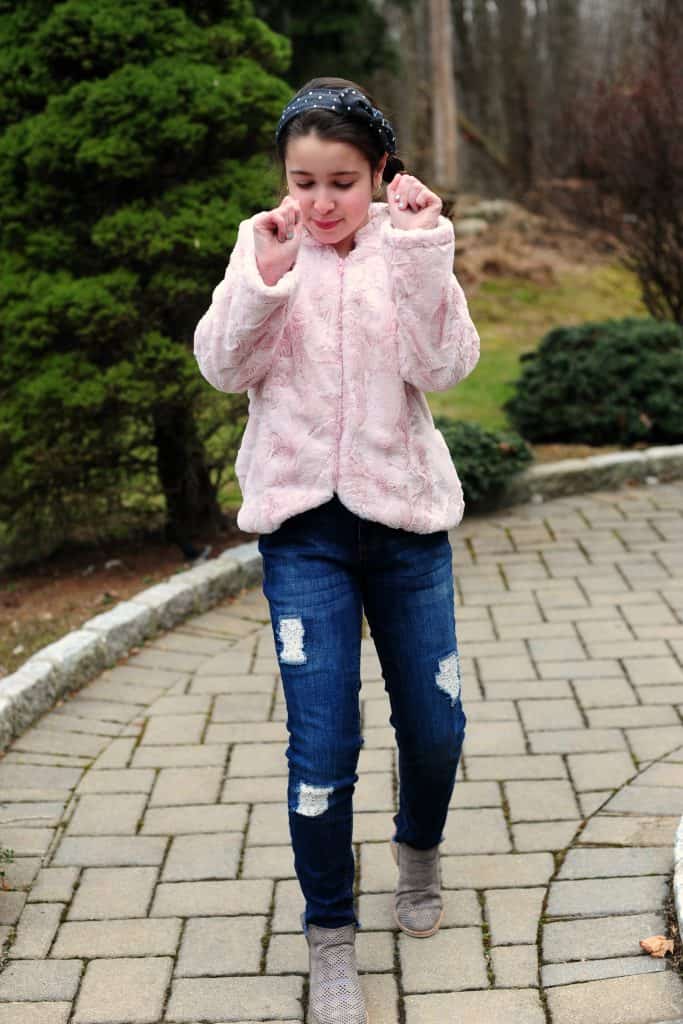 She also asked if I could use a zipper instead of snaps and also add pockets. Along with being a Love Notions Ambassador, I'm also a Brand Ambassador for Shannon Fabrics, so we decided to use this gorgeous Luxe Cuddle for her new Blissful Blazer with the Shannon Silky Satin for the lining.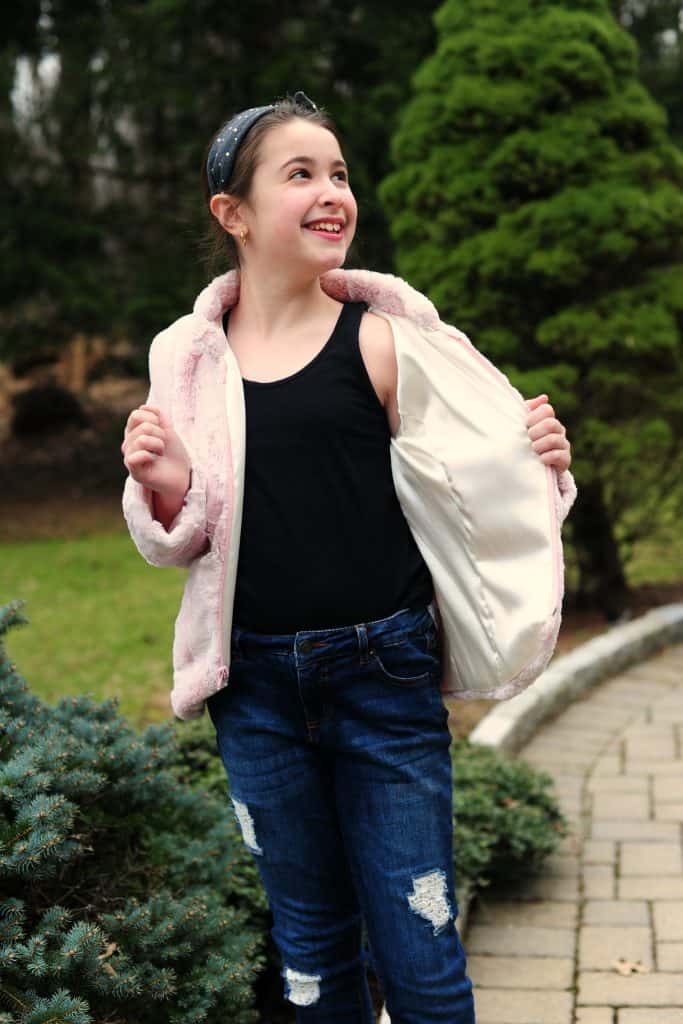 Pockets for our "Grown Up" Blissful Blazer
To make the modifications, I'll start with the simplest – the pockets are basic inseam pockets made from the satin lining. The Blissful Blazer pattern doesn't include pockets, but you can use pockets from any similarly sized pattern. The Lil' LDT has inseam pockets that would work well for this. I placed the bottom edge of my pockets 2 inches above the hemline and they were a great size and placement for her.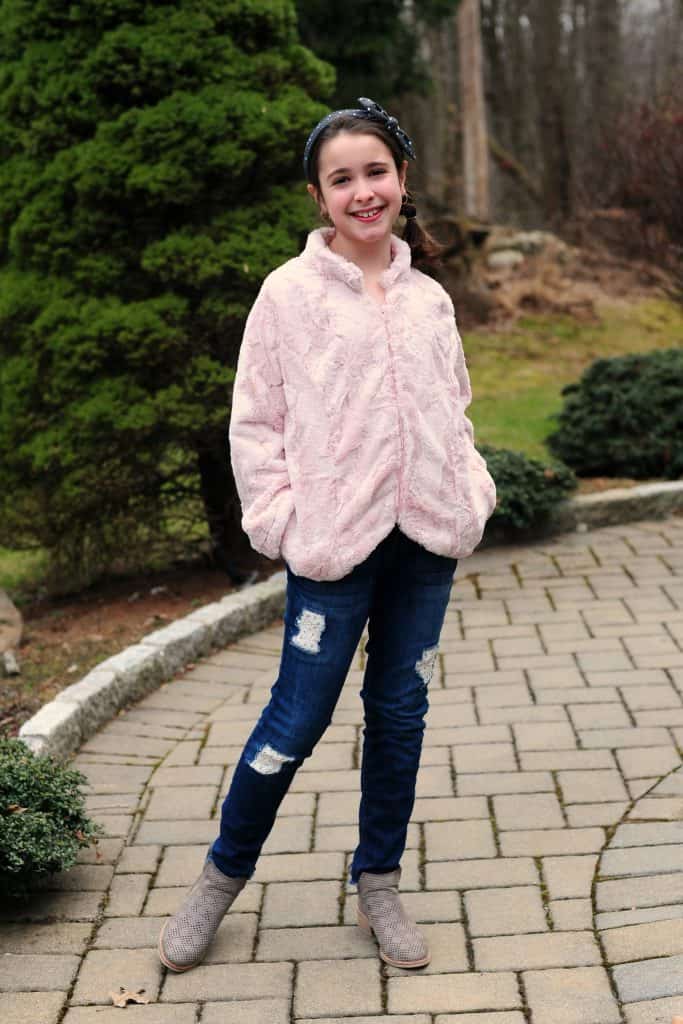 Zipper for the "Grown Up" Blissful Blazer
To add the zipper, I had to modify the front pieces a bit. First, I removed the length that the longer ruffle would have added, and measured the back from neck to hem to make sure that the blazer/jacket would still be long enough. I didn't add any length here and it made a nice short (but not cropped) jacket. (Full disclosure: Miss P measures between a 10 and a 12 on the LN size chart for this pattern, and I sized up to a 14 since my fabric didn't have any stretch. It was WAY too much though, and I had to trim all of the pieces back and reshape the shoulders a bit to bring them in to fit. I recommend basting the seams first to check fit and then adjust as needed.) I made sure to keep the curve of the front hem, and removed the overlap since I wasn't using snaps. For the zipper, I used a basic separating zipper, and basted it to the front of the jacket. I made sure to keep each side of the zipper right sides together with the jacket when I attached the lining (as shown and described in the pattern tutorial), and I left the turning hole in the lining along the hemline. I recommend if you're using Luxe Cuddle or a faux fur to shorten the lining about an inch at the hem so that the outer fabric will roll to the inside and pull the lining in. I opted not to topstitch the jacket to keep the pile of the outer fabric more furry and free.
A Pattern that Grows Up With Them
It's a very different look from the original Blissful Blazer that I sewed back in 2014, but I love that the pattern was a perfect base for the faux fur jacket that my tween had envisioned.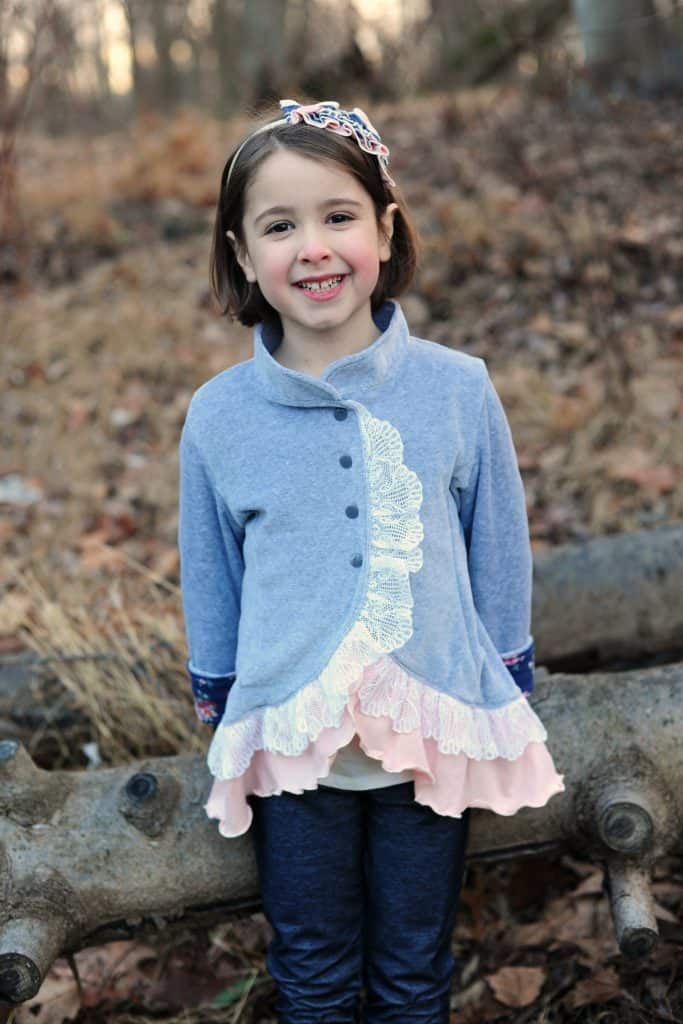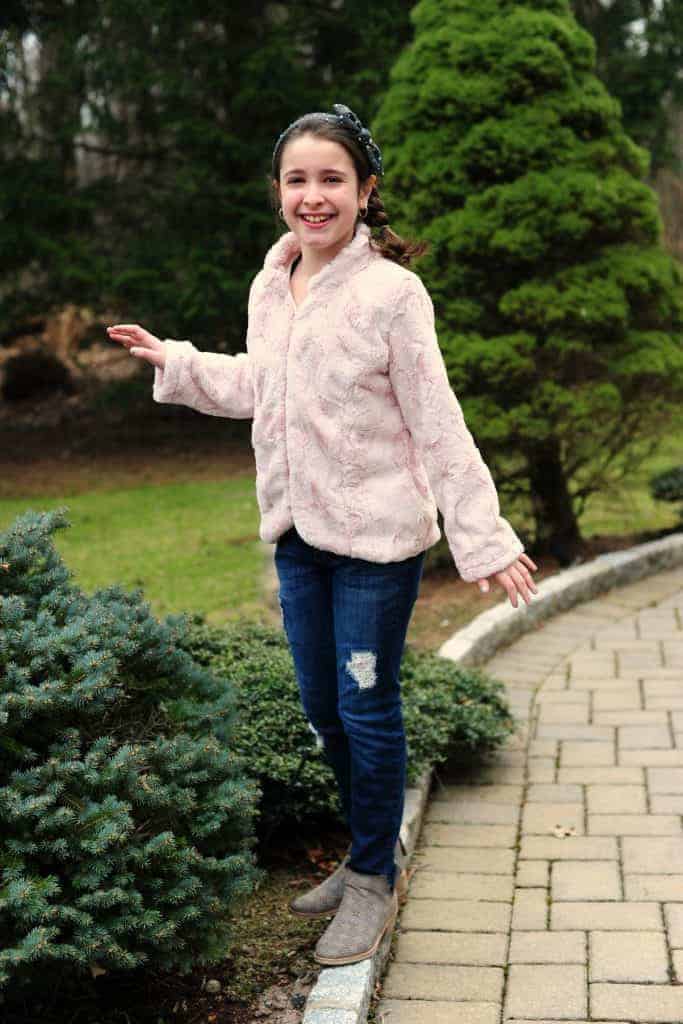 Shop Retiring Patterns
[carousel_slide id='366612′]