Classic Tee: Scoop Back Hack!
Hi, I'm Shelly from Sew Shelly Sew (@sewshellysew) and I am always looking for a fun new tee!!  I love the versatility of The Classic Tee Shirt Pattern.  It can be easily hacked into a million different styles.  My Scoop Back Hack is super simple and inspired by a trend I'm so fixated on lately.
Scoop Back Tees
I have been crushing on this cute little tee from Athleta all summer!
.
Enter The Classic Tee…
I wanted to make a tee with a similar scoop back.  The Classic Tee Shirt is the perfect pattern for the job!  The slightly relaxed fit of the Classic Tee is my favorite.  I made size small according to measurements and also cut off some length to make my tee cropped.
First, I cut out the pattern pieces using the classic neckline option for the front piece.  To scoop out the back neckline, I layed the back pattern piece over the front piece.  Initially, I traced the front scoop neckline option onto the back pattern piece.
I wanted the back scoop to be a little wider than a front scoop would be, so I drew the curve about 1/2″ wider on the sides, keeping the scoop depth the same.  The black line is the line I traced from the front scoop neck curve and the red line is my new wider scoop drawn free-hand.
I cut the neckline for the back pattern piece along the red line.  For the neckband piece, I used the same width but lengthened it since the neckline is now longer.  To find a good length for my neck-band, I measured the finished neckline after sewing the front and back shoulders and used 80% of that width plus 3/4″ for seam allowance (2 x 3/8″).
Super easy-peasy but I'm so in love with the result!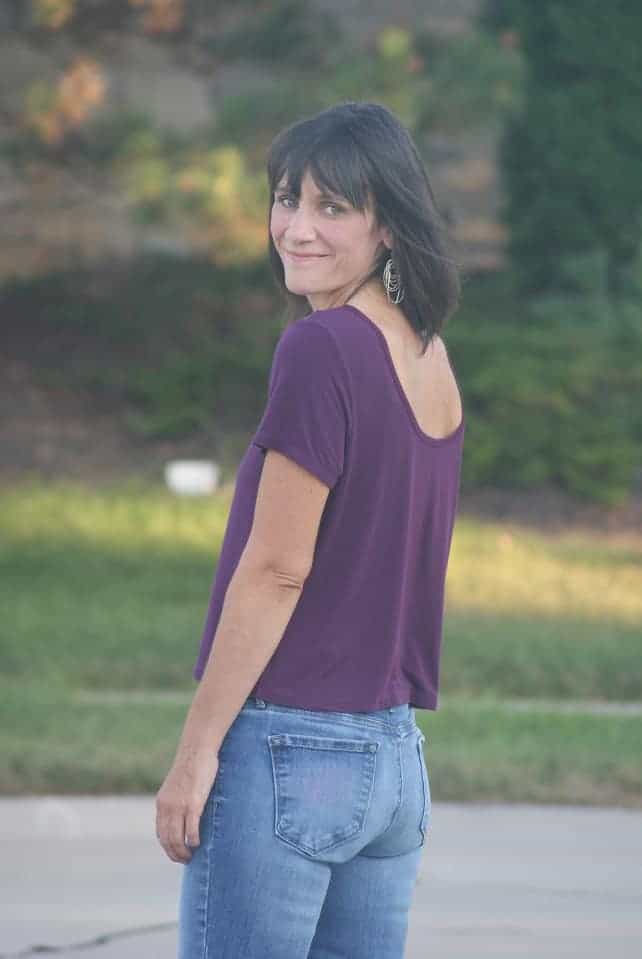 Had to Crop It!
I also cropped the tee to hit just below my belly button.
To do that, I just cut off 4 1/4″ from the bottom in the center of the shirt.  At 5'6″ tall, that was the perfect amount for me.  To crop, I cut a line that slightly curved up from the center so that it made a 90° angle with the side seam line.  I wanted to keep the sides trued at a 90° angle since it flares out at that point.  I did this to both the front and back pattern pieces.
This cute little scoop back, cropped tee is just so hip!!  I can't wait to make a bunch more Classic Tees!
Don't forget to check out the other Classic Tee Hacks!