Everyone needs an easy-to-wear and easy-to-make dress! Today on the blog, Katie showcases the Willow Wrap Dress and the Everyday Play Dress and all their options. Whether you are excited for a sweet "mommy and me" set of dresses or for a sophisticated and flattering dress for date night, we've got you covered! Read about all of Katie's hacks, tips, and inspo for the dresses AND get a good look at all the Raspberry Creek Fabrics that you will love to wear now, and into the spring and summer.
A Dress for Dates or Daughters
Hi, it's Katie here again and I'm so excited to share a few Feature Friday hacks, styling ideas and fabric for some of my favorite dress patterns from Love Notions: the Willow Wrap Dress and the Everyday Play Dress!  I knew this Willow Wrap dress was a winner when shortly after I made my first one I got a text from my engineer husband (which means being romantic isn't one of his strong points) that said: "I'm picking you up at 6 – wear that new black dress you just made."   Well, don't mind if I do!
Date Nights, Mommy & Me Matching, or Thinking Spring!
February is the month of love and the Willow Wrap is perfect for those Valentines dates.  But Spring and Easter are right around the corner and the Everyday Play Dress is the perfect match for the little ones in your life.  Both patterns are on sale today only for $5 each!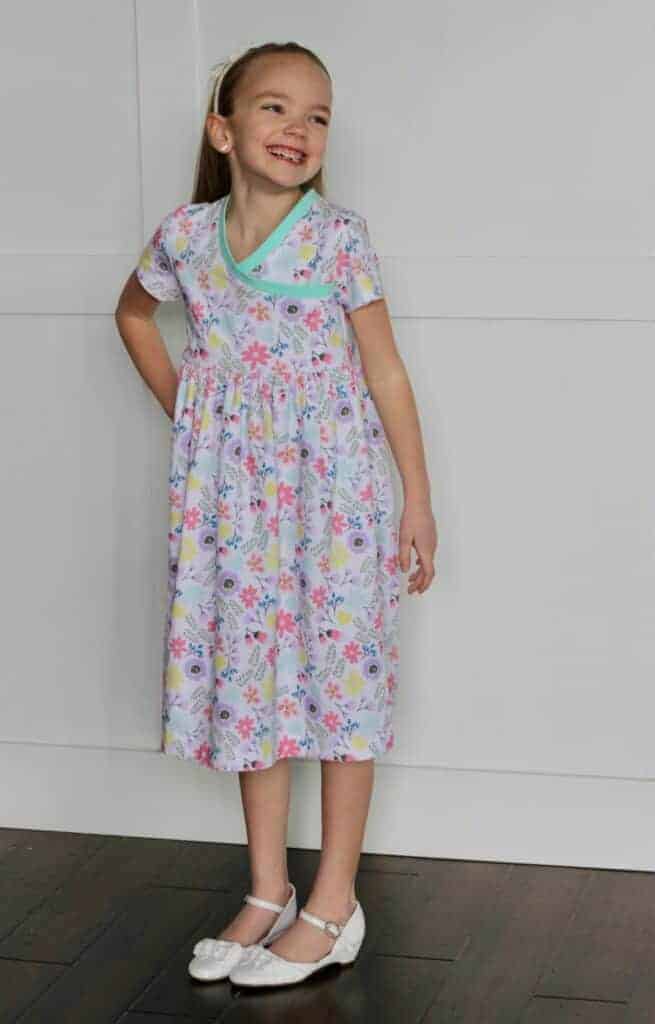 Dresses for everyone with 15% off at Raspberry Creek Fabrics
I've got some simple hacks to make something for everyone.  Plus, I've partnered with Raspberry Creek Fabrics to show off some adorable ways to create darling dresses in some amazing fabrics!  For 15% off your order at Raspberry Creek Fabrics, enter the code WILLOWWRAP through February 28. 
Willow Wrap Options: Neckline Flounce, Flutter Sleeves, and Side Rouching
Let's start with the Willow Wrap Dress – a flattering crossover neck dress with a full a-line skirt.  There are multiple options for this dress including a neckline flounce, flutter sleeve, and it can be made with or without side rouching.  This version in mauve double brushed polyester from Raspberry Creek has both the flutter sleeve and neck flounce and the plain side. It's got beautiful drape and my teenage daughter loves how comfortable it is while looking so cute. 
Willow Wrap with Gathered Maxi Skirt Hack
For a variation on the skirt, I added a gathered maxi skirt to the bodice of the Willow Wrap with an elbow length sleeve.  To create the gathered skirt, cut your skirt 2 – 2 ½ times the width of your bodice opening (depending on how gathered you'd like it)  and the length of how long you'd like it. Sew your side seams together and gather the top of the skirt. I used clear elastic for nice even gathers.  Attach the skirt to the bodice. This version is made in rayon spandex from RaspberryCreek.
Everyday Play Dress 12 months – 8 years
The Everyday Play Dress is the perfect complement to the Willow Wrap Dress.  It features a plain or crossover neckline with a gathered skirt.  It comes in sizes 12 months – 8 years and is perfect for all the darling custom Raspberry Creek prints.  This floral is part of their Easter line and their new Spring line just released. There are so many amazing prints!  Their cotton lycra jersey is the softest and they carry a great selection of coordinating solids and prints. For this dress, I slimmed down the neck binding by ½" and I love how it is modest and sweet for my little one.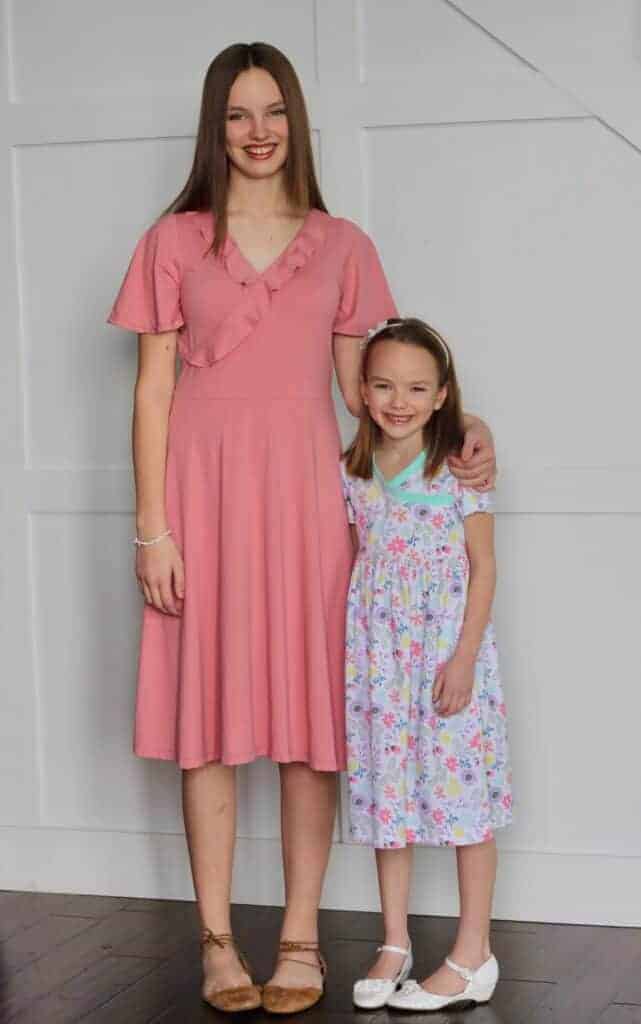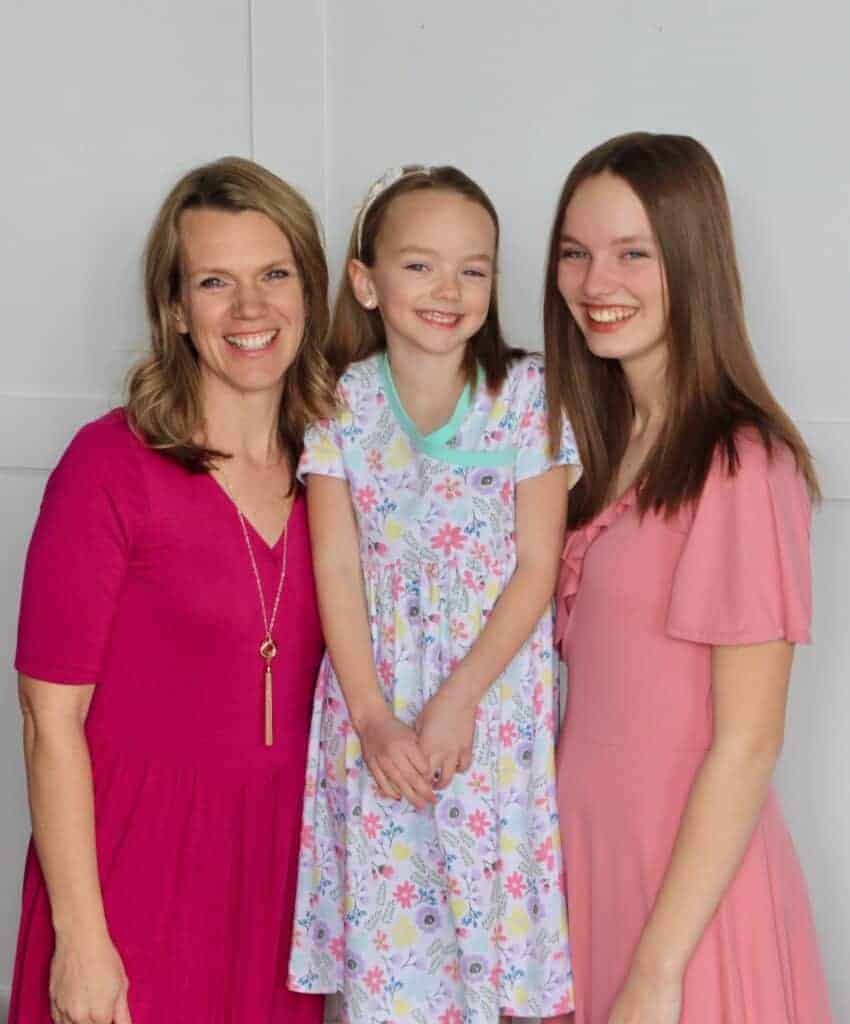 Raspberry Creek Fabrics New Spring Collection!
In addition to CLUB custom prints on jersey and french terry, Raspberry Creek also carries custom prints on brushed polyester, ponte, rayon spandex french terry, and rayon challis.  I love the weight of their brushed polyester- it doesn't feel heavy and my favorite Classic Tees are out of this fabric.  
Hack to Extend the Size of the Everyday Play Dress
Now that I've quickly discussed how to create the maxi length on the Willow Wrap, let's talk about the Everyday Play Dress.Since the Everyday Playdress only goes up to size 8, I've also got a quick little hack of the girls Classic Tee for those girls who are in between sizes!  
Trace the Original Pattern
Start by tracing your v-neck classic tee pattern with its mirror image so you have the full front piece.

Continue the Curve
Using a curve ruler (or another curved edge) continue the curve of the v across the front of the bodice.
Determine Length of Bodice on Front and Back and add Seam Allowance
Decide how long you'd like your bodice piece to be and draw a line across the bottom.  Don't forget to consider seam allowance. Trace the back bodice and making sure side seams match up, shorten back bodice as well.
On front and back bodice pieces, starting ⅜" under armscye, bring side seam in slightly, making sure sides match on front bodice piece.  
These are your new bodice pieces and you will use the classic tee sleeve as well.  
Finish Using Original Everyday Play Dress Directions
Continue to construct following the directions of the Everyday Playdress. You can add a gathered skirt or for an added variation, you can add a half, ¾, or full circle skirt onto the bodice as well.
This version in Raspberry Creek Club brushed polyester has a half circle skirt added so it looks very similar to the Willow Wrap Dress. Perfect for twirling while feeling grown up at the same time!