A Fabric for Every Forte
Today's post is all about knit fabric choice and the Forte Top! For many sewists, one of the hardest parts of sewing is picking out the fabric. Wouldn't it be great to see the exact pattern made up in a bunch of fabric types to help you make up your mind? Today, Sequoia is sewing up the same Forte top in 4 different knit fabrics (Liverpool, Cotton Spandex, ITY and Double-Brushed Poly) so you can visualize your makes and learn all about sewing with different knit fabrics. Happy Feature Friday for Forte!
Forte Fabric Comparison
Hi Everyone! I am Sequoia, from SequoiaLynn Sews and this is my first time writing for the Love Notions blog. A few months ago, I was invited to become a Love Notions Ambassador and I was thrilled to be given the opportunity. I work hard as a tester/blogger and was super excited to be noticed for that. One of the awesome perks that come with being on the BA team is guest blogging! I knew pretty quickly that I wanted to do a fabric comparison for the Forte Top View A. 
Forte View A + Learning about Fabrics
Forte was rereleased last year with sizing from XS-5X and I had sewn a Forte View A recently and adored it. When I first started sewing, I didn't know my fabrics at all! I am hoping this comparison will help someone out. Let's face it, I still ask questions. I have learned that not all fabric is created equal and it is best to find a reputable source for your fabrics! Now, let's get started and I do hope you enjoy my first blog post here at Love Notions.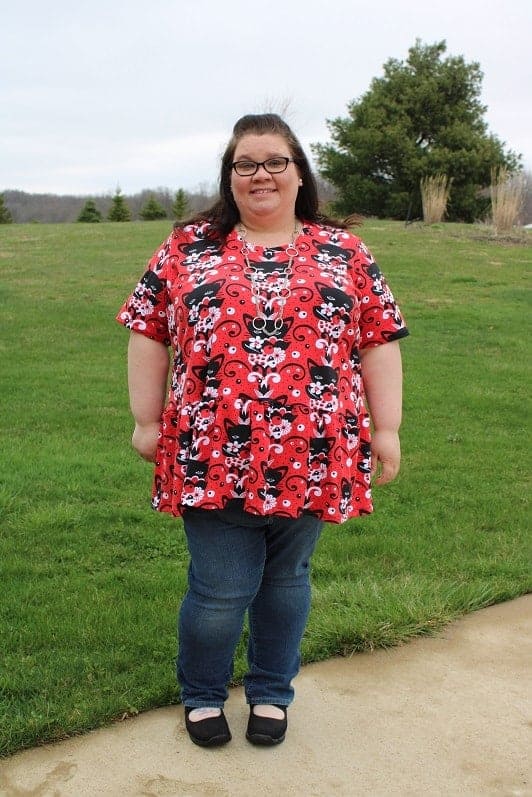 Same Pattern, Different Fabric
My goal was to create the exact same top in 4 fabric bases to give sewists an even comparison. I wanted to note breath ability, drape, and ease of sewing to help folks get a better understanding of what they are working with. The bases I selected were Liverpool, ITY, Double Brushed Poly, and Cotton Lycra. I was lucky enough to have 2 fabric sponsors who provided me with all these amazing fabrics! Stitchin' Pretties and Surge Fabric Shop were both super generous with their sponsorships and I am very grateful. If you haven't shopped with them yet, please check them out.
Forte in Liverpool Fabric
Let's start with Liverpool. Liverpool, sometimes referred to as LP, is considered a structured knit fabric which means that it will hold a bit of its shape instead of having a flowy drape to it. It is slightly thick with a noticeable surface texture. Liverpool tends to have nice stretch and recovery which makes it comfortable to wear. 
Sewing with Liverpool Fabric
Liverpool sews up very neatly. I used both my serger and my sewing machine for construction. While serging my bodice to my skirt, the fabric became slightly wavy, but with just a little bit of steam pressing, it looks beautiful! Had I noticed this during construction, I could have adjusted my differential feed for a smoother seam. 
In the US, Liverpool is readily available. This beautiful print is from Surge Fabric Shop. As soon as I saw it, I knew I had to have it. The minty background is perfect for spring. I love Liverpool for peplum tops like the Forte or Cigarette style pants like Sabrina Slims! Some people feel that Liverpool doesn't "breathe" well, meaning they become hot or (yikes) even sweaty while wearing it. I personally wear Liverpool all year long in Ohio, where the heat index can sometimes cross the 100*F mark, without overheating.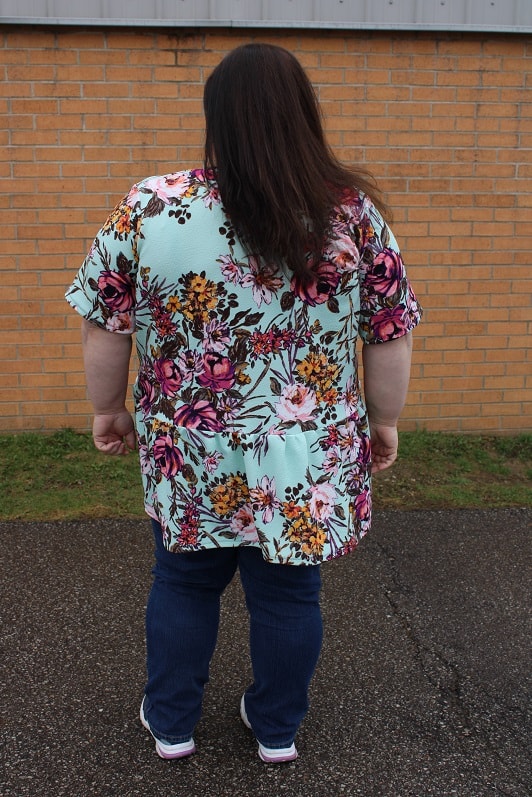 Forte in ITY Fabric
Next up is ITY or Interlock Twist Yarn. The name ITY comes from the process of twisting the thread fibers to create a wonderful stretch and a cool/soft feeling on both sides of the fabric. I love ITY fabric because of the "cool to the touch" feeling! ITY is typically a poly/lycra blend so the stretch and recovery are both excellent. 
Sewing with ITY Fabric
The texture is smooth on both sides, but also slippery which can make it a little tricky to sew. I use extra clips to keep my layers from shifting while I sew. ITY runs smoothly through my serger, but sometimes my sewing machine gets a little hungry and tries to "eat it" by poking in through the needle plate and into my bobbin case. To prevent this, I just lay a piece of tissue paper under my fabric and sew away. The tissue paper peels off easily when finished. The drape of ITY is excellent because it is thin and lightweight and it is widely available in prints and solids. Love Notions newest pattern, Vivace would be absolutely dreamy in ITY. This beautiful print is from Surge Fabric Shop. 
Forte and Cotton Lyrcra
My third fabric today is Cotton Lycra. Most people know cotton is a natural fiber and lycra isn't. Together, they become a super comfy fabric that washes well, wears well, and breathes well! This adorable CL print is a 10 oz. weight which is a mid- weight of cotton lycra. Because of the weight, it doesn't have a fluid drape like some fabrics do, but it still makes lovely shirts. As you can see this has a bit of structure, but I can tell you it is still super comfy! Some cotton lyrca, say a 7 oz., is lighter in weight and would have slightly more drape.  Cotton Lycra has great stretch and recovery. It is always readily available in a huge variety of colors and prints. Most custom shops offer CL as an option. The Tabitha top would also be an excellent choice for cotton lycra fabrics! 
Sewing with Cotton Lycra
CL sews easily in both the serger and sewing machine. When pulled or stretched, the edges tend to curl. If you like this look, you won't even need to hem your top. This super fun print I am wearing, was sponsored by Stitchin' Pretties. Meow!
Forte and Double Brushed Poly
My final Forte of the day is a Double Brushed Poly base. DBP, for short, is a polyester spandex blend that has been brushed during the manufacturing process on both sides of the fabric. It is very soft to the touch and often feels "suede like."  Double Brushed poly has excellent drape, recovery, and stretch. It washes very well and as a bonus, it rarely needs ironing. Double brushed poly is comfortable to wear, has great 4-way stretch and is typically light to mid weight. Since this is a synthetic fabric, it also doesn't breathe well. Folks in hotter climates may avoid it during the warmer months. Again, I wear this year round in Ohio without issues.  
Sewing with Double Brushed Poly
Double brushed poly goes through my serger like butter. Sometimes, on the lighter weights, I will use the tissue paper trick I mentioned in the ITY section on brushed polys. DBP is probably my most used fabric, I can find it in most online shops and it comes in an unlimited range of colors and prints. There is also a single brushed poly fabric that is only "suede-like" on one side and can be slightly cooler. Need another pattern option? I have seen some stylish Game Day Jersey tops made from brushed poly! This beautiful floral print I am wearing was sponsored by Stitchin' Pretties.
Here's a collage of all 4 fabric bases together. Which look do you prefer?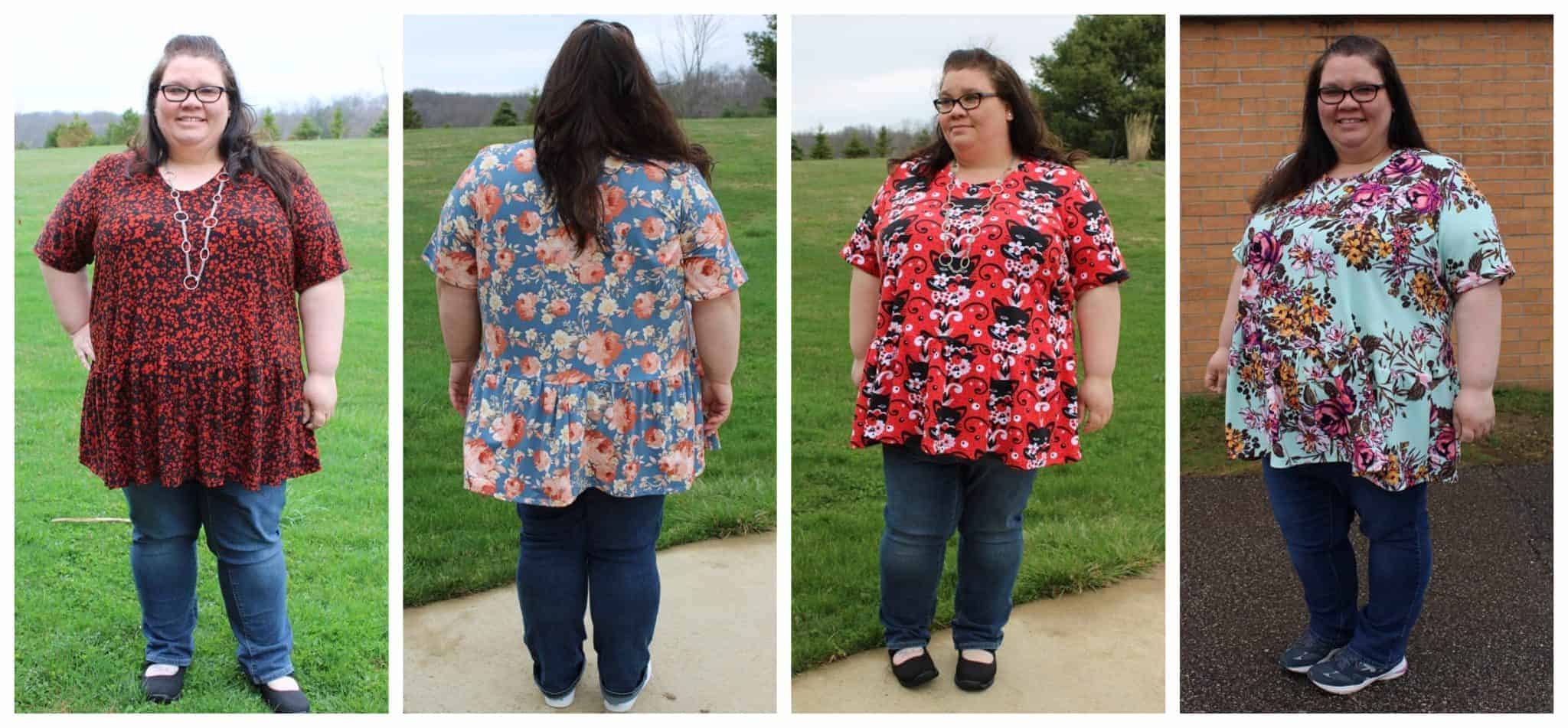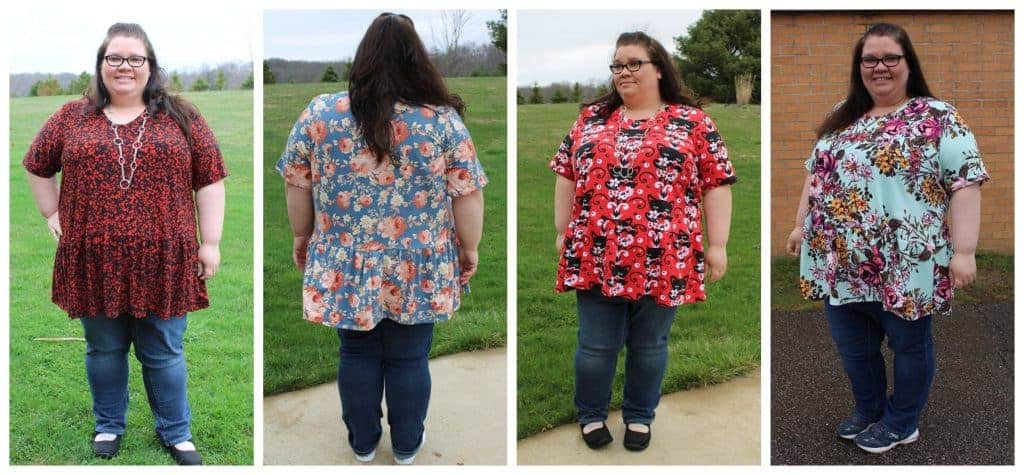 Some Sources for your Forte Fabric
I want to give one more shout out to my amazing fabric sponsors for making this blog post possible. 
Surge Fabrics is located in Missouri and carries an array of fabrics. I received responses within one day of sending questions and my fabric shipped the day after my order was placed. 
Stitchin' Pretties is located in Maine and is a one woman show! There is a one day turn around on orders placed and they frequently have great sales. Stitchin' Pretties has a huge selection of knit fabrics with a few lovely wovens thrown in the mix.
Thank you both for sponsoring exceptional fabrics for my blog post.    
My Forte Fit Tweaks
For my personal fit, I added 2 inches to the bodice length and 1 inch to the peplum. I prefer more of a tunic length in my tops and this worked out perfectly. I used the included full bust adjustment and did a 1.5 inch bicep adjustment. 
Forte Pattern Info
As a reminder here is the rundown of all the info from the website on the Forte Top…
"The Forte top and dress is a great transitional piece to add to your wardrobe. Included are four body styles, two dresses and several sleeve options to mix and match. Mix and match the sleeve flounces or leave them off entirely. The Forte is meant for light to medium weight knits. Views B & D can even be made as dresses! Sizes XS-5X."
This pattern is rated for confident beginners.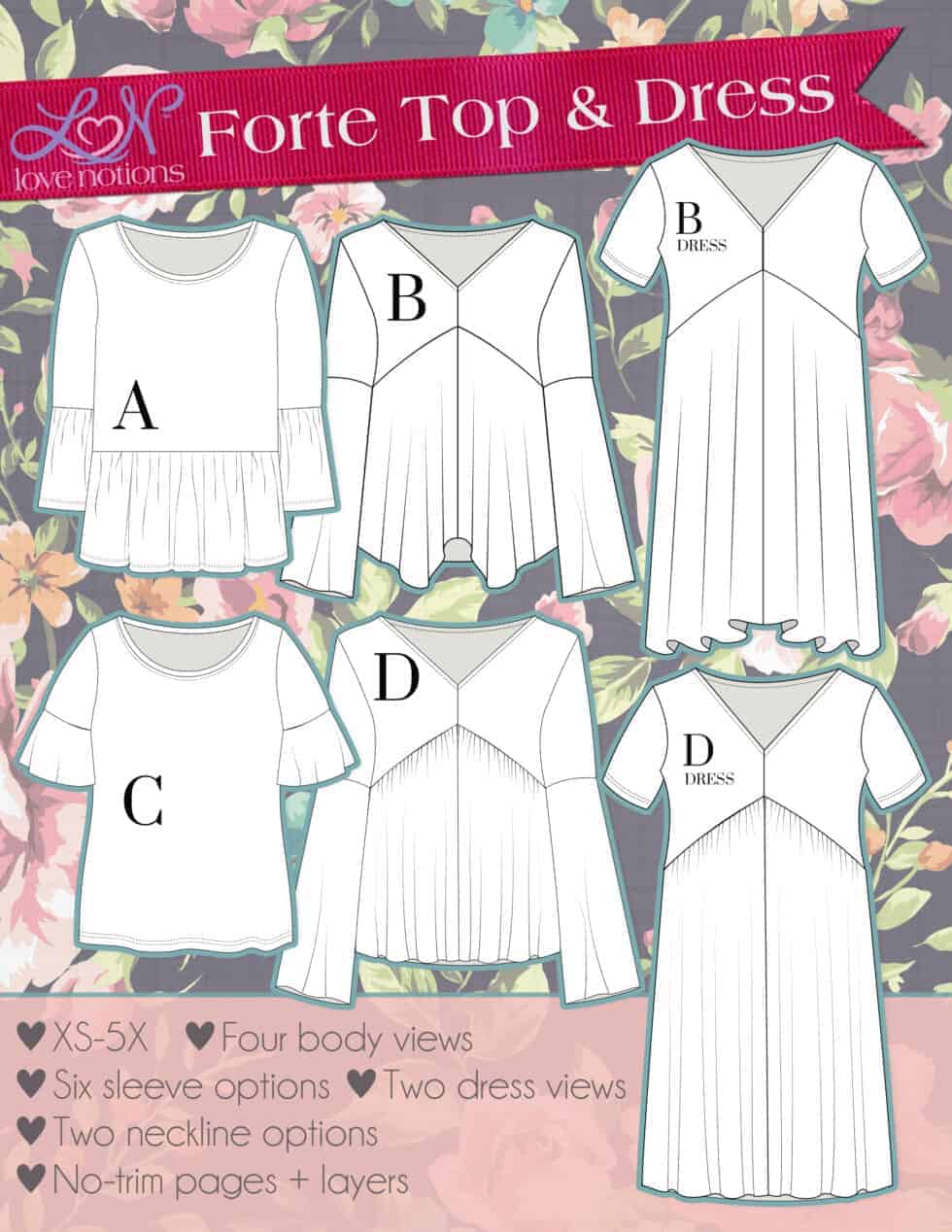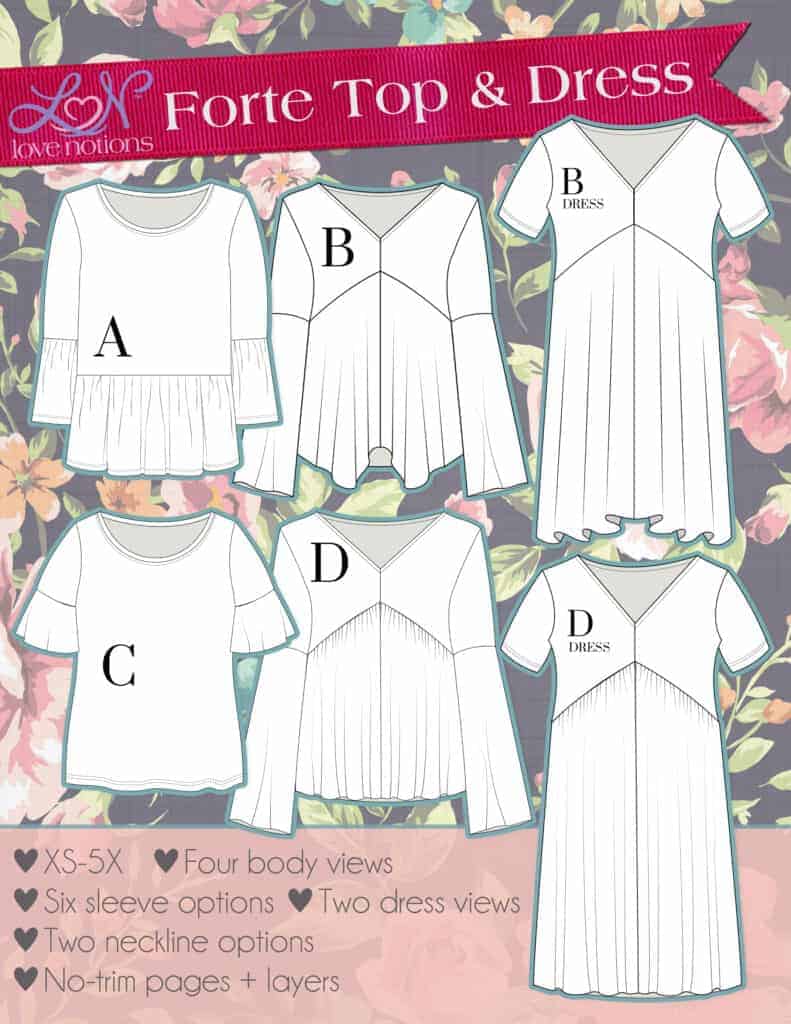 The pattern includes:
       

Four top views:

       

A- gathered skirt peplum style with scoop neck

       

B- waterfall skirt with v-neck

       

C- classic tee with scoop neck

       

D- gathered inverted with v-neck

       

Two dress views: B & D

       

Six sleeve options to mix and match:

       

short with flounce

       

bell

       

gathered

       

plain short

       

plain mid-length

       

plain long

       

A full bust piece is also included for ladies with a 4-6″ high bust to full bust difference– no need to do a FBA! The Forte is fitted at the bust with plenty of ease in the waist and hips.

       

In addition to the print-at-home file is a large format file for copy shop printing. This file will print on five A0 (33″ x 46″) size sheets. Be sure to instruct your printer to print actual size in black and white on their cheapest paper.

       

A projector file is also included for those using projector technology to cut their fabric
And remember, now you know there's…
…a Forte for every fabric and a fabric for every Forte!
Thanks for sticking with me and reading through the whole post. If you love the Forte pattern as much as I do, please use my affiliate link to check it out.
Pin these for later!
Shop the Post!
[carousel_slide id='366612′]