HOW TO SEW AN AUTHENTIC SPORTS JERSEY
Want to sew up an authentic looking sports jersey? Kim's got all the fabric, vinyl, and styling tips and tricks for creating a replica jersey– the sports superfan in your life will love it! Plus follow her link to find the FREE SVG files she made just for us!

Game Day, Game Changer
His fiery red hair matches his personality. He loves Toy Story, Curious George and all the typical things a five year-old boy enjoys. But the one thing he loves most of all is watching "oofball" with his daddy…
Hi, I'm Kim from the YouTube Channel, Dorothy's Daughter.  I've been sewing for many years and love all kinds of garment-making.  
Sewing for my grandchildren is a great joy for me.
The above description is my littlest grandson.  He is a clone of his daddy at that age, including his love for Kansas City Chiefs football. 
I recently set out on a quest to make him the tiniest, most authentic football jersey ever— and of course, the Game Day shirt pattern did not disappoint.
Jersey: A Perfect Canvas for Expression
Wearing slogans on clothing dates back to the early1800's in London, when there was a shortage of advertising space on sides of buildings.  Thus, human advertising on hats and clothing was born. Through the years, it has become a way expressing our own selves— waving a banner, supporting a team or cause or, like we said back in the 70s, letting our "freak flags fly."  Whatever your cause, the Game Day Pattern is a perfect way to create a canvas for your expression. The pattern comes in Kids, Men's and Women's sizing and is as easy as it is awesome!
Fabric for the Authentic Jersey
Sourcing fabric for my tiny jersey proved difficult.  I wanted the actual athletic knit mesh that is used for football jerseys.  I found this beautiful bright red fabric on picotextiles.com.
When ordering, keep in mind that doubling this fabric into two layers creates a more realistic jersey.  The yoke and sleeve fabric is bright red swim Lycra from Joann Fabrics.
Depending on the type of shirt you'd like to make, other fabrics that work great for this pattern are cotton spandex, cotton jersey blends, double brushes poly or any light to mid weight knit.  During testing of this pattern, I created a Pittsburgh Steelers t-shirt for my husband.
Vinyl for the Authentic Jersey
To make this jersey authentic, I used my Silhouette Cameo 3, and my heat press.  I tested a small scrap of the knit first to ensure that it could withstand the heat.  I did not want to miss any details. Since I am not up on all the details of football jerseys, a quick Google search of images helped me determine the details and where to place them.  Tiny shoulder numbers, Patrick Mahones' name, chest and back numbers were easy to cut.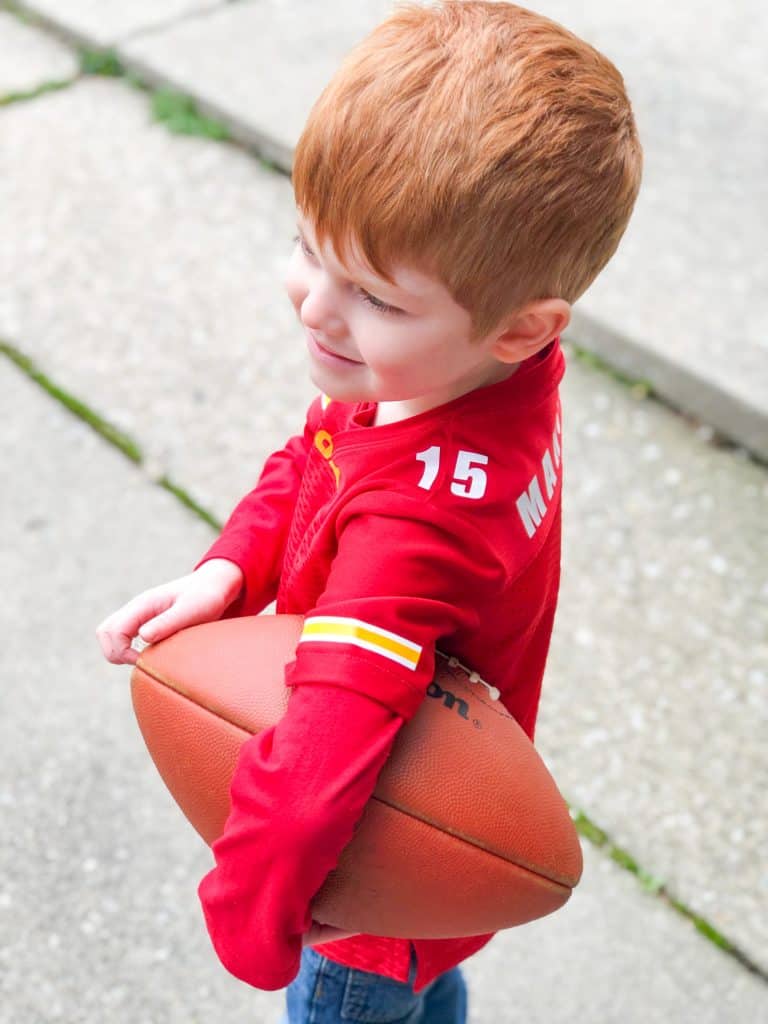 I could have added the stripes on the sleeves according to pattern instructions, but in looking at my husband's old jersey they were done in vinyl.  Since vinyl doesn't stretch, I made them just grace across the top of the sleeve, so that they don't construct movement.
Sports Logos for and Authentic Jersey
Another great resource is a website that I found called SportsLogos.Net.  Virtually any professional or college football team's logos are available at that site in SVG format, which translates easily into both Silhouette and Cricut formats.
More Ways to Embellish Your Jersey
Other ways to embellish your shirt could be tie-dying, appliqué or painting or stamping with fabric inks.  One of my favorite ways to embellish a shirt is to cut a stencil with my Silhouette and applying fabric ink with a sponge, using a light touch. 
This creates the vintage or grunge effect that is so popular on ready to wear graphic tees, as in my hubby's Steelers shirt. Whatever method you use, be sure to set the design with an iron or press to make it permanent according to directions.
How will you express yourself with the Game Day Pattern?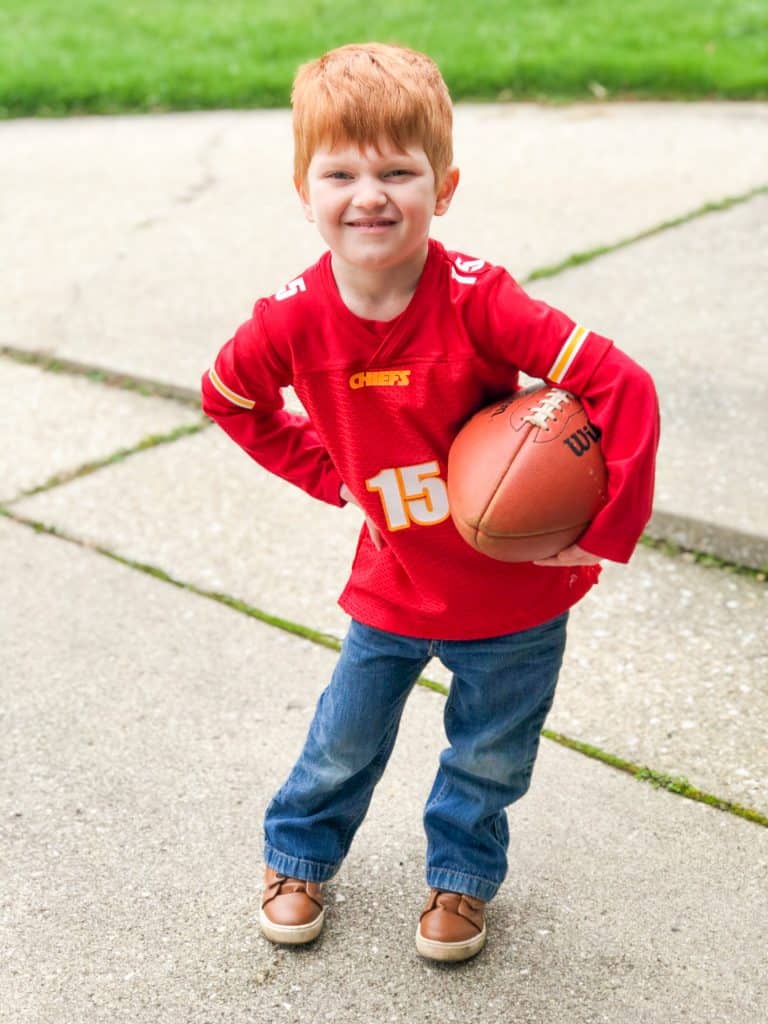 A team, an organization, a thought, a cause? The sky's the limit… and so is the fun!
Let us know how you plan to use the Game Day Jersey Collection!
Thanks to Kim for a great post!

Here's some more exciting news

Sew My Style Challenge

We also want to let our community know about an upcoming event for the Game Day Jersey Collection. Sew My Style is a challenge on Instagram that focuses on one or two patterns a month and encourages everyone to create a handmade wardrobe. They have prizes and hacks and so much fun activity. The Game Day Jersey is the featured pattern for the month of May and you can participate and find out more by going here or going to the SMS FAQ page.

Free SVG File!

We also hope that you join Kim on her Youtube channel — Dorothy's Daughter where you can find even more Love Notions content (and more sewing help and inspo!). Kim has kindly made up a FREE SVG file for us to customize our Game Day Jerseys and you can grab these files on over on her channel there as well. Just click on the Dororthy's Daughter link. Be sure to subscribe to her channel!
Pin these for later!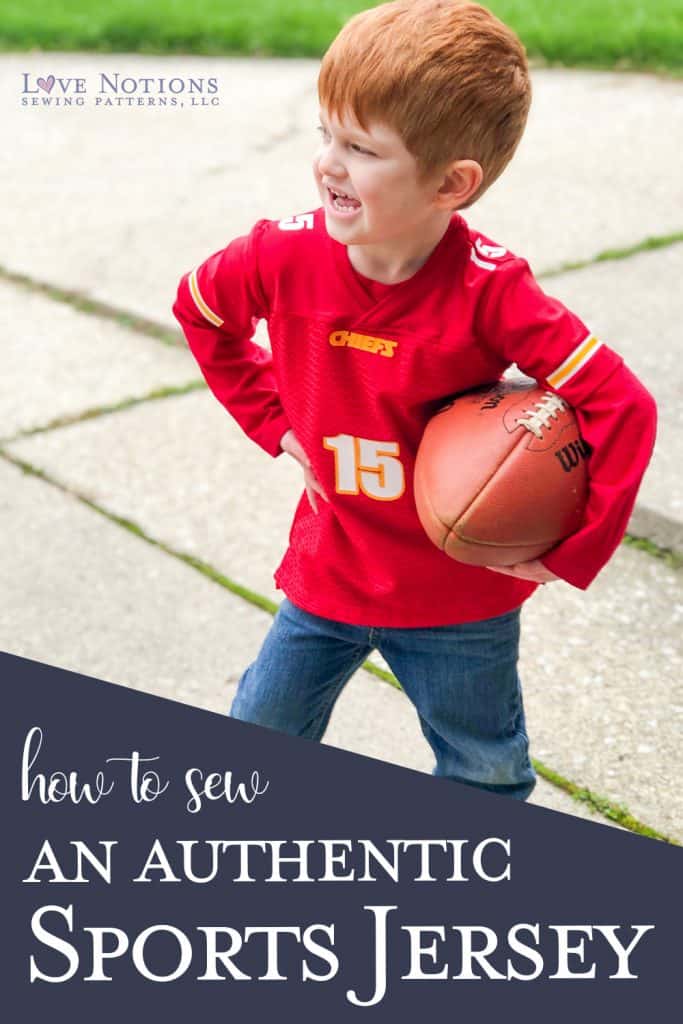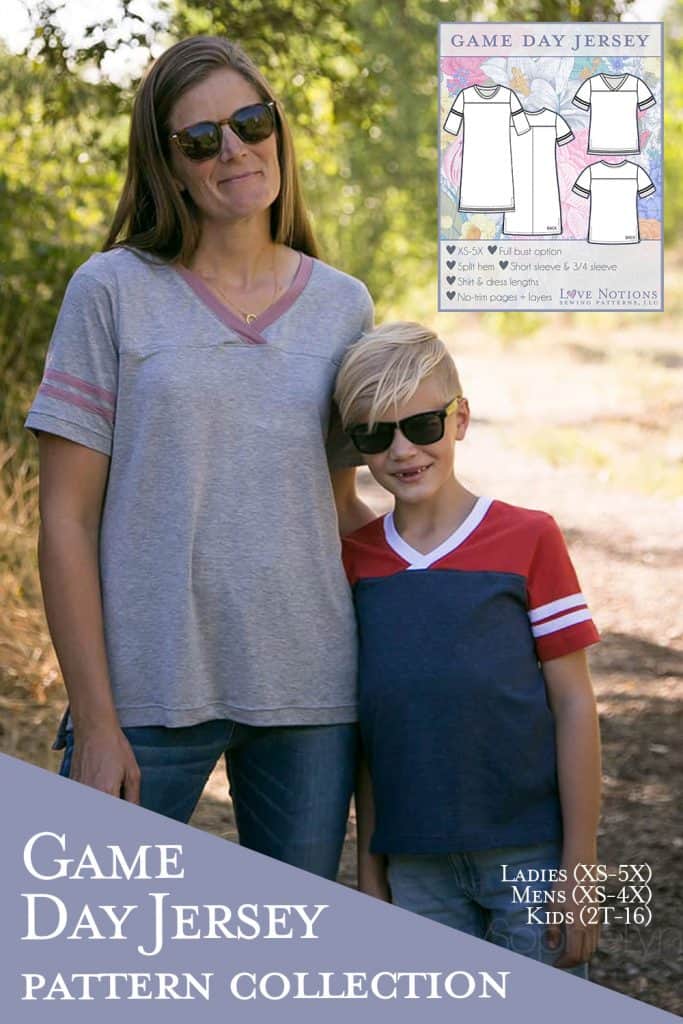 Shop the Game Day Collection
[carousel_slide id='393470′]