Going Green with Monaluna: How to make cloth napkins
On day one of our series I shared a little bit about easing my family into more reusable items around the house. A couple of months ago, with the stainless steal water bottles still going strong, I decided I had had enough of paper towels. We were going through way too many of them. It was ridiculous! Even with kitchen towels sitting on the counter right next to the sink, the kids and husband would still reach for a paper towel to dry their hands off. They would get a paper towel to wipe up the cat's water when they kicked the bowl. A paper towel was the go to for wiping up the counter after a little milk dripped on it. So. Many. Paper. Towels. So one day, we were down to the last two rolls in the house, so I stashed them into the linen closet, on the top shelf behind the extra blankets, and when I went to the store that day, I picked up a pack of white wash cloths instead.
So I bought an 18 pack of these cheap white wash clothes from a big box store that I shall not name. I managed to save a bit more money and bought them from the bath section and not the kitchen section. And I declared our home paper towel free. Well, for 98% of what we were using paper towels for. I pull out the stashed rolls to clean the toilet because there are six people living in his house and even with constant cleaning, toilets are gross.
And it's been a couple of months now and the white clothes are going well. I stash a bag under the sink for people to toss soiled ones into and once a week I do a load of kitchen clothes and towels with hot water and a splash of bleach. I did end up buying a second pack of 18 bringing our total to 36 "reusable paper towels". Most I keep rolled up in this cute little basket by the sink, the extras that don't fit here get stored in the linen closet until the basket dwindles down a bit. It's been working well. Except one thing. They aren't really soft. They are good for wiping fingers, but a bit scratchy for using as a napkin to wipe your mouth.
So, I had to fix that. We needed some cloth napkins.
Aren't those the pretties!! I used Monaluna's organic cotton Forest Flowers poplin from the Magical Creatures line.
Cloth napkins are incredibly easy to sew! Basically cut a square of cotton fabric the size you want and hem. Boom, cloth napkins. But, I wanted to up the game a little with some mitered corners. They look really nice and really aren't difficult to sew.
So so pretty!
Supplies needed:
fat quarter of cotton woven fabric
basic sewing supplies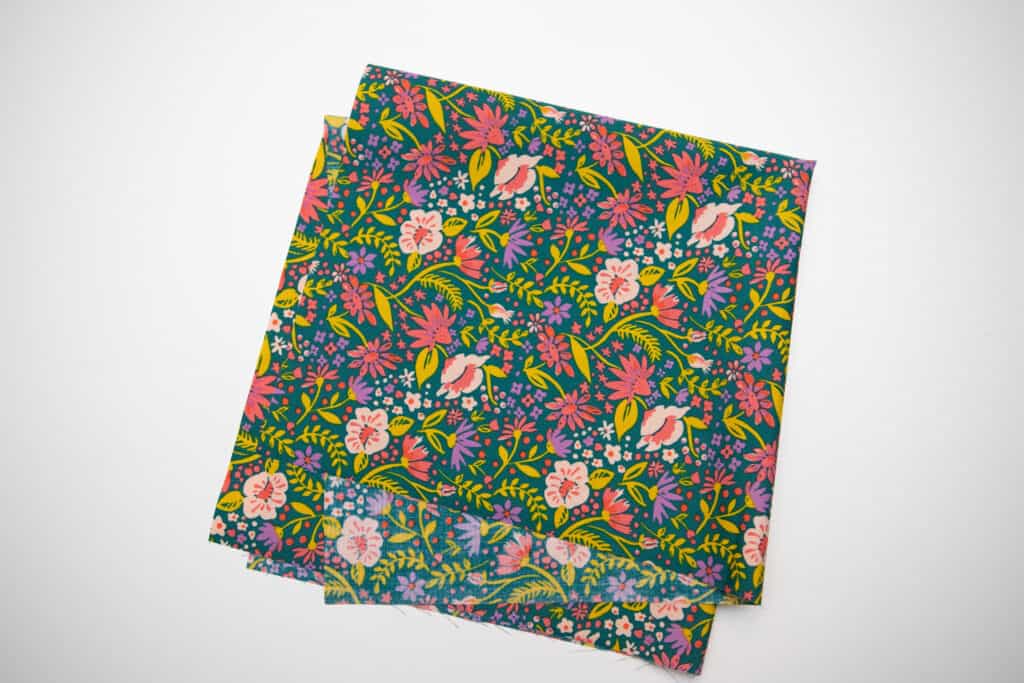 I cut my squares 18″. This is a nice size for a lap napkin for children and adults and it allows you to get two napkins from a half yard of fabric. Cotton poplin, linen, or quilter's cotton are all good fabric choices for a napkin. Busy patterns will hide stains better than solids.
Press the hem under 1/2″.
Press hem under 1/2″ again. This will encase the raw edges.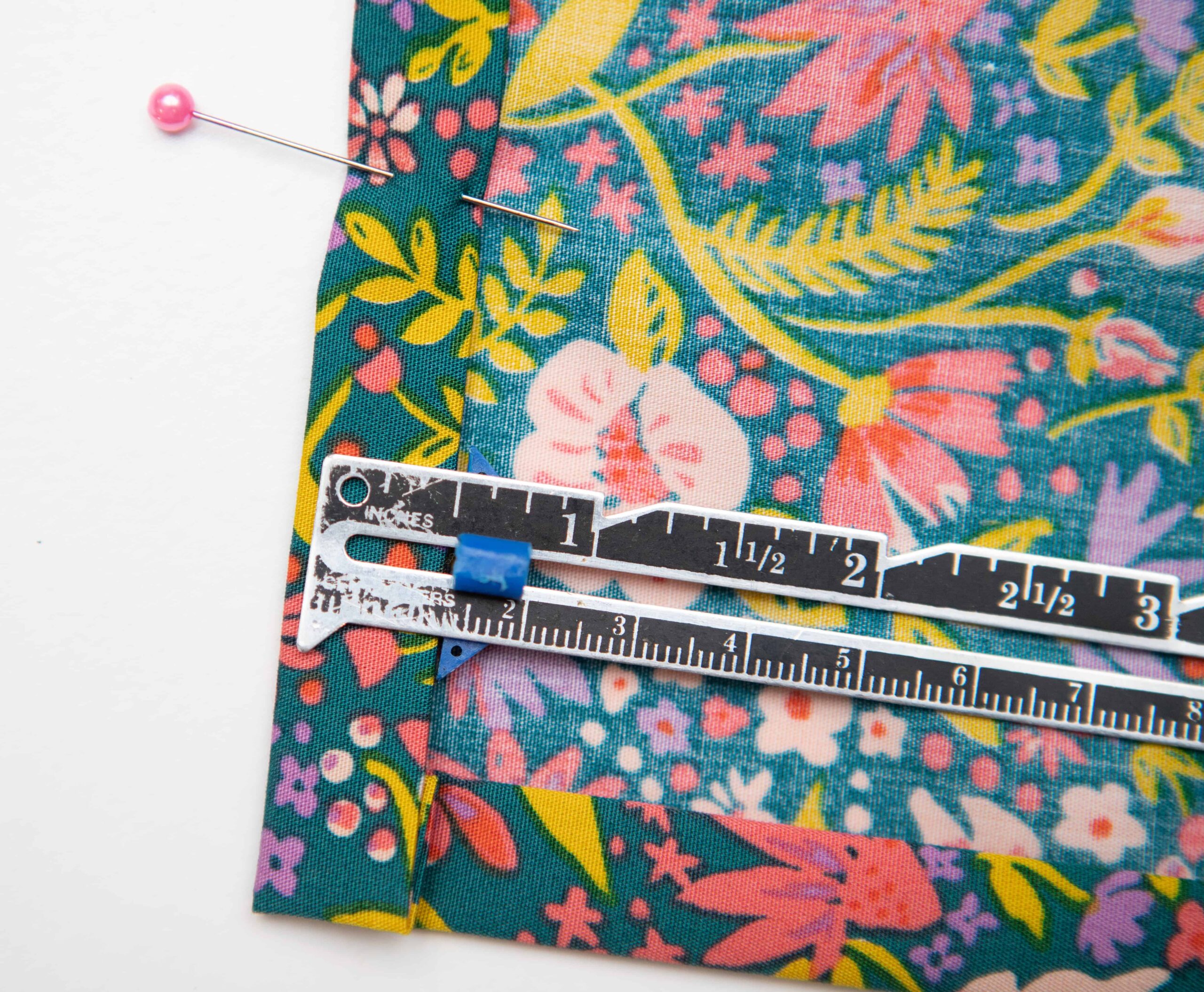 Now, unfold the second fold and mark your corners. We are drawing a line straight across each corner right below where two sides meet.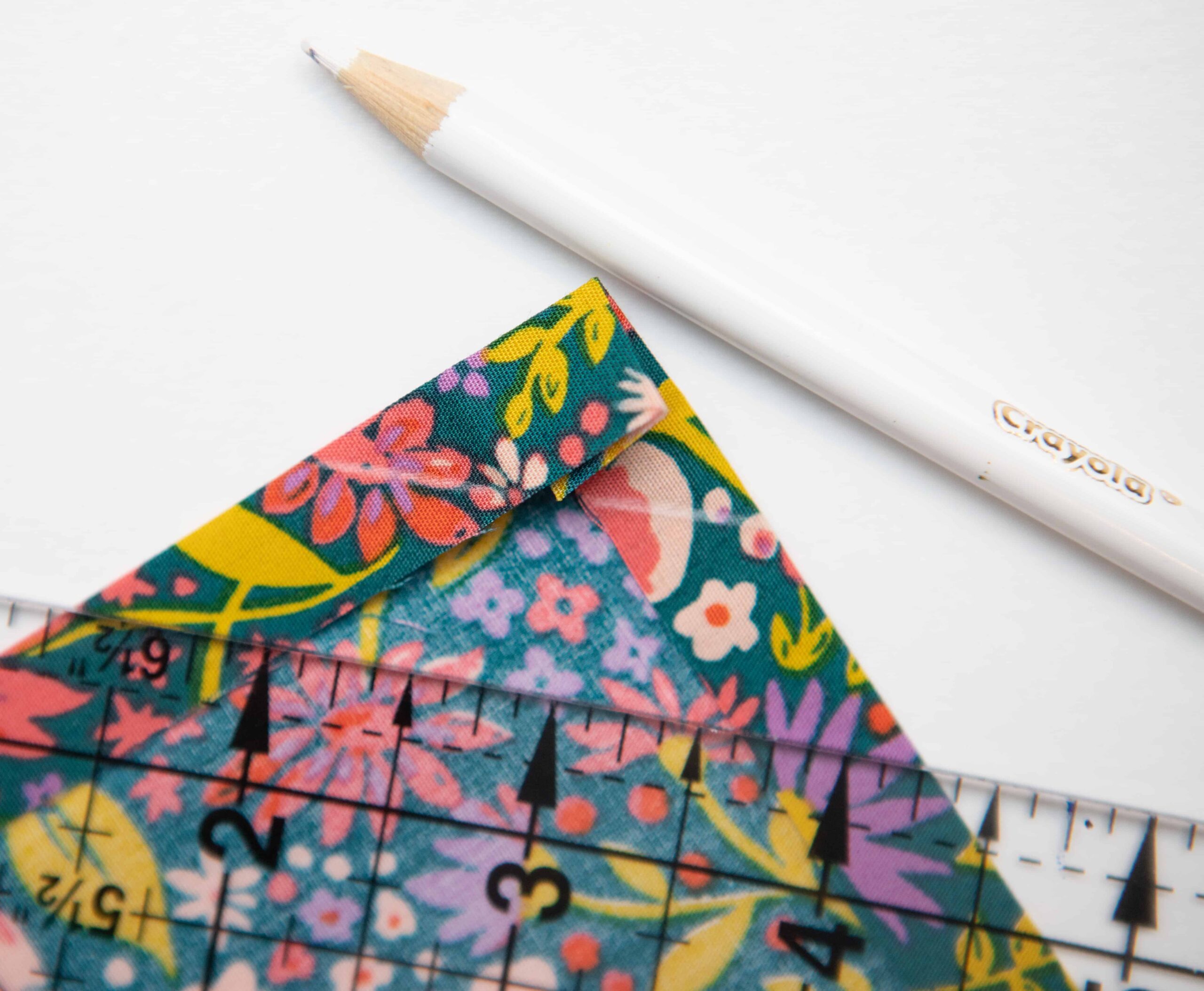 Now fold the corner right sides together so that the sides line up. (folding similar to how you fold a paper airplane) Sew on the line drawn. Repeat for all corners.
Now clip off the excess fabric. This allows the corner to tuck nicely into the folds and create a sharp point.
Turn your napkin right side out, folding the hems under so that all the raw edges are enclosed. Push the corners out carefully.
Press the hems and corners well.
Topstitch hem into place.
That's all there is to beautiful napkins!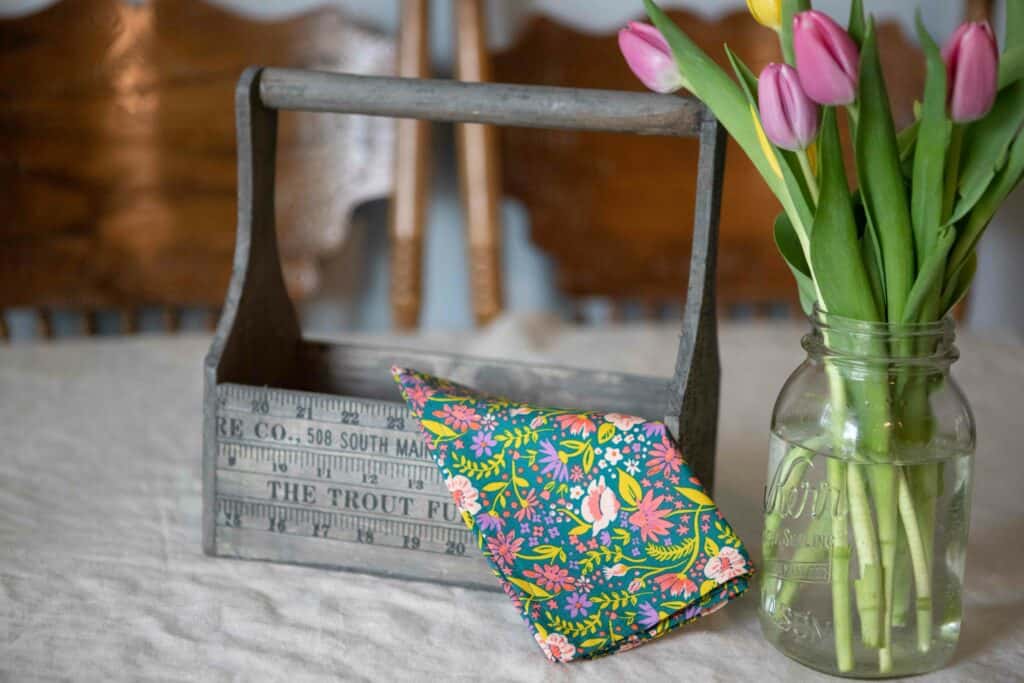 I found this cute box to keep mine on the dining room table. Now they are always at hands reach and the kids have zero excuse to wipe their hands on their clothes! (Okay, so I'm guilty of this as well.)
Going Green with Monaluna
Day One: How to make reusable food wraps
Day Two: How to make reusable sandwich and snack bags