Dear Love Notions sewists, it's Chloe @no.idle.hands here on the blog today to talk about digitally organizing your fabric stash with a simple App. After all, most of us here have a second hobby besides sewing, which is collecting fabrics, am I right? 😉 Whether your treasured fabric stash is physically organized or not (I'm more of the latter), today's blog can help you virtually access them from anywhere with ease. Intrigued? Read on!
And speaking of fabrics, don't forget to check out today's $5 feature pattern – the Fraser Cardigan – which can be made in so many fabric variants with equally amazing results. I have 4 Frasers in my wardrobe made in 4 very different knit fabrics, from French Terry to waffle knit. I love them all and wear them in heavy rotation. The cocoon shape and those roomy pockets are simply addictive! Which one is your favorite?
My Fraser Cardigan Collection
1. Viscose blend sweater knit
This is the first Fraser I made during the pattern testing and love at first sight! It's the hooded version, super warm, and gets a ton of wear as the light grey color goes with everything!
2. Poly sweater knit
Isn't this Palm Canopy print Minerva Exclusive sweater knit fabric just perfect for an autumnal Fraser? Smooth and drapey yet stable, I love this one over a simple tee and jeans.
3. Cashmere waffle
This is the amazing combo my lovely secret sewist Amii picked out for me and I can't have asked for any better! The cashmere waffle from Mily Mae is so lush and soft, I can't stop wearing it! (Btw, here is the 2022 secret sewists reveal for some holiday sewing inspo.)
4. Marbled French Terry
I whipped up this one right before our Florida vacation and the viscose blend French Terry is great as a light layer in warmer weather. The roomy pockets hold all my essentials so I don't need to carry a purse around!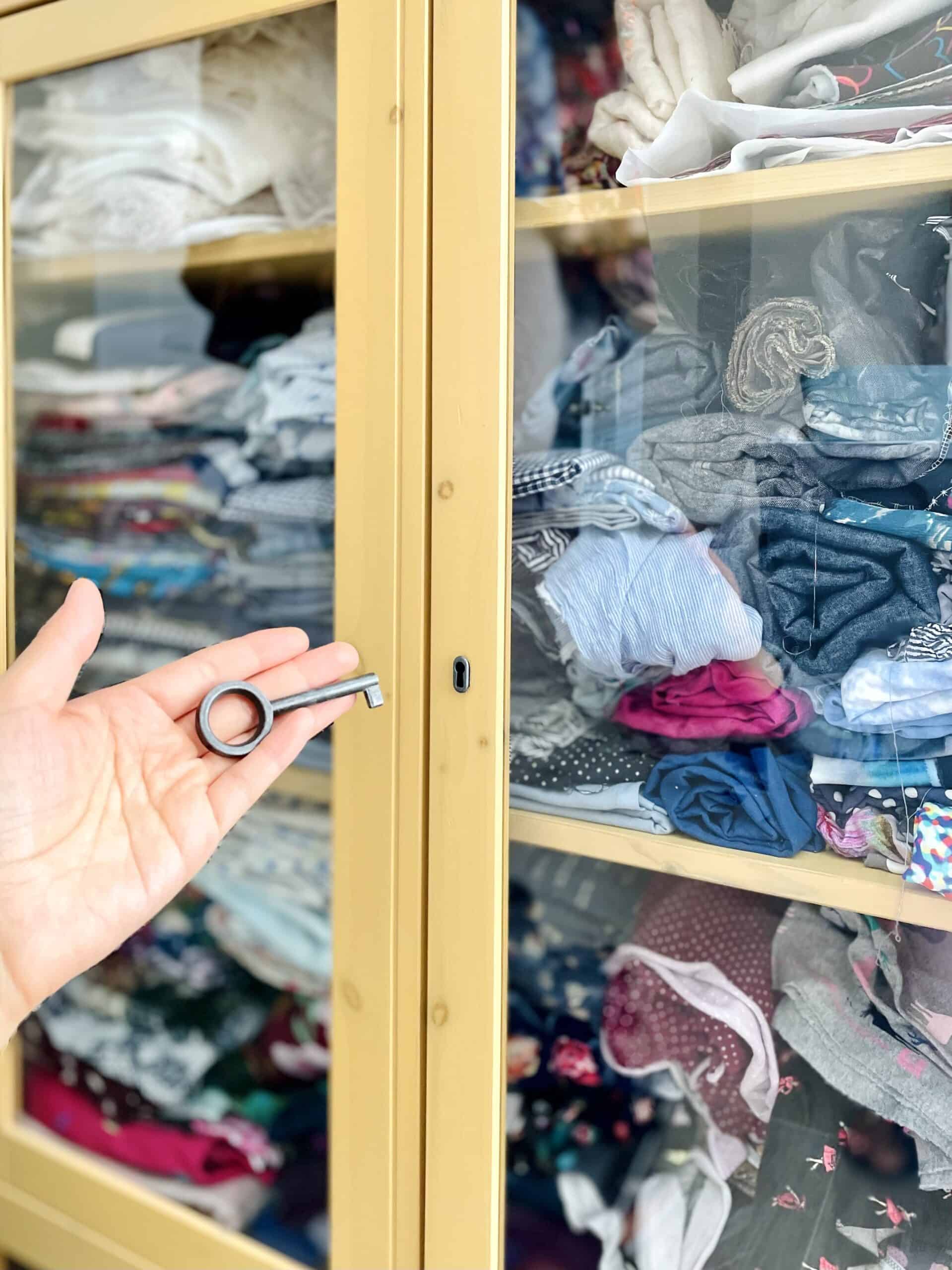 What is Digital Fabric Stash Organization?
Simply put, It's the record keeping of your stash using a computer program or app, with information such as type, content, quality, origin, etc. that might be helpful to you, all easily accessible. Think of it as your personal fabric catalog on your device.
Why do I need Digital Fabric Stash Organization?
If you've ever had scenarios like the ones below happen to you, then Digital Stash Organization is for you:
You love that new maxi dress pattern, but you're not sure which viscose cuts in your stash have enough yardage.
You found a deal on solid linen fabrics while out shopping and immediately want all the colors! But which ones do you already have at home? Hmm…
Your pattern requires 4-way stretch of at least 20%. The idea of going through all your knits one by one, stretching and measuring them all, feels like a huge sewjo killer.
You're picking up matching threads at store and realize you didn't bring swatches for all the fabrics you are working on. How will you pick the right thread?
Or this one (no judgement!)
Your Black Friday purchases arrived, and you want to make plans for them before stashing them away so they don't get forgotten…
You get the idea! A good Digital Fabric Stash Organization system gives you an easy-to-access catalog of your stash at your fingertip on your phone, tablet, or computer so whenever the inspiration or need strikes, you can browse and pick out fabrics without digging through your stash! Plus, with the right tool it can look as lovely as a fabric shop website – just with everything FREE because they are already in your stash! Excited yet? Let's get started! 
How to build your Organized Digital Fabric Stash?
You can use a variety of software/websites/apps to build and manage a digital stash, as long as it can catalog information in a way that makes sense to you. Some people love Excel spreadsheets or Evernote, and that's all great. If you already know your way around a particular program, think of creative ways to catalog your stash in there and go for it. But today I'm going to show you how to use a free and easy-to-learn website/app called Trello to build a digital stash that looks like this:
What you see above is a Trello "Board" with these vertical "Lists" of fabrics all grouped by types. Each image on the list there is a "Card", which has all the information of a particular fabric such as yardage and contents, etc. Doesn't it look like your very own online fabric shop, aka candy store?
Here are some simple steps to achieve this organization:
1. Create Account and Workspace
First all, you need a Trello account. Trello is actually a powerful project management tool with lots of professional upgrades, but for our purpose you only need to sign up for the free account here. You can also download the app for your phone and tablet here to use Trello on the go. I will be showing you all the steps on a computer today, but you can do everything on a personal device too:
Inside your new account, let's create a Workspace for all that lovely stash! It's a virtual space to place boards like the one you saw above. I'm going to call this new workspace simply "Stash"!
2. Create a Board
Now let's create that Board to hang up all the pretty fabrics on! Give it a name and choose a background – be creative! (Trello even lets you search for free images to use as backgrounds.) Make sure to select the workspace you just created in the previous step.
A workspace can house up to 10 boards for free, so you not only can have a board for fabric stash, but maybe also one each for notions, patterns and even projects! I am a knitter so there's always the yarn stash too 😉
3. Create Lists of Fabric Types
Click to open your brand-new Fabric board and let the fun begin! We are going to "hang" some vertical lists of fabrics on this board. You can group your fabrics however you'd like, by fabric type, fiber contents, yardage, purpose etc., and name the lists accordingly. I like to group mine by fabric type (viscose challis, linen woven, sweater knits, etc.):
They look a little bare now but wait till we add those fabric cards! You can re-order the lists by simply dragging them across the board.
Save your spot in this article.
4. Add each cut of fabric to a Card: Info + Pictures
Each fabric is added to the list it belongs to as a card. For example, I'm adding my cashmere waffle to the Sweater Knits / French Terry list here: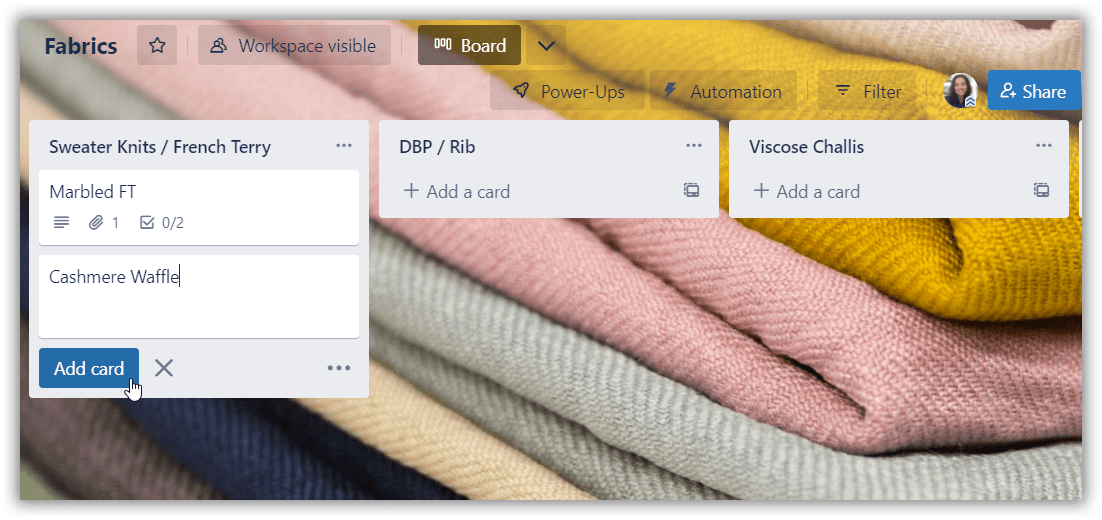 Click and expand the card to fill in the descriptions for your fabric. I like to write down these types of info but you decide what's important to you:
– yardage & width
– fiber contents / weight
– origin / brand / web link
– stretch percentage if applicable
For fabrics purchased online, you can often find all these info from the product listing and just copy/paste them. Fabric stores retire their stock constantly so make a habit to do it right after your purchase.
Now onto the visual part – uploading images of your lovely fabric. You add them as attachments to the card and I usually do it in these 2 ways:
Take some quick snaps using my phone and just upload them on the App. A quick tip -Try to include the reverse side of the fabric in your photos. This comes in handy often.
To add images from your computer, you can often just grab the product list images from the online store (Most of the examples here are from Mily Mae Fabrics or Minerva). Just make sure you keep these "borrowed" images for private use only:
You can add multiple images to each card and choose one of them as a Cover photo, which will be displayed on the list to represent that card.

Isn't it pretty? But there's more! You can move a card between lists by either drag-and-drop or the move action on the card. In the example below, I created a new list for French Terry and moved the Marbled FT card from the Sweater Knits list to the new FT list:
6. Get more functionality with Checklists, Comments and Search
Once you are comfortable with your boards, lists and cards, it's time to try a few extra functionalities to enhance your digital stash.
If you have multiple colorways / pieces of the same fabric, you can add them all to the same card by creating a Checklist and calling it, say, "Colors". For example, my Cashmere Waffle card here contains a checklist of both the Gingerbread and Black colors, each of 2 yards:
This is great when you love a base fabric and continue to collect colorways over time. When you have used up a piece, you can simply check that item off the list or adjust the yardage:
I also like to record additional notes and thoughts in the Comments section of the card when applicable. This can include past projects, future inspirations, care instructions and sewing tips. Everything in comments is searchable so it's a great place to write down things that will help you find this fabric later. If your actual stash is organized/labeled, you can also note the physical location of the fabric here.
Last but not the least, use the Search function to reap the full benefit of your digital stash in addition to just browsing it. You can search by any term you have previously recorded in the fabric lists and cards. For example, I can search for all my 2 yard pieces, or the fabrics I have used / earmarked for the Fraser cardi:
The possibilities are endless and yours to explore! I hope you enjoyed reading along and found it helpful for your sewing journey. If you have any questions and suggestions, feel free to leave a comment here, or find me on Instagram @no.idle.hands. Meanwhile, grab the Fraser pattern for $5 today, find that perfect fabric from your stash, and enjoy sewing!
Digital Fabric Stash Organization in Action
---
Shop more topper sewing patterns.